Community Development Model
Archived information
Archived information is provided for reference, research or recordkeeping purposes. It is not subject à to the Government of Canada Web Standards and has not been altered or updated since it was archived. Please contact us to request a format other than those available.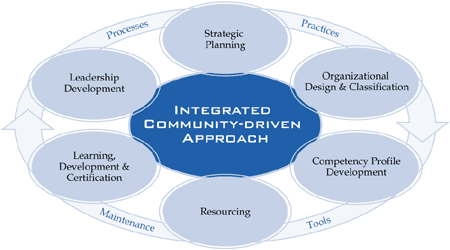 Overview
Many public service communities have traditionally lacked a consistent, strategic approach to HR management. For example, hundreds of different job titles and work descriptions currently cover the various IT positions across departments and agencies. As well, each department structures its work in keeping with its own business needs, and describes and labels the work accordingly. As a result, federal organizations do not share a common list of titles for many jobs, nor do they define jobs or identify competencies in a consistent manner, making inter-departmental mobility more difficult.
The Community Development Model comprises a set of integrated competency-based HR management processes that function as a complete HR management and business system. It maps out the how-to aspects of resource management and is founded on principles and values consistent with those of HR Modernization. It is intended to serve as an enabling tool that will lead to community and departmental action.
The Community Development Model and its associated products and services support capacity building at all levels throughout the GC. Implementation and on-going use of these tools and services will result in a consistent, integrated approach to managing resources, with employees being regarded as community resources.
The Community Development Model is designed to provide a state-of-the-art community management and development infrastructure that will make the federal public service a workplace of choice for current and future employees. Its objectives are to:
provide managers and employees with consistent principles, practices and processes to ensure efficient and effective management of the human capacity of the federal public service;
facilitate HR decisions that are based on merit, free from political influence and made in accordance with the values of fairness, accuracy and transparency;
facilitate efficient staffing of the right people when and where they are needed, collaborative labour-management relations, learning opportunities for employees at all levels, and clear roles and accountability for managing human capacity;
facilitate efficient and effective recruitment and development of public service staff and position the federal public service to compete with the private sector for talent;
provide the foundation for integrated mechanisms that will engage and benefit employees and managers in all regions and in departments of all sizes; and
enable functional communities to better assist departments in ensuring that the right people are in the right place at the right time to deliver on government priorities and programs.
Components
The Community Development Model consists of six components:
Strategic Planning;
Organizational Design and Classification;
Competency Profile Development;
Resourcing;
Learning, Development and Certification;
Strategic Planning
ORO's strategic planning mandate is to identify the business needs of the community and develop the programs to fill these needs and gaps. The overarching goal is to help communities plan and prepare their communities for the future, and make informed decisions based on facts.
Initiatives associated with strategic planning include
Organizational Design and Classification
ORO's organizational design and classification mandate is to develop standardized product and services that provide a consistent and integrated approach to staffing functions. This will allow work to be organized by job streams and define positions.
Initiatives associated with organizational design and classification include
IT Standardized Organizational Models;
CS Work Streams;
CS Generic Work Descriptions;
IM Generic Work Descriptions and Organizational Models.
Competency Profile Development
ORO's competency profile development mandate is to develop competency-based products that define and support job success. This will allow managers to use profiles for staffing and employees can identify the requirements to get to the next level and prepare a learning program to fill the gaps.
Initiatives associated with competency profile development include
Behavioral Competency Dictionary;
CS Technical Competency Dictionary;
CS Job Competency Profiles;
Resourcing
ORO's resourcing mandate is to launch collective staffing and recruitment initiatives that result in improved access to qualified resources. The following initiatives will lead to faster, more efficient, and more consistent staffing processes.
Learning, Development and Certification
ORO's learning, development and certification mandate is to develop programs with key stakeholders to enhance the skills and overall capability of communities to support government priorities. This will give employees better access to the necessary tools and programs to acquire the skills and competencies required for advancement.
Learning, development and certification initiatives include
Date modified: