ARCHIVED - National Defence

This page has been archived.
Archived Content
Information identified as archived on the Web is for reference, research or recordkeeping purposes. It has not been altered or updated after the date of archiving. Web pages that are archived on the Web are not subject to the Government of Canada Web Standards. As per the Communications Policy of the Government of Canada, you can request alternate formats on the "Contact Us" page.
As Minister of National Defence, I am honoured to present to Parliament the Report on Plans and Priorities for 2008-2009.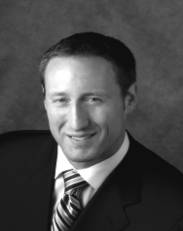 This report reflects the integration of the Treasury Board Program Activity Architecture (PAA) framework and the management of National Defence. The PAA provides a clear means to communicate the relationship between resources and results when it comes to:
ensuring that the Department and the Canadian Forces (CF) have a relevant and credible capacity to meet their defence and security commitments;
contributing to domestic and international peace, security and stability by achieving success in assigned missions; and
promoting good governance and Canadian identity, and exerting influence in the global community.
Our military is a key element in the whole-of-government approach to defence and security. In the coming months, we will continue to explore measures to increase the total effective strength of the CF in order to address the challenges posed by greater operational demands and attrition rates, and to ensure the sustainability of a viable and effective defence force. We are also committed to modernizing the CF thereby ensuring our country possesses a first-class modern military that can effectively respond to security challenges in Canada, in our hemisphere and around the world. The announcement in Budget 2008 of a long term funding plan for the CF will go a long way towards helping us fulfill this commitment.
The primary role of the CF remains to achieve excellence in domestic operations. In an increasingly complex security environment, the role of the military to protect Canada and its sovereignty is of paramount importance. As part of our Canada First Defence Strategy, we will increase the CF capability footprint across Canada, to enhance their ability to monitor and control our territory and approaches, and to take part in search and rescue operations and assist civil authorities in responding to emergencies, including in the Arctic. In addition, we will support the Royal Canadian Mounted Police-led security mission in preparation for the Vancouver 2010 Olympic and Paralympic Games, demonstrating our commitment to assisting our Canadian security partners. The CF will also continue to work with their American counterparts in the defence of North America.
The Government is also committed to maintaining a leadership role abroad. In this context, the CF will continue to help restore peace and security in troubled areas. Canada's ongoing contribution to the United Nations-mandated, North Atlantic Treaty Organization-led mission to restore stability to Afghanistan will remain the primary focus of CF operations overseas. Indeed, we are committed to achieving sustainable progress in that country. That is why the Government accepts the analysis and recommendations of the Independent Panel on Canada's Future Role in Afghanistan (the Manley Panel), and is committed to taking action accordingly.
To protect Canada and its interests abroad, we rely on the dedication and commitment of all members of the Defence team, both military and civilian. I am proud to lead this great national institution. I look forward to continuing my work with Canadians and Members of Parliament and the Senate to strengthen our Forces, and to provide ongoing support to our courageous men and women in uniform.
The Honourable Peter G. MacKay, P.C., M.P.
Minister of National Defence
I submit for tabling in Parliament, the 2008-2009 Report on Plans and Priorities (RPP) for the Department of National Defence.
This document has been prepared based on the reporting principles contained in the Guide for the Preparation of Part III of the 2008-2009 Estimates: Reports on Plans and Priorities and Departmental Performance Reports:
It adheres to the specific reporting requirements outlined in the Treasury Board Secretariat (TBS) guidance;
It is based on the department's strategic outcomes and program activities that were approved by TBS;
It presents consistent, comprehensive, balanced and reliable information;
It provides a basis of accountability for the results achieved with the resources and authorities entrusted to the DND/CF; and
It reports finances based on approved planned spending numbers from TBS.
Robert Fonberg
Deputy Minister
The Defence Mission
The mission of the DND/CF is to defend Canada and Canadian interests and values while contributing to international peace and security.
Under Canadian defence policy, the Canadian Forces (CF) are called upon to fulfill three roles:
protect Canadians at home;
defend North America in cooperation with the United States; and
defend Canadian interests abroad.
To carry out these roles successfully, the CF maintain a range of military capabilities including modern, combat-capable sea, land, air and special operations forces.
The Defence Portfolio
The Department of National Defence (DND), the CF and a group of related organizations and agencies, including the Communications Security Establishment Canada (CSEC) and Defence Research and Development Canada (DRDC), carry out the Defence mission.
The CF also maintain the following:
Defence also includes the following organizations under the responsibility of the Minister of National Defence:
The National Defence Act establishes DND and the CF as separate entities operating in close co-operation under the authority of the Minister of National Defence. The Minister of National Defence is responsible for the administration of the statutes, regulations and orders listed at Appendix A. The National Defence Act also establishes a Deputy Minister to be responsible for policy, resources, interdepartmental co ordination and international defence relations, and designates the Chief of the Defence Staff, the senior serving officer of the CF, as the person "… who shall, subject to the regulations and under the direction of the Minister, be charged with the control and administration of the Canadian Forces."
The Canadian Forces Grievance Board and the Military Police Complaints Commission report to the Minister of National Defence although they are not part of the Department of National Defence. This reporting arrangement and organizational status are designed to ensure accountability while maintaining an arm's-length relationship.
Specific accountability for results and associated performance measurement areas at the level of the Assistant Deputy Ministers, the Environmental Chiefs of Staff (ECS) and Operational Commanders are detailed in the Defence Plan.
Organization Chart
[Click on image to enlarge]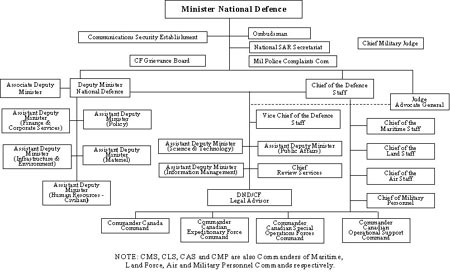 Defence Key Partners and Stakeholders
Defence works with many Canadian and international partners that help support its mission, programs and activities. The broad scope of the Defence mandate is reflected in the complexity and diversity of its partners and stakeholders. Please refer to the complete listing at Appendix B.
Overview of Delivery Mechanisms
The rules and principles governing Government grants and contributions are outlined in the TBS Policy on Transfer Payments <http://www.tbs-sct.gc.ca/pol/doc-eng.aspx?id=12257>. Transfer payments constitute transfers of money, goods, services or assets made from an appropriation to individuals, organizations or other levels of government, without the federal Government directly receiving goods or services in return, but which may require the recipient to provide a report or other information prior to receiving payment. These expenditures are reported in the Public Accounts of Canada <http://www.pwgsc.gc.ca/recgen/text/pub-acc-e.html>.
The following website provides additional information on grants and contributions awarded by Defence: http://www.admfincs.forces.gc.ca/pd/gc/overview_e.asp?sel=pd.
Treasury Board approved the new Management, Resources and Results Structure (MRRS) for Defence on 30 August 2005. In accordance with Treasury Board policy, the Defence MRRS consists of three elements: a Program Activity Architecture (PAA); clearly defined and measurable strategic outcomes; and a description of the current governance structure that outlines the Department's decision-making mechanisms, responsibilities and accountabilities, as described below.
The three strategic outcomes for Defence are:
Canadians' confidence that DND and the CF have relevant and credible capacity to meet defence and security commitments
success in assigned missions in contributing to domestic and international peace, security and stability; and
good governance, Canadian identity and influence in the global community.
Defence in effect is comprised of only one program, namely "The Defence Services Program". It is not a program-based organization as are other federal departments. As such, Defence's PAA encapsulates the three main functions of Defence to deliver on its mission and contribute towards its strategic outcomes. Defence generates multi-purpose forces trained and prepared for the eventuality of an operation; conducts operations when needed; and interacts with domestic and international communities for the prevention of incidents.
Defence has been migrating from a Cold War threats-based planning model to a capability-based planning model, responding to asymmetric threats, which is consistent with our allies' current planning and management. Once capability-based planning and management is fully implemented, it will embody the spirit of MRRS policy requirements. The Defence PAA is consistent with capability-based planning and represents the multi-purpose nature of our capabilities. This allows us to leverage the same resources in the most efficient manner while maintaining the ability to contribute to several outcomes at once.
Each program is composed of three levels: program activities, program sub-activities and program sub-sub-activities. The activities that make up each program are causally linked to produce the program's main output, and each program output contributes or leads to a strategic outcome.
Internal Services, a parallel but separate construct, provides a place to list the organizational entities, such as finance and information management, that do not directly produce program outputs, but support and provide coherence to all the program activities. The costs of Internal Services activities are distributed across the three program activities according to a pro-rated formula.
The PAA structure is distinct from the organizational and financial structure of Defence and the CF under departmental Assistant Deputy Ministers and the ECS. An electronic interface links the organization identification numbers and the associated financial tracking system consisting of fund centres and cost centres. There are also separately tracked Work Breakdown System accounts, for each Level One[1] (L1) organization with the PAA at the program sub-sub-activity level.
The governance structure of the MRRS outlines the decision-making mechanisms, responsibilities and accountabilities of Defence. It consists of the following:
a corporate governance structure operating department-wide at the highest level to provide strategic, resource and management direction, decision-making and accountability for the whole institution and its programs;
a governance structure for each program activity to guide program development and effectiveness, provide advice on the key contributing processes, and ensure accountability for program outcomes and results; and
a process and functional governance structure for the overall business model, with its major processes and functional activities, to ensure effective process and functional management, functional policy alignment, and integration of each process to the whole business model.
Defence uses the MRRS to underpin departmental planning, management of the Defence Plan, resource planning and management, and performance monitoring and reporting - especially external reporting. As part of the full implementation of the MRRS policy, Defence is following the requirements of steps one to five as laid out within the Treasury Board Secretariat call-letter dated 14 December 2006. Currently, this involves the development of a Performance Measurement Framework of the PAA as Step II of the MRRS implementation. This framework aims to integrate much of National Defence's current performance measurement systems into an overall system. The framework also aims to develop performance indicators that are S.M.A.R.T. (Specific, Measurable, Achievable, Realistic and Time-Based).
The Performance Management Framework for the PAA will continue to be evolutionary. It is dependent on efforts to progress towards establishing and integrating readiness levels across the CF, rewriting the Defence Tasks, and the development of new data sources.
The Program Activity Architecture and Performance Management
To compliment National Defence`s PAA Performance Measurement Framework, a Strategy Map and supporting balanced scorecard provide Defence with a means of identifying potential problems before they escalate. Combined with risk management and leading performance measures, the strategy map and the supporting balanced scorecard are important industry-specific management tools that allow senior management to focus on performance issues that are critical and relevant to a military organization. More information on the Balanced Scorecard is available online at: http://www.vcds.forces.ca/dgsp/pubs/dp_m/pm/intro_e.asp#3.
In comparison, the developing PAA Performance Measurement Framework is a means of associating performance with all of National Defence's activities to provide an all-inclusive perspective of DND/CF`s performance and link it to the expenditure of all allocated funds. The PAA structure supports all of National Defence's results-based management and financial reporting. To ensure that both management tools support goal achievement, both the Strategy Map and the PAA share three common strategic outcomes, as referenced earlier. For more details see Appendix C.
[Click on image to enlarge]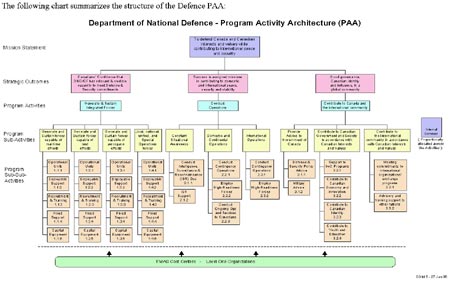 Defence Priorities for Fiscal Year 2008-2009
The Defence priorities represent a focused number of areas in which Defence will direct additional efforts over a fiscal year in order to address gaps in capability or capacity, or where broader government direction dictates that greater action be taken. They help to translate long- and medium-term goals and objectives into short-term direction for action, while recognizing the necessity of addressing the requirements of the current operating environment. Priorities do not define the Defence mandate or on-going duties and responsibilities, which are set out in legislation The National Defence Act, policy statements, government announcements/budgets and specific Deputy Minister/Chief of the Defence Staff (DM/CDS) direction. In addition, the Defence priorities do not preclude the allocation of resources to undertakings necessary for the successful execution of the Defence Services Program.
Defence priorities, which are linked to specific program activities in the Program Activity Architecture, are not listed according to their perceived importance. They are intended to assist Level One organizations to identify how they will support the advancement of the Defence priorities through specific initiatives within their planning submissions. Once approved within the business planning process, the planned efforts of Level One organizations are articulated to Parliament as Defence priority activity within the Report on Plans and Priorities (RPP). Furthermore, measures of success articulated within the RPP will permit the Vice-Chief of the Defence Staff and Chief of Programme organizations to track progress in advancing the priorities and facilitate follow-up reporting in the ensuing Departmental Performance Report (DPR).
The Deputy Minister and the Chief of the Defence Staff approved the Defence priorities for fiscal year 2008-2009.
Relationship Between Defence Priorities and Program Activities
The following crosswalk table was developed to show the relationship between Defence's priorities and program activities. This link ensures that high-level performance measurement and resource information for Defence priorities and related initiatives is reported through the program activities.
[Click on image to enlarge]

Source: Vice-Chief of the Defence Staff Group
Vote or
Statutory Item
($Thousands)

Truncated Vote or Statutory Wording

2008-2009
Main Estimates

2007-2008
Main Estimates

1

Operating expenditures

13,519,620

11,848,854

5

Capital expenditures

3,356,705

3,592,868

10

Grants and contributions

192,396

210,451

(S)

Minister of National Defence salary and motor car allowance

76

75

(S)

Payments under the Supplementary Retirement Benefits Acts

6,796

7,020

(S)

Payments under Parts I-IV of the Defence Services Pension Continuation Act (R.S., 1970 c. D-3)

1,493

1,550

(S)

Payments to dependants of certain members of the Royal Canadian Air Force killed while serving as instructors under the British Commonwealth Air Training Plan (Appropriation Act No. 4, 1968)

82

90

(S)

Contributions to employee benefit plans - Members of the Military

938,132

957,396

(S)

Contributions to employee benefit plans

278,456

263,300

Total Department

18,293,756

16,881,605
Source: Assistant Deputy Minister (Finance and Corporate Services) Group
*Due to rounding, figures may not add up to totals shown.
Note:

The Main Estimates of 2008-2009 are $1,412.2 million higher than the Main Estimates of 2007-2008. This increase can be explained by the following: $815.2 million in additional funding for Canada First, $700 million to fund the expansion of the Canadian Forces, $209.8 million in funding for Tactical Airlift Capability Project, $200 million to address the shortfall in operating budgets (Sustainability), $190 million to partially offset the loss of purchasing power due to price increases, $170 million in funding for Medium Support Vehicle System Project, $150 million reprofiling from fiscal year 2007-2008 to fiscal year 2008-2009, $132 million in funding for Main Battle Tanks acquisition project, $105.3 million in additional funding for military pay raises, $89.7 million funding for Medium- to Heavy-Lift Helicopter Project, $89.2 million in funding for transfers and technical adjustments, offset by $1240.9 million reduction due to reprofiling previously approved budgetary resources, a $111.6 million reduction of the department's share of the Expenditure Review Committee reallocations and cost efficiencies, and $86.5 million reduction in annual spending required for the Strategic Airlift Capability Project.
[Click on image to enlarge]

Source: Assistant Deputy Minister (Finance and Corporate Services) Group
*Due to rounding, figures may not add up to totals shown.
Notes:
1. Expected approval of items in the adjustments to Planned Spending Levels:
Reprofiling of expenditure authority for Budget 2005 and Budget 2006 major capital projects will be sought at the end of 2007-2008.
Reprofiling of expenditure authority for the Maritime Helicopter Project will be sought at the end of 2007-2008.
Spending authorities will be sought through 2008-2009 Supplementary Estimates (A). For 2009-2010 and beyond, spending authorities will be provided through the 2009-2010 Annual Reference Level Update.
Renewal of the program will be sought to ensure continuous funding resuming in 2010-2011.
Expenditure authority for implementation phase for Budget 2005 and Budget 2006 major capital projects will be sought during 2008-2009.
Spending authorities will be sought through 2008-2009 Supplementary Estimates (A). For 2009-2010 and beyond, spending authorities will be provided through the 2009-2010 Annual Reference Level Update.
Spending authorities will be sought through 2008-2009 Supplementary Estimates (A). For 2009-2010 and beyond, spending authorities will be provided through the 2009-2010 Annual Reference Level Update.
OVERVIEW OF FINANCIAL RESOURCES BY PAA
Financial Resources - All
($ Thousands)

Forecast Spending
2007-2008

Planned Spending
2008-2009

Planned Spending
2009-2010

Planned Spending
2010-2011

Departmental Spending

18,000,610

18,852,539

19,411,699

19,423,022

Capital spending (included in Departmental spending)

3,592,868

3,762,860

4,146,257

4,189,249
Source: Assistant Deputy Minister (Finance and Corporate Services) Group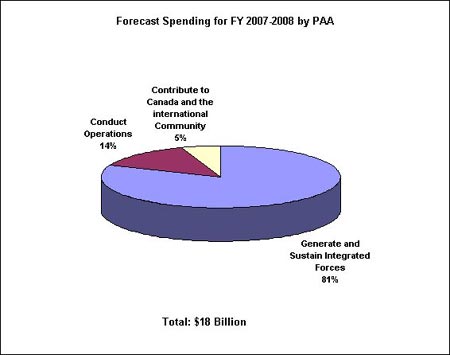 Overview of Human Resources
Human Resources – Full Time Equivalents (FTEs)
(FTEs)

Forecast
FTEs1
2007–2008

Planned
FTEs2
2008–2009

Planned
FTEs
2009–2010

Planned
FTEs
2010–2011

Regular Force3

64,779

66,161

66,992

67,742

Class C4

1,400

1,400

1,400

TBD5

Total Military FTEs6

66,179

67,561

68,392

—

Civilian7

25,8288

25,0009

25,0009

25,0009

Total

92,007

92,561

93,392

—
Forecast
2007-2008

Planned
2008-2009

Planned
2009-2010

Planned 2010-2011

Primary Reserve paid strength (All Classes)10

26,000

26,000

26,000

26,000

Primary Reserve total strength (All Classes)11

35,500

35,500

35,500

35,500

CIC

7,500

7,500

7,500

7,500

CA Rangers12

4,365

4,525

4,685

4,845
Source: Vice-Chief of the Defence Staff Group
Notes:
Forecast FTE count is based on current strength numbers (December 2007) plus end-year growth forecast.
Planned FTE counts are based on planned establishment numbers.
This number reflects Regular Force Planned Total Strength. Current fiscal framework limits Regular Force expansion up to 68,000 by fiscal year 2011-2012. This strategic limit does not include personnel seconded to OGDs and Project Management Personnel Resources (PMPR) paid under Vote 5 projects.
Class C members currently augmenting operationally deployed forces for Task Force Afghanistan (TFA). Class C are being reported separately to maintain visibility of reservists employed in support of deployed/contingency operations.
Class C commitment for TFA past February 2009 is currently unknown.
Military Full-Time Equivalent statistics include Class C.
Civilian FTE statistics include Communication Security Establishment Canada (CSEC), National Search and Rescue Secretariat (NSS) and the Office of the Ombudsman.
Approximate Civilian FTE end fiscal year 2007-2008 forecast figure based on 25,828 FTE count at the end of the third quarter (December 2007).
Long term sustainment of the civilian workforce has been established at 25,000 FTEs. In preparation for expected increased attrition with "baby boomer" retirement, the Department is currently developing investment opportunity options to hire above the 25,000 limit for the next five years.
Primary Reserve average monthly Paid Strength reporting, planning and allocations are based on monthly reports provided by ADM(Fin CS)/DSFC and ADM(IM)/DHRIM. Current fiscal framework limits Reserve Force expansion up to 26,000 (Average Paid Strength) by fiscal year 2011-2012.
Primary Reserve Total Strength reporting, planning and allocations are based on monthly reports provided by ADM(Fin CS)/DSFC. Primary Reserve Total strength figure is a forecasted end-year snapshot.
Canadian Ranger expansion to 5,000 by fiscal year 2011-2012.
In order to ensure that the CF are better prepared and equipped to meet evolving domestic and international defence requirements, the Government of Canada indicated its intent to increase the size of the Regular Force to 75,000 and Primary Reservists paid strength to 35,000. CF force expansion is currently targeted at 68,000 Regular Force and 26,000 Primary Reserve paid strength personnel (achieved) by fiscal year 2011-2012. This growth will provide additional military personnel resources that will be used in the coming years to sustain international operations, to prepare for Olympics 2010 and to support CF transformation efforts.
Within the current fiscal framework, and with the increased focus on high operational tempo, transformation and military expansion, the longer-term sustainment of the civilian workforce will be 25,000 Full-Time Equivalent (FTE) personnel. This level is seen as realistic in light of expected increased retirements (depicted on the Retirement Eligibility graph below) and a declining national labour force. Defence initiatives such as apprenticeship programs will help alleviate the upcoming workforce renewal challenges.
[Click on image to enlarge]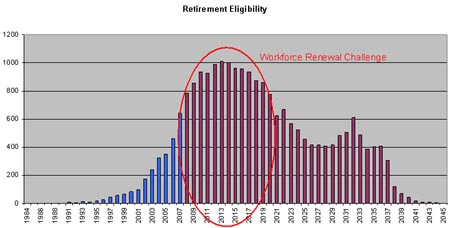 Program Activities by Strategic Outcomes
[Click on image to enlarge]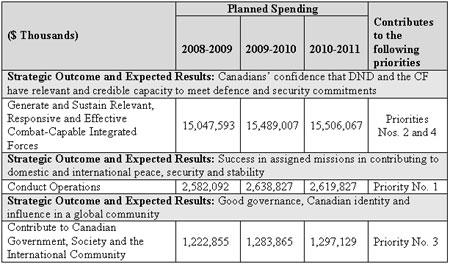 Source: Assistant Deputy Minister (Finance and Corporate Services) and Vice-Chief of the Defence Staff Groups

Note:
The Defence priorities are described in detail on pages 11-14.
The Benefits of Defence Investment by Strategic Outcome
Defence is constantly looking at ways to improve its ability to defend Canada and Canadians, promote Canadian interests and values, and enhance Canada's role in the world. A carefully planned program of modernization and transformation is improving the ability of the CF to meet the challenges of the evolving security environment. Investment in defence capabilities ensures that Canadians can have confidence in National Defence's ability to meet defence and security commitments, to succeed in assigned operations and tasks, and to demonstrate Canadian values through leadership and good governance.
Confidence that DND and the CF have Relevant and Credible Capacity to meet Defence and Security Commitments
Fulfillment of the CF's roles is founded on the production of multi-purpose forces at high readiness for integrated employment on combat, security, and humanitarian operations. Canadians can be confident that their CF will have a range of military capabilities, including modern, combat-capable sea, land, air and special operations forces, ready for missions and tasks when called upon by the Government of Canada.
Defence recognizes that adjustments to Canada's evolving security environment requires building the forces of the future while serving the current needs of Canadians. To respond to those ongoing and future employments, the CF is transforming and modernizing its maritime, land, air, and special operations forces to meet the Defence challenges of the 21st century. The three services, embodied in the Environmental commands, are responsible for the generation of naval, land and air forces that are recognized internationally for their exceptional competence and professionalism. A Strategic Capability Roadmap, currently in development, will provide the blueprint for the next generation of maritime, land, aerospace and special-operations capabilities that fit the Government's policy objectives for defence. The Department and the CF will be concentrating special effort in the recruitment, development and retention of civilian and military members to renew and strengthen Canada's Defence Team. In this area, the Chief of Military Personnel is transforming the function of attracting and recruiting sufficient military personnel to generate and sustain authorized force structures and levels.
Success in Assigned Missions in Contributing to Domestic and International Peace, Security and Stability
The outcome of assigned missions is a significant determinant of the strategic impact the Government will have to shape and protect Canadian interests. The operational focus of Defence highlights a deep appreciation of the significance of each mission.
The defence and security of Canada remains the CF's first priority. Canada COM is responsible for conducting all CF operations in Canada and North America. Supported by an integrated operational-level command headquarters, the Commander of Canada COM will employ assigned Defence assets to effectively pre-empt and meet threats and emergencies within Canada. Canada COM is also responsible for leading Canadian military operations related to the defence of North America and the maintenance of continental security in co-operation with the United States, except for operations under aegis of the North American Aerospace Defense Command (NORAD).
Historically, more than 9,100 CF members are employed daily in roles supporting domestic operations. These operations are varied in nature and include the provision of domestic security to high profile events within Canada in support of other government departments and agencies. The CF also conducts surveillance patrols of Canada's territorial, aerospace and maritime approaches, concentrating on areas where Canada's interests are most likely to be challenged, while continuing to ensure the safety of Canadians. The significance and visibility of this role is clearly demonstrated by the number of search and rescue incidents (surpassing 9,200) that the CF responded to in 2007.
To meet our international defence and security commitments, the CF's Canadian Expeditionary Forces Command (CEFCOM) will provide the planning, rapid response and oversight capabilities to effectively conduct all overseas operations, including humanitarian, peace support and combat operations. The maritime, land, air and special force assets necessary to provide assistance to humanitarian operations and conduct peace support or combat operations wherever they are required internationally will be employed by commander CEFCOM. The CF will conduct these operations in concert with national and international partners to achieve timely and decisive effects in support of Canada's national interests.
The CF will deploy two separate rotations over the coming twelve-month period, in order to sustain a force of approximately 2,500 personnel on the ground in Afghanistan. Of each rotation, approximately 1,500 will be land-force Regular Force personnel with a further 500 army Reservists and the balance composed of personnel drawn from across the other environmental commands. These numbers do not include many specialists who deploy to theatre for short periods in response to specific technical needs. Although Afghanistan is expected to remain CEFCOM's main effort during this period, there are close to 300 additional personnel deployed world-wide in support of other international missions that collectively contribute to international peace, security and stability.
Reservists currently comprise approximately 20 percent of DND's deployed strength abroad, with the majority supporting international efforts in Afghanistan. CF Transformation and anticipated commitments in international operations suggest that this rate of reservists' participation in operations will be maintained, if not increased, under the Integrated Managed Readiness System.
Canadian Special Operations Forces Command (CANSOFCOM) will maintain the ability to deploy independently, or in support of Canada COM and CEFCOM, with a broad spectrum of agile, high readiness, special operations capabilities. The Canadian Operational Support Command (CANOSCOM) has the important operations-support mission of ensuring fast and efficient logistical and air and sealift support to all national or international operations.
Good Governance, Canadian Identity and Influence in the Global Community
The Department of National Defence and the CF reinforce Canada's identity at home and strengthen our reputation and influence abroad. DND is held to the same standards of governance as any other federal department, including legislation that cuts across departmental jurisdictions and with an increased emphasis on accountability. For their part, the CF are also subject to the additional stipulations of the National Defence Act and the Code of Military Discipline. The Department and the Forces will meet the requirements of these codes of conduct as they continue to evolve.
Strengthening Canadian Identity
Taken together, DND/CF form one of Canada's strongest national institutions. They maintain a presence in every province and territory across Canada. The membership of both organizations is drawn from every walk of Canadian life, and both organizations have sought to become more representative of the dynamic nature of Canadian society. Reserve units and Ranger patrols in Canada's North, supported by Cadet units and Junior Ranger patrols, further strengthen the linkages between the CF and Canadian society.
The work of the CF also reinforces the image Canadians associate with their country. The CF are regularly employed for search and rescue, disaster relief, and protecting Canada's sovereignty and resources. In particular, as Arctic security issues continue to emerge, Canadians will expect the CF to play a suitable role in protecting Canadian interests in this vital region.
The Department's activities also strengthen Canada's national and local economies, as well as the health of Canadian industry and the country's technological base. Defence will continue to make a vital contribution to the economic wellbeing of Canadians.
Promoting Canadian Values and Influence
DND/CF work abroad will continue to promote the deeply held Canadian values of democracy, freedom, human rights and the rule of law. Among the approximately 4,000 CF personnel deployed or stationed outside Canada, close to 1,350 of them are posted to diplomatic, liaison, exchange and alliance staff positions. These CF members further strengthen Canada's reputation as a compassionate and collaborative country working to bring peace and security to troubled regions of the world. The CF will continue to be instrumental in the Government of Canada's broader humanitarian relief efforts in response to natural disasters.
Apart from their role in military operations, Defence will also contribute to building Canada's reputation for establishing good governance abroad. Whether through offering peacekeeping training (both at home and abroad), promoting democratic concepts of civil-military relations, or contributing to the Strategic Advisory Team in Afghanistan, civilian personnel and military members will continue to contribute to foreign defence and governmental institutions in a way that reflects professionalism and expounds Canadian values. These efforts are appreciated not only by the recipient countries, but also by Canada's allies and other international partners.
PLANNING CONTEXT
Any number of domestic and international considerations will determine the context in which Defence planning takes place. These factors will not only shape the demands placed on Defence but also affect Defence policies, programs and activities. In order to successfully carry out our mandate, we must base decisions on a thorough understanding of these factors.
Internationally, the danger of large-scale conflict continues to be low, yet the world remains dangerous and unpredictable. The principal international security concerns relate to failed and failing states as well as intra- and inter-state conflicts, international terrorism and weapons of mass destruction. In particular, international terrorism will remain a serious threat for many years to come and the possibility that terrorists will obtain and use weapons of mass destruction in the future cannot be ignored. The international community will also continue to be concerned about humanitarian issues in failed and failing states and the potential for human suffering to escalate into wider conflict.
Regional issues will, as well, continue to draw the world's attention as the potential for wide-scale conflict in the Middle East and East Asia can never be entirely ruled out. However, the challenges of the international environment will not be faced in isolation and the need for Canada to continue working in close cooperation with our North Atlantic Treaty Organization (NATO) partners and other international organizations, to resolve issues of global concern, will remain fundamental to our defence planning and preparation efforts.
As past experience also demonstrates, the possibility of failed states serving as the gathering places of international terrorist organizations will be of concern. The Government has approved the mission in Afghanistan until February 2009. This mission requires close cooperation with other government departments and agencies, particularly Foreign Affairs Canada and the Canadian International Development Agency. Indeed, a comprehensive whole-of-government approach will continue to frame Canada's response to future international operations. Continentally, we will continue to work with Canada's closest ally, the United States, to defend North America through arrangements such as the North American Aerospace Defence Command (NORAD).
Domestically, protecting Canadians and defending Canada's sovereignty will remain as the CF's highest priority. Any effort to increase the number of personnel in the CF, and by extension its capabilities, will need to recognize the considerable economic and demographic changes taking place in Canada. Economically, the excellent fiscal situation has resulted in Canada becoming the only G8 country with a budgetary surplus. But having a robust economy can be double-edged as while a strong economy can mean more funding for Defence the competition for skilled and unskilled workers in what is a "hot-marketplace" will be very high. At the same time, the Canadian workforce is changing and these changes will challenge even the most careful, well thought-out expansion plans. For example, retirements from the CF will increase while the proportion of Canadians between the ages of 16 and 30 - the traditional pool of potential recruits for the CF - decreases.
Canada's ethno-cultural mosaic is also shifting, with immigration from non-European countries increasing and more Canadians than ever belonging to visible minority groups. In fact, immigrants now account for more than 70% of all Canadian labour force growth, a proportion that will grow to 100% in the next 10 years. Finally, half of Canadians between the ages of 25 and 35 have post-secondary education - either at university, college or technical school, giving Canada the highest rate of post-secondary achievement among Organisation for Economic Co-Operation and Development (OECD) member countries. These developments mean that Defence will need to strengthen human resources planning. As a start point, in recognition of changes in the labour market and to cultivate diversity, Defence will need to continue its diversity recruitment initiatives to meet the needs of the future.
Expenditure Management Review
This is the fourth year of scheduled reductions as Defence continues toward the goal of a steady-state reduction of $203 million by fiscal year 2009-2010. The Expenditure Review Committee (ERC) target fiscal year 2008-2009 will be $172 million. The specific efficiencies have been assigned in the table on the following page.
Expenditure Management Review
| | | |
| --- | --- | --- |
| ($ millions) | 2008-2009 | 2009-2010 |
| | | (Steady-State) |
| PROGRAMME EFFICIENCIES / REDUCTIONS | | |
| O&M and National Procurement Support to Air Assets | $37.0 | $53.0 |
| Canadian Parachute Centre | $5.0 | $7.0 |
| Light Armour Vehicles | $7.0 | $7.0 |
| Non-military Vehicles | $7.0 | $7.0 |
| Total | $56.0 | $74.0 |
| Corporate Efficiencies / Reductions | | |
| National Capital Region – Staff, Operations and Maintenance | $52.4 | $52.4 |
| Materiel Acquisition & Support Optimization Project (MASOP) | $20.0 | $20.0 |
| Support for IM/IT Corporate Information Systems | $16.0 | $29.0 |
| Research and Development (R&D) | $15.0 | $15.0 |
| General and Administrative Support | $13.0 | $13.0 |
| Total | $116.4 | $129.4 |
| Target | $116.0 | $129.0 |
| Total ERC Target | $172.0 | $203.0 |
Source: Vice-Chief of the Defence Staff Group
Fiscal year 2008-2009 will see the steady-state targets reached for six of the nine efficiency areas, representing 85 percent of Defence's final target. The three remaining programme efficiencies for the reduction in Operations and Maintenance (O&M) and National Procurement Support to Air Assets, the Canadian Parachute Centre and Support for IM/IT Corporate Information Systems, representing an incremental reduction of $31 million, will reach steady-state values in fiscal year 2009-2010. The entire ERC targets have been programmed up to and including steady-state values since fiscal year 2005-2006 and all senior managers have had their current and future year financial resources reduced accordingly. The Department will continue to report annually on ERC until the entire steady-state reductions are in effect. More information is available on the following TBS ERC website: <http://www.tbs-sct.gc.ca/emis-sigd/ab-ap/index_e.asp>.
Procurement Reform Initiative
A component of the ERC exercise, procurement reform was intended to reallocate $2.5B over a five-year period - fiscal years 2005-2006 to 2009-2010 - as a result of procurement efficiencies. Departmental savings targets under this initiative were adjusted in Budget 2007. This program is now referred to as Budget 2007 Efficiencies, with the departmental target for fiscal year 2008-2009 being $145 million. Future-year adjustments to this savings target will be determined following a planned baseline review during fiscal year 2008-2009.
Transformation of the CF
CF transformation, a multi-year process initiated in 2005, is progressing as expected and is being closely monitored. The evaluations of the progress of transformation conducted in 2007 inform the fiscal year 2008-2009 stages of transformation which focus on refining national and regional command structures, clarifying strategic-level governance, outlining the strategy for force employment, force generation and force development, and codifying processes and procedures at all levels of the integrated Defence organization.
The CF will gain additional domestic experience by conducting both routine operations, including sovereignty patrols and contingency operations, such as in response to natural disasters and national emergencies. The CF will thus be enabled to more effectively engage in initiatives with departments and agencies at all levels of government. That experience will yield rich feedback for command structures and procedures and will energize centralized capability development work.
During the coming year, CF transformation initiatives will focus on further unifying command of operations, aligning strategic-level governance, as well as adapting processes and doctrine to the new operating environment.
Canada First Defence Strategy
Defence will continue to support the Government in further developing and implementing the Canada First Defence Strategy, which will help rebuild the CF into a modern, first-class military. Indeed, the CFDS will further enhance the military's capability to provide effective surveillance and protection for the country, cooperate in the defence of North America, and defend our interests abroad by contributing to global peace and security.
Investment Strategy
Defence has begun work on a comprehensive Investment Plan for the continued modernization and transformation of the CF. Many key capability announcements, such as the acquisition of strategic airlift, have already been made and will be found in the Investment Plan. The Investment Plan itself will present resource allocation plans for equipment, personnel, infrastructure and other essential contributions necessary for the fielding of new equipment and capabilities over the next 10 years. The success of the Investment Plan will also ensure long-term sustainment of all future plans.
The Investment Plan will be greatly influenced by the Capability Based Planning (CBP) exercise led by the Chief of Force Development (CFD). This work, commencing with an extensive examination of the Future Security Environment and the creation and study of Force Development Scenarios, will eventually lead to development of a new Strategic Capability Roadmap (SCR) in fiscal year 2008-2009. After an examination of the current force structure and capabilities against the perceived needs of the future is completed, the new SCR will describe the preferred set of capability alternatives and options to address any and all capability gaps believed present. The capability alternatives and choices provided in the SCR are expected to help decision makers determine what the CF require to meet the challenges of the evolving security environment. These capability choices will be captured and funded in the Investment Plan.
Impact of Operations
The incremental cost of CF participation in the Afghanistan mission will continue to affect defence planning in fiscal year 2008-2009. While additional government funding is anticipated to cover a significant portion of the total incremental expense, some costs will be absorbed within Defence's current reference levels as a reflection of operational and strategic decisions in support of the mission.
Funding requirements for all operations that exceed incremental funding provided from government or current internal Defence allocations will continue to be managed through DND business planning and governance processes to prioritize and redirect financial resources from lower priority activities as needed. As in past years, any reprioritization will direct funding away from routine equipment and infrastructure maintenance and will affect the Department's ability to address operating budget pressures. Readiness of the CF may be affected, dependent on the degree of reprioritization required.