ARCHIVED - National Defence

This page has been archived.
Archived Content
Information identified as archived on the Web is for reference, research or recordkeeping purposes. It has not been altered or updated after the date of archiving. Web pages that are archived on the Web are not subject to the Government of Canada Web Standards. As per the Communications Policy of the Government of Canada, you can request alternate formats on the "Contact Us" page.
[Click on image to enlarge]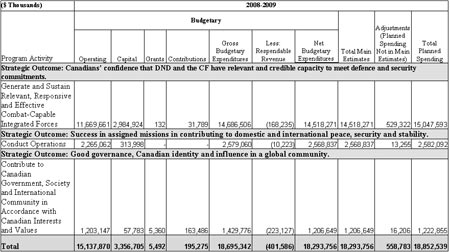 Source: Assistant Deputy Minister (Finance and Corporate Services) Group
* Due to rounding, figures may not add up to totals shown.
Defence actively contributes to all Government of Canada Outcomes. The following table provides a summary of the linkages between Defence Strategic Outcomes and Government of Canada Outcomes. Additional details on past contributions of Defence can be obtained on the Canada's Performance and the 2006-2007 Defence Departmental Performance Report websites.
Government of Canada Strategic Outcomes

National Defence's Strategic Outcomes

Canadian's Confidence that DND/CF has relevant and credible capacity to meet Defence and Security commitments

Success in assigned missions in contributing to domestic and international peace, security and stability

Good governance, Canadian identity and influence in a global community

Economic Affairs

· Income security and employment for Canadians

◘

· An innovative and knowledge-based economy

◘

n

· A clean and healthy environment

◘

Social Affairs

· Healthy Canadians

◘

· Safe and Secure communities

n

n

◘

· A diverse society that promotes linguistic duality and social inclusion

◘

◘

· A vibrant Canadian culture and heritage

n

International Affairs

· A safe and secure world through international cooperation

◘

n

n

· Global poverty reduction through sustainable development

◘

· A strong and mutually beneficial North American partnership

n

n

n

· A prosperous Canada through global commerce

◘

Government Affairs

◘
Legend n = Primary ◘ = Secondary
Source: Vice-Chief of the Defence Staff Group
1. SDS Departmental Goal:
Since its first Sustainable Development Strategy (SDS) was tabled in Parliament, Defence has focused on the overarching goal of integrating environmental considerations into decision-making at every level of the organization. Our environmental vision, as set out in the 2006 version of the Defence SDS, as well as the Defence Administrative Order and Directive 4003-0, reiterate the SDS departmental goal. The Defence SDS explains in detail the nature and extent of the integration of environmental considerations in DND.
2. Federal SD Goal including Greening of Government Operations (GGO) goals:
Implementation of the fourth iteration of our SDS began on April 1st 2007. Defence focuses equally on all of the goals, objectives and targets (or commitments) made in the SDS in order to achieve sustainability within the organization. Our efforts are focused on four strategic commitments, each supported by measurable and time-bound sub-commitments (targets). The four strategic commitments are to:
Develop a framework of land use management putting our lands on a steady-state footing of sustainability;
Actively promote the application of innovative Green Building principles and share lessons learned with the broader federal community;
Implement a proactive and comprehensive Green Procurement program across the Defence organization; and,
Actively and innovatively prevent negative environmental impacts of specific activities over which Defence can exercise a mitigating influence.
Each of these strategic commitments relates to one or more federal SD goals (specifically the GGO element of those goals). A detailed crosswalk establishing the linkages is included in the Defence SDS at Table 4, page 33 of the document which is available on the Internet at: http://www.admie.forces.gc.ca/dge/SDS/SDS2006_e.htm.
3. Performance Measure from current SDS
Defence strategic commitments are supported by a total of 16 sub-commitments that provide concrete indications of the Department's progress toward achievement of the strategic commitments. Each of these sub-commitments comprises a concise statement of the desired end state (example, Strategic Commitment 4.2, Reduce the long-term impact of releases to the environment) supported by objective indicators (Increase the recovery of lead by 5% from the 2003-2004 baseline) and supporting actions (Screen backstop material on small arms ranges to recover metal
fragments; Investigate the use of alternate backstop/bulletstop designs that facilitate metal recovery). These sub-commitments or targets are set out in detail in Table 1, page 23 of the Defence SDS document. In addition, Guidance sheets to support each of the sub-commitments have been produced to provide those responsible for implementing the target with the name and coordinates of a subject-specific expert for each target, the definition and scope of the sub-commitment, an action plan for achieving it, and a template to ensure uniform data collection.
4. Department's Expected Results for fiscal year 2008-2009
As noted above, each of the four strategic commitments is supported by a number of specific sub-commitments, which are measurable, time-bound targets that, taken together, will result in the successful achievement of the commitments. Since the Department's commitments are largely multi-year in nature (i.e., exceeding the three-year reporting cycle of the SDS process), the targets cannot be precisely measured as an annual percentage of completion. Rather, the data reported annually through the chain of command is analyzed and graded as: target exceeded ((if the three-year goal has been achieved before completion of the three-year cycle); target met (applicable only at the end of each three-year cycle); target on track (where progress in a given year indicates that the target can be met for the three-year reporting); or progress unsatisfactory (where analysis indicates that meeting the target will be problematic based on evaluation of the data submitted through the annual reporting exercise). The Department expects to report target on trackfor each of the 16 targets that support our strategic commitments for fiscal year 2008-2009.

In addition, the Department monitors the untargeted performance of an additional four activities that are of continuing interest to the sustainable development community. This exercise provides the data that may be required for government-wide reporting, and allows Defence to identify unexplained and significant variances that would warn of the need for corrective action up to and including re-introducing the activity as a targeted activity in a future SDS.
Source: Assistant Deputy Minister (Infrastructure and Environment) Group
Table 3: Cost Estimates for CF International Operations
($ Thousands)

FY 2007-2008
Forecast

FY 2008-2009
Planned

Operations

Full DND Cost

Incremental
DND Cost

Full DND Cost

Incremental DND Cost

Africa

IMATT – OP SCULPTURE (Sierra Leone)

1,826

450

1,773

723

MONUC – OP CROCODILE (DRC)

1,704

350

2,008

654

UNAMIS – OP SAFARI (Khartoum, Sudan)

5,575

1,500

11,669

8,216

AMIS – OP AUGURAL (Addis Ababa, Ethiopia)

24,918

23,300

43,765

42,803

Sub-Total

34,023

25,600

59,215

52,396

Arabian Gulf Region and South West Asia

OP ALTAIR (South-west Asia)

13,731

6,500

155,480

73,600

OP ARGUS (Afghanistan/Kabul)

3,639

1,500

4,110

2,239

OP ATHENA – ISAF NATO (Afghanistan)

2,568,231

1,077,000

2,403,692

1,008,000

OP ARCHER – OEF (Afghanistan)

4,463

1,000

2,385

1,000

Sub-Total

2,590,064

1,086,000

2,565,667

1,084,839

Americas and the Caribbean

OP FOUNDATION (US CENTCOM Tampa)

1,566

500

816

510

MINUSTAH – OP HAMLET (Haiti)

713

80

730

215

Sub-Total

2,279

580

1,546

725

Europe

OP BRONZE (Bosnia) (NATO)

1,246

180

1,111

265

OP SEXTANT – (NATO)

17,956

8,500

27,779

13,150

Sub-Total

19,202

8,680

28,890

13,415

Middle East

MFO (Multinational Force & Observers) – OP CALUMET (Sinai) non-UN

3,734

500

3,341

901

UNTSO – OP JADE (Middle East)

1,228

90

1,122

215

OP PROTEUS (Jerusalem)

784

350

1,385

360

UNFICYP – OP SNOWGOOSE (Cyprus)

176

50

148

50

OP GLADIUS (Syria)

488

50

303

65

Sub-Total

6,410

1,040

6,299

1,591

Common Costs

Others (expenses related to more than one mission)

550

550

500

500

Sub-Total

550

550

500

500

Total: Operations

2,652,528

1,122,450

2,662,117

1,153,466

UN Revenue
to CRF

UN/MFO
Revenue
to DND

Est UN revenue to CRF

Est UN/MFO revenue to DND

Revenues/Recoveries

114

558

16

9,068
Source: Assistant Deputy Minister (Finance and Corporate Services) Group
The following tables can be found on the Treasury Board Secretariat website at <http://www.tbs-sct.gc.ca/rpp/2008-2009/info/info-eng.asp>.
Services Received Without Charge
Loans, Investments and Advances (non-budgetary)
Sources of Respendable and Non-Respendable Revenue
Summary of Capital Spending by Program Activity (includes Details on Project Spending (Capital) Greater than $30 million, and Capital Construction Program Spending over $60 million)
Status Report on Major Crown Projects
Details on Transfer Payments Programs (includes Summary of Transfer Payments Program by PAA, Details on Transfer Payments Program over $5 million - Narrative, Details on Transfer Payments Program over $5 million)
Evaluations
Green Procurement
Internal Audits