ARCHIVED - The Financial Administration Act: Responding to Non-compliance - Meeting the Expectations of Canadians

This page has been archived.
Archived Content
Information identified as archived on the Web is for reference, research or recordkeeping purposes. It has not been altered or updated after the date of archiving. Web pages that are archived on the Web are not subject to the Government of Canada Web Standards. As per the Communications Policy of the Government of Canada, you can request alternate formats on the "Contact Us" page.
The review examined Treasury Board policies, guidelines, and the management framework governing discipline within the Public Service to determine if they could be strengthened. In seeking to assess the strength of the regime, consultations were carried out in a variety of organizations, with human resources professionals, and with management. Bargaining agents were also invited to participate in the review.
Disciplinary sanctions are primarily aimed at individuals. Imposing personal consequences can be achieved via disciplinary or administrative measures. This should not suggest that institutions are absolved from responsibility when mismanagement occurs. A strong institutional lens—including examination of systemic circumstances that contribute to individual mismanagement—is an important element of the government's Action Plan. In many cases, appropriate responses to non‑compliance would be aimed, wholly or in part, at the institution.
A minister's accountability relates principally to the general direction of a department—to its policies and programs. It entails representing the department before Parliament, guiding legislation relating to the department's work through the legislative process, ensuring acceptance of departmental estimates of proposed expenditures, and explaining and defending the department's policies and practices. Ministers are also accountable for the overall quality of departmental management. The more administrative aspects of accountability involve management and the soundness of departmental finances. A further aspect of this control mechanism is, of course, the allocation of responsibility for maladministration, misconduct, or unexpected results of governance.
The employment sanction systems, both administrative and disciplinary, allow ministers to provide assurance to Parliament and the public that systems are in place to respond in a progressive and appropriate manner to instances of inappropriate conduct by public service employees. This includes seeking out the causes of the misconduct, taking appropriate corrective action, and neutralizing any contributing factors that come to light.
Many tend to view the role and functions of the Treasury Board in its role of public employer as similar to those of private sector employers. In fact, the two regimes were vastly different for most of the first 100 years of Confederation when public servants where occupying offices truly at the pleasure of Her Majesty. Over time, the values, ethics, and policies governing behaviour—and accountability—for public service workers have evolved into a complex set of special duties and obligations, some of which were inspired by private sector practices but a large part of which still depend on the particularities of the public service environment. Similarly, disciplinary standards and practices have changed over time; the authority to impose discipline is now shared among deputy heads, heads of separate employers, and the Treasury Board.
Disciplinary actions in the government
Managers have a number of responses at their disposal:
oral reprimand
written reprimand
suspension without pay
financial penalty
demotion
termination of employment
Disciplinary actions are intended to motivate employees to accept those rules and standards of conduct that are desirable or necessary in achieving the goals and objectives of the organization. A disciplinary system also serves to punish the employee and is a mechanism of deterrence; that is, it is intended to prevent any other employee from engaging in the misconduct. At the extreme end of the spectrum, when circumstances warrant and the bond of trust has been irreparably severed, a disciplinary system will support termination of employment.
Discipline responds to fault, either willful wrongdoing or culpable negligence. It is not used to respond to instances of incompetence or incapacity, unless, of course, this is due to factors under the employee's control.
The FAA, the Public Service Labour Relations Act, and Treasury Board policies, along with case law and rules generally accepted in the field of staff relations, do provide a framework of rules and obligations in imposing discipline, from investigations and interviews to disciplinary hearing and documentation. They provide for steps in determining misconduct and disciplinary action and provide various redress procedures to those who are disciplined. Disciplinary action may be the subject of a grievance. A grievance complaining of discipline causing a financial penalty, suspension, or termination may also be referred to adjudication. Disciplinary action will be judged against the standard of cause. Cause requires an adjudicator to determine if misconduct or misbehaviour has occurred that justifies a disciplinary response and, if so, whether the misconduct in question warrants the particular action (or penalty) taken, considering all of the circumstances. If an adjudicator finds that the employee's conduct did not constitute misconduct or that the penalty was excessive, the adjudicator will normally rescind it. 
Figure 2 illustrates the steps of the standard disciplinary process used in the government chronologically.
Figure 2. The Disciplinary Process in the Government of Canada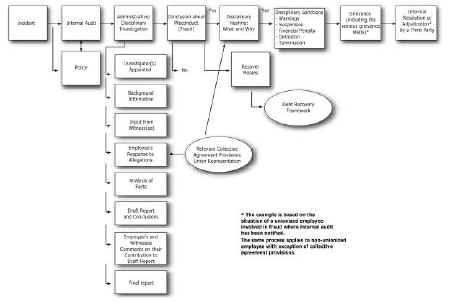 Employees are responsible at all times for conforming to established standards of conduct, implicit or explicit. There are several Treasury Board instruments that establish standards of conduct in specific areas: the Values and Ethics Code for the Public Service, the Policy on the Internal Disclosure of Information Concerning Wrongdoing in the Workplace, and the Policy on Losses of Money and Offenses and Other Illegal Acts Against the Crown. These recognize and reflect the unique nature of public service employment and employees' special obligations related to impartiality, honesty, loyalty, and confidentiality. Moreover, the Conflict of Interest and Post-employment Code for Public Office Holders was created to enhance public confidence in the integrity of public office holders and the decision-making process in government. Other standards of conduct (that are not based on unique requirements of the Public Service but rather on good management practices) are established in such policies as the Policy on the Prevention and Resolution of Harassment in the Workplace.
Department-specific standards of conduct may also be set. For this exercise, deputy heads are cautioned by the Treasury Board against attempting to provide an exhaustive definition of what constitutes misconduct in order to ensure that they retain sufficient flexibility to deal with any type of disciplinary matter that might arise.
Many other types of employment-related misconduct are implied, such as insubordination. Because certain conduct is implicit in the employment context (that is, fundamental conduct that is compatible with an employee's discharge of the duties and responsibilities of his or her employment), it is not necessary for it to have been spelled out expressly in a policy. 
Violation of work-related policies may also constitute misconduct, for example, breach of the requirements of a policy on Internet use or a travel policy. 
Before imposing discipline, the department must ensure that the employee has received advance notice of the expected standards of conduct or must reasonably establish that the employee ought to have known about the standards of conduct. Expectations concerning what the employee should be expected to know arise from the employee's position, training, and certification; position mandate and responsibilities; work experience; and efforts to cover up as well as common sense; objective reasonable person test in like circumstances; employer communications; and previous warnings.
The government disposes of a series of possible responses to individual behaviour, of which disciplinary action is only one. The course of action taken by departments is dependent on how the conduct is characterized, either as culpable misconduct or as incompetence.
The Government of Canada's disciplinary and administrative frameworks that exist today are sound and compare with those of other comparable Westminster‑based jurisdictions. The range of sanctions and responses offered to managers is appropriate. The approaches adopted in the Public Service to date provide a good fundamental basis for the direct exercise of disciplinary authority by deputy heads conferred by the Public Service Modernization Act. Appendix B sets out an outline comparing the federal government's disciplinary and non-disciplinary authorities with those of provincial jurisdictions and some Commonwealth countries. The basic approach does differ. Some jurisdictions have one comprehensive piece of legislation providing a hierarchy of rules and systems governing the responsibilities of public service employees. Some impose specific duties on executives or provide for independent review of their performance. There is very little difference, however, in the types of sanctions available to discipline misconduct or mismanagement.
The onus to use the regime and to do so judiciously is placed directly on the management cadre in departments and agencies. This is especially so since the coming into force on April 1, 2005, of the Public Service Labour Relations Act. Treasury Board guidelines had already placed the responsibility on managers to develop, maintain, and amend codes of discipline that reflect departmental organization and mandate. While most organizations, especially large ones, do have codes, they do not at present specifically target behaviours that may lead to mismanagement. The special obligations of public service employees were referred to earlier. These are not well integrated into the disciplinary process and thinking. A consensus needs to be built within the staff relations community and the management community in two key areas: the impact of the failure to follow management rules and what then constitutes misconduct subject to discipline.
Public sector managers operate in a complex environment. For example, a case study involving possible discipline for mismanagement identified 25 Treasury Board policies that may come into play, most of them not overtly linked with each other or cross-referenced in any way. Not surprisingly, knowledge and awareness of the policies and procedures is often insufficient or low. This is taken into account in the renewal of the Treasury Board policy suite.
Finally, there are some cases where mismanagement is more appropriately characterized as non‑culpable—but poor—performance rather than as a disciplinary issue. There are reports that the abundance of redress mechanisms makes it difficult to address problems of poor performers.
In those situations, dealing with poor managers and poor performers becomes part of an appropriate response. The Public Service Modernization Act contains provisions that give some deference to a deputy head's opinion that an employees' performance is unsatisfactory when a decision to terminate or demote a poor performer is reviewed by an adjudicator.
The process that must be followed to respond to instances of non-culpable behaviour is not inordinately complex but requires a sustained effort. The available support of trained human resources specialists is probably the most important element in helping public service managers apply this process. Provisions of the Public Service Modernization Act also require that each deputy head implement informal conflict resolution mechanisms in his or her institution. This will provide a facilitating mechanism to deal with poor performance.
The review also looked at accountability and sanction mechanisms applicable to members of the executive category, former employees, public office holders, and employees of Crown corporations. The purpose was to assess their appropriateness.
As part of the public service senior cadre, members of the Executive group (EX) play a pivotal role in the establishment and maintenance of a culture that both frowns upon mismanagement and seeks to promote sound stewardship of government resources. Because of the leadership role they are expected to play and because they are also among the most mobile of public service employees, their collective attitudes, values, and conduct can greatly influence the entire Public Service. While the accountability of executives lies within the hierarchical structure of their own departments, a number of processes to collectively develop and manage the community are in place, particularly in the EX-04 and EX-05 (assistant deputy minister) ranks.
Some of the basic elements of good governance definitely include establishing clear accountabilities for senior members of the executive cadre as well as the mechanisms to hold them accountable. Certain jurisdictions have addressed some of these points in a very direct way. In some places, this has included specific provision dealing with the discipline of executives or the management of their performance. Some also provide for the discipline of executives by a party outside the executive's department. 
In the Canadian public service, discipline of executives is frequently informal in nature, not formal. The concept of progressive discipline arose out of collective bargaining and is normally found in collective agreements. It lacks recognition in the common law context. Under common law, employees pass from warnings to termination for cause. As a result, the progressive discipline approach is not one that is necessarily expected to be applied in the same fashion, if at all, for members of management. In fact, just as the appropriate notice of termination period is calculated differently for executives and unionized employees, so too is the disciplinary approach. Indeed, a review of decisions reveals that conduct for which a unionized employee will be suspended may well constitute cause for termination of an executive.
As role models for the organization, executives are held to a higher standard. For career mobility, indeed for continued employment, a misconduct-free record is imperative. A relationship of trust is essential between senior management and departmental executives. The relatively few reported instances of misconduct or other difficulties speak to the culture of the relationship between executives and their supervisors and lead to informal sanctions involving executives being moved to another position. Since the remuneration of executives includes performance pay, those who have faced these difficulties in their management functions will see this reflected in the withholding of such pay. While formal disciplinary measures are usually eschewed, this is therefore most often in favour of a different, less formal approach, often involving a resignation.
This approach has the advantage of flexibility but leads to difficulties in ensuring a coherent approach to acts of mismanagement in the Public Service. It has also created the perception that executives are not held accountable, particularly for acts of mismanagement that occurred "on their watch." Since mismanagement in general is not necessarily detected or systematically sanctioned, this may contribute to a perception that the government has been lax in dealing with these types of situations. At the same time, there are factors and circumstances that are unique to executives that must be considered when determining disciplinary responses. This is reflected in the distinct policies and approaches that have been adopted to deal with situations where the employment of executives is terminated, including, for example, the Policy on Deployment of Executives that provides that executives at the higher levels may be transferred from one position to another without their consent and as operational needs arise.
An effective compliance framework requires the government to formalize possible responses to acts of executive mismanagement. This should still allow for flexibility and for approaches unique to the executive category. Given that mismanagement does not necessarily come to light immediately, mechanisms that would enable executives to be called to account for transgressions even though some time may have passed or they have moved to another position may sometimes be called for.
The principles outlined here should hold to the top-most level of any department. The government's desire to reward good executive management is to be communicated through action and recognition. It is as important as the responses to instances of mismanagement.
It is not realistic to assume that those who are evaluating executives are always better managers themselves. The government's approach to the Performance Management Program must recognize this and give executives the necessary tools to effectively manage their subordinates. Some departments have done a lot to bring the Performance Management Program to life and to ensure that managers get the full benefits from it.
Executives, like other groups of public service employees involved in the management of public resources, may have suffered from the absence of programs providing solid training in core management functions (although some have benefited from the executive development programs). While the government's human resources planning initiatives have established the validity of developing the senior management category, primary focus has been on the "softer" leadership capacities. These skills are intrinsic to good management; however, the practice may have slowed investment in the development of complementary elements, such as knowledge and understanding of the principles and management rules by which executives must govern themselves in performing their duties.
The government's renewed emphasis on good management has manifested itself notably through the development of the MAF. The MAF will encourage a more systematic consideration of management capabilities and performance as part of the evaluation of executives. The Leadership Network and the Public Service Commission of Canada are completing their work in developing a new competency profile for executives. Management excellence is one of four key leadership competencies, also including values and ethics that will be used in recruiting, assessing, and promoting executives in the Public Service. The leadership profile will also cover deputy ministers, heads of agencies, and managers in levels feeding the Executive group, facilitating the establishment of shared practices and values and the renewed culture in management.
In a number of cases examined by the Auditor General of Canada, public service employees who appeared to have been implicated in acts of mismanagement were no longer employed by the time the reports were completed. This has prompted the consideration of the situation of former public service employees who may have committed acts of mismanagement while in office.
In the context of this review, these situations raised two issues:
the impact of the employees' departure on the investigation; and
the nature and relevance of the sanctions that may be imposed on these employees.
The reasons underlying these departures are not necessarily available. Some may have taken place as the result of a disciplinary process that culminated in an agreement to resign. Some public service employees may also have offered a resignation, unprompted, while an investigation was in progress.
Since the primary purpose of discipline is corrective, the imposition of a disciplinary action to a departing employee is unlikely to have the desired result. Furthermore, if the employee has already left, the employment relationship upon which rests the authority to impose disciplinary or administrative sanctions no longer exists.
At present, the government has some instruments at its disposal. Offences under the Criminal Code and the FAA do not make any distinctions based on the current employment status of the individual, and actual policies do require the disclosure of potential offences to the proper law enforcement agency. At the same time, monies owed by retired individuals can be set off from amounts owed to or by the Crown, including pension benefits. In fact, many departments and agencies will now withhold payment of termination benefits pending determination of outstanding claims where there is a risk that monies may be owed to the Crown.
The relative ease with which departments can contract directly or indirectly to obtain the services of public service employees raises an issue related to whether it is appropriate to retain the services of a person who was dismissed from the Public Service on grounds of mismanagement, short of having been found guilty of corruption. The same issue arises out of re-employment or employment by another public service employer or an agent Crown corporation. There is no general rule preventing a fired employee or an employee who resigns as part of the disciplinary process from being re-employed.
The review also looked at the situation of public office holders, principally Governor‑in‑Council appointees. At the time of writing, about 3,000 appointees held office, approximately 600 of whom were engaged on a full-time basis. From time to time, questions arise as to whether these appointees are obliged to comply with rules and are subject to the usual sanctions and enforcement regimes.
Governor‑in‑Council appointees are found in a variety of positions and organizations. They are appointed as heads and members of departments, agencies, boards, commissions, and Crown corporations. They include deputy ministers and deputy heads. For many of those, the MAF will stand as a statement of expectations.
The Privy Council Office has issued two documents to assist deputy ministers and heads of agencies: Guidance for Deputy Ministers[6] and A Guide Book for Heads of Agencies: Operations, Structures and Responsibilities in the Federal Government.[7] These publications help to define responsibilities and accountabilities, which translate into expectations. Taken together with the 2003 Values and Ethics Code for the Public Service, the Conflict of Interest and Post‑Employment Code for Public Office Holders issued in 2004, and the MAF, it is apparent that there is a substantive body of written work to assist the majority of public office holders in understanding the culture and values of the government, as well as performance expectations. The existence of this body of written work is not enough in and of itself.
There is evidence to suggest that some of the situations of mismanagement related to public office holders arise not because of deliberate malfeasance but because of misunderstandings of the rules, culture, or values related to public administration.
Two factors seem to influence these occurrences. First, many of these organizations have mandates that require them to perform quasi-judicial functions or otherwise carry out their activities in a manner that is more independent from the executive branch of the government than departments. At times, this independence with respect to mandate may be misinterpreted as independence in administration (financial and human resources management). In some instances, it appears that some public office holders experience difficulties in balancing the independence of their mandate with the defined set of government administrative requirements and values.
The fact that an organization has a mandate with a level of independence from the executive does not automatically translate into that same level of independence for the administration or management of the organization. There are a variety of examples of organizations that are independent in terms of how they carry out their mandate (for example, the Office of the Auditor General of Canada) but are still subject to the rubric of legislation, regulation, and policy that applies to financial management and the general administration of organizations that are scheduled under the FAA, whether those organizations are departments or tribunals.
The second factor is related to the first but occurs in organizations regardless of their level of independence. Some public office holders whose appointments are their first work experience with the federal government may bring with them a different set of cultural values. In some cases, they have not been successfully supported in developing the culture and instincts to adapt those practices to the public service environment. It is often the case that those different sets of values are nothing more than a manifestation of the difference between the rules in each environment. The majority of public office holders charged with management responsibilities are seen by observers as skilled and performing their jobs with integrity and competence. On some occasions, problems have occurred when public office holders appointed from outside of the Public Service legitimately believing that their non–Public Service experience was a factor leading to their appointment have not adapted past practices to their new public sector environment. Accordingly, they may have believed that managing in accordance with a set of cultural values and ethics garnered through their experience outside of government was both legitimate—and actually expected—by those responsible for their appointment. Occasionally, this approach has led to problems. Further measures could be developed to ensure that all appointees understand the differences in expectations, rules, and values within the public service environment.
Training and orientation programs, including orientation to public service culture and ethics, have been developed by the Secretariat, the Privy Council Office, and the Canada School of Public Service. These courses and programs provide public office holders with a sense of the public service culture and of the legislative and policy frameworks that govern their work. The learning mechanisms also serve to introduce new appointees to appropriate professional networks. At present, the public office holder determines whether he or she wishes to participate. In addition, the School is establishing the Senior Leaders Program with a curriculum focussed on core management accountabilities (finance, human resources, values and ethics, etc.).
The directors of Crown corporations are usually part-time appointees and subject to the first part of the Conflict of Interest and Post-Employment Code for Public Office Holders (the Code). Chief executive officers (CEOs) are usually the only full-time public office holders and, as such, are subject to all parts of the Code. For Crown corporations, the Code represents a written set of expectations around the values and principles influencing the decisions of the CEO and directors. Boards of directors adopt, through bylaws, codes of conduct and procedures for the declaration and management of conflicts of interest. These tend to be designed to meet the particular characteristics of a particular corporation but are based on similar principles.
The Privy Council Office, working with the Secretariat, has developed a course on corporate governance (including a component on the Code of Values and Ethics for the Public Service) for any chair, CEO, or director appointed to a Crown corporation. The course describes the principles of corporate governance and the roles and responsibilities of the director.
Assessing the processes available to sanction mismanagement by employees of Crown corporations was considered. As outlined in the Review of the Governance Framework for Canada's Crown Corporations, these corporations manage their day-to-day operations autonomously. Neither the Treasury Board nor any other part of the executive would play an investigative or enforcement role in relation to the conduct of employees of Crown corporations.
The findings of the Review of the Governance Framework for Canada's Crown Corporations do not require that these conclusions be revisited. It would not be appropriate to expand the role that the government can play with respect to the discipline of employees of Crown corporations.
The government does have oversight mechanisms in place with respect to Crown corporations themselves. All Crown corporations are required to carry out annual audits. Currently, 41 of 46 parent Crown corporations are audited by the Auditor General of Canada. The majority are subject to a special examination (a type of performance audit). In the Review of the Governance Framework for Canada's Crown Corporations, the government committed to giving the Auditor General of Canada the discretion to audit all Crown corporations (except for the Bank of Canada and the Canada Pension Plan Investment Board) as well as to requiring all Crown corporations to undergo special examinations by the Auditor General of Canada. The Budget Implementation Act, 2005, tabled by the government in the House of Commons on February 23, 2005, delivers on this commitment.
The Treasury Board and the government would still benefit from having means to satisfy themselves that Crowns and their employees do comply with the relevant provision of the FAA and related policies. This would require that the relevant information be made available to the Treasury Board as part of regular reporting.