Section III - Supplementary Information
Financial Highlights
($ thousands)
Condensed Statement of Financial Position
At end of Fiscal Year (March 31, 2010)
%
Change
2008-09
2009-10

Assets

-17%
636,410
530,507
Total Assets
-17%
636,410
530,507

Total

-17%
$636,410
$530,507

Liabilities

33%
969,750
1,256,282
Total Liabilities
33%
969,750
1,256,282

Equity

127%
-333,340
-725,775
Total Equity
127%
-333,340
-725,775

Total

-17%
$636,410
$530,507
($ thousands)
Condensed Statement of Operations
At end of Fiscal Year (March 31, 2010)
%
Change
2008-09
2009-10

Expenses

20%
3,607,649
4,306,900
Total Expenses
20%
3,607,649
4,306,900

Revenues

0%
84,839
84,969
Total Revenues
0%
84,839
84,969

Net Cost of Operations

20%
$3,522,810
$4,221,931
Refer to the full Statement of Management Responsibility for further details
http://www.hc-sc.gc.ca/ahc-asc/performance/estim-previs/dpr-rmr/2009-2010-smr-drd-eng.php
Assets by Type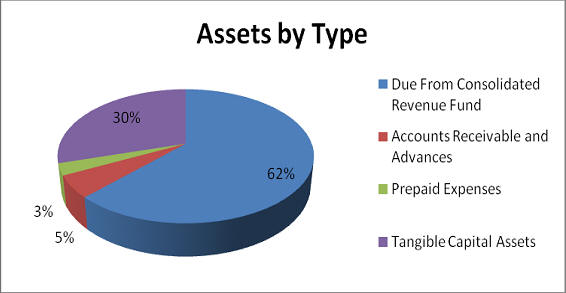 Total assets were $530.5M at the end of 2009-10, a decrease of $105.9M over the previous year. The majority of the change was due to a decrease in Due From the Consolidated Revenue Fund account of $132.8M, offset by increases in Capital Assets $17.8M, Accounts Receivable and Advances $5.3M and Prepaid Expenses $3.8M
Liabilities by Type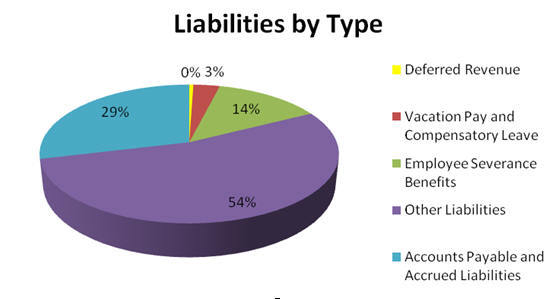 Total liabilities were $1,256.3M at the end of 2009-10, an increase of $286.5M over the previous year. $432.8M of the net increase in liability is a result of $500.0M provided for Canada Health Infoway Inc. from Budget 2009 less a payment of $67.2M from the liability to the same organization for Budget 2007. This increase was partially offset by net reductions to employee severance benefits and accounts payable and accrued liabilities.
Expenses by Strategic Outcome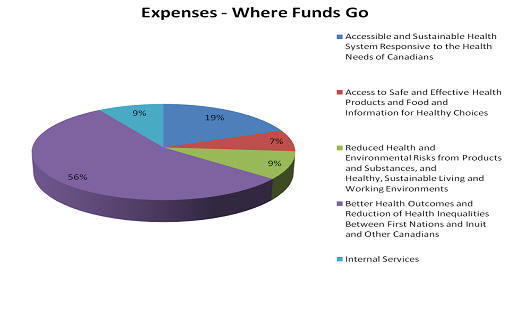 The department's total expenses were $4.3B in 2009-10, an increase of $699.3M over 2008-09. This was due mainly to increases in Transfer Payments ($653.2M), Salaries and Wages ($21.5M) and travel for non-insured health patients ($15.5M).
Revenues by Strategic Outcome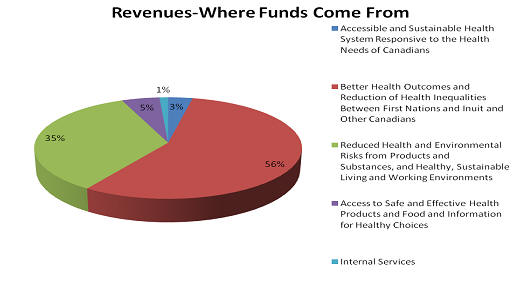 Health Canada receives most of its funding through annual Parliamentary appropriations. The department uses the Consolidated Revenue Fund (CRF) which is administered by the Receiver General for Canada. All cash received is deposited to the CRF and all cash disbursements are paid from the CRF. Health Canada does however generate revenue from program activities that support the above-noted Strategic Outcomes. The department's total revenue was $85.0M in 2009-10, an increase of $130.0K over 2008-09.
Financial Statements
2009-2010 Statement of Management Responsibility
Supplementary Information Tables
All electronic supplementary information tables for the 2009-2010 Departmental Performance Report can be found on the Treasury Board of Canada Secretariat's website at: http://tbs-sct.gc.ca/dpr-rmr/st-ts-eng.asp.
Details on Transfer Payment Programs (TPPs)
Green Procurement
Horizontal Initiatives
Internal Audits and Evaluations
Response to Parliamentary Committees and External Audits
Sources of Respendable and Non-Respendable Revenue
Status Report on Major Crown/Transformational Projects
Up-Front Multi-Year Funding
User Fees Reporting
Web Links
Date modified: