ARCHIVED - Canadian International Development Agency - Report

This page has been archived.
Archived Content
Information identified as archived on the Web is for reference, research or recordkeeping purposes. It has not been altered or updated after the date of archiving. Web pages that are archived on the Web are not subject to the Government of Canada Web Standards. As per the Communications Policy of the Government of Canada, you can request alternate formats on the "Contact Us" page.
Section III: Supplementary Information
Financial Highlights
($ thousands)

Assets

2.3%
421,257
430,970
2.3%
421,257
430,970

Liabilities

70.1%
1,092,124
641,971

Equity

217.9%
(670,867)
(211,001)
2.3%
421,257
430,970
($ thousands)

Expenses

12.3%
3,909,395
3,480,700

Revenues

8.7%
188,764
206,667
13.6%
3,720,631
3,274,033
The purpose of this section is to explain the Agency's financial highlights during the 2009–2010 fiscal year based on the Agency's consolidated financial statements. Below are explanations for the variances in each major grouping based on the most significant factors that affected each grouping during the fiscal year.
Assets
Total assets have decreased by $9.7 million, mostly due to a decrease of $8.1 million in prepaid contributions using pool-funding payments and a program-based approach, an increase of $3.0 million in capital assets due to the capitalization of assets under construction, a decrease of $5.7 million in net loans mostly due to reimbursements and variations in discounts and allowances on these loans.
Liabilities
Total liabilities have increased by $450 million, largely explained by the significant amount of agreements completed in February and in March with multilateral organizations in support of the global food crisis and the assistance to Haiti, thereby contributing to the increase in accounts payable and accrued liabilities of $295 million; and to the increase in accrued liabilities for matching-fund programs of $163 million due to the creation of a new matching-fund program in 2009–2010 to support the humanitarian crisis following the earthquake in Haiti.
Equity
The year-over-year increase of $460 million, or about 218 percent, in equity is calculated by subtracting the net cost of operations of $3,721 million from the opening balance and by adding the net cash provided by government of $3,238 million plus the $23 million in services provided without charge by other government departments. For more information, refer to the financial statement's statement of equity and Note 3 on parliamentary appropriations.
Expenses
Total expenses have increased by $429 million, primarily due to an increase in transfer payment spending for food aid, including the response to the global food crisis, increased spending in Haiti in response to the earthquake, as well as increased humanitarian assistance in Pakistan and Sri Lanka.
Revenues
The decrease of $17.9 million in revenues is mainly explained by an increase of $7.4 million in the gain on foreign exchange for revaluation of notes payable yet to be encashed by international financial institutions, as well as on allowances on advances and investments; and by a decrease of $24.6 million to the unamortized discount on loans due to the normal yearly amortization of the discount and to the write-off of the unamortized discount on Pakistan's loan following the approval of Pakistan's debt write-off.
Financial Statements
Complete financial statements are available on CIDA's website.
Financial Highlights Charts
CIDA's expenses are divided up into the following six program activities:
CIDA's expenses are divided up into the following sectors of focus: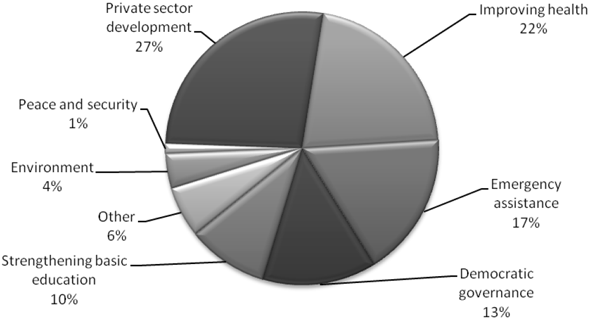 CIDA bilateral disbursements were distributed as follows: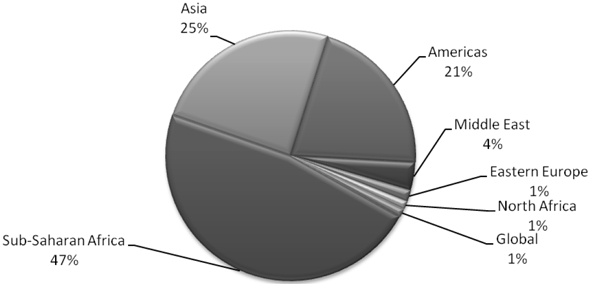 More details on disbursements by sectors and countries are available in CIDA's statistical reports. A statistical report for 2009–2010 will be published by the end of March 2011.
Section IV: Other Items of Interest
CIDA's Program Activity Architecture
The following diagram represents CIDA's program activity architecture (PAA) for 2009–2010, which is covered in this report.
* List of selected countries and regions
Algeria, Burundi, Democratic Republic of Congo, Côte d'Ivoire, Egypt, Guinea, Jordan, Lebanon, Morocco, Nigeria, South Africa, Yemen, Zimbabwe, China, India, Maldives, Nepal, Philippines, Tajikistan, Thailand, Brazil, Colombia, Cuba, Ecuador, El Salvador, Guatemala, Jamaica, Peru, Bosnia and Herzegovina, Russia, Serbia and Montenegro.
Africa Great Lakes Regional Program, Pan Africa Program, Southern Africa Program, West Africa Program, Sahel Regional Program, East Africa Regional Program, Central Africa Regional Program, Canada Fund for Africa Program, Caribbean Regional Program, Inter-American Program, Central America Regional Program, Lee and Windward Regional Program, South America Regional Program, Southern Cone Regional Program, Southeast Asia Program, South Asia Regional Program, Central Asia Regional Program, Organization for Security and Cooperation in Europe Program, Institutional Partnerships in Europe, Mideast and Maghreb, Broader Middle East and North Africa Program, Middle East Regional Program, South Caucasus Regional Program, Eastern Adriatic Program, Maghreb Regional Program.
List of Supplementary Information Tables
The following electronic supplementary information tables can be found on the Treasury Board of Canada Secretariat's website at www.tbs-sct.gc.ca/dpr-rmr/2009-2010/index-eng.asp
Sources of Respendable and Non-Respendable Revenue
User Fees / External Fees
Details on Transfer Payment Programs
Internal Audits and Evaluations
Green Procurement
Responses to External Audits
Contact Information
For additional information about CIDA's programs, activities, and operations, please visit the Agency's website at www.acdi-cida.gc.ca or contact:
Public Inquiries Service
Communications Branch
Canadian International Development Agency
200 Promenade du Portage
Gatineau, Quebec K1A 0G4
Canada
Telephone: 819-997-5006
Toll-free: 1-800-230-6349
Telecommunications device for the hearing- and speech-impaired: 819-953-5023
Toll-free: 1-800-331-5018
Fax: 819-953-6088
E-mail: info@acdi-cida.gc.ca
You may also contact one of CIDA's Regional Offices
---
Footnotes
Some activities—for example, CIDA's Russia program—cannot be reported as official development assistance as per the Official Development Assistance Accountability Act.
http://laws.justice.gc.ca/en/ShowTdm/cs/O-2.8//20081211/en
A summary of the Government of Canada's official development assistance activities was tabled in Parliament in September 2010 and is available on CIDA's website at www.acdi-cida.gc.ca/reports
A more detailed version of the PAA is presented in Section IV, page 48.
Total authorities include the $449.5-million Pakistan-Canda Debt for Education Conversion initiative, and have not been adjusted for non-respendable revenues and services provided without charge; however, actual spending is derived from public account figures, and is adjusted for non-respendable revenues and services provided without charge in order to be comparable to planned spending. For more details, see pages 19–20.
www.tbs-sct.gc.ca/ppg-cpr/frame-cadre-eng.aspx
In this report, "countries of concentration" refers to the name of a CIDA program activity (see page 22 for details); the term "countries of focus" refers to a list of 20 countries announced in 2009 in which CIDA would concentrate the majority of its bilateral assistance (www.cida.gc.ca/countriesoffocus).
For more information on Canada's contributions and the MDGs, visit www.acdi-cida.gc.ca/acdi-cida/ACDI-CIDA.nsf/eng/JUD-13173118-GPM
http://siteresources.worldbank.org/INTGLOMONREP2010/Resources/6911301-1271698910928/GMR2010WEB.pdf
http://www.un.org/millenniumgoals/pdf/sgreport_draft.pdf
http://content.undp.org/go/newsroom/2010/june/le-pnud-propose-un-programme-daction-en-huit-points.en
http://www.un.org/millenniumgoals/reports.shtml
www.tbs-sct.gc.ca/ppg-cpr/frame-cadre-eng.aspx
Commencing with the 2009—2010 Estimates cycle, the resources for the internal services program activity are displayed separately from the program activities: they are no longer distributed among the remaining program activities, as was the case in previous Main Estimates. This has affected the comparability of spending by program activity between fiscal years. For more details, see page 42.
"Type" is defined as follows: Previously committed to—committed to in the first or second fiscal year prior to the subject year of the report; Ongoing—committed to at least three fiscal years prior to the subject year of the report; and New—newly committed to in the reporting year of the Report on Plans and Priorities or Departmental Performance Report.
In CIDA's Report on Plans and Priorities 2009–2010, Contributing to mitigating the food crisis was identified as a distinct Agency priority. Given that Increasing Food Security is one of the three thematic priorities announced by the Minister of International Cooperation in the last year, the former priority was adapted and is being presented under the heading "Thematic Priorities" to avoid redundancy.
www.acdi-cida.gc.ca/acdi-cida/ACDI-CIDA.nsf/eng/FRA-825105226-KFT
See note 8 on page 4 for the distinction between countries of focus and countries of concentration.
See page 17 for details on risk analysis and management.
Untied aid is assistance in the form of goods and services that do not have to be purchased in Canada. This gives Canada's aid dollars a greater impact. See details at www.acdi-cida.gc.ca/acdi-cida/ACDI-CIDA.nsf/eng/NAT-9583229-GQC
Formerly known as Canadian Partnership Branch, this branch was renamed Partnership with Canadians Branch in summer 2010. See details at www.acdi-cida.gc.ca/acdi-cida/acdi-cida.nsf/eng/JUD-11291243-N24
www.acdi-cida.gc.ca/acdi-cida/ACDI-CIDA.nsf/eng/NAT-9288209-GGP
www.acdi-cida.gc.ca/acdi-cida/acdi-cida.nsf/eng/JUD-4128122-G4W
www.acdi-cida.gc.ca/crisishaiti
An RSS feed (Really Simple Syndication or Rich Site Summary) allows readers to quickly access updated content from a website.
www.acdi-cida.gc.ca/project-browser
www.acdi-cida.gc.ca/acdi-cida/ACDI-CIDA.nsf/eng/FRA-825105226-KFT
www.acdi-cida.gc.ca/acdi-cida/ACDI-CIDA.nsf/eng/NAD-31210472-LHX
www.cgiar.org/impact/challenge/index.html
www.acdi-cida.gc.ca/acdi-cida/ACDI-CIDA.nsf/eng/JOS-312101022-KT2
Details on CIDA's performance in fragile states are available in Section II of this report, under the corresponding "Program Activity" on page 26.
www.gcpedia.gc.ca/wiki/Category:CIDA_Riskepedia_community (only available to employees of the Government of Canada)
CIDA's Audit Committee comprises a majority of external members (4), as required by the Policy on Internal Audit and related directives, and is chaired by the Agency's President. Ex officio members of the Audit Committee are the Executive Vice-President, Chief Financial Officer, and the Chief Audit Executive.
Excludes $264.5 million (2008—2009: $227.0 million) in issuance of notes to the IFI Fund accounts.
The PCDEC is an agreement between Canada and Pakistan that aims at forgiving Pakistan's outstanding $449.5-million debt to Canada using a debt-conversion approach: the Government of Pakistan is required to make education sector investments that are equivalent to the value of its debt. According to the agreement, Pakistan's debt is written down proportionally by CIDA for the year in which investments are made. In 2009–2010, the PCDEC supported training for more than 120,000 teachers and other education professionals.
A country strategy was not developed for Cameroon since CIDA is winding down its bilateral aid program in that country; however, Cameroon will remain eligible to receive assistance through the West Africa Regional Program, the Pan Africa Program, Multilateral Programs Branch, and Canadian Partnership Branch.
Note: country development programming frameworks (CDPFs) were developed for CIDA's 20 countries of focus. For programs and regions where CIDA will continue to have a modest presence, country strategies are accompanied by a logic model and performance measurement framework (as well as other CDPF annexes) which align with partner country development priorities.
Bangladesh Rehabilitation Assistance Committee (www.brac.net/)
The IRAI is the latest edition of a composite index constructed by the World Bank using scores from its Country Policy and Institutional Assessment (CPIA). The CPIA is used to assess how conducive a country's present policy and institutional framework are to fostering poverty reduction, sustainable growth, and the effective use of development assistance. The CPIA rates countries against a set of 16 criteria related to economic management, structural policies, policies for social inclusion and equity, and public sector management and institutions. The IRAI, i.e. the overall CPIA score, is calculated by averaging the mean of these four categories. The IRAI, as well as each criterion, is scored on a scale of 1 to 6 (http://go.worldbank.org/S2THWI1X60).
On June 28, 2009, the Honduran military carried out a Supreme Court order to forcibly remove the democratically elected President of Honduras, Manuel Zelaya, from power.
WFP Annual Report 2009
A complex humanitarian situation occurs in a country, region, or society where there is a total or considerable breakdown of authority resulting from internal or external conflict.
www.wfp.org/purchase-progress
http://en.wikipedia.org/wiki/European_Union_Police_Mission_for_the_
Palestinian_Territories
See Section IV for the list of selected countries and regions.
Due to the refocusing of CIDA programming on a smaller number of countries and regions announced in May 2009, annual performance reports were not prepared for countries and regions where CIDA is no longer providing bilateral assistance, i.e. in 17 of the 31 countries included in this program activity. This made it impossible to accurately assess the overall performance status of this and the following indicator.
www.mopanonline.org/publications
www.afdb.org/fileadmin/uploads/afdb/Documents/Policy-Documents/Gender%20Equality%20and%20Women%E2%80%99s%20Empowerment
%20an%20Updated%20Gender%20Plan%20Of%20Action%20%28UGPOA%29%202009-2011%20EN.pdf
www.fin.gc.ca/bretwood/bretwd08-eng.asp
www.acdi-cida.gc.ca/acdi-cida/acdi-cida.nsf/eng/ANI-73111430-KPE
http://pm.gc.ca/eng/media.asp?id=1911
www.acdi-cida.gc.ca/acdi-cida/ACDI-CIDA.nsf/eng/NAT-422125937-MXB
See additional variance explanation on page 7.
BBM Canada is an audience-measurement organization for Canadian television and radio broadcasting.
In many instances, MMI projects may have reached the same individual more than once. This is helpful in raising awareness on development issues, but poses a challenge to assess precisely the reach and impact of overall efforts to engage Canadians.
See note 15 on page 8.
See page 17 for details.
www.acdi-cida.gc.ca/reports
Excludes administrative costs, changes in the value of investments in international financial institutions, and debt relief to Pakistan. "Other" includes higher education, promotion of development awareness, and support to civil society.
"bilateral" excludes core funding to multilateral organizations.
www.acdi-cida.gc.ca/acdi-cida/ACDI-CIDA.nsf/eng/JUD-4128122-G4W
See www.acdi-cida.gc.ca/regionaloffices