ARCHIVED - Canadian International Development Agency - Report

This page has been archived.
Archived Content
Information identified as archived on the Web is for reference, research or recordkeeping purposes. It has not been altered or updated after the date of archiving. Web pages that are archived on the Web are not subject to the Government of Canada Web Standards. As per the Communications Policy of the Government of Canada, you can request alternate formats on the "Contact Us" page.
Minister's Message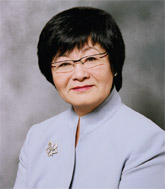 In 2009–2010, CIDA faced challenges and saw continued successes. The economic and food crises continued, and severe natural disasters affected the lives of millions of people.
In January an earthquake of devastating consequence struck Haiti, one of CIDA's countries of focus. Canadians and the Canadian government mobilized immediately. Working with international and Canadian partners, and the Haitian government itself, Canada delivered its largest ever humanitarian response.
The loss of CIDA colleagues and other Canadians, many of whom were involved in Haiti's development efforts, brought home the sacrifice and dedication of so many Canadians working in developing countries.
Throughout 2009–2010, CIDA undertook the preparation for the G-8 and G-20 events. The Prime Minister announced that the G-8's development focus would be to improve the lives of mothers, newborns, and children under the age of five.
During the year, new elements of our Aid Effectiveness Agenda were introduced. With consultations throughout the year to help define strategies, CIDA announced its three thematic priorities that guide CIDA's programming: Food Security, Children and Youth, and Sustainable Economic Growth.
I am pleased to present CIDA's performance report for the past fiscal year to Parliament.
The Honourable Beverley J. Oda, P.C., M.P.
Minister of International Cooperation
Section I: Departmental Overview
Introduction
The mission of the Canadian International Development Agency (CIDA) is to lead Canada's international effort to help people living in poverty by achieving real economic, social, environmental, and democratic progress in Africa, Asia, and the Americas.
Our efforts have contributed to ensuring food security, generating sustainable economic growth, giving children and youth a better future, stabilizing fragile countries, and responding to natural disasters.
Canada's aid program builds long-term relationships in selected countries around the world, and it helps make the world more secure for Canadians. It provides a concrete expression of our Canadian values: compassion for the less fortunate, democracy, freedom, human rights, and the rule of law.
Responsibilities
CIDA is the government's principal organization responsible for managing the bulk of Canada's development assistance program. CIDA aims to manage its resources effectively and accountably to achieve meaningful, sustainable results.
It engages in policy development in Canada and internationally. Its principal goal is to reduce poverty, and support sustainable development in a manner consistent with Canadian foreign policy. The vast majority of CIDA's programming satisfies the eligibility requirements of the Official Development Assistance Accountability Act, and is therefore reported to Parliament as official development assistance.
Orders-in-Council P.C. 1968–923 of May 8, 1968, and P.C. 1968–1760 of September 12, 1968, designate CIDA as a department for the purposes of the Financial Administration Act. The authority for the CIDA program and related purposes can be found in the Department of Foreign Affairs and International Trade Act and in annual appropriations.
Strategic Outcomes and Program Activity Architecture
CIDA's Report on Plans and Priorities for 2009–2010 set out two long-term results, or strategic outcomes, to which the Agency contributes by managing the aid program according to five main program activities. The two outcomes are mutually reinforcing, reflecting the interdependency of achievement of development goals and Canadian citizens' support. Each program activity is defined in Section II of this report.
This is the last year for which this program activity architecture (PAA) is used for reporting, as a new one has been put in place for 2010–2011 and for future years.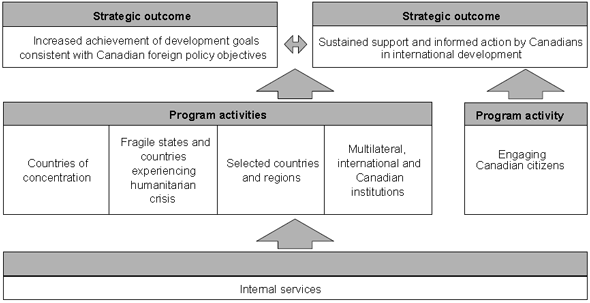 Financial Resources (2009–2010)
$3,248,388,000
$4,211,661,351
$3,600,344,021
Human Resources—Full-time equivalents (FTEs) (2009–2010)
Performance Summary by Strategic Outcome
Increased Achievement of Development Goals Consistent with Canadian Foreign Policy Objectives
Progress toward the Millennium Development Goals (MDGs)
Progress toward Democratic Governance
Countries of concentra-
tion
$928,159,001
$941,639,000
$985,814,000
$1,202,898,131
$783,533,120
Global poverty reduction through sustain-
able develop-
ment
Fragile states and countries experiencing humanita-
rian crisis
$864,654,868
$622,208,000
$625,521,000
$861,806,159
$860,208,300
Selected countries and regions
$453,929,576
$387,464,000
$391,185,000
$391,933,543
$373,576,084
Multilateral, international and Canadian institutions
$1,317,665,265
$934,317,000
$1,052,142,000
1,624,361,874
$1,457,703,873
Total for Strategic Outcome
$3,564,408,710
$2,885,628,000
$3,054,662,000
$4,080,999,707
$3,475,021,377
Explanation of Variance
In 2008–2009, CIDA responded to requests of assistance following numerous natural disasters such as Cyclone Nargis in Burma, the earthquake in China, and the Atlantic hurricane season; whereas, in 2009–2010, the Agency responded to the crisis following the earthquake in Haiti, as well as humanitarian needs following the displacement of populations during the conflict in Pakistan and at the end of hostilities in Sri Lanka.
The variance between 2009–2010 planned spending and actual spending mainly reflects increased funding received through supplementary estimates for programs and initiatives such as programming for food security to support development, research and innovation in agriculture, as well as responding to urgent humanitarian needs, for example in Haiti.
In order to enable the Agency to respond adequately and in a timely manner to the food crisis, CIDA channelled some funding through multilateral institutions instead of bilateral programming, leading to a significant variance between planned and actual spending for the corresponding program activities, as detailed in Section II.
Progress toward the Millennium Development Goals
In 2000, 189 countries, including Canada, adopted the United Nations Millennium Declaration, which led to the establishment of the Millennium Development Goals (MDGs). The MDGs are a set of specific, ambitious goals to be reached by 2015 for poverty and hunger reduction, health, education, gender equality, environmental sustainability, and global partnerships.
Canada is committed to supporting the achievement of the MDGs by contributing to sectors and initiatives directly related to them and by increasing investments in those areas where progress is needed. Canada has made important contributions to the achievement of the MDGs, particularly in the areas of food security, child health, and education. Canada's emphasis on accountability and aid effectiveness also align with the objectives of the MDG Summit.
Canada, the G-8, and the MDGs
According to the World Health Organization, every year, an estimated 500,000 women lose their lives during pregnancy or childbirth, and nine million children die before their fifth birthday.
Prime Minister Stephen Harper, noting that these are areas where the needs are greatest, announced in January 2010 that Canada would make the health of mothers and children in the world's poorest regions a top priority of the G-8 Summit to take place later that year in Muskoka, Ontario.
This Maternal and Child Health initiative directly contributes to two of the MDGS: reduce child mortality (MDG4) and improve maternal health (MDG5).
Overall, progress on the MDGs has been uneven, and the financial crisis and economic slowdown have slowed progress toward their attainment by 2015. It is expected that because of the crises, an additional 64 million people will live on less than US$1.25 a day by the end of 2010, according to the World Bank's 2010 Global Monitoring Report. While many developing countries are on track to achieving a few of the MDGs, large disparities persist across, and within, countries. Sub-Saharan Africa remains the geographic region with the furthest to go, and it is not on track to meet many of the MDGs by 2015. Countries emerging from conflict or facing political instability are particularly threatened, while in middle-income countries, even where progress toward achieving the MDGs is most rapid, large pockets of inequality mean that millions of people continue to live in extreme poverty.
In February 2010, United Nations Secretary-General Ban Ki-Moon issued a special report on the MDGs, entitled Keeping the Promise, reviewing progress achieved to date and identifying future challenges, as well as opportunities to accelerate progress. Similar conclusions are found in the 2010 United Nations Development Programme publication What Will It Take to Achieve the MDGs? An International Assessment, co-funded by Canada and the United Kingdom, which was released in June along with the annual United Nations Millennium Development Goals Report. These reports conclude that achievement of the MDGs by 2015 is still possible, and that accelerated progress relies on comprehensive, nationally developed strategies that are based on targeted interventions supported by international development partners.
Progress toward Democratic Governance
Progress toward democratic governance is essential to make aid more effective and achieve sustainable development results, including progress toward the MDGs.
CIDA's programming in democratic governance helped to build capable and accountable public institutions, increase respect for human rights, strengthen the rule of law, and support freedom and democracy.
CIDA worked to ensure that governments and the public sector in our partner countries have the ability to deliver core functions and services, are accountable and transparent in their decision making and implementation, and take into account the views of all citizens in making decisions affecting their lives.
More details on progress achieved to reduce poverty and in support of democratic governance in the countries where CIDA is active are available in Section II of this report.
Sustained Support and Informed Action by Canadians in International Development
Level of public support
Level of awareness, support, and engagement related to Canada's development program
Engaging Canadian citizens
$27,056,378
$79,523,000
$80,165,000
$19,613,651
$16,203,879
Global poverty reduction through sustainable development
Explanation of Variance
The variance between 2008–2009 and 2009–2010 actual spending, and between 2009–2010 planned spending and actual spending, is mostly due to internal reallocations to meet new Agency and government priorities, such as humanitarian assistance to Haiti and a reorganization in programming. For example, the mandate of the Office for Democratic Governance was reviewed, and the unit was fully integrated into CIDA's branches during 2009–2010. As a result, this group's expenditures could no longer be entered under "Engaging Canadian citizens."
Level of Support, Awareness, and Engagement
CIDA's public-engagement activities provided information to Canadians to build their awareness and deepen their understanding of international development. These activities also encouraged participation and allowed Canadians to engage in international development as volunteers, interns, and election observers.
With CIDA support, in 2009–2010, millions of Canadians were reached through various media campaigns, an estimated 1.9 million children and educators were reached through classroom activities, and more than 140,000 people were reached through lectures, films, workshops, speaking tours, participatory theatre, training of youth leaders, art and multimedia contests, and leadership development.
More than 400 election observers participated in 20 international election-observation missions in 17 countries, and new agreements with several Canadian organizations are allowing more than tens of thousands of Canadian volunteers and youth interns to be placed in communities around the world to work on development projects over a five-year period.
Provides support services to CIDA programming
Internal services
N/A
$104,110,000
$113,561,000
$111,047,993
$109,118,765
Explanation of Variance
No comparison with 2008–2009 is possible as this is the first time internal services are displayed separately.
This program activity includes activities and resources that are administered to support the needs of programs and other corporate obligations. These are management and oversight services, communications services, legal services, human resources management services, financial management services, information management services, information technology services, real property services, materiel services, acquisition services, travel, and other administrative services. Internal services include only those activities and resources that apply across an organization, not those provided specifically to a program.
Total
$3,591,465,088
$3,069,262,000
$3,248,388,000
$4,211,661,351
$3,600,344,021
Explanation of Variance
See notes on pages 3, 19, and 20 for detailed explanations of variance.
Contribution of Priorities to Strategic Outcomes
Although this section provides some concrete examples of progress achieved for each priority, Section II of the report provides more in-depth performance information with additional examples.
1) Strengthen the effectiveness of Canada's aid program and implement the Paris Declaration on Aid Effectiveness
Ongoing
Significant progress made
Increased achievement of development goals consistent with Canadian foreign policy objectives
2) Thematic priorities

Increasing food security
Securing the future of children and youth
Stimulating sustainable economic growth

New
(subset of priority 1)
Significant progress made
3) Canada's strategic role in Afghanistan and other fragile states
Ongoing
Some progress made
4) Support the government's commitment to the Americas
Ongoing
Significant progress made
5) Implement CIDA's Public Service Renewal plan
Ongoing
Met all objectives
Strengthen the Effectiveness of Canada's Aid Program and Implement the Paris Declaration on Aid Effectiveness
During the past year, the Government of Canada has taken important steps to improve the effectiveness of its aid in order to deliver results that improve the lives of citizens in developing countries.
CIDA's Aid Effectiveness Action Plan – Measuring Progress
In July 2009, CIDA finalized its Aid Effectiveness Action Plan, which integrates the government's policy priorities of focus, efficiency, and accountability with our international commitments under the Paris Declaration on Aid Effectiveness (2005) and the Accra Agenda for Action (2008).
2009 Fall Report of the Auditor General of Canada
In 2009 the Auditor General assessed whether CIDA had implemented its commitments stemming from the 2002 Policy Statement on Strengthening Aid Effectiveness, and provided a series of recommendations. In summary, the audit found that CIDA had not put in place all the required management processes to implement and monitor its aid-effectiveness commitments.
The main criticisms in the report were these:
The processes to obtain approval for project funding were complex and lengthy, and this fact had long been criticized within and outside the agency.
The Agency had failed to concentrate on fewer priorities, despite a commitment to narrow its focus.
Donor partners, recipient governments, and program staff were unclear about the agency's direction and long-term commitment.
The nature of international development calls for stable, long-term programming, and CIDA needed a comprehensive plan for going forward.
Despite these drawbacks, there were a number of positive findings. The Auditor General noted that CIDA has performed very strongly in several areas critical to poverty reduction, and that the Agency had made considerable progress in donor harmonization, local ownership, and solid risk-management practices. Finally, the Auditor General noted that CIDA is well regarded by its partners in the field.
CIDA's response to the report is available at
www.oag-bvg.gc.ca/internet/English/parl_oag_200911_08_e_33209.html
CIDA's Aid Effectiveness Action Plan lays out a set of time-bound actions over four years that will have the greatest impact on improving the effectiveness of our aid. CIDA's Aid Effectiveness Action Plan addresses many of the recommendations related to aid effectiveness made by the Auditor General of Canada in her 2009 fall report to Parliament.
The progress made on aid effectiveness commitments is already apparent:
Strengthened Focus
In 2009–2010, the concentration ratio of CIDA's bilateral country program assistance to its 20 countries of focus reached approximately 81 percent, surpassing the 80-percent target set for 2010–2011, announced by the Minister of International Cooperation in February 2009.
Increased Decentralization of Operations
In 2009–2010, as part of the Government of Canada's strategy to enhance representation abroad, CIDA developed a new decentralization model to improve alignment between programs and local priorities to quickly address local needs and develop stronger relationships with local stakeholders. The Agency has committed to increasing its field presence and delegate greater authorities to the field.
Canada has steadily increased the decentralization of operations in the field since 2007–2008, and managed risks accordingly. Specifically:
In Afghanistan, CIDA continued to strengthen its decentralized presence: the number of Canadian staff there increased to 25 in 2009–2010, compared to 7 at the beginning of 2007–2008.
In Africa, an additional 8 positions were moved to the field, bringing our presence there to 125 staff.
In the Americas, an additional 3 positions brought our presence to 82.
Further Untied Aid
All Canadian food aid has been untied since April 1, 2008, and Canada is well on its way to fully untying 100 percent of its development aid by 2012–2013. In 2008, Canada's untied-aid ratio reached 91 percent, up from 75 percent in 2007. Untying aid means that Canada's aid dollars will have a greater impact, and demonstrates that Canada's international assistance efforts are truly about helping developing countries to help themselves through a more effective, focused, and accountable approach to aid.
Improved Administrative Efficiency
Through its Business Modernization Initiative, CIDA is achieving additional efficiencies by reducing the time and effort required for the Agency to design and implement programs. In 2009–2010, the Agency streamlined administrative processes and systems in Canadian Partnership Branch through the "Harmonizing Operations for Partnership Effectiveness" initiative. This now serves as a single point of standard registration for partner organizations, resulting in cutting response times by more than half.
Concurrently, based on the Agency's experience in coordinated programming, and on evaluations findings, CIDA developed a Policy on Program-Based Approaches (PBAs) in May 2009 to inform decision making by articulating the appropriate circumstances and pre-conditions necessary for our use of program-based approaches.
What our evaluations tell us about program-based approaches
The 2008–2009 Review of Program-Based Approaches (PBAs)—based on six country programs: Bangladesh, Ethiopia, Ghana, Malawi, Mozambique, and Vietnam—revealed that:
The selective use of PBA instruments (pooled funding, general and sector budget support, etc.) to complement traditional project-based approaches offers the donor community and partner countries a unique opportunity to collectively effect system-wide changes and strengthen the capacity of partner countries to manage investments, thus creating better enabling conditions for sustainable development. Such objectives are difficult to achieve with traditional project-based investments only.
PBAs are relatively recent at CIDA, and their full effects have yet to materialize. However, preliminary indications are encouraging.
Enhanced Independence of CIDA's Evaluation Function
Under its Aid Effectiveness Action Plan, the Agency has committed to strengthening the independence and neutrality of its evaluation function. To this end, in June 2009, CIDA's Evaluation Committee (comprising five members from CIDA and six from outside the Agency) approved a rolling five-year evaluation work plan for the Agency. The work plan includes 100-percent evaluation coverage of CIDA's programs for the period 2009–2010 to 2013–2014.
Improved Reporting and Communications
Given the important changes in CIDA priorities and thematic approaches over the fiscal year, increased attention has been put in communicating these changes to the general public and CIDA partners in Canada and internationally, aligning our efforts to deliver effective development.
To improve accountability and transparency, and provide better information to Canadians on CIDA's development efforts, new whole-of-government accountability and reporting requirements were met as per the Official Development Assistance Accountability Act. This includedanannual report to Parliament in September 2009 and an annual statistical report in March 2010. In addition, CIDA produced a Development for Results report in the spring of 2010. Major innovations in government communications and results management were implemented in the Afghanistan program, including updating the whole-of-government website, and special efforts were made to keep the public informed about Canada's actions in Haiti through the Haiti website.
CIDA's website has been the subject of a strategic rethink and redesign through 2009–2010. It now incorporates RSS feeds and social media tools such as Twitter, YouTube and Flickr. The Project Browser is a database of project information that is easily accessible to the public via CIDA's website. By the end of the fiscal year, there were 2,850 published projects. Special efforts are being made to include results in the project profiles to provide the public with an overview of the projects' progress.
Thematic Priorities
To sharpen the focus of Canada's international assistance, the Government of Canada has established three priority themes to guide CIDA's work:
Increasing Food Security;
Securing the Future of Children and Youth; and
Stimulating Sustainable Economic Growth.
These three themes are guiding CIDA's programming decisions. This allows Canada to focus on key issues and challenges in partner countries, and ensures that Canadian international assistance is achieving concrete and long-lasting results.
CIDA's new approach ensures that efforts to strengthen environmental sustainability, improve equality between women and men, and support strong governance practices and institutions, including human rights, will continue to be integrated across CIDA's work. Consultations took place with key stakeholders to inform the following CIDA strategies:
Increasing Food Security
The international food crisis of 2007–2008 was mainly due to a rapid increase in the price of key staple foods. The rise in the price of food led to an increase in awareness of food security issues within the international community. The global food situation seems to have somewhat improved in 2010, attributed mainly to increasing food supplies and less speculation by commodity investors. However, food prices remain on average higher than before 2007–2008, and food insecurity continues to be a serious problem: it is estimated that there remains more than one billion people who are food insecure.
On World Food Day (October 16, 2009), the Minister of International Cooperation outlined CIDA's Food Security Strategy with the objective of addressing the extreme hunger and undernourishment of the world's most vulnerable people.
CIDA's Food Security Strategy brings stability through improved access to sufficient quantities of food, security through the availability of quality and nutritious foods, and long-term sustainability through sustained efforts in agricultural development and in research and development.
This approach to increasing food security, combined with the 2008 decision to untie 100 percent of food aid, is helping communities address immediate food needs and find solutions for lasting food security so they can rise out of the cycle of poverty.
What evaluations tell us about CIDA's programming in food security:
In Vietnam, the provincial and regional focus of CIDA's investments have targeted rural poverty reduction and were successful in improving the livelihood and income of the poorest households in some of the country's poorest rural districts by supporting a range of agricultural activities as well as microenterprises, and small and medium-sized enterprises.
In Ethiopia, CIDA programming contributed to considerable progress toward the MDG indicators with improved health and food security, and increased access to resources and services for the poor.
CIDA's Food Security Strategy also builds on the Prime Minister's announcement at the 2009 G-8 Summit in L'Aquila, Italy, to commit $600 million in incremental funds for sustainable agricultural development. As part of this package, CIDA will support two initiatives under the Challenge Program on Climate Change of the Consultative Group on International Agricultural Research: HarvestPlus; and Climate Change, Agriculture and Food Security. CIDA has also partnered with the World Bank and other donors in developing the Global Agriculture and Food Security Programme while also continuing to increase support to the food security plans of our partner countries, regions, and institutions. As of the end of fiscal year 2009–2010, Canada was on track to meeting its L'Aquila commitment.
In addition, the Canadian International Food Security Research Fund was launched as a joint initiative between CIDA and the International Development Research Centre. This five-year program funds a variety of applied research projects that aim to solve immediate and concrete food security challenges through the work of researchers in the developing world. The goal of the fund is to promote more productive and sustainable agricultural systems that make food more secure and nutritious.
Securing the Future of Children and Youth
On Universal Children's Day (November 20th, 2009), the Minister of International Cooperation announced CIDA's Children and Youth Strategy, Securing a Future for Children and Youth, which responds to the needs of the world's most vulnerable and help them to become resourceful, engaged and productive young women and men.
The strategy has three paths: child survival, including maternal health; access to quality education; and, safe and secure futures for children and youth. It includes a special focus on girls. Given that girls and young women do not have the same opportunities as boys, investing in girls makes a real impact on overall development results.
Canada has a long history of child-focused development programming. Through this strategy, Canada is scaling up proven interventions to ensure that children and youth in developing countries have the health, education and protection measures they need in order to develop to their full potential.
Maternal and Children Health Initiative at the G-8
The Prime Minister of Canada announced in January 2010 that Canada would make the health of mothers and children in the world's poorest regions a top priority of the G-8 Summit taking place in June 25–26, 2010 in the Muskoka region of Ontario. Under the overall lead of the Department of Foreign Affairs and International Trade, CIDA was central to Canadian and international efforts to prepare this key development initiative.
The Minister of International Cooperation announced in February 2010 that Canada would host a meeting of Development Ministers in April 2010 in Halifax, Nova Scotia to lay the foundations for development proposals that would go to the G-8 Leaders Summit in June. Particular attention would be paid to maternal and child health, food security, and accountability.
Stimulating Sustainable Economic Growth
Given the power of economic growth to fight poverty, and the risks posed by the current economic crisis, stimulating sustainable economic growth is key to CIDA's efforts to support developing countries.
Countries in Africa, Asia, and Latin America have shown over and over again that growing the economy is the best way to help people lift themselves out of poverty permanently. In 2009–2010, CIDA consulted widely to finalize its Sustainable Economic Growth Strategy, which will be made public in 2010–2011.
Corporate Social Responsibility
Under Canada's Corporate Social Responsibility (CSR) Strategy for the Canadian International Extractive Sector, CIDA has continued to monitor the CSR performance of the Canada Investment Fund for Africa (CIFA), a US$211-million public-private investment fund designed to spur economic growth by providing risk capital for commercially successful private sector businesses throughout Africa.
CIFA (www.cifafund.ca) supports four extractive-sector projects operated by Canadian companies in which fund managers have taken ethical, social, environmental, and health and safety objectives into account through their Environmental, Social, and Governance Code. Several of the fund's extractive sector projects also involve development initiatives that contribute to host-country capacity building at the community level.
Canada's Strategic Role in Afghanistan, Haiti, and Other Fragile States
The security, humanitarian assistance, and development needs of fragile states is rising in importance. The Agency applied its experience to strengthen Canada's role in the reconstruction and development of fragile states in 2009–2010. A balance between short- and long-term interventions is found in supporting stability, good governance, and progress for sustainable development over the longer term.
Afghanistan
In 2009–2010, Afghanistan was Canada's largest country program. CIDA's Afghanistan country program delivered approximately $205 million in reconstruction and development assistance, contributing to three signature projects and three of Canada's six priorities: 1) strengthening institutional capacity to promote economic growth and deliver basic services, 2) providing humanitarian assistance to increase capacity to deal with crises, and 3) advancing capacity for democratic governance by contributing to effective and accountable public institutions and electoral processes.
Canada is among the top five donors supporting the implementation of the Afghanistan National Development Strategy (2008–2013). The situation in Afghanistan remains highly unstable, especially in the south, but progress is being made in several areas.
Haiti
Canada is one of the largest donors in Haiti, and it is making a real difference in the lives of the Haitian population, including those affected by the January 2010 earthquake. In addition to its regular programming, CIDA committed $150.15 million in humanitarian assistance through UN agencies, the Red Cross, and Canadian non-governmental organizations to meet urgent needs on the ground.
The program that CIDA was implementing before the earthquake in Haiti remains, for the greater part, relevant to the current needs. CIDA has reviewed its projects to see how it can more directly respond to the rapid recovery and reconstruction effort. CIDA will establish its reconstruction programming based on Haiti's priorities and on the action plan submitted by the Government of Haiti.
2010 Public Service Award of Excellence to CIDA teams
Within one hour of the earthquake, the Canada's Haiti Earthquake Team sprang into effective action. Team members from many Government of Canada departments, including CIDA, worked ceaselessly over the days and weeks that followed the earthquake to alleviate the pain and suffering of the Haitian people and to assist Canadian citizens and their families affected by the disaster.
The CIDA Human Resources and Field Operations Team of the Afghanistan and Pakistan Task Force, working in a whole-of-government context, developed creative and innovative strategies to meet the special operational and human resource needs of civilian staff working in Afghanistan. They considered the well-being of Canadian civilians in Afghanistan and their needs here at home, including career management, family support, and reintegration into Canadian society.
The dedication and excellence of both teams were recognized when they received the 2010 Public Service Award of Excellence. Details can be found at www.tbs-sct.gc.ca/arp/aepe10-eng.asp#ecuec
Other Fragile States
In West Bank and Gaza, and in Sudan, in addition to emergency assistance to the populations affected by conflicts, CIDA's programming has contributed to recovery and reconstruction, as well as to strengthening the institutional capacity of key ministries and local organizations.
Support the Government's Commitment to the Americas
CIDA's programming continued to support the government's commitment to the Americas during the reporting period.
Haiti figures prominently in Canada's renewed engagement with the Americas, and CIDA will continue to play a leading role in the whole-of-government effort to meet Haiti's priorities as well as reconstruction requirements following the 2010 earthquake.
In addition to Haiti, five additional CIDA countries of focus are in the Americas: Bolivia, Caribbean Regional Program, Colombia, Honduras, and Peru.
Additional information about progress made in these countries against Canada's objectives of democratic governance, prosperity, and security in the Americas are available in Section II of this report.
Implement CIDA's Public Service Renewal Action Plan
The centrepiece of renewal at CIDA is excellence in people management (EPM), defined as: upholding values, ethics, and key leadership competencies of the public service; having a workplace centred on respect, teamwork, learning, and innovation, and a commitment to excellence; and creating an enabling environment in which we effectively communicate CIDA's priorities; strategically align people, work, and systems; provide necessary tools and support; manage and reward performance; and celebrate success.
CIDA's Public Service Renewal Advisory Group on EPM, chaired by a senior manager and comprising several branch executives, created a whole-of-agency engagement initiative that touched all levels of the Agency, including union representation. The objectives of the advisory group were to develop an action plan, build a common awareness and understanding of EPM, and strengthen the alignment of CIDA's management practices with the Public Service Renewal Action Plan, Code of Values and Ethics, and Leadership Competencies.
Section II of this report provides detailed information on progress achieved in the following four priority areas: human resource planning, recruitment, employee development, and enabling infrastructure.
Risk Analysis and Management
CIDA's management and staff have demonstrated a deep engagement in risk management, which is appropriate as CIDA works in a high-risk environment and in increasingly difficult contexts. A process is in place to review the risk environment on a regular schedule, and risk-response strategies have been developed for key risks.
CIDA has developed a suite of tools and risk information that is easily accessible and well communicated through training, a wiki, and web access for CIDA staff. This equips the Agency to establish risk-tolerance levels and respond actively to change and uncertainty by using risk-based information to enable more effective decision making. In turn, this increases capacity and the demonstrated ability to assess, communicate, and manage risk, building trust and confidence.
In CIDA's Corporate Risk Profile 2009–2010, the two most important risks were identified: 1) program effectiveness may be compromised by an inability to attract, develop, and retain competent staff, and 2) large-scale, unanticipated strategic changes may affect CIDA's ability to deliver. To respond to these risks:
CIDA integrated into its Integrated Business Planning exercise the human resource planning requirements to attract, develop, and retain staff. In addition, community-based learning programs such as the Development Officer Learning Program and the Leadership Learning Program have been put in place in order to ensure a solid base of knowledge about CIDA's business programs, priorities, and processes.
CIDA identified clear thematic priorities to guide its programming, and it has developed country strategies for its 20 countries of focus.
CIDA's Internal Audit Committee reviews the Agency's corporate risk profile, and actively monitors and provides advice on the effectiveness of the Agency's risk-management arrangements and risk-mitigation measures. Along with other sources of information, risk-based internal audits undertaken across CIDA's programs and activities provide further transparency to the Audit Committee of the effectiveness of risk management across the Agency.
Expenditure Profile 2009–2010
Voted and Statutory Items
($ thousands)
Budgetary
25 *
Operating expenditures
215,706
225,663
203,668
220,710
30 *
Grants and contributions
2,474,027
2,930,845
2,608,225
3,059,367
(S)
Contributions to employee benefit plans
23,626
25,054
25,955
27,546
(S)
Minister of International Cooperation – salary and motor car allowance
74
77
78
78
(S)
Payments to the International Financial Institution (IFI) Fund Accounts
301,846
238,554
231,336
268,097
(S)
Spending of proceeds from the disposal of surplus Crown assets
3
1
4
(S)
Loss for revaluation at year-end
88,801
163,265
170,185
(S)
Transfer payments in connection with the Budget Implementation Act, 2007
110,000
(S)
Collection agency fees
2
0
(S)
To forgive Pakistan's debt
16,148
Total Budgetary
3,214,083
3,583,461
3,069,262
3,762,135
Non-budgetary
L35*
Issuance and payment of notes to the IFI Fund accounts
0
0
0
0
(S)
Payments to IFIs – capital subscriptions
8,004
0
0
L40
Investment contributions pursuant to Section 3 of the Canada Fund for Africa Act
40,337
Total Non-budgetary
40,337
8,004
0
0
Total Agency
3,254,420
3,591,465
3,069,262
3,762,135
* In 2007–2008 and 2008–2009, operating expenses were approved in Vote 20, grants and contributions in Vote 25; and the issuance and payment of notes to the International Financial Institution (IFI) Fund accounts in L30.
The variance between the Main Estimates and actual spending for operating expenditures mainly reflects increased funding received through Supplementary Estimates to cover the cost of a secure presence in Afghanistan, and to provide necessary headquarters support for aid delivery.
The variation between the actual spending of $3,600,344,021 (see page 3) and the actual spending of $3,762,135,000 in the table above is due to the inclusion in the former amount of non-respendable revenues and services rendered without charges.
Spending Trend
($ thousands)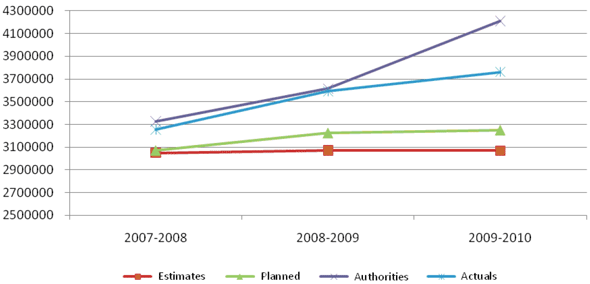 Explanation of Variance
CIDA has to report under its 2009–2010 authorities the full amount of $449.5 million for the Pakistan-Canada Debt for Education Conversion (PCDEC) initiative. Since only the portion of this amount that has been deemed eligible for the PCDEC during 2009–2010 is reported as actual expenditures for 2009–2010 ($16.1 million), the variance between total authorities and actual spending is significant. This will be the case in subsequent reports until the PCDEC obligations are met.