ARCHIVED - National Research Council Canada

This page has been archived.
Archived Content
Information identified as archived on the Web is for reference, research or recordkeeping purposes. It has not been altered or updated after the date of archiving. Web pages that are archived on the Web are not subject to the Government of Canada Web Standards. As per the Communications Policy of the Government of Canada, you can request alternate formats on the "Contact Us" page.
Section IV - Other Items of Interest
Organizational Information
NRC Mandate
Under the National Research Council Act, NRC is responsible for:
Undertaking, assisting or promoting scientific and industrial research in different fields of importance to Canada.
Establishing, operating and maintaining a national science library.
Publishing and selling or otherwise distributing such scientific and technical information as the Council deems necessary.
Investigating standards and methods of measurement.
Working on the standardization and certification of scientific and technical apparatus and instruments and materials used or usable by Canadian industry.
Operating and administering any astronomical observatories established or maintained by the Government of Canada.
Administering NRC's research and development activities, including grants and contributions used to support a number of international activities.
Providing vital scientific and technological services to the research and industrial communities.
Consult http://laws.justice.gc.ca/en/n-15/87335.html for more details about NRC's legislative framework.
NRC Accountability Framework
NRC reports directly to the Parliament of Canada through the Minister of Industry. NRC works in partnership with the members of the Industry Portfolio to leverage complementary resources and exploit synergies in areas such as innovation of firms through S&T, SMEs and economic growth of Canadian communities. The NRC Council provides strategic direction and advice to the President and reviews organizational performance. The President is the leader, responsible for fulfilling corporate strategies and delivering results. Five Vice Presidents (Life Sciences, Physical Sciences, Engineering, Technology and Industry Support and Corporate Services) are responsible for a portfolio of research institutes, programs and centres. Figure 4-1 provides an overview of NRC's organization.
Figure 4-1: NRC Organizational Chart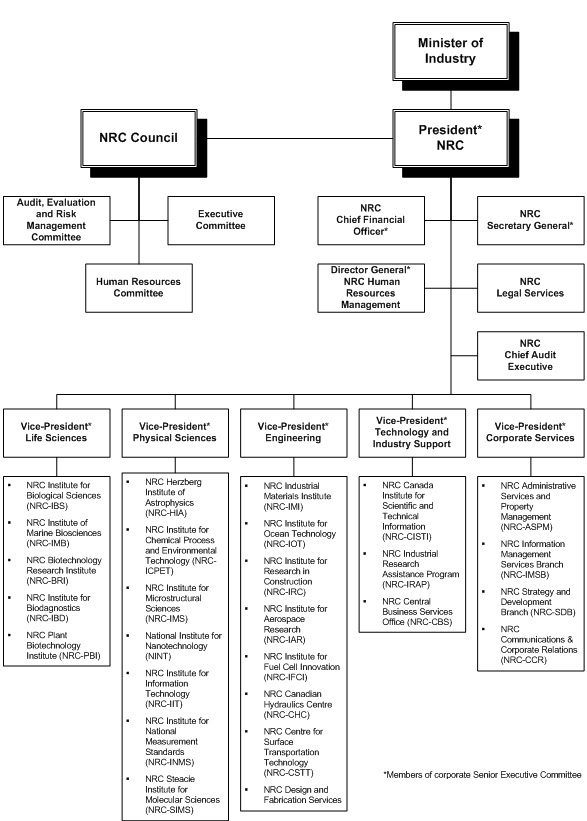 Organizational Sustainability
Highly qualified professionals (scientists, engineers, technicians and others) in conjunction with state-of-the-art facilities and equipment are prerequisites to performing at the leading-edge of R&D. NRC faced challenges in sustaining these key resources and continued to focus on strategies to address these challenges.
Implementing NRC's Strategy: Science at Work for Canada and advancing the federal S&T Strategy: Mobilizing Science and Technology to Canada's Advantage
Corporate business plan – NRC established its corporate business plan in the first quarter of 2007-08. This business plan reflects key commitments and decisions of the NRC Senior Executive Committee and sets organizational direction for three fiscal years (2007-08 to 2009-10). The plan puts forward an approach for helping to enhance the financial flexibility of NRC, while ensuring financial and non-financial resources fully align in support of priority NRC programs. It also outlines the steps NRC is taking to implement new horizontal R&D initiatives focused on key industrial and social issues for Canada. Heightened collaboration with the private, public and academic sectors is a key theme throughout the document. The corporate business plan will be updated on an annual basis to reflect changing internal and external factors, as well as the ongoing decisions and priorities of both the federal government and the NRC senior executive.
An integrated solution to planning, risk and performance management – In support of the federal S&T strategy modern approach to management, NRC began the implementation of an integrated management framework in 2007-08 for providing senior management and NRC Institutes, Branches and Programs (I/B/Ps) with the planning and performance information they need to support integrated decision-making, resource allocation and functional planning (human resources, capital assets and finance). This cross-functional change initiative is responsible for embedding modern management processes and systems for the integrated framework and has a mandate until April 2010. In addition to the integrated corporate business plan, NRC developed a performance measurement framework aligned with its strategy as well as business plans from each of its I/B/Ps. The integrated planning effort supported internal management decision-making and contributed to delivering a fully populated Program Activity Architecture to the Treasury Board Secretariat.
Understanding the impact of federally performed S&T – In 2007-08, NRC participated actively with the Policy Research Initiative (PRI) aimed at improving the government's understanding of the impact of federally performed S&T. NRC has taken the lead on a study to determine the best practices for measuring S&T impacts on behalf of PRI to address the S&T strategy policy commitment of increasing accountability to Canadians.
Strategies for sustainable resources – Faced with ongoing resource pressures, NRC is making more strategic choices regarding the use of resources. In 2007-08, this included:
Addressing funding issues – NRC continued to prioritize key R&D and technology and industry support activities, initiatives and programs in the context of the organization's strategy. It also produced strategies and mechanisms for ongoing reallocation and conduct efficiency improvement reviews to ensure effective investment of resources for sustainability in priority areas. NRC initiated a new organizational resource allocation process in the fourth quarter of 2007-08, requiring all NRC I/B/Ps to develop and submit business plans on an annual basis. To secure funding, these plans must demonstrate alignment with the priorities outlined in both the NRC strategy and the federal science and technology strategy. NRC Senior Executive Committee reviewed all of the I/B/P plans, identified priority initiatives within the plans and funded those initiatives that were deemed essential in order for NRC to execute its strategy, fulfill its mandate and help deliver on the federal science and technology strategy. In 2007-08, initial steps were also taken to identify opportunities for operational efficiencies. Notably, NRC initiated audits on organizational-wide facilities and information technology. The results of these audits, which are scheduled to be completed in 2008-09, are expected to identify potential areas for efficiency gains while highlighting priorities that may require enhanced investments to ensure their long-term sustainability.
Talent Management – NRC continued to move toward the development of an organization-wide Human Resources Management (HRM) strategy, which will be integrated with the corporate business plan. During 2007-08, the Human Resources Branch (HRB) prepared a business plan for 2008-11, which represents the first iteration of an integrated HRM plan for NRC. Throughout 2007-08, NRC continued to focus on previously identified HRM priorities and the development of new HRM strategies to support NRC's future directions. The following are highlights of some of the progress made in 2007-08 with respect to key HRM priorities:

Integrated HR Planning – The HRB Business Plan 2008-11 incorporated the results of a comprehensive environmental scan which identified HR trends and challenges including an aging population, a decrease in the working-age population, employee generational diversity and increased immigration. The scan also revealed the need to align HRM policies with the NRC goal of becoming more integrated and agile. The environmental scan was supplemented by a review of all I/B/P business plans (approximately 30 plans) to identify common HRM requirements. The HRB business plan incorporated strategies related to governance and accountability, talent attraction and retention and talent management (including recruitment, retention, promotion and development talent critical to the advancement of NRC's overall strategy).
Classification Renewal – In 2007-08, NRC approved an initiative to bring classification practices in line with NRC's strategy. The NRC Senior Executive Committee approved a plan to renew the classification framework for all positions at NRC. The initiative, as outlined in the HRB Business Plan, will take approximately three years to complete. Four key projects were identified: a renewal of the MG (Management Category) classification standard; a review and update of the RO (Research Officer) and RCO (Research Council Officer) policy and promotion criteria; a renewal of the TO (Technical Officer) standard; and a renewal of all the other classification standards. This initiative promises to improve NRC's ability to attract, retain and reward the talent that the organization has and requires to continue to develop and implement its strategy.
Leadership Development – In 2007-08, NRC continued to develop and implement its Leadership Enrichment and Development (LEAD) program. A selection process was undertaken to attract the next round of participants. This process attracted 44 applicants and NRC identified 17 employees for the organization's intensive leadership development program; those who were unsuccessful received feedback on their performance in the selection process as well as access to a multi-source competency assessment and time with a consultant to understand results and formulate a learning plan.
HR Performance Management – In 2007-08, several priorities were identified related to optimizing individual and organizational performance, much of which has been captured in the HRB Business Plan 2008-11. NRC started reviewing its HR performance management processes, to manage consistently performance at all levels of the organization. NRC commenced the delivery of performance management training in collaboration with bargaining agents. In May-June 2007, NRC took steps to improve Management Accountability Agreements (MAAs) as part of the performance planning and review process for the Management (MG) category. Approximately 95% of NRC's intact management teams participated in 1-day workshops focused on completing MAAs. Workshops were aimed at linking individual performance agreements to the objectives of the organization and to integrated business planning.
Turnover – Turnover has been relatively consistent for the past three years, with turnover of continuing staff being considerably lower than that of NRC's contingent workforce.
2007-08

2006-07

2005-06

(percentage)

Total Turnover

11.38

11.39

10.75

Total Continuing Turnover

4.52

3.36

3.16
(Total turnover includes end of term and short term positions, i.e., was anticipated.)
Employment Equity – At the corporate level, representation levels for all four designated groups improved from 2006-07 to 2007-08. Once again, representation for visible minorities surpassed availability. The difference between representation and availability for persons with disabilities changed from -4 in 2006-07 to +1 in 2007-08. The difference for women improved from -36 to -26 and for aboriginal peoples from -16 to -10.
Designated Group

Representation

Availability*

Difference

number

percentage

number

percentage

number

Women

1,552

35.4%

1578

36.0

-26

Aboriginal peoples

47

1.1%

57

1.3%

-10

Persons with disabilities

178

4.1%

177

4.0%

+1

Visible minorities

701

16.0%

637

14.6%

+64

Total workforce

4,378
*Source: 2001 Census and 2001 Participation and Activity Limitation Survey (PALS)
Learning Strategy – As outlined in the 2007-08 NRC Report on Plans and Priorities, NRC had planned to develop a comprehensive learning plan in 2007-08. However, this activity was deferred in order first to focus on the HRM environmental scan and identification of broader HRM priorities. The need for a comprehensive learning strategy was once again identified at various levels of the business planning process and as such, was incorporated in the HRB Business Plan 2008-11. An organization-wide learning needs analysis was initiated and continues.
Collective Agreements – NRC's Labour Relations (LR) Group continued to negotiate and administer collective agreements on behalf of NRC and maintained ongoing consultations with the two Bargaining Agents representing the majority of NRC employees: the Professional Institute of the Public Service of Canada (PIPSC) and the Research Council Employees' Association (RCEA). Ten collective agreements are administered by the LR group, three of which were negotiated during the 2007-08 period with three having gone before Arbitration Boards for eventual final determination in April of 2008.
Official Languages (OL) – NRC continued with its commitment to its Official Languages Program objectives. The number of NRC executives meeting the linguistic requirements of their positions remained virtually the same year over year, due to the hiring of executives in bilingual non-imperative positions and the successful achievement of other executives in reaching their linguistic goals. The OL Advisor continued to meet personally with each newly hired executive to establish a language-training plan when needed and to secure their commitment to meet OL Program goals. Overall, roughly 89% of NRC employees meet the linguistic requirements of their positions (virtually all of those who have not yet achieved their linguistic requirements are currently in a language training program or have established a training plan). NRC's Consultative Committee on Official Languages' activities continued to be recognized as a best practices leader by a number of federal organizations. Again, in 2007-08, NRC received a number of unsolicited requests to present its OL best practices for organizations such as the Canada Border Service Agency, Justice Canada, and Fisheries and Oceans. NRC also presented to the Pacific Federal Council in Vancouver at its request.
Staffing and Recruitment – During the reporting period, NRC recruited 526 employees bringing the total number of NRC staff to 4,2619. Contributing to the federal S&T Strategy People Advantage, over 1,231 students, Post-doctoral Fellows (PDFs) and Research Associates (RAs) worked on research teams at NRC institutes. These individuals had the opportunity to work in a challenging research environment with leading experts in their fields thereby gaining valuable experience and training. In 2007-08, 491 graduate students, 384 summer and co-op students, 151 Natural Sciences and Engineering Research Council Visiting PDFs and 151 RAs worked at NRC.
Integrated S & T initiatives – As an active member of the ADM S&T Integration Board and its related working/task groups, NRC continued to work with other science-based departments and agencies and central agencies to address common management issues having an impact on federal science, this past year. This included participating in interdepartmental efforts to address human resource challenges. The Integration Board's efforts are currently concentrated in the following four HR areas: leadership, retention, recruitment and learning and professional development.
Ongoing HR Services and Support – In 2007-08, NRC's HR Client Relations Management Group designed and administered an on-line survey of all internal clients to gauge their level of satisfaction with HR services and support received locally. The completion rate was 48% and the results demonstrated a very high level of satisfaction with the products and the approach of the local HR service providers.
9 - salaried employees, as of 31 March 2008
Maintaining and upgrading NRC S&T infrastructure – NRC continues to recapitalize its assets through the appropriation of $5.7 million used to address the most pressing needs of the infrastructure with a focus being applied to health and safety and life cycle management. Some recapitalization projects completed in 2007-08 were:




Replace cooling tower lines (M55, Ottawa)
Building controls upgrade (M55, Ottawa)
Replace air handling units (U70,Ottawa)
Main entrance upgrades (U66, Ottawa)
New chiller (M20, Ottawa)
Switchgear upgrade (U89, Ottawa)
Re-roofing (M50, Ottawa)
Upgrade elevator controls (M58, Ottawa)
T4 & T5 transformer replacement (M50, Ottawa)

Switch gear upgrade (U70, Ottawa)
Chiller replacement (NRC-IBD, Winnipeg)
Chiller replacement (NRC-IOT, St. John's)
Cooling Tower upgrade (NRC-BRI, Montreal)
Pump upgrades (NRC-IMI, Boucherville)
Sprinkler expansion (NRC-IMB, Halifax)
Roof anchor upgrades (NRC-IMB, Halifax)




Developing three-year NRC Communications Outlook – NRC completed design and began implementation of its strategic communications framework encompassing internal, external, corporate marketing and stakeholder relations components. The new framework positions, profiles and promotes the organization's unique contributions to the federal S&T strategy, NRC's own support to industry and its creation of true economic value and social benefits for Canada and all Canadians. In addition to an overarching three-year corporate communications strategy, NRC completed its strategy for internal communications, began development of sub-strategies for the other components of the framework and prepared a business plan for the function aligned with the NRC Strategy. NRc also began implementation of a new organization structure for its communications function. All of these changes supported implementation of the recommendations from its comprehensive Communications Situation Assessment. In addition, NRC continued its involvement in interdepartmental and government-wide horizontal S&T and innovation initiatives, including S&T Integration Board Communications and the Government of Canada S&T web portal.
Strengthened Internal Audit Function – In 2007-08, NRC further strengthened its internal audit function in accordance with the new Treasury Board of Canada Secretariat Policy on Internal Audit. The President of NRC approved five internal audit reports upon the recommendation by the Audit Committee. NRC posted two of the reports on its website (http://www.nrc-cnrc.gc.ca/aboutUs/audit_e.html) in January 2008 and expects to post the remaining three reports shortly. NRC also started six other internal audits and they were in various stages of completion by the end of March 31, 2008. NRC created new audit positions bringing the number from 3.5 to 5 FTEs using the Incremental financial resources provided by Treasury Board. Rigorous recruiting efforts resulted in all of these positions staffed by professional qualified and experienced staff.
The activities outlined above as part of NRC's strategy implementation initiatives will help address Management Accountability Framework commitments.
Implement Action Plan on recommendations of the Auditor General of Canada–Overall, NRC has made very positive progress in implementing the OAG's recommendations and is actively addressing the recommendations provided in the OAG's February 2007 Status Report. Related accomplishments include:
Revised role of Council and membership profile;
Approved Corporate Business Plan;
Draft Human Resources Branch Business Plan pending SEC approval by March 31, 2008;
Development of the Management, Resources and Results Management Structure (MRRS) for NRC including key performance indicators and targets; and
Development of the Balanced Scorecard aligned to the Corporate Business Plan.
Work still requiring progress includes recommendations pertaining to the collection and reporting of performance data and project management. However, significant activity has been taken toward addressing them.
Awards and Achievements
Atif, M. NRC-IRC
Selected as Keynote Speaker for two International Conferences on Energy and the Built Environment: CISBAT 2007 (Switzerland) and International Conference on IAQ and Energy-Efficient Ventilation (Japan).
Beaudoin, J. NRC-IRC
Certificate for Distinguished Contribution, Academy of Science, Royal Society of Canada
Brown, B. NRC-CISTI
Margaret Ridley Charlton Award for Outstanding Achievement, Canadian Health Libraries Association
Carignan, S., Craig, G., Ellis, K., Gubbels, A., Jennings, S., Swail, C. NRC-IAR
The Technical Collaboration Program (TTCP) Team Achievement Award, for significant contribution to flight safety and operational effectiveness of all weather rotorcraft operations
D'Arcy, R. NRC-IBD
Emerging Professional Award for outstanding contribution in Science & Technology, Discovery Centre, Halifax, NS
Dean, W. NRC-PBI
Distinguished Service Award, American Society for Heating, Refrigeration and Air-Conditioning Engineers
Dimitrievska, S. NRC-IMI
Prix du meilleur de maitrise, Ecole Polytechnique de Montréal
Douglas, S. NRC-IMB
NRC-NSC Eminent Researchers Exchange Program with Taiwan
Elmahdy, NRC-IRC
Certificate of Service, Standard Council of Canada
Hoult, D. NRC-IBD
Excellence in Technology Transfer Award, Federal Partners in Technology Transfer
Johnston, A. NRC-IAR
The Technical Collaboration Program (TTCP) Team Achievement Award, for significant contribution to collaborative research in the area of electron beam curing of polymers and advanced composite materials
Ko, A. NRC-IBD
Honorary title of Associated Researcher for 2007-08, National Optics Institute
Lall, S. NRC-IMB
Best Overseas Indian Fisheries Scientist, Professional Fisheries Graduate Form, Mumbai India
Mandache, C. NRC-IAR
The Technical Collaboration Program (TTCP) Team Achievement Award, for assignment on Transient Eddy Current Systems
Massie, B. NRC-BRI
Prix de reconnaissance de l'Universite de Montreal, Faculte de medecine
Proulx, G., NRC-IRC
Public Service Award of Excellence, Government of Canada, for Excellence in Citizen-Focused Service Delivery in promoting fire safety
Quilliam, M. NRC-IMB
Discovery Award (Nova Scotia) – Professional of Distinction
Smith, I. NRC-IBD
Distinguished Alumni Award, University of Manitoba Alumni Association
Whiteway, M. NRC-BRI
Elected to Fellowship in the American Academy of Microbiology
Zimcik, D. NRC-IAR
Canadian Space Agency, Director General's Award, for outstanding contribution during assembly, integration and test of Radarsat-2
How to Reach Us
Senior Management and Corporate information
Research and Development
Under the Direction of the Vice-President Life Sciences
Biotechnology Research Institute – Montreal, QC
Director General: Michel Desrochers
General Inquiries: 514-496-6100 http://www.bri-irb.nrc-cnrc.gc.ca/

Institute for Biodiagnostics – Winnipeg, MB
Director General: Ian Smith
General Inquiries: 204-983-7692 http://www.ibd.nrc-cnrc.gc.ca/

Institute for Biological Sciences – Ottawa, ON
Director General: Jim Richards
General Inquiries: 613-993-5812 http://ibs-isb.nrc-cnrc.gc.ca

Institute for Marine Biosciences– Halifax, NS
Director General: Joan Kean-Howie
General Inquiries: 902-426-8332 http://imb-ibm.nrc-cnrc.gc.ca

Plant Biotechnology Institute– Saskatoon, SK
Director General: Jerome Konecsni
General Inquiries: 306-975-5575 http://pbi-ibp.nrc-cnrc.gc.ca/
Under the Direction of the Vice-President Physical Sciences
Herzberg Institute of Astrophysics– Victoria and Penticton, BC
Director General: Gregory Fahlman
General Inquiries: 250-363-0001 http://hia-iha.nrc-cnrc.gc.ca

Institute for Chemical Process and Environmental Technology– Ottawa, ON
Director General: Janusz Lusztyk
General Inquiries: 613- 993-4041 http://icpet-itpce.nrc-cnrc.gc.ca

Institute for Information Technology – Ottawa, ON, Gatineau, QC, Fredericton, Moncton and Saint John, NB
Director General: Christian Couturier
General Inquiries: 506-444-6132 http://iit-iti.nrc-cnrc.gc.ca

Institute for Microstructural Sciences – Ottawa, ON
Director General: Marie D'Iorio
General Inquiries: 613-993-4583 http://ims-ism.nrc-cnrc.gc.ca

Institute for National Measurement Standards – Ottawa, ON
Director General: Jim McLaren
General Inquiries: 613-998-7018 http://inms-ienm.nrc-cnrc.gc.ca

National Institute for Nanotechnology – Edmonton, AB
Director General: Nils Petersen
General Inquiries: 780-492-8888 http://nint-innt.nrc-cnrc.gc.ca

Steacie Institute for Molecular Sciences – Ottawa and Chalk River, ON
Director General: Danial Wayner
General Inquiries: 613-991-5419 http://steacie.nrc-cnrc.gc.ca
Under the Direction of the Vice-President Engineering
Institute for Aerospace Research – Ottawa, ON and Montreal, QC
Director General: Jerzy Komorowski
General Inquiries: 613-993-5738 http://iar-ira.nrc-cnrc.gc.ca

Institute for Fuel Cell Innovation – Vancouver, BC
Director General: Maja Veljkovic
General Inquiries: 604-221-3099 http://ifci-iipac.nrc-cnrc.gc.ca

Industrial Materials Institute – Boucherville and Saguenay, QC
Director General: Blaise Champagne
General Inquiries: 450-641-5000 http://www.imi.nrc-cnrc.gc.ca

Institute for Ocean Technology – St. John's, NL
Director General: Mary Williams
General Inquiries: 709-772-6001 http://iot-ito.nrc-cnrc.gc.ca

Institute for Research in Construction – Ottawa, ON and Regina, SK
Director General: Bob Bowen
General Inquiries: 613-993-2607 http://irc.nrc-cnrc.gc.ca

Canadian Hydraulics Centre – Ottawa, ON
Executive Director: John Coleman
General Inquiries: 613-993-2417 http://chc.nrc-cnrc.gc.ca

Centre for Surface Transportation Technology – Ottawa, ON
General Manager: Paul Treboutat
General Inquiries: 613-998-9365 http://cstt-ctts.nrc-cnrc.gc.ca
Technology and Industry Support
Under the Direction of the Vice-President Technology and Industry Support

Canada Institute for Scientific and Technical Information – Ottawa, ON with offices across Canada
Director General: Pam Bjornson
General Inquiries: 1-800-668-1222 http://cisti-icist.nrc-cnrc.gc.ca

Industrial Research Assistance Program – Ottawa, ON with offices across Canada
Director General: Tony Rahilly
General Inquiries: 1-877-994-4727 http://irap-pari.nrc-cnrc.gc.ca
Corporate Services
Under the Direction of the Vice-President Corporate Services
Administrative Services and Property Management Branch
Director General: Jerry Rogers
General Inquiries: 613-993-2440
jerry.rogers@nrc-cnrc.gc.ca

Information Management Services Branch
Director General: Shane Brunas
General Inquiries: 613-991-3773
shane.brunas@nrc-cnrc.gc.ca

Strategy and Development Branch
Director General: Rob James
General Inquiries: 613-990-7381
rob.james@nrc-cnrc.gc.ca
Branches and Offices Reporting to the President
Executive Offices and Secretary General
Secretary General: Marielle Piché
General Inquiries: 613-998-4579
marielle.piche@nrc-cnrc.gc.ca

Finance Branch
Chief Financial Officer: Daniel Gosselin
General Inquiries: 613-990-7471
daniel.gosselin@nrc-cnrc.gc.ca

Human Resources Branch
Director General (Acting): Isabelle Gingras
General Inquiries: 613-993-9136
isabelle.gingras@nrc-cnrc.gc.ca

NRC Internal Audit
Director: Jayne Hinchliff-Milne
General Inquiries: 613-949-7689
jayne.hinchliff-milne@nrc-cnrc.gc.ca

NRC Legal Services
Director: Louis Robayo
General Inquiries: 613-993-0035
louis.robayo@nrc-cnrc.gc.ca
NRC Council Members
Pierre Coulombe
President (and Chair of Council)
National Research Council Canada
Ottawa, Ontario

Douglas MacArthur
President
MacArthur Group, Inc.
Charlottetown, Prince Edward Island

Dennis Anderson
Management Consultant
Libau, Manitoba

Eva Mah Borsato
President
Intellectual Capital Corporation Inc.
Edmonton, Alberta

Patricia Béretta
Biomedical Engineer
Elmira, Ontario

Gilles Patry
Rector and Vice-Chancellor
University of Ottawa
Ottawa, Ontario

Louis Brunel
President
International Institute of Telecommunications
Montreal, Quebec

Alan Pelman
Former Vice-President, Technology Canada
Weyerhaeuser Ltd.
Vancouver, British Colombia

Paul Clark
Former Vice-President
Research and Technology
NOVA Chemicals Corporation
Calgary, Alberta

Barbara Stanley
President
BESCO Holdings 2002 Inc.
Rothesay, New Brunswick

Delwyn Fredlund
Senior Geotechnical Engineering Specialist
Golder Associates Ltd
Saskatoon, Saskatchewan

Howard Tennant
President Emeritus
University of Lethbridge
Lethbridge, Alberta

Peter Frise
Scientific Director and CEO,
Auto 21
Windsor, Ontario

Normand Tremblay
Partner, SECOR
Montréal, Québec

John Harker
President
Cape Breton University
Sydney, Nova Scotia

Allan Warrack
Business Professor (Emeritus)
University of Alberta,
Calgary, Alberta

Margaret Lefebvre
Executive Director
Canadian Association of Income Funds
Montreal, Quebec

David Wood
Head of Finance and Corporate Development, Secretary and Treasurer
Celator Pharmaceuticals Inc.
Vancouver, British Columbia

Kellie Leitch
Assistant Dean (External), Chief/Chair of Paediatric Surgery and Assistant Professor, Paediatric Orthopaedics
University of Western Ontario
London, Ontario