ARCHIVED - National Research Council Canada

This page has been archived.
Archived Content
Information identified as archived on the Web is for reference, research or recordkeeping purposes. It has not been altered or updated after the date of archiving. Web pages that are archived on the Web are not subject to the Government of Canada Web Standards. As per the Communications Policy of the Government of Canada, you can request alternate formats on the "Contact Us" page.
Section I – Agency Overview
Minister's Message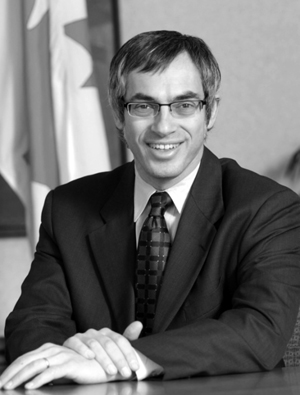 The Industry Portfolio experienced a busy and successful 2007-2008. As Minister of Industry, I am pleased with the progress made on our mission to foster a competitive, knowledge-based economy that benefits all Canadians.

A competitive economy is one that provides jobs and opportunity to Canadians, and top-quality products and services to consumers. Our economic performance underpins the quality of life we enjoy in this country, and the National Research Council Canada is making important contributions to this mission.

The Industry Portfolio is composed of Industry Canada and 10 other agencies, Crown corporations and quasi-judicial bodies. These organizations collectively advance Canada's industrial, scientific and economic development, and help ensure that we remain competitive in the global marketplace.

As a country, we must remain focused on how we can continue to provide an innovative and entrepreneurial economic environment, help our businesses capitalize on opportunities, and provide choice and quality to consumers. The global marketplace continues to evolve, changing with it the dynamics that influence Canada's performance. I am proud to say that the Industry Portfolio is playing its part:
We are working to make our market for wireless services more competitive, this year launching the policy framework for the Advanced Wireless Services spectrum auction. The framework aims to provide more choice and better service for consumers and businesses — something that we believe will also lead to lower prices.


We issued guidelines clarifying the application of the Investment Canada Act as it relates to foreign state-owned enterprises investing in our country to ensure that Canadians continue to enjoy all the benefits that foreign investment delivers.


We instituted an independent Competition Policy Review Panel to review and report on key elements of Canada's competition and investment policies and to ensure that they are working to the full benefit of Canadians.


We created an Automotive Innovation Fund to provide support to automotive firms undertaking large-scale, strategic research and development (R&D) projects to build innovative, greener and more fuel-efficient vehicles. Similarly, investments made through the Strategic Aerospace and Defence Initiative continue to encourage strategic R&D that will result in innovation and excellence in new products and services.
One of my key priorities as Industry Minister continues to be our country's science and technology (S&T) strategy, Mobilizing Science and Technology to Canada's Advantage, announced by Prime Minister Harper in May 2007.
Budget 2008 included measures and initiatives in support of our S&T Strategy that total $654 million over the next three years.


We put in place the new Science, Technology and Innovation Council to provide the government with objective policy advice on Canada's S&T issues.


The government allocated $105 million in 2007–2008 to support the operations of seven new Centres of Excellence, pilot projects that have the potential to make Canada a global leader in fields of research that offer a strategic opportunity for Canadian industry.


This past March, Canada's two-armed robot, Dextre, was successfully installed on the International Space Station.
This has been a year of progress and success, and it is my pleasure to present the National Research Council Canada's Departmental Performance Report for 2007–2008. I am committed to building on these successes in 2008 and beyond, and I will continue to work with officials in the Industry Portfolio to make Canada more efficient, productive and competitive.

Tony Clement
Minister of Industry
Management Representation Statement
I submit for tabling in Parliament, the 2007-08 Departmental Performance Report for the National Research Council Canada.
This document has been prepared based on the reporting principles contained in the Guide for the Preparation of Part III of the 2007-08 Estimates: Reports on Plans and Priorities and Departmental Performance Reports:
It adheres to the specific reporting requirements outlined in the Treasury Board Secretariat guidance;
It is based on the department's Strategic Outcomes and Program Activity Architecture that were approved by the Treasury Board;
It presents consistent, comprehensive, balanced and reliable information;
It provides a basis of accountability for the results achieved with the resources and authorities entrusted to it; and
It reports finances based on approved numbers from the Estimates and the Public Accounts of Canada.
Dr. Pierre Coulombe
President
Summary Information
Raison d'être
The National Research Council (NRC) is the Government of Canada's leading resource for science and technology (S&T) and innovation with a business focus on:
improving the social and economic well-being of Canadians;
fostering industrial and community innovation and growth through technology and industry support; and
supplying excellence and leadership in research and development (R&D).
Mobilizing Science and Technology to Canada's Advantage through NRC
NRC is moving forward with an important role in helping to achieve the goals of the Government of Canada's Science and Technology Strategy, Mobilizing Science and Technology to Canada's Advantage, announced by the Prime Minister in May 2007. The new federal S&T Strategy sets out a multi-year framework to create a competitive advantage for Canada through S&T. It focuses on the principles of promoting world-class excellence, focusing on priorities, fostering partnerships and enhancing accountability. It sets out a plan to foster three distinct S&T advantages for Canada:
Entrepreneurial Advantage – translating knowledge into commercial applications for greater wealth generation and quality of life;
Knowledge Advantage – being at the leading edge of important developments that generate health, environmental, societal and economic benefits;
People Advantage – attracting highly skilled people and educated people for a flexible workforce that can compete globally.
NRC's own Strategy to 2011, Science at Work for Canada, is consistent with these principles and objectives and establishes NRC as an important vehicle to help deliver on the new federal S&T Strategy. NRC is enhancing Canada's Entrepreneurial Advantage by meeting the needs of industry for targeted research and by transferring its discoveries to the private sector. To support Canada's Knowledge Advantage, NRC is strategically contributing to the four research priority areas identified in the federal S&T Strategy: environmental science and technologies; natural resources and energy; health and related life sciences and technologies; and information and communication technologies (ICT). NRC will anticipate and respond to important national priorities by engaging innovation system participants in multi-stakeholder collaborations and developing key competencies that will prepare NRC to support Canada's current and future S&T priorities. Lastly, but critically important, NRC is supporting the People Advantage, by attracting and retaining highly-skilled workers needed to thrive in a global economy. Through establishing entities such as the National Institute for Nanotechnology (NINT) and the NRC Institute for Nutrisciences and Health (NRC-INH), for example, NRC is helping to build strong multidisciplinary teams of international calibre researchers to deliver leading-edge work for Canada.
NRC's Approved Program Activity Architecture
NRC's basis for reporting to Parliament is its Program Activity Architecture (PAA). The PAA seeks to describe how the NRC manages the resources under its control to achieve intended results. Two Program Activities contribute to NRC's strategic outcome. Each Program Activity is in turn associated with several program sub-activities as depicted in the Figure 1-1 below.

Figure 1-1: NRC's Program Activity Architecture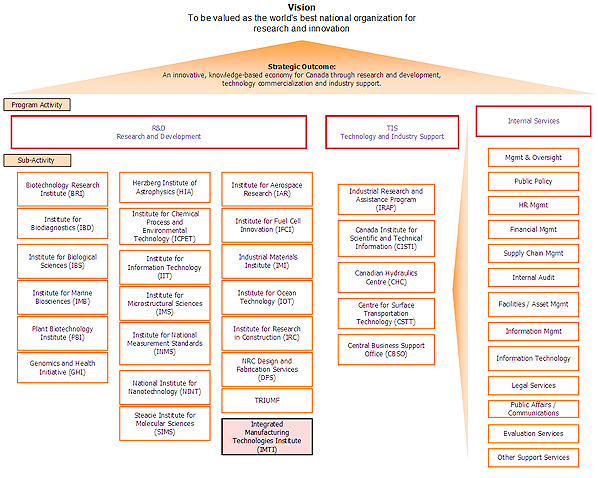 As part of the program realignment and priority setting exercise that took place in September 2007, the NRC-Integrated Manufacturing Technologies Institute's resources were re-allocated to the NRC-Industrial Materials Institute and the NRC-Institute for Research in Construction.
Table 1-1: NRC Financial Resources ($ millions)
2007-2008

Planned Spending

Total Authorities

Actual Spending

712.4

865.9

771.2
Table 1-2: NRC Human Resources (Full-Time Equivalents)
2007-2008

Planned

Actual

Difference

4,044

4,280

(236)
Note: Due to rounding figures may not add to total shown
Table 1-3: Departmental Priorities

| Name | Type | Performance Status |
| --- | --- | --- |
| R&D in Key Sectors and Areas Critical to Canada's Future | Ongoing | Successfully met |
| Community Technology Clustering Initiatives | Previously committed | Successfully met |
| Integrated Industry Support that Engages Key Players | Ongoing | Successfully met |
| Program Management for a Sustainable Organization | Ongoing | Successfully met |

Table 1-4: Program Activities by Strategic Outcome
Strategic Outcome:
An innovative, knowledge-based economy for Canada through research and development, technology commercialization and industry support

2007-08

Contributes to the following priorities

Planned Spending
($ million)

Actual Spending
($ million)

Expected results

Performance Status*

Research and Development

Contribution to the federal S&T strategy and initiatives
Leadership in new and emerging research domains
Excellence in R&D and innovation
Stewardship of large-scale S&T infrastructure
Contribution to federal S&T strategies and initiatives
Research that benefits Canadians
Harmonization of international standards
New international S&T alliances

Successfully met

413.88

393.09

Priority 1 and Priority 2

Technology and Industry Support

Contribution to the federal S&T strategy and initiatives
Advancement of new technology-based companies
Access to new technologies for Canadian companies through patents and licensing
Enhanced innovation capacity of firms
Improved dissemination of knowledge
Supporting Canadian industry

Successfully met

194.00

187.36

Priority 2 and Priority 3

Technology Clusters

Contribution to the federal S&T strategy and initiatives
Competitive research and development base for cluster development
Innovative firms and deep talent pools in regions across Canada
Community ownership of cluster initiatives – local leadership and strategies
Improved quality of life through increased productivity and new technology-based solutions in health, for industry, the environment, etc.

Successfully met

30.04

57.99

Priority 2

Internal Services**

Establishment of clear corporate strategic direction
Enhanced corporate governance
Enhanced decision support
Effective research management practices
Long-term stability of financial, human and capital resources
Effective communications with NRC stakeholders

Successfully met

74.51

132.71

Priority 4
* Expected Results identified in the NRC 2007-08 RPP apply to a three-year period; therefore, performance is based on the overall progress towards the expected results.
** NRC's Corporate Branches provide policy, program advice and executive support for the coordination and direction of NRC's operations and the NRC Council contributing directly to Priority 4 and in a corporate support capacity, to Priorities 1, 2 and 3.
NRC Benefits to Canadians
NRC delivers on its strategic outcome by creating wealth, knowledge and social capital for Canadians. Figure 1-2 highlights the plans and priorities identified in the 2007-08 to 2009-10 periods (as identified in the NRC 2007-08 Report on Plans and Priorities (RPP)).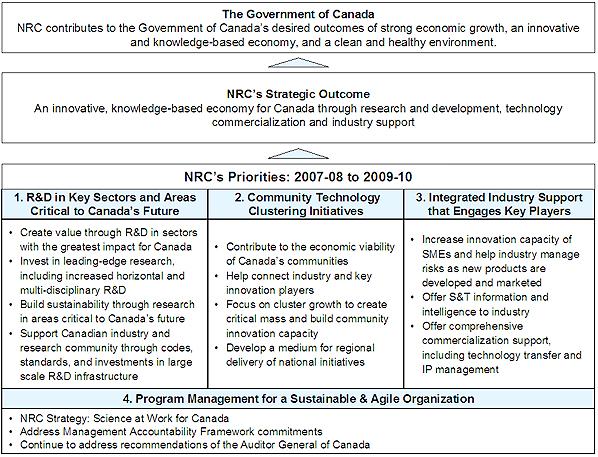 NRC's Overall Performance for 2007-08
Operating Environment
NRC has unique attributes that shape its operating environment, including:
A national S&T infrastructure positioned to improve Canada's innovation capacity in existing and emerging fields of research, build networks for researchers and businesses, train highly qualified personnel, create new technology-based companies and jobs and transfer knowledge and technology to Canadian companies.
A core strength of over 4,000 talented and dedicated people, 17 research institutes, 15 industrial partnership facilities, the Industrial Research Assistance Program (NRC-IRAP), the Canada Institute for Scientific and Technical Information (NRC-CISTI) and two technology centres.
The ability to help companies move from discoveries in the laboratory to the development, prototyping and commercialization of these ideas and technologies for the global marketplace.
The capacity to adopt an integrated approach that brings research, technologies and industrial links together in delivering its mandate to provide access to international S&T infrastructures.
The skills to manage research projects towards specific outcomes as well as long-term goals.
The capability to bring together multi-disciplinary research teams to tackle issues of national importance.
The ability to put together national programs for delivery in regions across the country.
National S&T Infrastructure
NRC delivers a national S&T program with laboratories, centres and facilities in communities across Canada (http://www.nrc-cnrc.gc.ca/contactIBP_e.html).
Ownership, Management and Maintenance of Capital Assets
Responsible for its own highly technical and complex operations, NRC manages 185 buildings totalling approximately 560,140 square metres of space.
Funding
NRC is funded through government appropriations. In the course of providing technical services to companies and other organizations, it recovers its costs for the purpose of reinvesting in the operation and maintenance of equipment and facilities.
Internal Factors
The ability to perform at the leading-edge of R&D and to support Canadian industry in becoming more technology intensive and innovation-driven requires the best available equipment, facilities and highly qualified scientists, engineers, technicians and other professionals. NRC faced challenges in sustaining these key resources and continued to focus on strategies to address these challenges.
In 2007-08, NRC conducted a program realignment and priority setting exercise. This exercise was designed to enable NRC to better focus on its strategies and be more responsive and agile with respect to its priorities. NRC reallocated resources from low priority programs to higher priority areas and eliminated or realigned several programs. As a result, in September 2007, 87 employees were workforce adjusted. Following this exercise, NRC placed 48% of surplus employees into assignments or continuing positions. The placement rate by bargaining agent was 57% for Research Council Employees' Association and 23% for Professional Institute of the Public Service of Canada.
In 2007-08, NRC began implementation of a new organization structure for its communications function. The new structure aligns with and positions NRC's communications function, structure, competencies and resources to support NRC's Strategy as well as relevant Government of Canada S&T priorities.
External Factors
Economic Context – Canadian economic performance continued at a solid pace in 2007 with a real gross domestic product (GDP) growth rate of 2.7%, a slight deceleration from the 2.8% in 2006, matching the average growth for the past five years.1 Real personal expenditure on consumer goods and services was the strongest contributor, advancing 4.7% in 2007, its best performance since 1985. Labour income (up 6.1%) and corporate profits (up 5.8%) contributed to that strength.2
Employment creation was at a three-decade high, bringing the unemployment rate down to 6% for 2007, its lowest level since 1974. Employment grew 2.3% with 382,100 net new jobs created. Over three times as many full time jobs were created as part time jobs (293,400 versus 88,600), but growth in part time jobs was faster at 3% than that of full time jobs at 2.2%, in contrast to the two previous years where full time job growth exceeded part time job growth.3
Relative to key currencies, the annual average value of the Canadian dollar appreciated against the U.S. dollar and the Japanese yen in 2007, by 5.5 % and 6.9% respectively in 2007, continuing the trend that began in 2003. The trend changed however against the euro and the pound with the Canadian dollar depreciating by 3.1% and 2.8%, respectively, on an annual average basis.4
In Canada, private equity firms raised $5.8 billion in 2007, compared to $10.3 billion in 2006. Venture capital, accounted for 20% of the private equity market in 2007 compared to 16% in 2006. Venture capital activity focused even more heavily on expansion and other late-stage transactions in 2007, which captured 62% of total dollars invested. The higher levels of venture capital market activity experienced in 2007 can be attributed largely to the quality and quantity of opportunities on offer in Canada's emerging technology sectors.5
Dynamic local sector clusters and entrepreneurial communities have attracted more attention from risk investors, both at home and abroad. In 2007, Canada saw rising activity across all major sectors of interest – communications and IT, biopharmaceuticals and other life sciences and, increasingly, environmental technology. Key urban locales, such as Vancouver, Toronto, Waterloo, Ottawa and Montreal, are being recognized globally as fast-maturing innovative hubs, spawning a number of promising startups.6
Performance on 2007-08 Priorities
The following section summarizes NRC'S overall performance in relation to its 2007-08 priorities, listed in Table 1-3.
1. R&D in Key Sectors and Areas Critical to Canada's Future – Successfully met.

Research and innovation are critical to Canada's future economic growth and an improved quality of life for Canadians. As Canada's foremost R&D agency, NRC concentrates its efforts on two vital elements of R&D excellence: quality and relevance. In 2007-08, NRC played a key role in helping Canada reach its full potential by performing research in fields that are of current and future importance from a social and economic perspective, in line with the federal S&T Strategy.

NRC's R&D provided Canadian companies with increased access to new technologies through patents and licences creating an Entrepreneurial Advantage for Canada. In 2007-08, NRC R&D led directly to the creation of intellectual property (IP), with 196 patents applied for during the year and 69 patents obtained from applications made in previous years. NRC also signed 98 new technology licensing agreements with industry, contributing to the flow of innovation into business applications. These activities contributed to the program activity's expected result of advancement of new technology-based companies. NRC researchers published technical reports, presented papers in conference proceedings and produced technical reports for clients during the year, disseminating knowledge for innovation and long-term value creation for Canadian industry and the public at large.

NRC's leadership standing in new and emerging research domains remained high. To contribute to Canada's S&T Knowledge Advantage, NRC conducted research in areas of economic and social importance. From an economic perspective, investment and research in aerospace technology such as composite material aircraft components and turbine engine icing certification has kept Canada among the world leaders in this sector. Nanotechnology R&D at NRC resulted in advances to extend the service life of concrete and established novel approaches to nano-engineering of concrete structures. Improved materials, catalysts and advanced modeling and testing methods continued to solidify Canada's position at the leading-edge of fuel cell technology.

NRC also completed R&D activities that contributed to the well-being of Canadians. Genome research is ongoing in areas such as food production (productivity of canola crops) and treating of human and animal disease (cancer identification, diagnostic tools for heart attack patients, controlling human cholesterol levels). NRC researchers also conducted research in the areas of bioactives and nutraceuticals. Extracts and bioactives from such plants as cranberries, blueberries, hemp, hops and poppies were screened and evaluated for anti-oxidant, neuro-regeneration and anti-cancer effects. Novel techniques using magnetic resonance imaging (MRI) technology were developed and tested with positive results. These will eventually lead to less invasive diagnosis of breast cancer. R&D work was also completed to develop analytical methods for rapid and highly sensitive detection of chemical warfare agents, toxic agrochemicals and other toxins, to enhance the security of Canadians.

Collaborating with industry and academia to further scientific frontiers was also a cornerstone activity for NRC during the reporting period. Major contributions in astronomy, sub-atomic particle physics and neutron beam experiments were made, such as:
Nanowave Technologies of Etobicoke, Ontario licensed a component of the Band 3 receivers, developed by NRC for the Atacama Large Millimetre Array (ALMA) , manufacturing the 300 amplifiers needed for ALMA and marketing the technology globally to universities, research labs and semiconductor companies to be used in telecommunication systems, solid state physics research, materials research and low temperature physics research.
The Canadian Neutron Beam Centre (CNBC) applied new neutron beam methods to soft materials and nanostructures and employed a new specialized spectrometer to study new hydrogen storage materials for clean energy.
The TRIUMF experimental facility TITAN made a mass measurement of Lithium-11 and Helium-8, the world's first precision measurement of these extremely short-lived isotopes.
NRC also continued to work with international standards bodies, ensuring compatibility of Canada's National Metrology Standards with those around the globe, assisting in the development of new measurement science (e.g., nanotechnology) and determining standards and methods of measurement that impact directly on the ability of Canadian firms to trade internationally.
2. Community Technology Clustering Initiatives – Successfully met.

In support of Canada's S&T Knowledge Advantage, NRC continued to explore and develop innovative models for S&T partnership and collaboration between federal departments and agencies and other sectors. During the reporting period, NRC was involved in the ongoing development of eleven technology clusters across the country. Technology clusters are community partnerships focused on building competitive advantage through research and innovation. NRC helped clusters develop technology road maps and fostered alliances that are being used to transfer technology to the cluster participants. These clusters focus on areas such as life sciences, information technology and e-business, ocean technology, aluminium transformation, photonics, biomedical technologies, plants for health and wellness, nanotechnology, fuel cell and hydrogen technology, nutrisciences and health, and sustainable infrastructure. Priority 2 contributes to the achievement of NRC's Strategic Outcome by fostering innovation and economic growth through community partnerships.
A 2007 Impact Evaluation found that the extent to which NRC-IRAP, a federal business R&D assistance program, stimulates wealth creation within Canada is illustrated by the overall net socio-economic benefits that it generates. By aggregating the impacts resulting from individual client-firm's sales growth, cost reductions and the value of the advisory services provided to Canadian SMEs, between 2002 and 2007, the total wealth creation benefits of the Program were in the range of $2.3 to $6.5 billion.
To contribute to increasing the impact of federal business R&D assistance programs, NRC-IRAP engaged and linked regional groups, through development of technical, financial and business networks that are the foundation of technology clusters. Over $1.5 million was contributed to 45 innovation support organizations within six of the technology clusters in which NRC is involved and nearly $1.3 million in non-repayable contributions were made to 30 individual firms within the clusters, toward technological research projects. Examples of cluster successes during the year include a $40 million initial public offering (IPO) of IMRIS Inc., a spin-off of NRC Institute for Biodiagnostics (NRC-IBD) within the Manitoba Biomedical cluster and filing of a patent on a biomarker for prostate cancer jointly between NRC-IIT and the Atlantic Cancer Research Institute, from the New Brunswick information technology cluster.

NRC also continued to develop, build and operate Industry Partnership Facilities (IPFs) across Canada, providing unique facilities that are workplaces for collaborative research and incubation of new firms, including NRC spin-offs. IPFs also serve as resource locations for small- and medium-sized Enterprises (SMEs) and new enterprises. NRC currently has 15 IPF locations across the country, supporting 140 incubating firms in 2007-08, an increase of 10% from the previous reporting period.
3. Integrated Industry Support that Engages Key Players – Successfully met.

In 2007-08, the NRC Technology and Industry Support (TIS) portfolio worked closely with the NRC R&D portfolio to support the Government of Canada's commercialization priority under the Entrepreneurial Advantage. Activities to increase the commercialization of research include technology licensing, provision of pre-commercialization assistance, mentoring and provision of business intelligence, access to national and international networks, knowledge dissemination and expertise, as well as helping companies create new products and/or technologies.

Industrial Technology Advisors (ITAs) from NRC utilized in-house developed capabilities to capture competitive technical intelligence to support Canadian industry. This facilitated better decision making on technology investments and research directions for NRC clients. An assessment completed during the year indicated that over the previous five years, NRC-IRAP client firms' sales grew an average of 28% and overall firm employment grew 30%, with company assets growing by 15%.

NRC provides access to S&T information and intelligence to industry, with sophisticated tools and services to accelerate discovery, innovation and commercialization within Canada's research and innovation community. During the reporting period, NRC completed 485,000 document orders for clients in the academic, health, government and industry sectors. A new suite of services, under the Discover banner, were launched to provide Canadians with faster and easier access to over 15 million S&T articles in the collection. The NRC Virtual Library provided NRC institute researchers with desktop access to licensed electronic journals and databases, with 258,000 site visits accumulated during the year. NRC continued to publish scientific journals, which have over 13,900 subscribers in 101 countries. In 2007-08, 6,192 authors were published in 16 respected, peer-reviewed journals. NRC published five books during the year, with another nine in production.
4. Program Management for a Sustainable Organization – Successfully met.

Performing leading-edge R&D and supporting Canadian industry to become more technology intensive and innovative requires state-of-the-art equipment and infrastructure, as well as highly skilled scientists, engineers, technicians and other professionals. During the reporting period, NRC established its corporate business plan for the next three fiscal years. The plan outlines an approach to enhance the financial flexibility of NRC, while ensuring financial and non-financial resources are aligned in support of the organization's priority programs. NRC initiated a new organizational resource allocation process during the fourth quarter of 2007-08, requiring all institutes, programs and branches to develop and submit business plans annually. Funding of initiatives was based on the alignment of individual business plans with the corporate plan and the requirement to help NRC deliver on its priorities and the Federal S&T strategy.

Significant investments in S&T infrastructure were also made during the year. Approximately $5.7 million was invested to address the most pressing infrastructure needs, focusing on health and safety, as well as asset life-cycle management. NRC also continued to invest in internal audit capacity, to assist in maintaining accountability across its program delivery. Five internal audits were conducted during the period and six more initiated. The independent Audit, Evaluation and Risk Management Committee, a sub-committee of NRC Council, which is comprised of members external to NRC, reviewed these reports. From an external audit perspective, NRC is actively addressing the recommendations provided by the Office of the Auditor General (OAG).