ARCHIVED - National Research Council Canada

This page has been archived.
Archived Content
Information identified as archived on the Web is for reference, research or recordkeeping purposes. It has not been altered or updated after the date of archiving. Web pages that are archived on the Web are not subject to the Government of Canada Web Standards. As per the Communications Policy of the Government of Canada, you can request alternate formats on the "Contact Us" page.
Section II - Analysis of Program Activities
This section provides an overview of NRC's Program Activities and how they contributed to the organization's strategic outcome and priorities in 2007-08. NRC Program Activities include Research and Development, and Technology and Industry Support. These provide a balance between conducting R&D and delivering technical and innovation support services to industry and the public.
Strategic Outcome
An innovative, knowledge-based economy for Canada through research and development, technology commercialization and industry support.
Program Activity: Research and Development
This program activity includes research programs, technology development initiatives and management of national science and engineering facilities. These efforts all focus on key technological and industrial areas of Canada's economy where NRC has specific roles and recognized competencies and where it can have a significant impact.
Financial Resources ($ million)

| Planned | Total Authorities | Actual |
| --- | --- | --- |
| 493.1 | 636.4 | 549.5 |
Human Resources – Full Time Equivalent (FTEs)

| Planned | Actual | Difference |
| --- | --- | --- |
| 3,160 | 3,258 | (98) |
Performance Highlights

Performance Indicators
(as identified in the 2007-08 RPP)

Results

Technology transfer (patents, licences)

69 new patents received
196 new patent applications
98 licences issued

Spin offs/ ins

68 companies created since 1995

Publications in refereed journals / proceedings and technical reports

1,330 published articles in refereed journals
1,541 technical reports produced

External grants

207 grants provided to NRC researchers and their partners

Leadership and contribution to federal horizontal initiatives

Genomics R&D Horizontal Initiative - Licensing agreement with a Canadian biotech company for the worldwide therapeutic and diagnostic rights to Clusterin-specific antibodies for the treatment of cancer.

Multi-researcher networks and centres of excellence

Participated in 118 research networks
217 positions held on editorial boards of scientific journals
473 adjunct professorships appointments in Canadian universities

Number and value of international collaborative agreements

118 new international collaborative agreements worth $109 million
407 new Canadian collaborative agreements with partners worth $159 million

Increase in research collaborations, licensing, joint patent applications, etc.

42% increase in licensing revenue
Research and innovation are critical to Canada's future economic growth and an improved quality of life for Canadians. As Canada's foremost R&D agency, NRC concentrates its efforts on two vital elements of R&D excellence: quality and relevance. In 2007-08, NRC played a key role in helping Canada reach its full potential by performing research in fields that are of current and future importance to the Canadian economy and that addressed important public and Government priorities. To achieve this, NRC worked in collaboration with industry, university and government partners in Canada and abroad. Creating value from knowledge, providing a national S&T infrastructure, maintaining and fostering international alliances and supporting the commercialization of federal R&D are integral parts of NRC's business.
Figure 2-1: NRC IP Portfolio (2003 - 2008)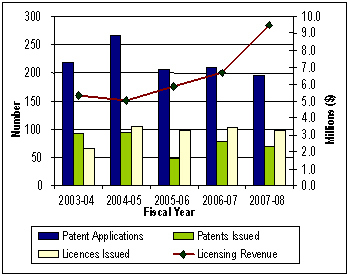 Source: NRC Performance Information Database, 2008
A new patent is a key step in the continuum from discovery to innovation. The strategic management of IP contributes to the innovative capacity of firms. In 2007-08, NRC applied for 196 new patents and secured 69 patents from applications made in previous years. Forty-nine percent of these were issued in the U.S. – an Organization for Economic Cooperation and Development (OECD) recognized measure of competitiveness. Based on a 2003 benchmarking study of best practices in IP management, NRC changed its approach by screening disclosures early; conducting market research and patent analysis assessments; and regularly reviewing its IP portfolio to generate, identify and develop more "high potential commercial value" IP.
By negotiating a licence agreement to use NRC technology, the industrial partner endorses the merit of NRC research and these agreements show a direct flow of innovation into business application. NRC entered into 98 new licence agreements in 2007-08 and IP licensing revenue was $9.47 million (see Figure 2-1).
Just over $4.1 million of IP revenue in 2007-08 was attributed directly to the Meningitis-C vaccine developed by the NRC Institute for Biological Sciences (NRC-IBS). The Institute for Research in Construction (NRC-IRC) received approximately $2.0 million for the use of information published as part of the National Building and Fire codes in individual provincial codes.
Some other examples of NRC technology licensed to industry in 2007-08 include:
NRC Institute for Aerospace Research (NRC-IAR) signed a licensing agreement with Standard Aero Limited for non-destructive evaluation methods and associated component life assessment techniques, used in gas turbine engines. This licence increased the capabilities of a medium to large Canadian firm in supplying services to the international engine repair market.
The SIGDERS Dynamic (testing) Roofing Facility Unit was licensed by NRC-IRC to Les Laboratoires Shermont in April 2007.
NRC Industrial Materials Institute (NRC-IMI) licensed low-coherence light interferometry scanner technology to Biocad Inc., for facilitating the installation of dental implants. Biocad has grown in both revenue and employment and has recently signed several marketing agreements with U.S and European partners.
Tecnar Automation Ltd., one of the first IMI spin-offs, was granted a licence for technology to conduct real-time analysis for improving the quality of galvanized steel plates used in the automotive industry.
NRC-IAR transferred Resin Transfer Molding (RTM) technology capabilities to Delastek, a Canadian SME. This transfer permitted Delastek to become the first RTM aerospace grade parts manufacturer in Canada, moving from the production of recreational vehicle parts to aerospace components.
Patents, licence agreements and collaborative research agreements are effective indicators of the commercialization outcomes of NRC's R&D and their contribution to an Entrepreneurial Advantage for Canada.
When NRC develops a technology with particularly strong market potential and there is no Canadian receptor capacity identified, entirely new companies may be created to commercialize the technology. These new companies create innovative products and services for the global marketplace and new jobs for Canadians. In 2007-08, the total new companies created since 1995 remained at 68, accounting for approximately 552 full-time jobs and an estimated $470 million in cumulative investment, an 8% increase from last year. In 2007, investment from all sources into NRC new companies was $87 million.7
Figure 2-2: NRC Publications (2003-2008)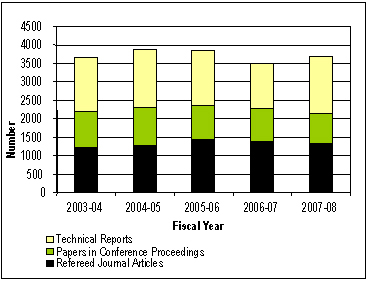 Source: NRC Performance Information Database, 2008
Scientific papers in leading peer-reviewed publications and conference proceedings are internationally acknowledged measures of research quality and relevance. They are also a key tool for the dissemination of knowledge and the creation of value for Canada in the long-term. NRC has consistently produced over a thousand peer-reviewed publications each year over the last five years. In 2007-08, researchers published 1,330 articles in refereed journals. NRC researchers also presented 821 papers at S&T conferences and produced 1,541 technical reports for clients (see Figure 2-2).
NRC's research excellence is also evident in the involvement of its researchers in multi-researcher networks and centres of excellence as well as the number of externally funded, peer-reviewed research grant proposals. In 2007-08, NRC researchers participated in 118 research networks, held 217 positions in editorial boards of scientific journals and were appointed to 473 adjunct professorships in Canadian universities. In 2007-08, NRC researchers and their university partners received 207 grants from Canadian granting agencies (such as NSERC and Genome Canada). The total of these grants, over the lifetime of the projects equalled $29.3 million.
7
Adventus Research Inc.,
Economic Impact of National Research Council Canada Spin-Off Companies 2008 Survey
, March 26, 2008.
Figure 2-3: Canadian Collaborations (2003-2008)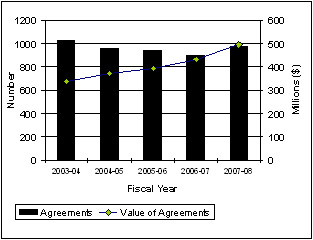 Source: NRC Performance Information Database, 2008
Figure 2-4: International Collaborations (2003-2008)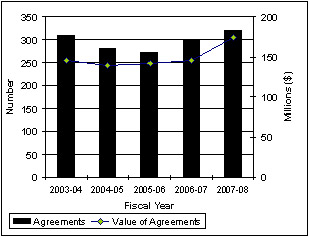 Source: NRC Performance Information Database, 2008
In addition to working with university partners, NRC signed 407 new collaborative research agreements with Canadian partners worth a total of $159 million in 2007-08. The total value over the lifetime of these agreements grew to $493 million (see Figure 2-3). The number and value of collaborative agreements signed during a year are indicators that foretell increased research activity. NRC's Canadian partners invest $3.10 for every dollar NRC invests.
Participation in international projects and consortia exposes Canadian students, researchers and companies to the best-in-the-world capabilities. In 2007-08, NRC signed 118 new collaborative research agreements with international partners worth $109 million. The total number of active international collaborative agreements is similar to last year's number (see Figure 2-4), with a total value over the lifetime of the agreements of close to $174 million. NRC's international partners invest $3.41 for every dollar NRC invests.
Delivering on Expected Results
Through its 19 research institutes and technology centres, NRC conducts long-term research in virtually every S&T-driven sector of the Canadian economy. In 2007-08, NRC focused on those sectors identified as having economic and social importance to Canada, and within those sectors, concentrated on four research priority areas identified in the federal S&T Strategy, namely environmental science and technologies; natural resources and energy; health and related life sciences and technologies; and information and communication technologies (ICT). In keeping with one of the Strategy's core principles – partnerships – NRC pursued horizontal initiatives and S&T collaborations among federal departments and agencies and between the federal S&T community and universities, industry, and the non-profit sector. The expected results of this program activity, as outlined in the NRC 2007-08 Report on Plans and Priorities were:
Expected Results:
Contribution to the federal S&T strategy and initiatives

Leadership in new and emerging research domains

Excellence in R&D and innovation

Stewardship of large-scale S&T infrastructure

Research that benefits Canadians

Harmonization of international standards

New international S&T alliances
Achievements against the expected results are highlighted below. The results are organized in terms of contributions to the four priority areas and the core partnership principle of the federal S&T Strategy.
Environmental science and technologies
The following highlights progress on research within sectors that have economic or social benefits for Canada, with environmental technology elements.
Facilitated Canada's technology advantage in next generation aerospace industry – Expected Results 1, 3. Aerospace remains one of Canada's most important advanced technology sectors. The NRC-IAR Aerospace Manufacturing Technology Centre (AMTC) was designed to support the complete aerospace manufacturing supply chain, from SMEs to Aerospace Primes, in the development and implementation of modern manufacturing methods with the potential of cost savings. In 2007-08, the AMCT facilitated the advancement of one SME Tier 3 supplier to the position of a major Tier 2 system integrator. This particular SME utilized the Centre's Automated Fibre Placement (AFP) machine to assist in the fabrication of fuselage sized composite material aircraft parts. The AFP provides a technology advantage for Canadian industry, as new environmentally friendly composite structures and other large components are quickly becoming prevalent in new aircraft designs. In addition, AMCT developed technology for coordinating robotic riveting and parts assembly within the aerospace industry and technology for high-speed grinding and materials removal. This advanced manufacturing technology was successfully transferred to the Canadian automotive industry.
During the reporting period, NRC-IAR's Structure and Materials Performance Laboratory continued to advance research in the areas of micro-hardness and elastic modulus, for important developments in nanocrystalline covalent materials. These new materials are for use in aerospace applications, initially in new coatings for gas turbine engines. The manufacture of gas turbine engines is a major component of the Canadian aerospace sector. Using modeling and simulation, NRC identified and selected new materials, which do not yet exist. This innovative approach considerably reduces the time to develop new materials and thereby brings them to market both at a faster and lesser cost than traditional approaches. The NRC-IAR-Gas Turbine Laboratory (GTL) established a preeminent large engine icing certification facility at Mirabel Airport, considered to be among the top three in the world. This facility provides a technology advantage for engine manufacturers, through enhanced cost-effective access to a world-class facility, at a time when alternative international facilities are increasingly schedule-constrained and expensive.
Position Canadian industry as a key player in advanced manufacturing – Expected Results 1, 3, 5. Advanced technologies are a key element to advancing manufacturing capabilities, expertise and ultimately retaining manufacturing employment within Canada. NRC R&D continued its ongoing contributions in this area. NRC-IMI continued to focus on engineering materials and the manufacturing sector. It supported the aluminum technology cluster in Saguenay, Quebec, the Industry Partnership Facility in Boucherville, Quebec and the Canadian automotive industry in London, Ontario. In London, NRC conducted an Opportunity Assessment Study in the fall of 2007, as the first phase of development of its automotive sector strategy. The findings point to potential environmental and energy benefits for the proposed direction of the NRC Automotive key sector on lightweight structural materials and alternative automotive propulsion systems. The study was presented to, and endorsed by, the Automotive Key Sector Steering Committee and NRC's Senior Executive Committee. During 2007-08, NRC also provided access to sophisticated laboratories to manufactures for conducting pilot projects to demonstrate and validate new manufacturing technologies.
With a focus on energy oriented processes and solution-driven materials to benefit the environment, the Institute for Chemical Process and Environmental Technology (NRC-ICPET) led the Advanced Electrical Storage Project that focused on four elements of technology development for the plug-in hybrid electrical vehicle (pHEV). These are energy storage, electrical drive components, power train optimization and regulations for emissions and fuel efficiency. The program is working with half a dozen Canadian companies who have produced prototypes. New technologies are being made available to industry as they evolve. The Program has registered nine patents and has issued licences to over 30 organizations, enabling the development of high-performance lithium ion cells for pHEVs and associated applications.
Continued to support Canada's commitment to reduce green house gas emissions and improve the environment – Expected Results 1, 2, 5. Aligning with the federal S&T strategy, a number of NRC research institutes and programs applied their knowledge and competencies to climate change, energy, the environment and sustainable development. NRC-IRC commenced a four year Indoor Air Research Initiative as part of the federal government's Clear Air Agenda. To date, staff has completed the first phase of construction of the ventilation facility, prepared draft protocols for field experiments on Indoor Air Quality (IAQ) and health measures and secured new equipment for: a) the effective and comprehensive detection of contaminants, b) the automation of field measurements and c) the evaluation of IAQ products. In addition, a camera-based sensor for control of electric lighting and window blinds was developed to assist in energy conservation in the presence of natural light or when rooms are unoccupied. In addition, a long-term monitoring system for thermal comfort at individual workstations was developed, with its initial implementation at an office location in Toronto, to capture data for a three-month period. A new portable monitoring system was developed for measuring a host of indoor environmental conditions, with its first application scheduled to be a post-occupancy evaluation of "green" buildings. The long-term objective of this tool is the refinement of "green" building rating schemes.
Environmental technologies for the protection of water resources – Expected Results 1, 5, 7. Fresh water is a critical resource throughout the world, with the protection and remediation of ground and surface water an important element to improving the lives of people, including many Canadians. The NRC-BRI EMaMoc technology for the bioremediation of TCE (a human carcinogen) and other toxic substances from groundwater was transferred to a Canadian company through a licence agreement for commercialization in Canada and in Europe. This technology can help address major groundwater problems where TCE affects drinking water resources in groundwater aquifers, a major source of drinking water to Canadians. NRC-BRI in collaboration with the Université du Québec à Montréal in Quebec also developed a new bio-monitoring tool for the detection of cyanobacteria in surface water and lakes. Toxins produced by cyanobacteria represent a high risk to humans. Cyanobacteria algal blooms have affected several lakes in Quebec limiting the use of water resources to local residents.
Natural Resources and Energy
The following highlights progress on research within sectors that have economic or social benefits for Canada, with natural resources and energy elements.
Support Canada's leadership in Fuel Cells – Expected Results 1, 2, 3, 5. Fuel cell technology can provide a significant contribution to lessening the environmental impact we have on the planet. This is an international priority, and Canada has been a leader in the formative development of this technology. The Institute for Fuel Cell Innovation (NRC-IFCI) helped Canadian industry remain at the leading-edge of fuel cell technology. During the reporting period, research led to reducing costs for the manufacture of fuel cells by minimizing the amount of platinum required; improving efficiency through enhanced catalyst layer design and; increasing design integrity and reducing overall design time by utilizing advanced computer modeling tools during the design phase.
NRC-IFCI's Technology Centre and its Incubation/Acceleration and Networking Facility provided opportunity for SMEs' technology acceleration, integrated technology demonstrations and industry-university-government partnerships, contributing to Canada's entrepreneurial advantage. During the reporting period, NRC scientists broke a number of barriers to develop the next generation of Proton Exchange Membrane Fuel Cells (PEMFC) that work at high temperatures and Solid Oxide Fuel Cells (SOFC) that work at low temperatures. NRC-IFCI developed Cermet supported SOFCs are becoming the benchmark product for further research in both Canada and Europe.
NRC-IFCI also developed a novel architecture to deal with "dirty" fuels for SOFCs, using a tin anode, which has demonstrated higher performance than conventional technology found in the literature. Increasing the types of fuels usable by fuel cells contributes to wider adoption of the technology, ultimately reducing greenhouse gases.
In addition, the Centre developed an in-depth fuel cell safety methodology for fuel cell laboratories that is being considered for International Organization for Standardization (ISO) certification. Furthermore, standards for Hydrogen sensors were developed in collaboration with partners Ballard and Natural Resources Canada and these were approved internationally and adopted as ISO Standards, benefiting the entire Canadian advanced manufacturing industry.
The NRC-IFCI in Vancouver is home to the NRC Fuel Cell Program. This Program mobilized fuel cell expertise and research strength from a network of NRC research institutes across Canada. A total of $6.2 million over five years from 2003-04 through 2007-08 was allocated by the Climate Change Technology and Innovation Program to NRC's Fuel Cell and Hydrogen Program – a key horizontal initiative. NRC supplemented this investment with an additional $15 million of reallocations from existing A-base. The program has enabled collaboration across NRC and the development of key competencies in this important area. The program ended in March 2008. This year the program produced seven patents/patent applications, 64 published papers and 51 conference presentations. Overall, results for the 5-year program include 31 patent applications, 268 published papers over 50 conference presentations. These outcomes will provide a solid base for the collaborative program being planned this year by NRC, NSERC and Natural Resources Canada (NRCan) to focus on near-term technologies, bringing together capabilities within government and in universities to work with industry on fuel cell and hydrogen technology solutions.
In line with Canada's S&T Strategy, NRC continued to participate in collaborative research initiatives to improve the recovery of energy from traditional sources and develop alternative forms of energy. Within Natural Resources Canada's Advanced Fuels Technology and Emission Reduction program, NRC-ICPET led the development of a newly patented optically based technology known as Laser-induced Incandescence (LII). This technology helps enforce some of the world's toughest vehicle emission standards and it is licensed to a broad range of users, from regulatory agencies to vehicle designers. Environment Canada has used LII to measure particulate emissions from advanced vehicle technologies to provide key insights into the tradeoffs between improved fuel efficiency and increased particulate emissions, which is a significant contributor to climate change.
Build sustainability through oceans science – Expected Results 1, 2, 5. Canada's oceans are a strategic resource of prime importance to humanity, the environment and industry. The Institute for Ocean Technology (NRC-IOT) integrates advanced technologies to achieve innovative solutions to meet the challenges relating to safe and efficient transportation, energy exploration and production, alternative energy, arctic navigation, seabed mapping and information gathering on the state of the oceans. The most advanced technologies for ocean observation and monitoring are autonomous underwater vehicles (AUV). During the reporting period, NRC-IOT conducted AUV deployments at the edge of the continental shelf in Newfoundland and under glacial ice off the coast of Greenland. The Institute identified new applications for AUV technology and continued to work with partners to further develop and integrate this technology for advancing ocean science.
Health and related life sciences and technologies
The following highlights progress on research within sectors that have economic or social benefits for Canada, with health and life sciences elements.
NRC Genomics and Health Initiative – Expected Results 1, 3, 5. The NRC Genomics and Health Initiative continued to invest in large-scale horizontal research programs focused on bringing the benefits of rapid advances in the genome sciences and health research to a variety of Canadian industrial sectors. In 2007-08, the final year of its third phase of research activity, NRC invested over $22 million in research programs oriented toward diagnosing, treating and preventing human and animal disease, developing technologies for pathogen detection and advancing new technologies for cardiac care and the production of commercially valuable agricultural crops. During the reporting period, the fourth phase of research activity was established, with the focus on research areas that will have socio-economic impact on Canadians including rehearsal systems for brain tumour surgery, productivity of canola crops, point of care diagnostic devices, cancer identification and diagnostic tools for heart attack patients.
Natural health products and nutraceuticals – Expected Results 1, 2, 5. NRC-PBI continued working to enhance the innovative capacity and competitiveness of the Canadian plant-based natural health products industry for the health and wellness of Canadians by leading efforts to create a world recognized plant-based natural health products industry in functional foods, natural health products and nutraceuticals. In 2007-08, NRC established the Bioaccess Commercialization Centre, helping 47 client organizations in Western Canada by providing research expertise, business development support programs, expert business knowledge, resources and advice. Specific programs included BioPitch, a structured hands-on program that teaches entrepreneurs to turn their ideas into a compelling pitch that captures the attention of partners and investors; BioMap, an online resource that takes entrepreneurs from the idea stage to the launch of a new product; and BioFutures, a guide for future technology innovation in the industry. In addition, NRC-PBI performed field trials on plants for two commercially valuable products (nervonic acid for brain health and phytosterols for cardiac health), screened plant extracts from over 100 Western Canadian plants for anti-oxidant, neuro-regeneration and anti-cancer effects, evaluated blueberries, cranberries and grapes to identify bioactives associated with health benefits in fruit and characterized bioactives in hemp, hops and poppies.
Scientists at NRC-INH are also involved in identifying how bioactive compounds found in nature can be used to improve human and animal health. During the reporting period, NRC researchers filed for patent protection for plant extract combinations for cholesterol management, lipid regulation and weight loss. A plant extract for control of pox virus infections was discovered and in cooperation with University of Prince Edward Island researchers, a novel assay to identify compounds to potentially protect against, or limit the damage of strokes was developed.
Vaccines and pharmaceuticals – Expected Results 1, 3, 5. The Biotechnology Research Institute (NRC-BRI) continued collaborating with Canadian pharmaceutical and biopharmaceutical players and pursuing research opportunities to support domestic production of vaccines. In particular, NRC:
Initiated negotiations with Alethia Biotherapeutics for an exclusive licence for Clusterin mAbs. NRC scientists had identified antibodies that target Clusterin, a discovery that could lead to blocking metastasis of some types of cancer.
Worked with Chlorion Pharma Inc. to screen for compounds to guide the development of drug leads for pain management. The screening was successful, leading to the design of a number of drug candidates, which are currently being tested. Based in large on the promise of the company's unique target and interesting compounds obtained with the help of NRC, Chlorion successfully raised $6 million in venture capital funding, which allowed them to recruit a team of medicinal chemists and pharmacologists to develop lead compounds and conduct pre-clinical studies.
Provided assistance to Canadian SMEs to facilitate development and commercialization of their technologies. For example, NRC produced material for Artemis Technologies (rabies vaccine development) and for Oncolytics Biotech (Reolysin - experimental treatment for brain tumours).
Exceeded its commitment to Sanofi Pasteur by producing, purifying and delivering an increased volume (more than six times) of bacterial protein for the development of its new vaccine. Sanofi indicated that the quality and level of service provided by NRC under the contract has greatly assisted its start-up of manufacturing, improving the opportunity for additional contracts during development and scale-up.
NRC-IBS also supported this strategy, through:
Transformative Vaccine Formulation and Delivery: working with Piramel Life Sciences Limited, one of India's largest health care companies, NRC moved the promising archaeosome (a microbe) technology into preclinical evaluations for a first vaccine candidate in 2009. To overcome complexities during production, NRC scientists developed a semi-synthetic method for production of archeosome-based vaccines and this technology resulted in a collaborative agreement between NRC and a small Canadian biotechnology company.
New Cancer Therapies: NRC expertise in molecular imaging and animal models of brain tumours was applied to evaluate novel drug entities to deliver chemotherapeutic treatment to brain tumours, in collaboration with a small Canadian biotechnology company. After successfully demonstrating brain tumour targeting in pre-clinical models, the formulation entered phase I/II clinical trials for the most malignant of brain tumours in late 2007.
Less invasive breast cancer diagnosis – Expected Results 3, 5, 7. NRC-IBD continued development of non-invasive examination techniques using MRI technology. The Institute continued to collaborate at the local, national and international levels with leading researchers, academics and industry participants. During the reporting period, significant progress was made in testing specialized MRI spectroscopy techniques, developing analysis protocols for dynamic-contrasted MR images and developing a tool to quantify breast lump borders. Development of a new clinical protocol commenced, in collaboration with a breast radiologist and a full in vivo breast cancer patient study was initiated. This study will continue throughout next year.
Neurochip for drug screening and testing – Expected Results 2, 5. NRC scientists pioneered the development of a neurochip - a complex interface of living neurons or brain tissue with patterned materials and multi-electrode arrays that can potentially be used in drug screening and diagnostic testing. NRC entered advanced discussions with a wide range of potential users of this technology, including academic research laboratories and industrial partners, to prove its efficacy for the study of neurological diseases and the screening of novel pharmaceutical candidates.
Reveal the secrets of brain adaptation and regeneration – Expected Results 3, 5. NRC scientists discovered molecules that could help reduce the burden of Alzheimer's disease or enhance brain recovery (angiogenesis-modulating peptides) after stroke-induced damage. NRC-IBS continued to develop novel peptides and molecules for early detection or treatment of Alzheimer's disease, including executing an agreement with a mid-sized Canadian biotechnology company to evaluate new treatments for preventing neuronal loss and alleviating cognitive decline. NRC-IBS and NRC-IMI worked to develop novel advanced materials for tissue engineering for neurovascular repair. The research led to joint intellectual property disclosures, expected to drive the development of new biomaterials engineered to mimic natural tissues and accelerate wound healing, tissue regeneration and repair.
Information and communications technologies
The following highlights progress on information and communications technology with potential applications within sectors that have economic or social benefits for Canada.
Reduce industry risks and costs of working on next generation information and communications technology – Expected Results 1, 2, 3. Globally, information and communications technology development continues at a break-neck pace. The Institute for Microstructural Sciences (NRC-IMS) continued the development of functional materials and quantum devices to fuel the information revolution of the next decade. NRC-IMS is making significant advances in the development of nanomaterials and quantum devices that will help deliver solutions to diverse application areas such as biosensors, chemical sensing and quantum computing. NRC-IMS leads NRC's ICT Sector Strategy, pulling together competencies from across NRC to launch a demonstration project for an intelligent sensor system.
On the software side, the Institute for Information Technology (NRC-IIT) continued its development of technologies that facilitate the extraction of knowledge from data, enable people oriented systems and advance e-business protocols. In 2007, discoveries from the Social Networking Applied to Privacy project, led to thirteen peer-reviewed papers, nine invited research presentations and two keynote presentations, as well as a collaborative agreement with the Children's Hospital of Eastern Ontario (CHEO) and the University of Ottawa to apply private data discovery to computer files for enhanced security.
NRC-IIT's Language Technologies Group, which is part of the Language Technologies Research Centre, continued to focus on developing new technologies related to translation, multilingual content management, language training and speech processing. The ongoing PORTAGE project remained a key activity. The PORTAGE technology underwent a number of improvements during the reporting period, refining its translation capabilities and increasing its speed. The PORTAGE technology was the basis of eight publications and generated eight commercial licences during the year.
Fostering S&T horizontal and multi-disciplinary partnerships with other federal government departments, universities and Canadian industry
Contributions to inter-departmental efforts to support the federal S&T Strategy – Expected Results 1, 2. NRC is actively involved in the interdepartmental effort to implement the new federal S&T Strategy. NRC participates on the ADM Committee on S&T, which is the whole-of-government coordinating committee for the federal S&T community and has been charged with overseeing implementation of the new S&T Strategy and monitoring progress. NRC also has membership on the Director General Sub-Committee on S&T Strategy Implementation (DGSI) and most of the 11 working groups mandated to address specific strategy commitments. NRC is making good progress in implementing a plan developed with the Natural Sciences and Engineering Research Council (NSERC) and the Business Development Bank of Canada (BDC) to deliver upon a specific commitment of the federal S&T Strategy—the alignment of these three organizations' programs and activities. One of the R&D related initiatives was the launch of a joint nanotechnology call for proposals in energy, environment and ICT; and commencement of a round of provincial consultations to better align programs (four provinces visited so far).
The NINT — a NRC, University of Alberta, and Government of Alberta partnership—combines the strengths of a federal laboratory and a university to position Canada at the forefront of nano-scale discoveries that are expected to generate significant benefits in such areas as health and the environment – Expected Results 1, 3, 5. NINT continued to build strong links with industry. This year marked the opening of NINT's Innovation Centre with the signing of the first 6 industrial tenants and occupancy of over 20% of the available space. This was the culmination of extensive space improvements and development of policies for occupation and operation that includes the option for tenants to use NINT equipment, processes and procedures to assist in their daily operations. In concert with the opening came the launch of six collaborative projects with Xerox Canada. This is the first time that Xerox has engaged an outside partner in their core research objectives, an indication of NRC's standing as a leader in this area. The projects will explore materials design, materials characterization and modeling and simulation.
Integrated nanotechnology research to promote and advance innovation – Expected Results 1, 2, 3. Nanotechnology is an emerging research domain that cuts across a number of sectors.
NRC-Nano, a cross-NRC initiative, was announced in June 2007 to increase the integration of nanotechnology expertise across NRC, as well as facilitate collaboration with external partners such as other government departments, universities, industry and international research centres.
NRC's nanotechnology research is targeted at three main application areas that directly impact Canadian competitiveness: new materials and coatings; quantum devices for next generation computing and communications; and novel nanostructure devices for photonic, sensing and biological applications. This research spans twelve NRC research institutes and combines a spectrum of competencies ranging from fundamental understanding of the properties of nanostructures, through manufacturing of nanomaterials and nanodevices, to collaborative efforts aimed at applications in aerospace, construction, communication and health related industries. For example, in the construction sector, NRC continued its development of novel materials to increase the service-life of concrete and establish new approaches to nano-engineering concrete structures. It developed new material formulations containing nano-based cement products to control the release of chemical admixtures within concrete. A patent was published and discussions for scaling production to allow testing with concrete are underway with a major private sector enterprise.
Two funding competitions were launched during the reporting period. The first supported three multidisciplinary research projects in the priority areas of therapeutics and diagnostics, nanoscale metrology and nanomaterials for solar energy applications. The second competition is a joint NRC-NSERC-BDC initiative to fund five projects ($5 million per year) in priority areas as part of the federal S&T strategy policy commitment to have existing organizations work effectively together to support the commercialization of research in Canada. The winning projects will develop semiconductor nano-composite materials, photon sources for quantum information processing, polyester nanocomposites and instrumentation for the physical characterization of nano-aerosols, for targeted impacts in the areas of energy, construction and ICT. A joint NRC, Natural Sciences and Engineering Research Council of Canada (NSERC) and Business Development Bank Canada (BDC) project on Polyester Nanocomposites for Greener Transportation, Construction and Packaging was initiated to develop advanced approaches to cost-effective integration of nano-sized reinforcements and to transfer improved manufacturing technology to Canadian industry. In 2007-08, this joint initiative also launched a series of consultations across Canada to better align the programs of organizations with a stake in increasing commercialization outcomes.
Worked with partners in industry and academia to enable leading-edge research – Expected Results 2, 4, 7. The Canadian Neutron Beam Centre (CNBC), part of NRC-SIMS, enables neutron beam experiments to be undertaken on behalf of universities, industry and government researchers across Canada and internationally. In 2007-08, CNBC applied new neutron beam methods to soft materials and nanostructures and employed a new specialized spectrometer to study new hydrogen storage materials for clean energy. Collaboration between CNBC and NINT/University of Alberta produced direct results in identifying nano-structured magnesium-aluminium hydrides as promising candidates for hydrogen storage in automotive applications, effectively exploiting NRC's new capability for neutron analysis of nano-structured thin film structures.
In 2007-08, the McGill University Health Centre (MUHC) moved two of its affiliated research groups to NRC-BRI to take advantage of both its clinical research and the research and development conducted at NRC-BRI. This collaboration has funnelled external funding to support the valuation and transfer process; identify and prioritize the best potential innovations from both NRC-BRI and MUHC; offer project management for selected technologies; incubate and accelerate the development of technologies; and facilitate the transfer of technologies to the private sector or create spin-off companies to exploit such IP. Specifically, the two organizations continued to work on joint projects related to structural biology and virtual screening, as well as setting up a joint medicinal chemistry laboratory on NRC premises.
NRC-IBS was established as the lead in a multi-stakeholder initiative in molecular imaging for cardiovascular and brain pathologies, involving NRC-IBD, the NRC Steacie Institute for Molecular Sciences (NRC-SIMS), NRC-BRI, the NRC Institute for National Measurement Standards (NRC-INMS), NRC-IMI, the University of Calgary, the University of Victoria, McGill University and a small Canadian biotechnology company. An initiative to develop bioactives from natural products for human health applications was established by the NRC Institute for Marine Biosciences (NRC-IMB), the NRC Plant Biotechnology Institute (NRC-PBI), NRC-INH and NRC-IBS.
Canola product development is an $11 billion Canadian industry. NRC-PBI and Agriculture and Agri-Food Canada produced the world's largest Brassica Expressed Sequence Tag (EST) collection, which contributed to a repository of 437,000 Brassica ESTs that facilitated the design and construction of a high-density Brassica 94,000 feature CombiMatrix microarray. This high-density array will assist in targeting research on developmental processes that control seed growth and size and the metabolic processes that control oil synthesis.
NRC-PBI identified a novel component of canola seed oil, which could contribute to control of human cholesterol levels. NRC-PBI and NRC-INH continued to work together to test the pharmaceutical effect of canola seed oil with enhanced levels of this component, on the treatment of blood total cholesterol, high-density lipoprotein cholesterol, low-density lipoprotein cholesterol and triacylglycerides.
Leveraging federal science-based department's and agencies' collaborations to support National Security – Expected Results 3, 5. With Chemical, Biological, Radiological, and Nuclear (CBRN) Research and Technology Initiative (CRTI) funding, NRC-INMS collaborated with the Canadian Food Inspection Agency, Defence Research and Development Canada and Ionalytics Corporation to develop analytical methodologies for the rapid and highly sensitive detection of chemical warfare agents, toxic agrochemicals and toxins. In addition, a methodology for detection of trace levels of biotoxins within a variety of food matrices was developed. These methodologies have improved Canada's ability to respond to chemical related threats by decreasing the analysis time from hours to minutes and improving the detection power by an order of magnitude.
The NRC Centre for Surface Transportation Technology worked closely with the Department of National Defence (DND) to provide engineering design and prototyping services for the integration of a full communications suite and electronics counter-measures protection. The three-vehicle system is critical for proving and route clearing potentially dangerous vehicle throughways and thus keeping Canada's soldiers safe. Detailed knowledge of DND's Light Armoured Vehicle designs enabled NRC to design and deliver a number of Electronic Warfare equipped vehicles with new, complex electronic sensor and on-board processing capabilities that detect hostile enemy electronic signals.
NRC-IRC collaborated with the Royal Canadian Mounted Police (RCMP) and Public Works and Government Services Canada (PWGSC) on several projects concerning the design and assessment of the speech security of meeting rooms, primarily to determine whether eavesdroppers could hear or understand speech from an adjacent meeting room. The work incorporated both physical measurements of building properties and subjective assessments of speech intelligibility into an accurate rating system. To date, measurement procedures have been developed, building design procedures prepared for preconstruction consideration and a speech security guide written for the practitioner audience. Work is continuing on a new American Society for Testing and Materials (ASTM) standard for measurement, updating the PWGSC Speech Security Best Practices Guide and the development of a quick measurement procedure for use during building construction or renovation.
Support Canada's long-term competitiveness through the adoption and mutual recognition of international standards – Expected Results 1, 2, 6, 7. Competing in the global marketplace continues to be increasingly important for Canada. NRC-INMS is Canada's National Metrology Institute (NMI), determining standards and methods of measurement that impact directly on the ability of Canadian firms to trade internationally. In 2007-08, the Institute continued to work internationally, representing Canada in metrology organizations such as Comite international des poids et mesures (CIPM) and the Inter-American Metrology System (SIM). Institute staff participated in 35 CIPM Key Comparisons, which intended to demonstrate the equivalence of separate national measurement standards, ultimately reducing non-tariff trade barriers. Staff also participated on ten CIPM international Consultative Committees (CCs), that guide the development of global measurement standards and oversee international comparisons amongst member organizations.
NRC-INMS analyzed, from a Canadian perspective, an international study on measurement needs in a variety of sectors that documented over 700 innovation impeding measurement issues, as identified by industry. The Institute initiated preparation of a proposal to renew Canada's measurement innovation infrastructure, based on interviews with stakeholders across industry and NRC. Under the NRC-Nano initiative, funding was received to launch a project on metrology at the nanoscale, which was identified within the international study as a sector requiring new fundamental measurement science.
Leverage "Big Science" partnerships – Expected Results 3, 4, 7. Astronomy is "Big Science" and the leverage of international partnerships opens large and challenging projects to Canadian industry. In 2007-08, the NRC Herzberg Institute of Astrophysics (NRC-HIA) actively sought industrial participation in its projects and facilitated their engagement in other projects and related business ventures that make use of NRC technical and scientific expertise. Notably, Nanowave Technologies of Etobicoke, Ontario licensed a component of the Band 3 receivers, developed by NRC for the Atacama Large Millimetre Array (ALMA) , manufacturing the 300 amplifiers needed for ALMA and marketing the technology globally to universities, research labs and semiconductor companies to be used in telecommunication systems, solid state physics research, materials research and low temperature physics research. The French Atomic Energy Commission has already purchased two amplifiers for its advanced nanomaterials research, as has the California-based Combined Array for Research in Millimeter-wave Astronomy.
Facilitate the implementation of Canada's Long Range Plan for Astronomy and Astrophysics (LRP) – Expected Results 4, 7. NRC-HIA executed NRC's mandate to "operate and administer any astronomical observatories established or maintained by the Government of Canada." This included activities at telescopes in Victoria and Penticton, as well international facilities including the Canada-France-Hawaii Telescope (CFHT), the James Clerk Maxwell Telescope (JCMT) and the Gemini Telescopes in Hawaii and Chile. NRC-HIA is a key contributor to Canada's Long Range Plan for Astronomy and Astrophysics (LRP), participating in key international astronomy projects. In 2007-08, NRC-HIA continued to participate in construction of ALMA and prepared the Thirty Metre Telescope (TMT) Construction Proposal. A prototype 10m composite antenna was manufactured in-house by an NRC-HIA team for the Square Kilometre Array (SKA), attracting considerable international attention as a potential solution to providing the international SKA with low cost, high-performance collecting area. Notable research achievements included the analysis of polarized radio emission from 1200 square degrees of the Milky Way. This is an important step towards understanding the role of magnetic fields in the Milky Way and their influence on the processes of star birth and death. As part of the Institute's outreach program, the visitor centre in Victoria attracted about 10,000 Canadian schoolchildren and a comparable number of adults.
Program Activity: Technology and Industry Support
This program activity includes dissemination of scientific, technical and medical information; provision of innovation assistance and engineering and technology-based facilities; contributions to the commercialization process; intellectual property management; new company creation and strategic partnerships for Canadian SMEs, NRC institutes, the public and other government research organizations.
Financial Resources ($ millions)

| Planned | Total Authorities | Actual |
| --- | --- | --- |
| 219.3 | 229.4 | 221.6 |
Human Resources (FTEs)

| Planned | Actual | Difference |
| --- | --- | --- |
| 884 | 1,022 | (138) |
Performance Highlights
Performance Indicators
(as identified in the 2007-08 RPP)

Results

New firm formation (incubating firms and co-locating firms)

14.8% increase in incubating firms
140 incubating firms

Investment attracted to the cluster

Over $155 million leveraged by NRC from the private and public sectors

Technology transfer

Knowledge dissemination

Technical, research and business assistance to 7,645 Canadian SMEs
Over 2,900 CTI services provided including user assistance, quick references, information searches, information reports, CTI briefs, scientific, technical and medical alerts, training and presentations

Highly-qualified personnel to Canada

Increased the number of graduate placements
675 graduates including 331 new graduates provided with the opportunity to work with 454 SMEs across Canada

Client success

Firms exhibited an 11% increase in sales and a 14% increase in employment for each 1% increase in both contribution agreement funding and the supply of advisory services
77% of SME clients indicated that NRC-IRAP "allowed (the) firm's expansion"; with 60% stating that the impact was "moderate" to "large"
75% of SMEs indicated that the Program "increased (the) company's net worth"; with 53% identifying that the impact was "moderate" to "large"
Client-firms average growth in sales 28%, employment 30% and assets 15%

Economic, social and environmental impact

Between 2002 and 2007, the total wealth creation benefits of the Program were in the range of $2.3 and $6.5 billion.
Canada's private sector is dominated by SMEs, of which 98% have fewer than 100 employees. Within this context, Canadian SMEs often lack the capacity to invest in innovation to take full advantage of the outsourcing and off shoring realities of globalization and realize the opportunity that would make them key players internationally. Clusters are broadly based community partnerships that focus on achieving competitiveness for Canadian industry and, as such, are an appropriate mechanism to encourage SMEs to invest together and share risks in pre-competitive R&D.
Nations around the world have recognized the central role of science and technology in addressing the challenges to competitiveness and productivity caused by the advent of globalization. Many countries have recognized the importance and potential of technology clusters. Business, academia and governments form partnerships. Typically, the partners jointly develop a technology roadmap to identify critical research and technology domains important to the community. This is the basis for coordinated and integrated action.
A cluster's lifecycle can be broken down into two phases. Phase 1 - the first five years - focuses on augmenting the research and innovation capacity in communities. The second phase focuses on attracting additional private sector partners, a more comprehensive integration of community players, the operation of infrastructure and technology transfer and commercialization.
NRC's Technology Clusters have encouraged research partnerships between federal, provincial, and municipal governments, industry, and the higher-education sector. Technology Clusters are accelerating the commercialization of new technologies produced by small and medium-sized firms and are building regional S&T capacity in key sectors and industries across Canada, including ocean technologies (St. John's, Newfoundland and Labrador), aluminium technologies (Saguenay–Lac-St-Jean, Quebec) and fuel cells and hydrogen technologies (Vancouver, British Columbia).
The Government of Canada has injected staggered investments of $554 million in NRC's 11 cluster initiatives since 1999-2000. All of NRC's technology cluster initiatives have received two phases of funding from the Government of Canada. Table 2-1 provides details on the financial resource allocations for the second phase funding cycles to date.
Table 2-1: Allocation of Resources for NRC Technology Cluster Development
Location

Focus

Resources

2005-06 to 2009-10

Halifax, NS

Life sciences (NRC-IMB and NRC-IBD)

$19.5 million

Fredericton and Moncton, NB

Information technology and e-Business

$48.0 million

St. John's, NL

Ocean technology

$16.0 million

Atlantic Canada

Coordination, administration, special studies, innovation assistance, S&T knowledge/information dissemination

$26.5 million

2007-08 to 2009-10

Saguenay-Lac-Saint-Jean, QC

Aluminium transformation

Ottawa, ON

Photonics

$21.1 million

Winnipeg, MB

Biomedical technologies

$4.0 million

Saskatoon, SK

Plants for health and wellness

$3.2 million

Edmonton, AB

Nanotechnology

$34.5 million3

Vancouver, BC

Fuel cell and hydrogen technologies

$11.5 million

2008-09 to 2009-10

Charlottetown, PE

Nutrisciences and health

$8.0 million

Regina, SK

Sustainable infrastructure

$4.0 million

1 - An additional $5.0 million received in 2001-02.
2 - Economic Development for the Quebec regions contributed $27.0 million to this initiative in 2001-02.
3 - The Province of Alberta also contributed $60.0 million over the period 2003-04 to 2007-08
Delivering on Expected Results
For NRC, conducting world-class research is only part of the journey towards Canadian success within the domestic and global marketplace. NRC is also the bridge that connects industry and key innovation players to this leading research and IP, supporting the development and commercialization of new technology for Canadian firms. NRC programs support a range of industry players, from start-ups and incubating firms to established companies that already compete globally. Wide dissemination of scientific and technical innovations (creating a Knowledge Advantage) to Canada's industrial, research, and academic communities (creating a People Advantage), ultimately leads to enhanced Canadian economic activity through commercialization of new technologies (creating an Entrepreneurial Advantage). The remainder of this section illustrates how NRC achieved the expected results of this program activity, which were:
Expected Results:
Contribution to the federal S&T Strategy and initiatives

Advancement of new technology companies

Access to new technologies for Canadian companies through patents and licensing

Enhanced innovation capacity of firms

Improved dissemination of knowledge

Support to Canadian industry
Achievements against the expected results are highlighted below. The results are organized in terms of contributions to the three advantages of the federal S&T Strategy.
Knowledge Advantage
Engage and link community groups through horizontal support (NRC-IRAP and NRC-CISTI) – Expected Results 1, 2, 4, 6. In 2007-08, NRC-IRAP continued to engage and link regional groups to develop further the technical, financial and business networks vital to cluster development. This year, NRC-IRAP contributed $1.55 million of NRC cluster funding to 45 different innovation support organizations within six NRC technology clusters, which ensured that SMEs had access to needed pre-commercialization support. This included NRC-IRAP support to industry-driven organizations that promoted regional technology clusters, such as Newfoundland's OceansAdvance, PEI's BioAllliance, Saskatchewan's Biomedical Commercialization Canada and Manitoba's BioAccess Commercialization Centre.
A study conducted in British Columbia indicated that when compared to non NRC-IRAP clients, the Program's client firm revenues and employment growth were higher by more than 20% - 30%. Furthermore, payroll grew faster for NRC-IRAP clients than non-clients by about 25%. Shareholder equity growth of clients outperformed that of non-clients by a factor of almost seven.
NRC-IRAP also directly contributed to the growth of 30 individual firms within the NRC clusters by providing a total of $1.28 million non-repayable contributions, on a cost-shared basis for their respective technological research projects. NRC-IRAP fully expended its NRC cluster funding, leveraging an additional $15 million of R&D expenditure within seven technology clusters in which NRC participates.
During 2007-08, NRC-CISTI's Information Intelligence Services program offered a range of products and services to NRC-IRAP industrial technology advisors and their SME clients through a network of specialists in 17 communities from coast to coast. NRC-CISTI staff, who are co-located in 9 regional technology clusters, provided scientific, technical, medical and business-related information, search and analysis services to NRC researchers, companies located in industrial partnership facilities and external clients within the region.
In addition, NRC-CISTI provided regional clients with more than just access to scientific, technical and medical information, as it provided answers supporting business decisions. NRC-CISTI provided NRC-IRAP industrial technology advisors with competitive technical intelligence (CTI) that contributed to successful regional client SME commercialization outcomes. CTI has demonstrably led to reduced risk of NRC-IRAP investments and commercial success for SMEs. The information and analyzes helped to establish the technical feasibility and market potential of a product, strengthened business cases and identified potential partners. Impact statements collected from participants in 2007‑08 include:
"Without the CTI Brief, [NRC-]IRAP would not have invested in the technology."
"The SME followed up on [NRC-]CISTI alternative product suggestions by looking at other applications of the technology."
"[NRC-]CISTI information helped to get the company to move in a new direction."
Enhance collaborative partnerships – Expected Results 2, 5, 6. In 2007-08, NRC increased its efforts to develop collaborations and partnerships with industry and engage stakeholders to contribute to the development of clusters across Canada. NRC-IRAP is a key integrator and attractor and brings synergy to the clusters. NRC-IRAP's approach to building and supporting technology clusters differs from and builds on, its usual method of reacting to a specific firm need. The cluster approach is community, not firm-based; proactive, not reactive; benefits are intended to accrue to all players within the cluster supply chain, not just one firm; and support is targeted to the specific needs of the cluster's stage of development, not on one organization's readiness. As one example, in 2007-08, NRC-IRAP supported New Brunswick SMEs in the fields of knowledge management and semantic web techniques, helping them collaborate on proposals for national tenders to attract business opportunities flowing from the rest of Canada. Additionally, over the last three years, numerous small contracts in the areas of website creation, international website standards analysis and graphic design have led to various collaborations between members of this network. The network enabled members to become better acquainted with one another and to develop an interest in collaborating through their own initiatives. This year members of the Centre international de développement de l'inforoute en francais (CIDIF) network identified a major opportunity, prepared a joint proposal and were awarded a contract from Canadian Heritage for a project titled "Knock on Wood" worth approximately $400,000.
Focus on cluster growth to create critical mass and build community innovation capacity – Expected Results 1, 2, 3, 4, 5, 6. The successful growth of dynamic technology clusters will not be the result of a single organization – clustering is a collaborative and iterative process that requires active commitment from all stakeholders. NRC contributed to the growth of Canadian technology clusters by:
Bringing the leadership needed to gather stakeholders together to define a collective vision
Building trust within a cluster by fostering networking and collaborative R&D between firms
Motivating other levels of government to share in the vision
Maximizing the use of scarce resources by leveraging funds (e.g., investing in much-needed scientific infrastructure, sharing experts between universities and NRC labs)
Establishing a focal point for the cluster by acting as a neutral ground for the private sector to meet and attract in outside investment
Identifying bottlenecks to SME growth and creating targeted solutions for technology transfer and commercialization
Connecting firms and researchers across the country and around the world through its national mandate and international reputation
The following are examples of cluster initiatives that NRC moved forward in 2007-08:
Nanotechnology (Alberta) – NRC is helping Canada stake its place in nanotechnology through its role in NINT, a multi-disciplinary institution funded by the federal government, the University of Alberta and the Government of Alberta. NINT's goal is to deliver nanotechnology applications in areas that can create and grow a sustained cluster of high technology industries that deliver social and economic benefits to Alberta and to Canada. The focus of NINT's research is the integration of nano-scale devices and materials into complex nanosystems that are connected to the outside world. During the reporting period, patents were filed for nanostructured high surface area electrodes and for porous thin-filmed optical devices, both technologies that have applications in energy devices and flat-panel displays. Licensing discussions for technology transfer to the private sector are ongoing.

NINT continued to work with nanoMEMS Edmonton and Tec Edmonton to bring together local proponents and accelerate the growth of nanotechnology by attracting firms and investment to the region. The NINT Innovation Centre opened in 2007-08, after the completion of extensive space improvements and development of private sector occupation policies. Six industrial tenants were signed, occupying over 20% of the available space.

Biosciences (Prince Edward Island and Saskatchewan) – NRC-INH continued working with the PEI biosciences cluster to support its development. NRC-INH played a key role, through its IPF to attract six new ventures to the cluster, with two others currently competing for the final IPF spaces. In 2007-08, NRC-INH had nine active collaborative research agreements with cluster members totalling $4.9 millioin in value and 13 fee-for-service agreements generating more than $350,000 in revenue with industry partners. NRC-INH assisted these private sector firms to improve their intellectual property portfolios, with one firm filing for patent protection jointly with NRC. During 2007-08, NRC-PBI made significant investments in research and development infrastructure to support the growth of the Plant Biotechnology Cluster in Saskatoon. Specifically, it acquired instrumentation to improve sensitivity, increase the range and reduce the analysis time for hormone profiling. It also purchased a state of the art DNA Sequencer (one of only three in Canada) to enable cluster participants to resolve hundreds of DNA sequences in one run. Research, development and commercialization activities in these clusters focused on the federal S&T Strategy research priority – health and related life sciences and technologies.
Build on successes from NRC's Atlantic Initiatives, Phase I – Expected Results 1, 2, 3, 4, 5, 6. NRC continued to nurture the growth of its Atlantic cluster initiatives by maintaining leading-edge research capabilities (infrastructure and human capital), developing research collaborations with cluster firms, fostering increased networking and knowledge-sharing and supporting the involvement of firms and other partners in the cluster.
Information Technology (New Brunswick) – NRC-IIT continued to be a key provider of innovation infrastructure and programs, to bridge R&D to innovative New Brunswick products. NRC-IIT jointly filed a patent with the Atlantic Cancer Research Institute on the biomarker for prostate cancer. The technology enables the cost effective and highly accurate sorting and analysis of gene-expression data and won the Canadian Information Productivity Awards Gold Award for Innovation in November 2007. Complementary development for identifying colon cancer biomarkers was completed and a patent is currently pending for this technology. Research, development and commercialization activities in this cluster focused on the federal S&T Strategy research priority – information and communications technologies.
Ocean Technologies (Newfoundland and Labrador) – NRC-IOT continued to lead the ocean technology cluster-building process by working with industry, government and academia. Industry participation in the Cluster grew steadily throughout the year. Companies in the Cluster now number more than 50, with an increase of 15% over the previous year. Those companies have spent about $17 million on R&D activities during the reporting period and generated some $259 million in total sales revenue. Building on Atlantic Investment Partnership (AIP) funding, NRC-IOT opened the Ocean Technology Enterprise Centre (OTEC), which operated at full capacity during the reporting period. OceansAdvance, the public-private joint venture created to drive cluster development, completed a strategic planning exercise, resulting in the development of a 10-year ocean technology growth strategy. OceansAdvance, NRC and the Provincial Government also released the inaugural Ocean Technology Cluster Tech-Knowledge Map during the year. Research, development and commercialization activities in this cluster focused on the federal S&T Strategy research priority – natural resources and energy.
Life Sciences (Nova Scotia) – The Life Sciences cluster in Nova Scotia is a well-established and diverse community of private sector companies, academic institutions, government departments and industry organizations. NRC-IMB established its role within the cluster as a direct research and development support mechanism for industry. The NRC-IMB IPF provided fee-for-service testing, technical instrumentation training, access to laboratory equipment and networking opportunities for cluster members during the reporting period. Currently IMB has 29 active agreements with partners, valued at more than $12 million. The NRC-IBD Biomedical Research Laboratory, located at IWK Hospital in Halifax, held its grand opening in the fall of 2007 and is ready for collaborative efforts with partners such as Dalhousie University. Research, development and commercialization activities in this cluster focused on the federal S&T Strategy research priority – health and related life sciences and technologies.
Build on the success of the Information Intelligence Services program – Expected Results 1, 5, 6. NRC-IRAP and NRC-CISTI continued to develop capacity to provide CTI and information analysis services in order to provide best-in-class strategic advice to cluster participants and optimize NRC investments. NRC-CISTI's Information Intelligence Services offered a range of products and services to R&D clients across the country, as highly-trained technical business analysts prepared reports to facilitate client decisions on technology investments and research directions. NRC-IRAP developed in-house capabilities to capture CTI. ITAs capitalized on CTI to support their capability to provide advisory services to clients and to help them make the best possible investments with client firms. Client satisfaction is high, with a recent survey of Atlantic Region NRC-IRAP industrial technology advisors rating the CTI service at 4.6 out of 5.
Offer Scientific and Technical information and intelligence – a Knowledge Advantage to Canadian industry – Expected Results 1, 5, 6. NRC-CISTI is Canada's national science library and one of the largest comprehensive source of scientific, technical and medical information in North America. Through its publishing arm, NRC Research Press, NRC-CISTI is also Canada's foremost scientific publisher. NRC-CISTI's information specialists, technical business analysts and technical information analysts provide value-added information services and competitive technical intelligence reports to NRC-IRAP SMEs, NRC researchers and other clients through the NRC Information Centers co-located with NRC institutes across Canada.
NRC-IBD, along with NRC partners NRC-IRAP and NRC-CISTI worked directly with SMEs, bringing research strengths and business expertise to bear on market-driven challenges and opportunities and enhancing their competitiveness. Together, the three Institutes produced the award-winning Medical Technology Watch newsletter, which enhances awareness in the medical devices sector.
In 2007-08, NRC-CISTI continued to provide Canada's research and innovation community with tools and services for accelerated discovery, innovation and commercialization of research. It created value for Canadians by improving the flow of scientific information in three ways:
collaborating with partners to develop a networked cyber-infrastructure to provide enhanced access to the world's electronic scientific, technical and medical research information and data, encompassing new and existing open access content repositories and intelligent search and analysis applications;
developing and supporting Canada's electronic scientific publishing infrastructure by integrating online peer review, editing and publishing tools and Web 2.0 features to enable dissemination and discovery of Canadian research worldwide; and
expanding services to support commercialization and SMEs, such as competitive technical intelligence and patent information analysis – "actionable" information.
NRC-CISTI's National Science Library document delivery service filled 485,000 document orders in 2007-08, half from Canadians. Core clients were in the academic, health, government and industry sectors, with 29 clients from amongst the top 60 R&D spenders in Canada. NRC-CISTI continued to innovate, launching a suite of services under the Discover banner to give Canadians faster and easier access to 15 million articles in the collection, which is being strengthened in the areas of health, the nine key R&D sectors identified in the NRC strategy and resources to support commercialization of research. The NRC Virtual Library provided NRC institute researchers with desktop access to licensed electronic journals and databases. This past year NRC-CISTI significantly expanded NRC researcher access to scientific, technical and medical research publications by subscribing to Scopus, a searchable database of article abstracts with citations from 15,000 peer-reviewed journals as well as conference proceedings, patents and other content from around the world. NRC professionals made 258,000 NRC Virtual Library site visits in 2007-08, an increase of 12.5% over the previous year.
In 2007-08, NRC provided funding for the development of the NRC Publications Archives, a NRC-CISTI-hosted open access repository of research papers and articles authored by researchers across NRC, who collectively produce more than 3,500 articles per year. Free access to NRC publications increased the visibility and impact of federally-funded research in Canada and around the world. CISTI Lab, an open virtual platform for demonstrating and evaluating prototype knowledge discovery applications such as text mining, visualization tools and research paper citation analysis, was implemented in 2007.
The NRC Research Press publishes 16 scientific journals with 13,900 subscribers in 101 countries. In 2007-08, 6,192 authors were published in these respected peer-reviewed journals. In addition, the Press publishes 15 journals on behalf of client scholarly societies. The 31 journals combined represent 40% of the scientific, technical and medical journals published in Canada. Of the 30 editors, 28 are Canadians with a Ph.D. level education; 9 editorial offices are co-located at Canadian universities, enhancing the global reputations of these professors and their faculties and universities. In addition, the Press published 5 books in 2007-08, with another 9 in production, most available in both print and electronic formats.
The Press leads in Canadian electronic publishing innovation: its 16 journals are published in electronic format, 14 of which now include multimedia publishing capacity and reference linking. The project to digitize journal back issues – a million pages - was completed in 2007 making decades of Canadian research only a few clicks away. A project to digitize more than 75 years of The Forestry Chronicles back issues was also completed. The federal Depository Services Program funds free electronic access to 15 Research Press journals by Canadians. About 600,000 article downloads in 2007 validates the importance of this scientific resource. The Press continues to explore open access business models, launching the fee-based Open Article option in January 2008 that offers authors the choice of making their articles available free upon publication.
The Information Intelligence Services program specialists locate, filter and analyze information, meeting a growing and crucial need for Canadian entrepreneurs in an era of information overload, fast innovation and international competition. In 2007‑08, there were 19,500 literature searches, patent analyzes, reports and other deliverables supplied to NRC institute and cluster clients and an additional 2,900 deliverables to IRAP ITAs. In 2007-08, the program expanded to provide services on a cost-recovery basis. For example, these services are contracted to the Centre québécois de valorisation des biotechnologies until 2010, the first agreement with a non-governmental organization.
People Advantage
Attracting and Retaining Highly-Skilled Workers – Expected Results 1, 4. In January 2008 the opening occurred of the Biomedical Magnetic Resonance Imaging Lab (BMRL), located in the IWK Health Centre, Halifax. This is a direct result of a thriving collaborative partnership between IWK and the National Research Council (NRC). The state-of-the-art research facilities will attract world-class researchers and physicians. Improved health outcomes will result from the sophisticated technology-driven assessment approaches used in the new lab.
Providing Work Experience to Canada's Youth – Expected Results 1, 4. The renewal of the NRC-IRAP's terms and conditions allows the NRC-IRAP to continue to deliver two federal Youth Employment Strategy (YES) initiatives. These initiatives allow graduates to gain valuable work experience and firms access to up-to-date skills and expertise. In 2007-08, there was an increase in the graduate placements with approximately 675 graduates including 331 new graduates provided with the opportunity to work with 454 SMEs across Canada ($4.99 million from Human Resources and Social Development Canada (HRSDC) and $1.15 million from NRC-IRAP).
Community Outreach – Expected Results 1, 4. In 2007-08, NRC took over the leadership of the Canadian National Marsville Program – a national science promotion initiative that involves some 3,000 grade 6-8 students from across Canada who work in teams to solve problems and develop a simulated Mars habitat. This Program is being expanded to encompass other regions, with a goal of having a site in every province and territory. NRC is also actively engaged in the Science Culture and Entrepreneurship initiative being led by NSERC and Industry Canada.
These activities are in addition to NRC's other science outreach programming including National Science and Technology Week, National Engineering Week, Sanofi-Aventis Biotalent Competition, the S&T Awareness Network and others, as well as its nation-wide distribution of hundreds of thousands of education materials to schools across Canada such as the Periodic Table of the Elements, Biotechnology fact sheets, and the Canadian Skies posters. Of note, the visitor's centre at the NRC-Herzberg Institute for Astrophysics in Victoria, British Columbia, was selected in recent yearsas one of the top 10 places for families to visit by the Victoria vacation guide.
Entrepreneurial Advantage
Expand network of Industrial Partnership Facilities (IPFs) – Expected Results 1, 2, 4. In support of its cluster development activities, NRC continued to develop, build and operate Industry Partnership Facilities (IPFs) across Canada. These unique facilities are workplaces for collaborative research and the incubation of new firms and NRC spin-offs. They also serve as community resources for access to mentoring, innovation financing and competitive technical intelligence for new enterprises. In 2007-08, NRC had 15 IPF locations across the country with a complement of 140 incubating firms. With the addition of a new facility opening in Edmonton in 2007-08, the total space available in NRC IPFs is 30,458 square metres.
Table 2-2: NRC's Industry Partnership Facilities

Location

Total Area (m2)

Status

Completion Date

% occupied

1

Institute for Ocean Technology (St John's, Newfoundland)

441

in operation

2003-04

100%

2

Institute for Marine Biosciences (Halifax, Nova Scotia)

1,036

in operation

2004-05

85%

3

Institute for Information Technology (Fredericton, New Brunswick)

627

in operation

2002-03

88%

4

Biotechnology Research Institute (Montreal, Quebec)

9,800

in operation

1997-98

92%

5

Industrial Materials Institute (Boucherville, Quebec)

2,180

in operation

2003-04

61%

6

NRC Industry Partnership Facility, M-50 (Ottawa, Ontario), (shared facility with several Institutes)

1,604

in operation

1998-99

96%

7

NRC Industry Partnership Facility, M-23A (Ottawa, Ontario), (shared facility with several Institutes)

297

in operation

2004-05

63%

8

100 Sussex Industry Partnership Facility (Ottawa, Ontario), (shared facility with several Institutes)

509

in operation

2003-04

138%1

9

Institute for Biodiagnostics (Winnipeg, Manitoba)

1,194

in operation

2005-06

70%

10

Plant Biotechnology Institute (Saskatoon, Saskatchewan)

7,314

in operation

2002-03

100%

11

Institute for Fuel Cell Innovation (Vancouver, British Columbia)

1,209

in operation

1999-2000

95%

12

Herzberg Institute of Astrophysics (Penticton, British Columbia)2

1413

in operation

2001-02

59%

13

Institute for Nutrisciences and Health (Charlottetown, Prince Edward Island)

477

in operation

2006-07

83%

14

Institute for Aerospace Research (Montreal, Quebec)

929

in operation

2006-07

13%

15

NINT Innovation Centre (Edmonton, Alberta)

2,700

in operation

2007-08

23%

Total

30,4584
1 - due to increased space demands, Institute made additional space available to firms
2 - space previously designated as IPF space in Victoria has been allocated to LRP work (NRC-HIA)
3 - additional space allocated to the Okanagan Research and Innovation Centre (ORIC) (NRC-HIA)
4 - due to an addition error the total area of IPFs was reported as 30,448 m2 in 2006-07. The correct area should have been 30,458 m2
Develop a medium for regional delivery of national initiatives – Expected Results 1, 3, 4, 6. By establishing regional networks of clusters of firms and other community stakeholders, NRC is ensuring that its national R&D and commercialization support programs are accessible and remain regionally relevant. Overall, NRC's cluster initiatives give Canada's national R&D organization the capacity to:
better understand the innovation needs of regions
engage regional industry leaders to determine how best to deliver nationally-driven services and support
physically deliver regionally tailored R&D and commercialization services and support that meet the needs of private industry
Encourage more involvement / commitment of cluster partners – Expected Results 1, 2, 3, 5. In 2007-08, NRC followed-up on the results and lessons learned from the evaluations of its cluster initiatives.
Medical Devices Technology (Manitoba) – The Manitoba biomedical cluster experienced a number of impressive accomplishments over the reporting period. IMRIS, a spin-off of NRC-IBD was successfully listed on the Toronto Stock Exchange (TSX) in November 2007 with a $40 million IPO – the largest medical device IPO in Canadian history. IMRIS continued its strong growth, with employment of over 100 people and a market capitalization of over $120 million. Another cluster member, Intelligent Hospital Systems, also received $7.6 million of financing from BDC Venture Capital, Wellington West and Western Life Sciences Fund. Incubator capacity was established within the cluster, resulting in start-up and early stage firms migrating to a formal incubator environment. Koven technologies Inc. (an NRC-IBD IPF partner) received the CE mark, becoming approved for European sales of its in-situ vascular bypass device. Kent Imaging Inc. (an NRC-IBD spin-off), which produces a near infrared spectroscopy (NIR) device for biomedical imaging, was selected for the Minnesota Life Sciences Alley product showcase and garnered investor interest. Fermion Inc. (an NRC-IBD IPF partner), which produced a detection device, won the Business of Science Competition in October of 2007 and was showcased at the 2008 World's Best Technology in Texas.
Canadian Photonics Fabrication Centre (Ontario) – This partnership among NRC, the Province of Ontario and Carleton University provides fabrication and prototyping services, as well as expertise and advice to photonics firms across the country – an example of a practical approach that fosters knowledge transfer and commercialization among different levels of government and universities. During the reporting period, the NRC Canadian Photonics Fabrication Centre (CPFC) completed updating its draft technology roadmap, identifying the materials platforms and types of devices required to align with the five sectors critical for Canada (information and communications technology, energy and lighting, biomedical and health, defence security, space and environmental). Five successful workshops on photonic sub-sectoral activities were delivered across the country, including photonics in manufacturing (Toronto), photonics in ICT (Ottawa), photonics in defence and security (Montreal), photonics in energy and environment (Edmonton) and photonics in life sciences and biotechnology (Toronto). Additionally, NRC-CPFC worked with the Canadian Photonics Consortium, engaging Canadian photonics companies to study the status and impact of photonics in Canada and its place within the international photonics community.
Integrated Industry Support that Engages Key Players – Expected Results 1, 2, 3, 4, 6. To support the Government of Canada's S&T Strategy, and in particular its commercialization priority, the NRC TIS portfolio worked closely with the NRC R&D portfolio to increase commercialization outcomes. This included technology licensing; provision of pre-commercialization assistance, mentoring and business intelligence to Canadian firms; access to vital national and international networks; knowledge dissemination and expertise; and helping companies create new products and/or new technologies. In addition, it collaborated with key partners to develop strategic initiatives to accelerate the successful competitiveness/commercialization of new technologies. TIS also helped to fuel the growth and innovative capacity of SMEs and continued to streamline its approach to intellectual property management and the transfer of technology.
Build innovation capacity within SMEs – Expected Results 1, 4, 5. Since its inception, close to 60 years ago, NRC-IRAP has provided support to Canadian SMEs, broadening its purpose from a limited focus on technology transfer to its current strategic objective of increasing the innovative capabilities of Canadian SMEs. Today, NRC-IRAP provides comprehensive innovation assistance to technology-based SMEs in almost every industrial sector of importance to Canada's current and future economic development. SMEs engaging in high-risk, technologically sophisticated R&D face increasingly complex challenges. NRC-IRAP supported these technology-based SMEs in growing and becoming more competitive by focusing on: increasing the rate of growth of SMEs; expanding the number of SMEs that successfully commercialize their products, services and processes; assisting with potential international collaborations on technology development projects; and providing international opportunities to clients looking to gain knowledge to advance their R&D projects.
The 2007 NRC-IRAP Impact Evaluation report8 stated "…NRC-IRAP client firms have experienced growth, both in real and comparative terms. Over the five year evaluation period (2002-03 to 2006-07) client firm sales grew on average by just over 28%, overall firm employment grew by 30% and company assets grew on average by 15%... By contributing to the development of research and development capacity, the overall growth of SMEs, the commercialization of new products, services and process, as well as the creation of new knowledge and intellectual property, NRC-IRAP has positively stimulated overall innovation in Canadian SMEs and in Canada as a whole."
Offer comprehensive commercialization support, including technology transfer and intellectual property management – Expected Results 1, 3, 6. During 2006-07, NRC undertook an in-depth examination of all its industry support programs, policies and practices as part of a project called Business Review. This project was launched to ensure NRC was well-equipped and well-positioned to carry out client-based activities described in NRC's Strategy, Science at Work for Canada. Recommendations from the Business Review project included: working increasingly on an industry-sector basis; increasing NRC's capacity to develop industrially relevant technologies and their commercialization; and ensuring NRC's internal operations make it easier for its institutes and programs to serve clients. The recommendations also included establishment of a corporate business group.
Central Business Services – Expected Results 1, 5, 6. In early 2007, the NRC Senior Executive Committee approved the recommendations from the Business Review project, including a one-year pilot expansion of the corporate business group. The expanded corporate business group provided targeted support to NRC's key industry sectors, ensuring that their planning activities in 2007-08 received the industry sector and market focus required to address adequately client needs and opportunities. At the end of the reporting period, the pilot was deemed a success, culminating in the permanent establishment of the Central Business Support (CBS) group.
Improve NRC's Intellectual Property Management – Expected Results 1, 3, 5, 6. Guided by both a 2003 benchmarking study of best practices in IP management and the results of the Business Review project (described above), NRC continued to strengthen its IP management. This work was a priority of the pilot-project CBS group, which successfully launched a project called Disclosure Review to examine NRC's invention disclosures for both IP protection and patentability. NRC institutes utilized the results from the project to guide their research, protection and marketing strategies. Additionally, CBS offered technology assessment services and increased access to market research tools to NRC institutes. Collaborations with NRC-CISTI were initiated to assist NRC clients with market and patent examinations. Specific activities included increased focus on high value IP; increased use of technology assessments; increased market research tools and, adoption of the world's best practices and tools.
Contributions to inter-departmental efforts to support the federal S&T Strategy – Expected Results 1, 4, 6. NRC is actively involved in the interdepartmental effort to implement the new federal S&T Strategy. NRC participates on the ADM Committee on S&T, which is the whole-of-government coordinating committee for the federal S&T community and has been charged with overseeing implementation of the new S&T Strategy and monitoring progress. NRC also has membership on the Director General Sub-Committee on S&T Strategy Implementation (DGSI) and most of the 11 working groups mandated to address specific strategy commitments; NRC is leading two of these working groups.
In terms of NRC's leadership of these two working group, NRC is making good progress in implementing a plan developed with the Natural Sciences and Engineering Research Council (NSERC) and the Business Development Bank of Canada (BDC) to deliver upon a specific commitment of the federal S&T Strategy—the alignment of these three organizations' programs and activities. Key progress to date includes: finalizing an action plan; the establishment of a governance structure with a steering committee, creation of a working group and five regional "hub" committees; co-location of staff from the three organizations; increasing awareness of each others programs; and initiation of pilot projects in shared due diligence. Work will be undertaken in 2008 to consider how the alignment exercise could be broadened to include other federal organizations.
NRC has also been co-leading with Industry Canada an interdepartmental effort to review federal intellectual property policies announced in the S&T Strategy. Two background studies, a literature review and a map of whole-of-government and organization-specific IP policies and practices, were completed in March 2008. A final report, with recommendations for addressing key issues of concern and opportunities, is expected in fall 2008.