ARCHIVED - Project Management Processes - Overview

This page has been archived.
Archived Content
Information identified as archived on the Web is for reference, research or recordkeeping purposes. It has not been altered or updated after the date of archiving. Web pages that are archived on the Web are not subject to the Government of Canada Web Standards. As per the Communications Policy of the Government of Canada, you can request alternate formats on the "Contact Us" page.
The core project management process is divided into five main stages. Each of the project stages is described in its own section within the Guide. The five stages that are identified include: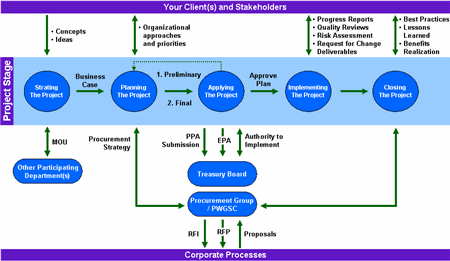 Starting the Project: Starting from idea realization through to the development and evaluation of a business case and prioritization of the potential project investments against the government/Departmental objectives and other organizational priorities and resource constraints.
Project Planning: This stage is critical to successful resourcing and execution of the project activities and it includes the development of the overall project structure, the activities and workplan/timeline that will form the basis of the project management process throughout the project lifecycle. Where Treasury Board approval is required, project planning is usually conducted in two major iterations at increasing levels of planning detail and estimation accuracy.
Approving the Project: The Treasury Board Approval criteria should be consulted to determine whether your project requires Treasury Board Approval. This stage details the requirements of the Treasury Board Approval process. Even if your project does not officially require that the Treasury Board Project Approval Process be applied, you can gain by referencing and adopting those components that may provide extra rigor and support to your project approach.
Project Implementation: Against the project plan and project organization structure defined in the previous stage, the project activities are executed, tracked and measured. The project implementation stage not only includes the completion of planned activities, but also the evaluation of the success and contribution of this effort and the continual review and reflection of project status and outstanding issues against the original project business case.
Project Close Out and Wrap-up: One of the key success criteria for continuous process improvement involves defining a formal process for ending a project. This includes evaluating the successful aspects of the project as well as identifying opportunities for improvement, identification of project "best practices" that can be leveraged in future projects, and evaluating the performance of project team members.
Note that although the "project life cycle" has been presented here in this simplified five-stage approach, your Department's methodology may, in fact, have one or more phases that fit into each of the stages above.