ARCHIVED - Agriculture and Agri-Food Canada

This page has been archived.
Archived Content
Information identified as archived on the Web is for reference, research or recordkeeping purposes. It has not been altered or updated after the date of archiving. Web pages that are archived on the Web are not subject to the Government of Canada Web Standards. As per the Communications Policy of the Government of Canada, you can request alternate formats on the "Contact Us" page.
Section IV - Other Items of Interest
Agriculture and Agri-Food Portfolio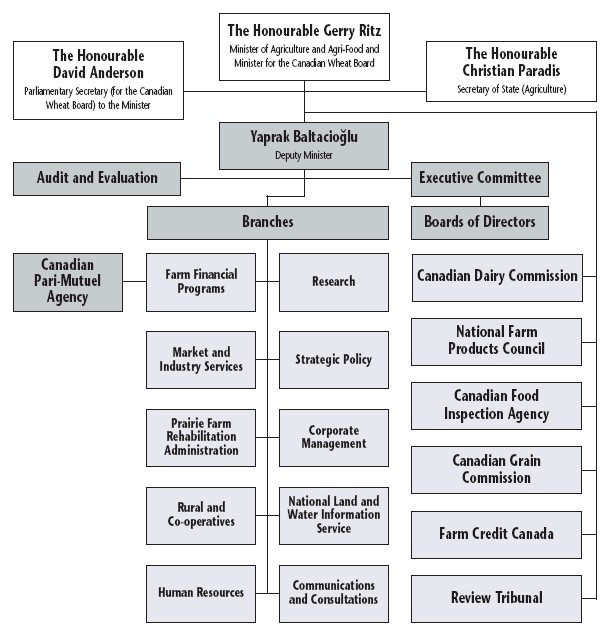 How to reach us
Departmental Contacts
Agriculture and Agri-Food Canada Departmental Contacts
Note: All addresses are at 930 Carling Avenue unless otherwise noted.
General Enquiries
930 Carling Avenue
Ottawa, Ontario K1A 0C5
Tel: 613-759-1000
http://www.agr.gc.ca
More information on the department and its activities
Minister of Agriculture and Agri-Food and Minister for the Canadian Wheat Board
The Honourable Chuck Strahl
http://www.agr.gc.ca/cb/min/index_e.php
Parliamentary Secretary (for the Canadian Wheat Board) to the Minister
The Honourable David Anderson
Tel: 613-992-0657
Email: andersondl@agr.gc.ca
Internet: http://www.agr.gc.ca/cb/min/index_e.php?s1=sec_cwb-sec_ccb
Secretary of State (Agriculture)
The Honourable Christian Paradis
Tel: 613-759-1107
Email: paradisc@agr.gc.ca
Internet: http://www.agr.gc.ca/cb/min/index_e.php?s1=sec
Deputy Minister
Yaprak Baltacioglu
613-759-1101
baltaciogluy@agr.gc.ca
Branch and Agency Heads
Portfolio Contacts
Legislation administered by the Minister of Agriculture and Agri-Food
Acts for which Minister is named in Statute as responsible Minister and that are administered by the Department of Agriculture and Agri-Food
| | |
| --- | --- |
| Agricultural Marketing Programs Act | S.C. 1997, c. 20 |
| Agricultural Products Marketing Act | R.S. 1985, c. A-6 |
| Animal Pedigree Act | R.S. 1985, c. 8 (4th Supp.) |
| Department of Agriculture and Agri-Food Act | R.S. 1985, c A-9 |
| Experimental Farm Stations Act | R.S. 1985, c. E-16 |
| Farm Debt Mediation Act | S.C. 1997, c. 21 |
| Farm Improvement and Marketing Cooperatives Loans Act | R.S. 1985, c. 25 (3rd Supp.) |
| Farm Improvement Loans Act | R.S. 1985, c. F-3 |
| Farm Income Protection Act | S.C. 1991, c. 22 |
| Livestock Feed Assistance Act | R.S. 1985, c. L-10 |
| Western Grain Transition Payments Act | S.C. 1995, c. 17 |
Acts for which Minister is named in an Order in Council as responsible Minister and that are administered by Department of Agriculture and Agri-Food Canada
| | |
| --- | --- |
| Prairie Farm Rehabilitation Act | R.S. 1985, c. P-17 |
Acts for which Minister is named in statute as responsible Minister and that are administered by other entities in the Agriculture and Agri-Food Portfolio
| | |
| --- | --- |
| Agriculture and Agri-Food Administrative Monetary Penalties Act (CFIA) | S.C. 1995, c. 40 |
| Canada Agricultural Products Act (CFIA) | R.S. 1985, c. 20 (4th Supp.) |
| Canadian Dairy Commission Act (CDC) | R.S. 1985, c. C-15 |
| Canadian Food Inspection Agency Act (CFIA) | S.C. 1997, c. 6 |
| Farm Credit Canada Act (FCC) | S.C. 1993, c. 14 |
| Farm Products Agencies Act (NFPC) | R.S. 1985, c. F-4 |
| Feeds Act (CFIA) | R.S. 1985, c. F-9 |
| Fertilizers Act (CFIA) | R.S. 1985, c. F-10 |
| Fish Inspection Act (CFIA) | R.S. 1985 c. F-12 |
| Health of Animals Act (CFIA) | S.C. 1990, c. 21 |
| Meat Inspection Act (CFIA) | R.S. 1985, c. 25 (1st Supp.) |
| Plant Breeders' Rights Act (CFIA) | S.C. 1990, c. 20 |
| Plant Protection Act (CFIA) | S.C. 1990, c. 22 |
| Seeds Act (CFIA) | R.S. 1985, c. S-8 |
Act for which Minister is named in an Order in Council as responsible Minister and that are administered by other entities in the Agriculture and Agri-Food Portfolio
| | |
| --- | --- |
| Canada Grain Act (CGC) | R.S. 1985, c. G-10 |
Act for which other ministers are responsible but that confer powers on the Minister
| | |
| --- | --- |
| Criminal Code (Section 204) (Minister of Justice) | R.S. 1985, c. C-46 |
Act for which a minister is named in an Order in Council as responsible and that are administered partially by the Department of Agriculture and Agri-Food
| | |
| --- | --- |
| Canadian Wheat Board Act | R.S. 1985, c. C-24 |
Acts for which another minister is responsible and that are administered partially by other agencies in the Agriculture and Agri-Food Portfolio
| | |
| --- | --- |
| Consumer Packaging and Labelling Act (Minister of Industry/CFIA) | R.S. 1985, c. C-38 |
| Food and Drugs Act (Minister of Health/CFIA) | R.S. 1985, c. F-27 |
Appendix A - List of Websites
Agriculture and Agri-Food Canada
Advance Payment Programs (APP)
Advancing Canadian Agriculture and Food Program (ACAAF)
Agricultural Marketing Programs Act (AMPA)
Agricultural Policy Framework (APF)
Bovine Spongiform Encephalopathy (BSE)
Business Risk Management (BRM)
Canadian Agricultural Income Stabilization (CAIS)
Canadian Agricultural Skills Service (CASS)
Canadian Agriculture and Food International (CAFI) program
Canadian Dairy Commission (CDC)
Canadian Farm Business Advsisory Services (CFBAS)
Canadian Food Inspection Agency (CFIA)
Canadian Food Safety and Quality Program (CFSQP)
Canadian Grain Commission (CGC)
Canadian Pari-Mutuel Agency (CPMA)
Canadian Rural Partnership (CRP)
Co-operative Development Initiative
Co-operatives Secretariat
Environment
Environmental Farm Plans (EFP)
Farm Business Assessment
Farm Credit Canada (FCC)
Farm Debt Mediation Service (FDMS)
Farm Improvement and Marketing Cooperatives Loan Act (FIMCLA)
Food Safety and Food Quality
Grains and Oilseeds Payment Program (GOPP)
Greencover Canada
Innovation
International
Management Accountability Framework (MAF)
National Farm Products Council (NFPC)
National Farm Stewardship Program National Land and Water Information Service (NLWIS)
National Water Supply Expansion Program (NWSEP)
Pesticide Risk Reduction
Planning Assessment for Value-Added Enterprise (PAVE)
Prairie Farm Rehabilitation Program (PFRA)
Private Sector Risk Management Paternerships (PSRMP)
Production Insurance
Public Service Modernization Act (PSMA)
Renewal
Report on Plans and Priorities (2005-2006)
Ruminant Slaughter Loan Loss Reserve Program
Rural Secretariat
Specialized Business Planning Services
Spring Credit Advance Program (SCAP)
Sustainable Agriculture: Our Path Forward
The Rural Lens
Watershed Evaluation of BMPs (WEBs)