ARCHIVED - Office of the Chief Electoral Officer - Report

This page has been archived.
Archived Content
Information identified as archived on the Web is for reference, research or recordkeeping purposes. It has not been altered or updated after the date of archiving. Web pages that are archived on the Web are not subject to the Government of Canada Web Standards. As per the Communications Policy of the Government of Canada, you can request alternate formats on the "Contact Us" page.
Message from the Chief Electoral Officer
The 2011–2012 fiscal year brings both new and familiar challenges to Elections Canada.
With a minority government now in its third year, the possibility of a general election has increased. Most of the agency's programs will begin the fiscal year having just been ramped up, and we will need to maintain a high level of operational readiness during the coming period.
For electoral events called after the winter of 2011, electors will benefit from the administrative changes we successfully tested in the fall 2010 by-elections. These changes include greater accessibility of voting sites, the ability of specific groups of electors to use the voter information card as proof of name and address at selected voting sites and increased outreach efforts for electors residing in long-term care facilities and seniors' residences.
The May 2011 national census will set in motion the decennial process to readjust the boundaries of Canada's electoral districts to ensure fair and balanced representation. While this redistribution is carried out by independent commissions in each province, the agency enables the process by providing support and technical expertise. We expect the commissions to begin their work in the winter of 2012, once the Chief Statistician has provided the Chief Electoral Officer with the population counts from the 2011 census. By that time, Elections Canada will have put in place the tools and resources the commissions require.
Elections Canada will continue to pursue transformative initiatives in 2011–2012, guided by its strategic plan and its enduring objectives of increasing accessibility, trust and engagement. We remain committed to completing the work we have started in this regard. However, two factors will influence our progress over the next fiscal year:
the requirement to dedicate a large portion of our personnel to election readiness and potentially conducting a general election
the impact of fiscal restraint measures arising from the March 2010 federal budget
Our transformative efforts next year are aimed at continuing work we have already begun; these efforts include:
further improving the accessibility of polling sites
allowing electors to confirm their information on the voters list and make certain changes on-line between elections
continuing the development of a pilot project to test Internet voting in a by-election to be held after March 2013
developing a new advertising campaign aimed at young people during general elections
launching a three-year outreach action plan to address barriers faced by specific target groups
increasing our role in facilitating the registration of political entities
completing the foundation for our renewed information technology infrastructure, which will enable us to deliver new, enhanced and robust electronic services to Canadians
As Parliament reviews the recommendations for legislative change included in my report following the 40th general election, Elections Canada will continue to provide technical expertise and support as required. We will also seek further opportunities to collaborate with Parliament and engage stakeholders in our efforts to modernize the electoral framework.
During 2011–2012, Elections Canada will continue its management agenda, which is aimed at retaining and developing its talent, reinforcing its internal governance and increasing its collaboration with Elections Ontario.
Readers will notice that this 2011–2012 Report on Plans and Priorities is the first to be based on our new Program Activity Architecture. Elections Canada has developed this planning and reporting structure to more accurately reflect its mandate and the results it delivers to Canadians.
Marc Mayrand
Chief Electoral Officer of Canada
Section 1: Agency Overview
1.1 Summary Information
Raison d'être and Responsibilities
The Office of the Chief Electoral Officer, commonly known as Elections Canada, is an independent, non-partisan agency that reports directly to Parliament. Its mandate is to:
be prepared at all times to conduct a federal general election, by-election or referendum
administer the political financing provisions of the Canada Elections Act
monitor compliance with and enforce electoral legislation
conduct voter education and information programs
provide support to the independent commissions in charge of adjusting the boundaries of federal electoral districts following each decennial census
carry out studies on alternative voting methods and, with parliamentary approval, test on-line voting processes for future use during electoral events
In fulfilling its mandate, Elections Canada appoints, trains and supports 308 returning officers and retains the services of approximately 30 field liaison officers across Canada. It also maintains the National Register of Electors, which is used to prepare preliminary lists of electors at the start of electoral events, as well as electoral geography information, which provides the basis for maps and other geographic products used during electoral events.
The agency also:
registers political entities, including political parties, electoral district associations, candidates, leadership contestants, third parties that engage in election advertising and referendum committees
administers the allowances, reimbursements and subsidies paid to eligible candidates, registered political parties and auditors
monitors compliance with the Canada Elections Act, including compliance with political financing rules, during and between elections
discloses information on registered parties and electoral district associations, registered parties' nomination and leadership contestants, candidates, third parties and referendum committees, including their financial returns
recommends to Parliament amendments for the better administration of the Canada Elections Act by submitting a recommendations report after each general election as well as by providing expert advice when Parliament studies electoral reform
In addition, the Chief Electoral Officer appoints the Commissioner of Canada Elections and the Broadcasting Arbitrator. The role of the Commissioner is to ensure that the Canada Elections Act and the Referendum Act are complied with and enforced. The Broadcasting Arbitrator is responsible for allocating free and paid broadcasting time among political parties and for arbitrating disputes that may arise between parties and broadcasters.
Strategic Outcome and Program Activity Architecture
The following chart illustrates Elections Canada's new Program Activity Architecture (PAA). This framework of four program activities contributes to achieving our strategic outcome.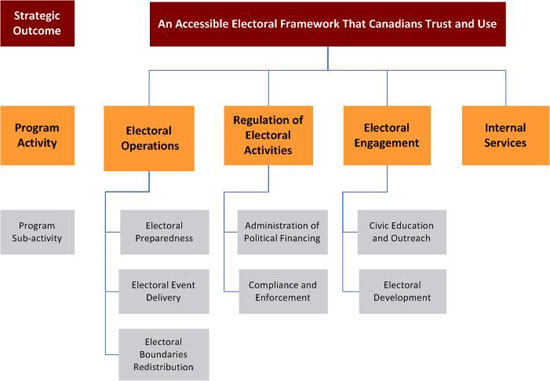 Program Activity Architecture Crosswalk
On August 6, 2010, Elections Canada received approval from Treasury Board to modify its PAA for 2011–2012. The new PAA now better reflects the results that the agency delivers to Canadians. A crosswalk that compares the old architecture with the new, and also describes the redistribution of financial resources, can be found on the Elections Canada Web site at http://www.elections.ca/content.aspx?section=res&dir=rep/est/rpp2011&document=paa&lang=e.
1.2 Planning Summary
This section summarizes the agency's plans, priorities and expected budgets for the next three fiscal years.
Financial Resources ($ thousands)

| 2011–2012 | 2012–2013 | 2013–2014 |
| --- | --- | --- |
| 122,351 | 122,357 | 122,357 |
Human Resources (FTEs)*

| 2011–2012 | 2012–2013 | 2013–2014 |
| --- | --- | --- |
| 506 | 506 | 506 |
*Elections Canada's appropriation includes funding for 404 FTEs. An additional 102 FTEs will be funded through Elections Canada's statutory authorities for maintaining continuous readiness. Previous reports on plans and priorities have not included the latter.
Program Activities in Support of the Strategic Outcome
The first table below summarizes the performance indicators and targets used to measure the success of Elections Canada's strategic outcome. The second table shows the four program activities – our mandated priorities – intended to ensure that these strategic outcome targets are met.

Strategic Outcome: An Accessible Electoral Framework That Canadians Trust and Use
Performance Indicators
Canadian Electoral Framework Index: Accessibility component score
Canadian Electoral Framework Index: Trust component score
Canadian Electoral Framework Index: Use component score
Program Activity
Forecast Spending
2010–2011
($ thousands)
Planned Spending
($ thousands)*
2011–2012
2012–2013
2013–2014
Electoral Operations
43,751
35,030
35,031
35,031
Regulation of Electoral Activities
40,024
38,399
38,402
38,402
Electoral Engagement
8,709
8,583
8,583
8,583
Internal Services
45,495
40,339
40,341
40,341
Total Planned Spending
137,979
122,351
122,357
122,357
* Planned spending includes an appropriation for the salaries of indeterminate staff and statutory funding for transfer payments to eligible political entities, on-going operations and contributions to employee benefit plans. Planned spending does not include costs related to general elections, by-elections or heightened readiness activities. These costs explain the variance between 2010–2011 forecast spending and planned spending for the next three fiscal years.
Contribution of Priorities to Strategic Outcome
The following tables summarize the contribution of Elections Canada's operational and management priorities to its strategic outcome.
Operational Priority
Type
Description and Plan for Meeting Priority
Maintain readiness to deliver electoral events
Previously committed to
Elections Canada will ensure that its programs are ready to be executed during a general election at any time during the coming fiscal period. Administrative improvements successfully tested in the fall 2009 and 2010 by-elections will be available during electoral events called after February 2011.
Continue to work toward our strategic objectives
Previously committed to
The agency will continue to improve the accessibility of the electoral process so that it remains responsive to electors' needs and societal change. This includes continuing to engage its stakeholders.

The agency will provide parliamentarians with support and technical expertise to formulate legislative amendments resulting from the Chief Electoral Officer's most recent recommendations report.
Enable the electoral boundaries readjustment process to be launched
Previously committed to
In 2011–2012, Elections Canada will complete the preparatory work required to enable the 10 provincial electoral boundaries commissions to carry out the readjustment. The process is scheduled to start in the winter of 2012, after we receive the 2011 census population counts from the Chief Statistician.
Management Priority
Type
Description and Plan for Meeting Priority
Support excellence in talent management
New
Elections Canada's new annual human resources action plan will carry out our four-year human resources strategy by focusing on three critical pillars: acquiring the best talent, developing it to its fullest potential and encouraging our employees to continue their careers at Elections Canada.
Improve internal processes and consolidate agency offices
New
In the coming year, Elections Canada will reinforce its procurement and project management practices, implement an investment management plan for its information technology (IT) assets and begin preparing to relocate its Ottawa-based personnel to a single location in Gatineau, Quebec, in 2013.
Make full and optimal use of our resources
Previously committed to
Elections Canada has reviewed the recommendations resulting from its A-base review. In 2011–2012, the agency will select a few high-priority recommendations on which to focus.

To manage in the current fiscal context, the agency will also seek to achieve efficiencies.

We will also leverage our partnership with Elections Ontario in our common efforts to develop voter education programs, conduct an on-line voting pilot project, and identify and manage common polling sites.
Operating Environment
In the 2011–2012 fiscal year, Elections Canada's agenda will be dominated by two drivers: the increased possibility of a general election and the need to prepare our support for the redistribution process. These circumstances will test our agility by forcing us to excel at both rapid operational deployment and longer-term initiatives.
Increased Possibility of a General Election
Elections Canada has been operating in a minority government context for over six years. The fact that the current minority government is now in its third year increases the possibility of a general election. This means that in 2011–2012, we will need to dedicate a large portion of our resources to operational readiness, and our capacity to undertake new transformative initiatives will be limited.
Preparing Support for the Redistribution Process
Representation in the House of Commons is readjusted after each decennial (10-year) census to reflect changes and movements in Canada's population; this is in accordance with the Constitution Act, 1867 and the Electoral Boundaries Readjustment Act. The readjustment of federal electoral boundaries is carried out by independent provincial commissions, but Elections Canada is responsible for giving them administrative, technical, financial and legal support. The commissions are expected to start their work in the winter of 2012, and Elections Canada must ensure that the resources to support them are in place by that time.
Risk Analysis
Two main risks will require our attention over the next fiscal year.
Pursuing Longer-Term Changes in the Context of a Minority Government
Parliament has begun to review the Chief Electoral Officer's recommendations for legislative change following the 40th general election. The changes sought are required to fully implement the longer-term direction set out in our Strategic Plan 2008–2013. This relates especially to providing Canadians with on-line electoral services and reducing the regulatory burden imposed by the complexity of the current federal political financing rules. A general election may take place before Parliament has had an opportunity to conclude its review of our recommendations, and the timing of anticipated legislative change remains unknown.
Other initiatives, such as transitioning our field applications to a new information technology (IT) environment and phasing out associated legacy systems, are made more difficult by the fact that we cannot count on a definite period of "downtime" to complete testing and phase-in activities.
Further Fiscal Restraint Measures
We have to continue adjusting to the three-year fiscal restraint measures that resulted from the March 2010 budget. This has an impact on Elections Canada's appropriation, which covers the salaries of our permanent staff. For the next two fiscal years, we will not be funded for salary increases and will therefore need to absorb any increases resulting from collective agreements.
Expenditure Profile
The Office of the Chief Electoral Officer is funded by an annual appropriation, which provides for the salaries of permanent full-time staff, and by the statutory authorities set out by the Canada Elections Act, the Referendum Act and the Electoral Boundaries Readjustment Act. The statutory authorities provide for all other expenditures, including the costs of electoral events, reimbursement of election expenses to eligible candidates and parties, quarterly allowances for eligible political parties, the cost of redistributing electoral boundaries and expenses incurred by the Commissioner of Canada Elections, or on his behalf, to enforce the legislation. There are two further statutory items: the salary of the Chief Electoral Officer and contributions to employee benefit plans.
2011–2012 Forecast Spending by Program Activity
In 2011–2012, Elections Canada plans to spend $122 million to meet the expected results of the four program activities that contribute to our strategic outcome. The following chart shows the allocation of funding by program activity.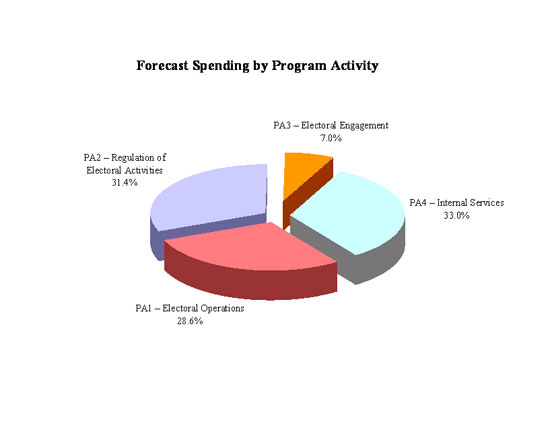 Estimates by Vote
Estimates by vote are presented in the 2011–2012 Main Estimates, which are available at www.tbs-sct.gc.ca/est-pre/20112012/me-bpd/info/info-eng.asp.