ARCHIVED - Department of Justice Canada

This page has been archived.
Archived Content
Information identified as archived on the Web is for reference, research or recordkeeping purposes. It has not been altered or updated after the date of archiving. Web pages that are archived on the Web are not subject to the Government of Canada Web Standards. As per the Communications Policy of the Government of Canada, you can request alternate formats on the "Contact Us" page.
Erratum
Subsequent to tabling in Parliament and online publication of the 2008-2009 Report on Plans and Priorities, the Department of Justice determined that Table 4 – Horizontal Initiatives contained an error. The Total Allocation (from start to end date) reported in row 2d (Health Canada – National Native Alcohol and Drug Program) should be $36M. As a result, the Total Federal Funding Allocation should be $573M. The HTML version has been updated and includes the correct figures.
SECTION I – OVERVIEW
Minister's Message
The Department of Justice plays an important and unique role – it works to develop law policy that helps ensure a fair, efficient and accessible justice system for all Canadians, and it provides legal support for the federal government.
Over the past two years, the Department has helped our Government respond to Canadians by working toward safer communities, and I commend the many talented and devoted employees who have been focussing their attention and energy on supporting our Government's commitment to tackling crime.
That attention has continued through the current session of Parliament. With the support of the Department, our Government introduced legislation that deals with impaired driving, identity theft, the age of protection, gun crimes and dangerous offenders. In addition, the Department played a vital role in supporting Public Safety Canada in the development of new legislation on security certificates, to address concerns voiced by the Supreme Court of Canada. Our Government also intends to introduce new laws to tackle property crime, including auto theft.
Building on this progress, this reporting period will see the Department dealing with drugs, youth and property crime through the Safer Communities Strategy. In 2008-2009, the Department will also launch a comprehensive review of the Youth Criminal Justice Act, following up on legislation that has been introduced to amend the Act to include deterrence and denunciation as principles of sentencing and to address the issue of pre-trial detention.
In line with the Government's commitment to strengthening the security of Canadians, the Department is helping the Government meet the extraordinary challenges presented by terrorism with the reinstatement of two important amended measures in the Anti-Terrorism Act.
We will continue to work closely with other departments and levels of government, the bench and the bar, the police, and others involved in the courts and the law enforcement community. For example, the Department will work with its partners, Health Canada and Public Safety Canada, to implement the National Anti-Drug Strategy, which aims to prevent illicit drug use, treat those with drug dependencies and combat drug production and distribution. It will also continue to provide advice, coordination and support for the Federal-Provincial-Territorial Working Group on Criminal Procedure to help make Canada's justice system more efficient and effective.
In addition, my officials will focus on ensuring that the Department of Justice is well positioned to meet the legal services needs of our colleagues across government. More precisely, they will address law practice management issues, and enable employees to meet the challenges of new and emerging issues through the Public Service Renewal initiative.
I look forward to working over the coming year to ensure that our Government has effective and responsive legal services, and that Canadians have a justice system that reflects our values as a nation.
The Honourable Robert Douglas Nicholson. P.C., Q.C.
Minister of Justice and Attorney General of Canada
Deputy Minister's Messge
T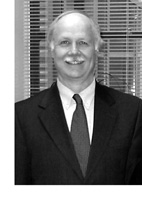 he Department occupies a unique position within the federal government. It is a policy department that supports the Minister of Justice in maintaining a national bilingual and bijural legal framework responsive to the needs of Canadians. Section II of this report highlights the Department's main activities and commitments in support of the Minister's and the Government's priorities.
The Department is also a common service provider that supports the federal government with an integrated suite of legal advisory, litigation and legislative/regulatory drafting services. Section II of this report outlines many of the activities and commitments that the Department will be engaged in during the reporting period in support of our colleagues across government.
Given the Department's unique position, we strive for excellence in the practice of law. In this regard, the Department has been recognized as a leader in Canada and internationally and we will continue to be at the forefront of legal issues that are relevant to the daily lives of Canadians. In order to continue to uphold this tradition of excellence, we will focus on public service renewal strategies in keeping with the broader priorities for the public service identified by the Clerk of the Privy Council. As well, we will continue our efforts to address law practice management issues. We will also continue to develop and enhance our capacity to meet the challenges of new and emerging issues in areas such as international and commercial law as well as new challenges in the ever evolving field of Aboriginal law.
As I have indicated over the last two planning cycles, the Department is also committed to management excellence and in this regard we will continue to be active participants in the government-wide initiative to develop and maintain strong Management Accountability Framework (http://www.tbs-sct.gc.ca ) ratings. A detailed discussion of our management priorities for the planning period is addressed in Section IV of this report.
The planned spending and commitments presented in this report reflect the Department of Justice's efforts to support the delivery of the Government's agenda as well as the alignment of its Program Activity Architecture, Management Resources and Results Structure and performance framework to the high level strategic outcomes identified by the Government in its overall Report on Plans and Priorities.
Management Representation Statement
I submit for tabling in Parliament, the 2008-2009 Report on Plans and Priorities (RPP) for the Department of Justice of Canada.
This document has been prepared based on the reporting principles contained in Guide for the Preparation of Part III of the 2008–2009 Estimates: Reports on Plans and Priorities and Departmental Performance Reports:
It adheres to the specific reporting requirements outlined in the Treasury Board of Canada Secretariat guidance;

It is based on the department's strategic outcome(s) and Program Activity Architecture that were approved by the Treasury Board;

It presents consistent, comprehensive, balanced and reliable information;

It provides a basis of accountability for the results achieved with the resources and authorities entrusted to it; and

It reports finances based on approved planned spending numbers from the Treasury Board of Canada Secretariat.
John H. Sims
Deputy Minister of Justice and Deputy Attorney General of Canada
Raison d'être
The justice system defines and prescribes the balance between collective and individual rights and responsibilities that ensure a well-ordered society. As such, it affects almost every facet of Canadians' daily lives from guiding everyday activities that ensure our safety to supporting social policies and social benefits, regulating our economy, and offering ways to resolve disputes peacefully where there are disagreements or conflicts between people, organizations, and/or governments.
Maintaining a system that serves all Canadians is a central focus for the Department of Justice (DOJ), which strives to ensure that the system remains fair, accessible and efficient as it evolves in response to social change. The Department of Justice plays an important role in supporting the Government's priority of protecting Canadian families and communities. Furthermore, the Department is a Federal Organization that supports all of the Government of Canada's priorities through its provision of legal services to federal departments and agencies.
Role of the Department
The Department of Justice is headed by the Minister of Justice and the Attorney General of Canada. The responsibilities of the Minister and the Attorney General are set out in the Department of Justice Act and 47 other Acts of Parliament. The Department of Justice fulfils three distinctive roles within the Government of Canada, acting as a:
policy department with broad responsibilities for overseeing all matters relating to the administration of justice that fall within the federal domain;
provider of a range of legal advisory, litigation and legislative services to government departments and agencies; and
central agency responsible for supporting the Minister in advising Cabinet on all legal matters including the constitutionality of government initiatives and activities.
The Department's mission is to:
Support the Minister of justice in working to ensure that Canada is a just and law-abiding society with an accessible, efficient and fair system of justice;
Provide high-quality legal services and counsel to the government and to client departments and agencies; and
Promote respect for rights and freedoms, the rule of law and the Constitution.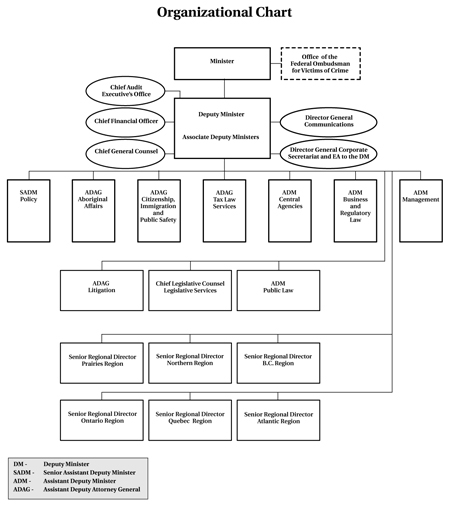 Departmental Priorities
Department of Justice Program Activity Architecture 2008-2009
Strategic Outcomes

A fair, relevant and accessible justice system that reflects Canadian values

A federal government that is supported by effective and responsive legal services

A1 Justice policies, laws and programs

B1 Services to government

C1 Internal services*

A1.1 Aboriginal justice

A1.2 Criminal justice

A1.3 Family justice

A1.4 Access to justice

A1.5 Private international and public law

A2 Office of the Federal Ombudsman for Victims of Crime

B1.1 Legal services to government-at-large and the Justice Portfolio

B1.2 Legal services to the Aboriginal Affairs Portfolio

B1.3 Legal services to the Business and Regulatory Law Portfolio

B1.4 Legal services to the Central Agencies Portfolio

B1.5 Legal services to the Citizenship, Immigration and Public Safety Portfolio

B1.6 Legal services to the Tax Law Portfolio

C1.1 Management and Oversight Services

C1.2 Evaluation Services

C1.3 Internal Audit Services

C1.4 Public Affairs/ Communications Services

C1.5 Financial Management Services

C1.6 Human Resources Management

C1.7 Information Management Services

C1.8 Information Technology Services

C1.9 Legal Services

C1.10 Other support services

* It should be noted that Program Activity C1 – Internal services is proportionally allocated across program activities A1, A2 and B1 and therefore does not appear in financial tables.
Organizational Information
The Department of Justice is a medium-sized department with approximately 4,300 employees. While roughly one half of departmental staff are lawyers, there are a number of other committed professionals including paralegals, social scientists, program managers, communications specialists, administrative services personnel, computer service professionals and financial officers.
The Department provides legal services to government on a "portfolio" basis.Six Portfolios, described in greater detail in Section II, encompass the entire range of federal departments and agencies. The department delivers services through a mix of co-located departmental legal services units, specialized branches located within the Department of Justice and a network of six regional offices located across the country.
The Department also maintains a policy and program development capacity in order to fulfil core departmental responsibilities associated with the administration of justice in Canada and to support the government of Canada's policy and program priorities related to safety and security. To these ends, the Department develops and maintains strong working relationships with policy and program partners across the federal government as well as with counterparts in the provinces and territories and partners in non-governmental organizations and international institutions and organizations.
Governance Framework
The Governance Framework, which maps the departmental organizational structure to the Program Activity Architecture, visually demonstrates the structure and decision-making mechanisms for priority setting, resource allocations/reallocations and how the Department coordinates and manages towards the achievements of its two core strategic outcomes – a fair, relevant and accessible justice system; and effective and responsive legal services to government.
The Governance Framework is led by the DM Team which consists of the Deputy Minister, John Sims, and Associate Deputy Ministers Donna Miller and Yves Côté. Together the DM Team shares the workload and authority of the office of the Deputy Minister in supporting the Minister and in providing active leadership in the delivery of timely and effective advice and legal services to client departments and the DM community in support of Government priorities and results for Canadians.
This approach to governance has been chosen to ensure that deputy-level attention is brought to bear on important departmental and whole-of-government files. To this end, each member of the DM Team assumes responsibility for providing guidance, direction and support to a number of Direct Reports across the Department in order to ensure that all senior executive managers have a direct link with a member of the DM Team on key files and on management issues.
DM Team Members
Deputy Minister John Sims provides direction and guidance to the Direct Reports responsible for the Policy Sector and the Management Sector as well as the Chief Financial Officer, the Chief Audit Executive and the Director General Communications. The DM is also the primary point of departmental liaison with the Minister and for supporting the Minister in his role as the legal advisor to Cabinet.
Associate Deputy Minister Donna Miller provides vision and leadership in the strategic management of the Justice Portfolio including the ongoing provision of guidance and direction to the Direct Reports responsible for the Litigation, Legislative Services and Public Law Branches. Associate DM Miller is also the direct link to the DM Team for the Aboriginal Affairs Portfolio and for the Northern, Prairies and British Columbia Regional Offices of the Department. As well, the Criminal Conviction Review Group reports through the Associate's Office.
Associate Deputy Minister Yves Côté provides leadership and guidance across the Department, and liaison with key stakeholders in Québec and la Francophonie, regarding legal dualism, bi-juralism, and official languages in the law and the justice system. He is the direct link to the DM Team for the Direct Reports responsible for the Business and Regulatory Law, Central Agencies, Citizenship Immigration and Public Security, and Tax Law Services Portfolios, as well as for the Atlantic, Quebec and Ontario Regional Offices. Associate DM Côté also provides ongoing liaison and partnership with senior Provincial and Territorial officials in addressing issues of mutual federal-provincial-territorial interest related to an efficient and sustainable justice system.
Decision-Making Mechanisms
A key feature of the Governance Framework is the range of committees which serve as the key fora for discussing and resolving key horizontal substantive and management issues among the senior executive management cadre across the Department.
Governing Council is an important advisory body to the DM Team, consisting of the Direct Reports responsible for the Portfolios, Specialized Branches, Policy Sector and the Department's Regional offices. Governing Council meets at least three times per year and is charged with identifying the Department's medium to long-term strategic vision.
The Senior Management Board (SMB) is the most senior decision-making body in the Department. Consisting of the DM Team plus the chairpersons of the six standing committees, SMB meets weekly and considers all major substantive and management issues for decision.
The SMB is supported by six standing committees consisting of members drawn from the senior executive management cadre. The Standing Committees are where individual proposals or issues are brought for consideration and, where Standing Committee support is garnered, recommendation to SMB.
The Standing Committees are:
Finance Committee (FinCom) considers and makes recommendations to SMB on all matters having significant financial implications, including budgets, investments, resource allocations/reallocations and risk mitigation strategies in line with departmental and program priorities.
Human Resources Committee (HRCom) oversees the successful implementation of key human resources legislation, initiatives and priorities. HRCom recommends the human resources vision, direction, strategic plans and related change management strategies to SMB.
Information Management and Technology Committee (BitCom) approves operational plans, priorities, funded investments, as well as major policies and standards in the areas of knowledge management, information management and information technology for the Department. BitCom also recommends to FinCom priority investments for possible funding from the Departmental Reserve.
Policy Committee is the senior forum for substantive discussion and decision-making on departmental and government-wide policy issues and emerging legal issues affecting policy. The Committee meets monthly in order to deliberate and guide the development of the justice policy agenda, ensure linkages with broad federal priorities and a whole of government approach, and to provide direction on approaches and strategies to operationalize key policy directions.
National Litigation Committee monitors significant litigation which could have an important impact on the law or the Government's interests. The Committee considers and advises on all litigation, regardless of court level.The Committee ensures that consistent positions are taken in litigation, that the Attorney General acts as a model litigant, that necessary consultations across government are undertaken, and that appropriate advice is given to the Deputy Minister, the Attorney General and the Government in significant litigation. Regional Litigation Committees feed into the National Committee and function as an integrated component.
Law Practice Management Committee provides a national forum for practitioners and managers to discuss issues of importance to the practice of law including horizontal initiatives, tools and approaches developed to support the management of the delivery of legal services.
The Department also has an Audit and Evaluation Committee which assists the Deputy Minister to discharge his responsibilities with respect to the Government's internal audit and evaluation policies. The Committee examines on an annual basis the internal audit and programme evaluation plans of the Department and serves as a decision-making body on all evaluation and audit activities.
Factors influencing our operating environment
There are many factors that influence our operating environment and thus have impacts on our policy and program development and implementation activities as well as our ability to effectively manage and deliver high quality legal services.
Public Confidence in the Justice System
Canadians rely on the justice system to provide an independent and impartial forum for resolving disputes. The Department is keenly interested in the degree to which the public has confidence in the justice system at large. As follow-up to two studies on levels of public confidence in the justice system completed in 2006-2007,1 the Department will once again survey Canadians through the National Justice Survey in 2008-2009 to assess whether or not there have been any changes in these levels.
As well, we will continue to monitor perceptions of transparency and accountability, cornerstones of public confidence, including those as evidenced in the annual Corruptions Perceptions Index produced by Transparency International and as outlined in the United Nations Convention Against Corruption.
1 Public Confidence in the Justice System (McDonald et. al., March 2007) and The 2007 National Justice Survey: Tackling Crime and Public Confidence (Latimer and Desjardins, June 2007).
Jurisprudence and Legal Trends
As the Government's "law firm", it is incumbent upon Justice counsel to assess the implications of a wide variety of outcomes in the court system – both civil and criminal – and incorporate these analyses in the delivery of legal advisory, litigation and legislative services with a view to effectively managing legal risk. The Department must also continuously assess its capacity to address emerging issues such as those in the areas of international, Aboriginal and commercial law.
Working with others
The justice system is multi-tiered and includes other participants such as nongovernmental and community-based organizations with whom we work to generate innovative ideas about how to improve access to the justice system, while respecting the diverse nature and needs of all Canadians.Similarly, we work with federal departments and agencies in areas such as safety and security and Aboriginal justice to help achieve overarching Government of Canada strategic outcomes. Some of the others with whom we work include:
the Canadian public, including non-governmental and community-based organizations, and representatives of official language minority communities;
Parliamentarians;
the Judiciary, the Bar, la Chambre des notaires du Québec;
law faculties and the research community;
approximately 50 federal client departments and agencies 2;
Provinces and Territories; and
foreign governments and international organizations, directly and in conjunction with Foreign Affairs Canada and the Canadian International Development Agency.
2 While the Department refers to federal departments and agencies as "clients" for ease of understanding, it is important to note that all work is done on behalf of the Crown, not a specific branch of the Government of Canada.
Planned Spending
Program Activity Architecture (PAA) Crosswalk

($ millions)

NEW PAA 2008-2009

Justice policies, laws and programs (A1)

The Office of the Federal Ombudsman for Victims of Crime (A2 )

Services to government (B1)

Total Planned Spending
OLD PAA (2007-2008)
Developing Policies and Law (A1)

47.0

47.0
Developing and Implementing Programs (A2)

373.0

373.0
Office of the Federal Ombudsman for Victims of Crime (A3)

1.5

1.5
Providing Legal Advisory, Litigation and Legislative Services to Government (B1)

3.9

471.6

475.6
Total
423.9
1.5
471.6
897.0

---
Note 1: The Office of the Federal Ombudsman for Victims of Crime authority is included in the Department of Justice's main estimates but the Ombudsman reports independently to the Minister of Justice.
Planned Spending Voted and Statutory Items displayed in the Main Estimates ($ millions)

Vote or
Statutory Items:
Truncated Vote or
Statutory Working:
2008-2009
Current Main Estimates
2007-2008
Previous Main Estimates

1

Operating expenditures
265.4

262.0

5

Grants and contributions
367.5

266.4

(S)

Minister of Justice salary and motor car allowance
0.1

0.1

(S)

Contributions to employee benefit plans
63.3

67.2

Total Department of Justice
696.3

595.7

Note 1: Main estimates exclude the funds provided under Net Voting Authority except EBP portion.
Departmental Planned Spending and Full Time Equivalents
($ millions)
Forecast Spending
2007-2008
Planned Spending 2008-2009
Planned Spending 2009-2010
Planned Spending 2010-2011
Justice Policies, laws and programs

314.5

415.2

413.6

408.0

The Office of the Federal Ombudsman for Victims of Crime

0.0

1.5

1.5

1.5

Services to Government

281.2

279.6

272.3

266.9

Total Main Estimates

595.7

696.3

687.4

676.4

---

Adjustments (Note 1 and Note 2):
Youth Justice Services

53.8

Legal Aid

44.3

Aboriginal Justice Strategy - Renewal and Expansion

7.7

Federal Victims' Strategy

8.7

Commissions of Inquiry - Air India and Iacobucci

6.6

4.9

Child-Centred Family Law Strategy

4.0

Funding to provide services to government under Net Voting Authority (Note 3)

178

178

178

178

Immigration and Refugee Protection Act - Security Certificate

0.0

13.2

11.6

Strengthening Enforcement - IMET

3.8

3.8

3.8

Other initiatives

0.2

0.8

1.1

0.2

Total Adjustments

303.3

200.7

194.5

182.0

Total Planned Spending

899.0

897.0

881.9

858.4

---

Total Planned Spending

899.0

897.0

881.9

858.4

Less: Non-Respendable Revenue

-39.4

-39.6

-39.8

-40.0

Less: Respendable revenue under Net Voting Authority (Note 3)

-178.0

-178.0

-178.0

-178.0

Plus: Cost of Services Received Without Charge

57.6

56.6

52.7

52.2

---

Net Cost of Program

739.2

736.0

716.0

692.6

---

Full Time Equivalents

4,088

4,140

4,150

4,150

---

Note 1: Adjustments for 2007-2008 include Supplementary Estimates (A) and (B) (EBP included). Adjustments for 2008-2009 and future years consists of amounts identified in the Expenditure Status Report dated January 18th, 2008.

Note 2: The amounts listed include funding associated with accommodation for PWGSC.

Note 3: Justice Canada was granted Net Voting Authority to spend and recover $178 million (excluding EBP which is in approved appropriation) in 2007-2008 which allows the Department to recover from client departments and agencies some of the costs incurred to deliver legal services. From 2008-2009 and thereafter, it is expected that Justice Canada will receive additional funding under net voting authority.

Note 4: The Office of the Federal Ombudsman for Victims of Crime authority is included in the Department of Justice's main estimates, but the Ombudsman reports independently to the Minister of Justice.
Summary Information
Financial Resources (in millions of dollars)
2008-2009
2009-2010
2010-2011

897.0

881.9

858.4

Human Resources (in full-time equivalents)
2008-2009
2009-2010
2010-2011

4,306

4,310

4,310
Program Activities by Departmental and Government of Canada Outcomes
Planned Spending
Contributes to the following Government of Canada Outcome
($ millions)
Expected Results
2008–2009
2009–2010
2010–2011
Strategic Outcome: A fair, relevant and accessible justice system that reflects Canadian values.

Program Activity: A1 – Justice policies, laws and programs

Sustainable national justice system

423.9

420.9

411.8

Safe and Secure Communities

Program Activity: A2 – Office of the Federal Ombudsman for Victims of Crime

Reports to Parliament through Minister of Justice

1.5

1.5

1.5

Safe and Secure Communities
Strategic Outcome: A federal government that is supported by effective and responsive legal services

Program Activity: B1 – Services to government

Representing the Crown's interest to enable government to attain its priorities

Comprehensive delivery on the Government's legislative agenda

Client focussed service delivery

471.6

459.5

445.1

Federal Organizations that support all departments and agencies through the provision of government services

---
2008-2009 Planned Spending by Strategic Outcome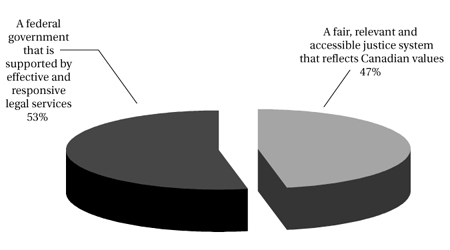 2008-2009 Planned Spending by Program Activity