ARCHIVED - Expenditure Review of Federal Public Sector - Volume One - The Analytical Report and Recommendation

This page has been archived.
Archived Content
Information identified as archived on the Web is for reference, research or recordkeeping purposes. It has not been altered or updated after the date of archiving. Web pages that are archived on the Web are not subject to the Government of Canada Web Standards. As per the Communications Policy of the Government of Canada, you can request alternate formats on the "Contact Us" page.
As will be seen in detail in Volume Two, in constant 2002–03 dollars, average salaries in all of the federal public service domains have risen since 1998–99, especially as compared with the period from 1982–83 to 1998–99. A number of components have been driving these increases. Components that have an impact on base salary, and therefore a continuing financial commitment, include changes in the composition of the workforce resulting from more complex demands on the public service, higher education levels among employees, a diminution of clerical and secretarial work, and changes in technology. Other salary-based components included salary increases above the rate of inflation, and changes to pay rates resulting from the restructuring of pay bands or other elements of compensation. Components unrelated to base salary include the introduction of new separate employers and the introduction and growth of what are called "terminable" allowances. This chapter explores all of the components driving the increases in average salary in recent years.
Statistics Canada reports that in March 2003 the federal public sector as a whole employed 455,754 people at a total salary cost of about $22.7 billion. This represented approximately 2.9% of employment in Canada and about 15.5% of public service employment.
Excluding federal business enterprises and other Crown corporations, as we do in most of this report, the regular federal payroll amounted to about $17.9 billion for fiscal year 2002–03, constituting about 3.4% of total salaries and wages in Canada. The corresponding employment level was about 351,000. When one factors in additional costs associated with the various elements of total compensation, including pensions and benefits such as health, dental and life insurance, federal expenditures on compensation for the group of employees covered in this report amounted to roughly $25 billion in 2002–03. This represents over a third of the amount paid for discretionary spending at the federal level.
In 2002–03, the average salary for employees in the core public service domain, for which the Treasury Board is the employer, was $53,300. The cost of total compensation per employee averaged about $73,400.
By 2002–03, the Canadian Forces had an average salary of about $52,700, virtually identical to the average salary of $52,800 in the combined core public service and separate employer domains. 
The average salary for regular and civilian members of the RCMP was much higher than the other domains reported, standing at $59,900 in 2002–03.
The average salaries of persons employed within the "other groups" federal domain vary greatly. Superior and Federal Court judges earned $210,000, for example. The salary for a Member of Parliament was $135,000, and $110,000 for a Senator. Students employed by the federal government earned an hourly income ranging from about $9.00 per hour for secondary-school students to $20.05 per hour for doctoral students with experience.
Changes in employment and compensation from 1982 to 2003
In the combined core public service and separate employers, total employment was:
nearly 245,000 in 1990–91, then
fell to about 195,000 in 1998–99, and then
grew to around 235,000 in 2002–03.
As discussed in detail in Volume Two, when we consider the impact of functions transferred outside the government but still financed by the federal taxpayer, we conclude that the effective total employment for these combined domains in 2002–03 was at least as high as in 1990–91.
From 1982–83 to 1998–99, the average real salary (i.e. with the effect of inflation removed) of employees in the combined core public service and separate employer domains  was essentially unchanged. During this period, the average salary ranged between $45,400 and $48,100 as expressed in constant 2002–03 dollars. Starting in 1999–2000, however, the average salary began to rise in real terms. By 2002–03, it had reached $52,800, a constant dollar increase of 14.1% in five years.
Following recommendations of the Advisory Committee on Executive Compensation and Retention, a new performance pay system for executives was phased in over 1998–2000. As a result, the estimated value of lump sum payments for executives in the core public service grew from $11 million in 1997–98 to around $40 million in 2002–03. Their average salaries grew by 13% in real terms between 1997–98 and 2002–03. When increases in lump sum performance pay during the period are included, on average, executives experienced an after-inflation average pay increase of around 18%.
For the Canadian Forces, the 2003-constant-dollar average salary grew from $47,500 in 1997–98 to $52,700 in 2002–03, an increase of 10.9%. 
The constant dollar increase for regular and civilian members of the RCMP between 1997–98 and 2002–03 was 5.6%.
During the same 1997–2003 period, federally appointed judges saw their salaries increase an average of 21% in constant 2002–03 dollars. The equivalent real increase for parliamentarians was about 19.6%.
In many cases, wage levels in 2003 had been impacted over a number of years by factors other than economic increases, which tend to get all the publicity. Most important among these factors were negotiated changes to salary structures, knows as restructuring increases, as well as changes to the composition of the public service workforce and pay equity settlements. Additional pressures on salary levels have occurred as new separate employers have been created, inviting comparisons with their counterparts in the core public service. 
Summary of the growth in average salaries
Average salary is the broadest possible measure of change in individual remuneration. Table 1006 and its accompanying Figure 1008 illustrate the evolution of average salary in the core public service and the separate employer domains from 1990–91 to 2002–03.
What stands out in this data is the marked change in the evolutionof the average salary after 1997–98. From 1990–91 through 1998–99, the constant dollar (2002–03 price level) value of the average salary remained in the relatively narrow range of $46,300 to $48,100. It might be thought that this stability was an anomaly resulting from the impact of pay freezes during this period. However, we were able to calculate average salaries on the same basis for the period from 1982–83 to 1988–89 as a way to test this view. Collective bargaining was fully operational for all but two of these years. Throughout this period, the average salary (expressed in constant 2002–03 dollars) for the core public service remained between $45,400 and $47,200, as shown below, in Table 1007.
Table 1006

Evolution of average salary in current and constant 2002–03 dollars for the core public service and separate employer domains, 1990–91 to 2002–03

 
 
 
Average salaries for total population
 
 
 
Current $
Constant $

1990–91

242,398

9,082

37,465

47,581

1991–92

244,099

9,297

38,086

46,344

1992–93

245,116

9,742

39,745

47,589

1993–94

240,867

9,764

40,537

47,835

1994–95

233,695

9,566

40,934

48,106

1995–96

218,297

8,972

41,099

47,289

1996–97

206,221

8,471

41,079

46,458

1997–98

197,642

8,200

41,489

46,295

1998–99

194,776

8,368

42,963

47,495

1999–00

202,282

9,197

45,467

49,183

2000–01

213,185

10,037

47,079

49,561

2001–02

225,469

11,110

49,274

50,743

2002–03

234,393

12,384

52,836

52,836
Table 1007

Changes in average salary, core public service 1982–83 to 1988–89

Year

Average salary, Current $

Average salary, Constant $ 2002–03

1982–83

$25,113

$45,431

1983–84

$27,238

$46,823

1984–85

$28,469

$47,078

1985–86

$28,827

$45,794

1986–87

$30,925

$47,180

1987–88

$31,876

$46,597

1988–89

$32,355

$45,417
Figure 1008
Graphical presentation of the evolution of average salaries in the core public service and separate employer domains combined – 1990–91 to 2000–03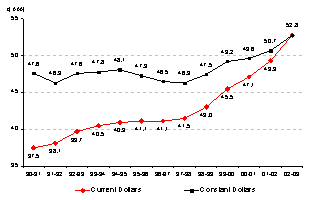 Thus, for the 15 years prior to 1997–98, through periods of both collective bargaining and salary controls or freezes, the average federal public service salary remained essentially unchanged in terms of real income.
In the following five years, there was a pronounced upward trend, with the 2002–03 average salary reaching $52,800. The change from 1997–98 up to 2002–03 for the combined core public service and separate employer domains was 27.3% in current dollars, which is equivalentto 14.1% in constant 2002–03 dollars.
Matching inflation was the largest single factor underlying change in current salary levels from 1997–98 to 2002–03. During these five years, the cost of living rose by about 11.6% in total. Changes in line with inflation, however, serve to maintain the purchasing power of a given level of income. What was unusual in these years, compared at a minimum with the previous decade and a half in the federal public service, was the sustained increase in real average salaries. So our analysis concentrates on trying to describe the factors underlying this real increase. Figure 1009 portrays the relative size of the key drivers of change.
The analysis summarized in Figure 1009 does not purport to be exact. Nevertheless, the approximate relative size of the components of change in average salary emerges clearly from the analysis. The adjustments that are shown in the figure relating to compounding and the timing of increases are necessary to take account of the fact that the various drivers of change interact over time.
The largest factor impacting change in real (i.e. after excluding the effect of inflation) salaries, accounting for over half of the increase, was the cumulative impact of collective bargaining outcomes. Table 1010 depicts what happened between 1997–98 and 2002–03 in the core public service. The data is reported for the year to which increases applied, not when they were negotiated or ratified. This data differs slightly from that portrayed in Figure 1009 because Figure 1009 relates to the combined core public service and separate employer domains, whereas Table 1010 reports only on the core public service.
In both Table 1009 and Figure 1010, we break real increases resulting from collective bargaining into two components:
the extent to which "economic increases" were larger than actual inflation; and
the impact of restructuring increases described below.
Looking only at the first component, we can deduce from Table 1010 that the cumulative difference between the economic increases and inflation was about 3.3% for the core public service. For the combined core public service and the separate employer domains, Figure 1009 gives this component as 3.7%. The gap between inflation and average "economic" increases, along with the total of increases including restructuring, is portrayed graphically in Figure 1011.
Figure 1009
Components of change in average current dollar salaries for the combinedcore public service and separate employer domains,* 1997–98 to 2002–03
* percentage point
1 Approximation based on available data.
2 Adjustment to account for the fact that a number of negotiated increases introduced in 2002 are not fully reflected in the average salary growth for 2002–03 because they were introduced late in the year.
3,4 To account for the fact that overall impact of the components' growth rates (except pay equity) is multiplicative (rather than additive).
5 The ongoing salary impact from pay equity of $190M, on per capita basis (divided by 2002–03 employment), represents a growth of 2.0% from the average salary in 1997–98. Since this ongoing impact has already included the impact of negotiated salary increases, this is an additive component (rather than multiplicative).
6 Impact of the profile change (or composition effect) in the old core public service (i.e. PSSRA 1.1 plus CCRA, CFIA and Parks Canada) from March 1998 to March 2003.
7 Restructures exclude Special Pay Adjustments (SPA).
8 In Vol. 2, reference is made to a 1.1% net real increase attributable to upward movement through the salary grid. This amount is incorporated primarily into the 5.3% associated with change in workforce composition, though there may be a slight overlap into the 4.1% related to the restructuring increase.
9,10 Reflects the average negotiated increase per employee while they were part of the core public service (PSSRA 1.1) only. All of the increases for 1997 were included because they were not captured by the incumbent system until after March 1998.
Table 1010

Economic increases compared to increases in the Consumer Price Index, 1997 to 2002*,**

 

1997

1998

1999

2000

2001

2002

Growth

97–02

Average Economic Increases

2.3%

2.0%

2.0%

3.0%

2.7%

2.6%

15.7%

% Change in Consumer Price Index (CPI)

1.6%

1.0%

1.7%

2.7%

2.6%

2.2%

12.4%

Average "restructure" increases

0.4%

0.4%

1.5%

0.6%

0.9%

0.2%

4.1%

Total Negotiated Salary Increases

2.7%

2.4%

3.6%

3.6%

3.7%

2.8%

19.8%

Salary Increases above CPI
(percentage points)

1.1%

1.4%

1.9%

0.9%

1.1%

0.6%

     8.0%

Notes: Reported collective bargaining increases reflect the average negotiated increase per employee while they were part of the core public service. Increases relating to pay equity, special pay adjustments (SPA), and terminable allowances are excluded. Growth is calculated as the cumulated percentage increase over the six years, except for the "Salary Increases above CPI" which reports the percentage point differences between two cumulative growth rates.

* The years identified give the calendar year in which increases took effect, not when they were agreed or ratified.

** Note that the accumulating CPI (inflation) increase given in this Table is 12.4%, whereas the change portrayed in Figure 1009 is 11.6%. The difference arises because Table 1010 reports by calendar year, whereas Figure 1009 focuses on fiscal years. Adjusting the Table and the Figure to reflect the same time period was judged too complicated in view of the way collective bargaining outcomes are recorded.
We now turn to the second component of collective bargaining outcomes resulting in real increases in average salaries during the period under review. The term "restructuring increases" covers changes the parties perceive as needed to:
keep up with a competitive external labour market,
adjust internal relativities,
mitigate pay equity concerns, or
simply to conclude a collective agreement that can be ratified by the employees.
As set out in Figure 1011, the average value of restructuring increases, weighted by the size of the groups affected, was substantial in 1999 at 1.6% and in 2001 at 1.0%.
Figure 1011
Gap between increases in the consumer price index, "economic" wage increases and restructuring increases, 1997 to 2002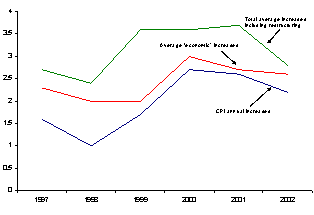 The cumulative effect of such increases on average salaries was about 4.1% from 1997–98 to 2002–03 inclusive.
Appendix F gives specific details on these restructuring increases, as well as other monetary benefits not included in economic increases.
Adding or removing increment steps
The addition or deletion of increment steps within a pay range is in effect the classic and most frequent example of restructuring. The pay range for a given level of a classification group usually has several steps or increments to which employees move year by year, until they reach the maximum for the level, or are promoted to another level. Normally an increment is worth about 3.5% to 4%.
Adding a step at the top of a pay range immediately increases only the salaries of those already at the top of the range. Because in most cases only some employees in a given group are at the maximum of the level affected, the initial per capita cost can be modest. Over time, however, every employee who reaches that level will benefit from the higher maximum. 
Deleting a step at the bottom of a range usually costs little at the beginning, but in future all new employees start at a higher salary minimum. The other, not always readily apparent, impact of deleting or adding an increment is the possible misalignment between classification standards or relative values of work and compensation. 
During the period since collective bargaining was restored in 1997, many contracts included some form of restructuring of pay ranges. The most common case is the addition of a step at the maximum for some or all levels of a particular group. Minimum steps were deleted for more than 10 groups. In a few instances, half steps were added. In at least three cases, all group members moved up one or two steps within their level, unless they were already at the maximum, before economic increases were applied. These cases were:
the Computer Systems (CS) group in 1997 and 2000,
the Correctional Services (CX) group in 2000, and
the Radio Operations (RO) group in 2001.
The Computer Systems (CS) group, for example, experienced such pay range additions in each of the four contracts the Professional Institute signed with the Treasury Board for the period from 1997 to 2004, and general moves in salary level twice. For this group, the average salary has increased from $49,500 in 1997 to $63,200 in 2003. This is 27.6% in current dollars, or 12.2% in constant 2003 dollars.
The extent of restructuring increases applied to the CS group might have implied a larger premium over the average in another group, whose members are at or near the maximum pay rates for their levels. However, with a quickly growing group, relatively more employees in the CS group were likely at or near the minimum pay rate for their level. On the other hand, if growth slows as the CS group matures over the next few years, more of the potential cost increase would be realized. 
Reducing regional differences
Another example of pay restructuring is what is known as "collapsing zones." This term refers to the process of reducing regional differences in the pay rates of employees. Prior to the introduction of collective bargaining in 1967, about 15% of public servants (over 24,000) were employed under the provisions of the Prevailing Rate Employees General Regulations, and a further 3,000 under the Ships' Officers and Ships' Crews Regulations. Wage rates for both groups of employees were set for numerous individual job titles for dozens of localities. It has been a priority for the Public Service Alliance of Canada and other affected unions to eliminate such zones over time, and in virtually every round of bargaining, the number of zones has been reduced.
About 13,300 or about 8% of employees in the core public service domain were affected by some kind of regional pay arrangement in 2002–03.
The largest set of employees paid according to regional rates in 2002–03 comprised the 9,700 members of the General Labour (GL), General Services (GS), and Hospital Services (HS) classification groups. The three regional pay zones were:
Zone 1 – British Columbia, and the three northern territories
Zone 2 – Atlantic, Quebec and Ontario
Zone 3 – the three Prairie provinces
Regional differentials varied according to sub-group and level. Almost invariably, the highest hourly rates were in Zone 1, for British Columbia and the three territories. The largest difference between the highest and lowest rate–about 18%–was for the sheet‑metal-working sub group; the smallest gap was between 6% and 8% for the machine, tool-making and engraving sub-group. For the most numerous subset (about 1,100 gardeners, welders and maintenance workers), the variance was about 10%.
In the period from 2000 to 2003, the contract covering the Operational Services (SV) bargaining unit provided for the number of salary zones affecting the General Labour and Trades (GL), and General Services (GS) classification groups to be reduced from ten to seven to three. As recently as 1989, there had been sixteen zones. The estimated ongoing salary cost of these recent zone consolidations was about $3.65 million starting in 1999, and a further $9.9 million commencing in 2000.
The second most populous (about 1,600) group of employees with regional pay variations was the Nursing (NU) classification group. This group had:
One zone for isolated posts equal to the highest, i.e. the British Columbia rate
Rates for the Atlantic region and each of the other provinces
Yukon/NWT rate.
The variation between the highest pay rate and the lowest for the most populous level of the NU group (level 3) was about 9.4% at the maximum.
By 2002–03 approximately equal numbers of ship repair employees worked on the east and west coasts (about 700 on the east coast and 620 on the west), doing similar work. Pay rates in 2002–03 were about 20% higher in British Columbia.
Several other small groups had regional variants in their pay. These included:
the Education group (about 200 people),
the Printers (fewer than 50), and
the Occupational and Physical Therapy group (about 50).
An 8% premium was paid for federal lawyers (about 300) employed in Toronto in
2002–03.
Pay line harmonization across classification groups
An important form of restructuring is pay line harmonization. As noted earlier, in 1999 over 70 classification groups were combined into 25 bargaining units. As a result, there has been an interest for both unions and the employer in combining the pay rates of classification groups within a bargaining group. The first example, effective in 2000, was unifying the pay ranges for the Economics, Sociology and Statistics (ES) and the Social Science Support (SI) classification groups, which together constitute the new Economics and Social Science Services (EC) bargaining unit. The cost of this harmonization was about 1% of the unit's payroll within the core public service domain at the time of implementation.
The second and larger example also came into effect in 2000. The Treasury Board and the Public Service Alliance agreed to harmonize the pay lines for the Program Administration (PM), Administrative Services (AS) and Information Services (IS) classification groups, which form a major portion of the Program Administration (PA) bargaining unit. In this case, the initial cost was about 0.9% of the unit payroll. For affected employees, however, the impact was much larger. About 26,660 employees gained salary increases averaging about 1.7%.
Other forms of restructuring
Finally, we observe certain relatively infrequent but significant forms of restructuring. For contracts covering the Foreign Service (FS) group effective in both 1999 and 2001, for example, increases were approved to the maximum salary level for the group to keep it broadly in line with the lower end of the EX 1 salary, and to the entry level salary to make the foreign service more attractive to high quality recruits. In addition, fixed pay steps were introduced that will allow FS officers to advance more rapidly to the maximum pay rate. The initial cost of these changes amounted to about 7% of the FS salary mass. As another example, effective 1997, the Financial Administration (FI) group gained a 3.45% increase to compensate for an increase in their workday to the 7.5 hours normally worked by most other public service employees.
Lump sum payments
During the period from 1997 to 2003, other monetary benefits were agreed that are not considered to be restructuring because they are not part of regular salary. Lump sums were paid to most unionized employees in 1999 to facilitate acceptance of a one-year settlement with a 2% economic increase. In a few other cases signing bonuses were negotiated.
Change in the composition of the public service workforce results from a combination of classification and staffing decisions taken mainly by middle level managers in departments and agencies. The classification decisions establish what positions may be staffed and at what level, and the staffing process determines which positions actually get filled and how. The distinction is meaningful since at any given time there will normally be more classified positions on the books than there is salary funding available to finance them.
On the classification side, there is strong reason to accept the reasonableness of the broad trend described in this section to increases in more knowledge-intensive groups, as well as the movement to proportionately more employees at higher levels within certain classification groups. Growth in the area of Computer Systems–the fastest growing group–for example, is a natural consequence of the increasing centrality of information technology and the internet in all businesses. The hiring of more lawyers logically tracks the emergence of myriad Charter issues, as well as the expansion of aboriginal and other types of litigation. Other factors such as the growing complexity of managing programs and issues across jurisdictions, a renewed commitment to government science, and the need to assemble and analyse disparate information rapidly to meet ever shorter news and issue cycles, all point in the direction of needing more highly qualified and typically more expensive talent.
At the same time, much routine work is simply disappearing. Changes in the world of work, for example, have almost entirely eliminated stenography, and most typing now falls to individual analysts and managers as they draft text on their own computers. So the shift of secretarial employees to groups with broader opportunities is not surprising. Electronic systems, moreover, have greatly reduced the demand for routine clerical work.
The structural shifts that occurred between 1991 and 2003 had the cumulative effect of increasing the average salary by something like $5,000 in 2003 dollars in the combined core public service and separate employer domains.[42] This amounted to an increase of about 10.6% in the 2003 constant dollar average in the combined domains. For the period of public service employment growth from 1997–98 to 2002–03, the impact of these structural changes on the average salary amounted to about $2,600, or an increase of 5.3% in 2003 constant dollars.
This change in average salary is broadly the result of two sets of changes:
the rise of more highly paid and the decline of less highly paid groups, and
changes in the distribution of employees among pay levels within groups.
The greatest example of the trend away from less- to more-knowledge-intensive jobs is the movement of ST and CR employees into the AS classification group. The highest proportion of employees reclassified in 2002–03 was in the Secretarial (ST) group at about 26% of the total full-time, indeterminate population of the group. This remarkable figure appears to represent part of a trend towards the virtual disappearance of the ST classification group, a displacement in large part attributable to the changing demands of the modern automated office environment. The ST group declined by 82% in 12 years.
Among employees in the ST group, the largest number of reclassifications was from ST-SCY 3 to CR 5 and AS 1. Such a move represents a salary increase at the maximum of about $4,400 or 11.4% for CR 5, and about $5,300 or 13.7% for AS 1. Very few reclassifications (only about 4.3% of the total) were within the ST group itself. Of 670 ST employees reclassified in 2002, all but 29 moved to another group, either CR or AS.
Other groups with more than 5% reclassification were:
the Personnel Administration (PE),
the Program Administration (PM,
the General Technical (GT),
the Purchasing and Supply (PG),
the Administrative Services (AS),
the Scientific Research (SE),
Clerical and Regulatory (CR) and
the Economics, Sociology and Statistics (ES) group.
It should be noted that the PE, ES, GT and PG groups use recruitment programs that include promotions in position based on satisfactory progress in a recruitment or developmental program. Also, some groups may experience an unusually high level of reclassification in a given year as a result of a particular decision affecting a large set of employees.
Knowledge jobs
During the period from 1990 to 2003, the structure of the federal public service workforce changed substantially. The simplest generalization is that while the knowledge and skill content of virtually all jobs increased in line with advances in technology and communications, those occupations with relatively high knowledge requirements grew rapidly, while less knowledge-intensive jobs declined. As already noted, this evolution put upward pressure on the average salary in the public service.
Three occupational categories have grown over the past 12 years:
Administrative and Foreign Service, by 51%
Scientific and Professional, by 22%
Executive, by 5%
Conversely, three occupational categories have become smaller:
Technical, by 21%
Administrative Support, by 38%
Operational category, by 42%
This pattern expresses unambiguously the observation that in general, growth correlated positively with knowledge intensity. The trends were fairly persistent. For example, all categories shrank during the Program Review period from 1994 to 1998. Taking the whole period from 1991 to 1998, the three declining categories lost about 53,100 members while the other three experienced a net gain of about 3,200. Subsequently, from 1998 to 2003, all but the Administrative Support and Operational categories grew with the largest growth taking place in the Administrative and Foreign Service, Scientific and Professional and Executive categories.
When we look within the occupational categories to the 70-plus classification groups, we find four groups that each experienced growth of more than 3,000 employees. These contributed about two thirds of the population increase in the combined core public service and separate employer domains, as follows:
| | |
| --- | --- |
| Group | Growth, 1991 to 2003 |
| CS) Computer Systems | 9,584 |
| (AS) Administrative Services | 9,645 |
| (PM) Program Administration | 6,530 |
| (ES) Economists/Statisticians | 3,022 |
Looking from the perspective of absolute size, the principal classification groups affected by decline, i.e. those losing at least 2,000 members, were as follows:
| | |
| --- | --- |
| Group | Losses, 1991 to 2003 |
| (CR) Clerical and Regulatory | -16,629 |
| (ST) Stenographic and Typing | -10,736 |
| (GL) General Labour and Trades | -8,221 |
| (GS) General Services | -5,905 |
| (DA) Data Processing | -2,058 |
These groups lost in total over 43,500 members between 1991 and 2003.
We also looked closely at changes in the distribution of employees by level within classification groups, to determine whether higher classification levels are driving average salaries upward. 
The Clerical and Regulatory (CR) classification group shows a clear trend away from the lower to the higher levels. Despite having declined by 28% as noted earlier, the CR group remains the largest, at about 43,300 in March 2003. The CR 1 level had already in effect disappeared by 1991. Level 2 shrank from 15% to 6%, and level 3 from 35% to 24%. By contrast, level 4 grew from 37% to 47%, and level 5 almost doubled from 12% to 23%.
With respect to the distribution of employees among pay levels within a group, the impact on average salary has been modest. Even for the Clerical and Regulatory (CR) group, which has seen substantial declines in the share of employees at the lower levels and corresponding increases at the higher levels, the resulting change in average salary was about $1,600–just over 4%–between 1991 and 2003. Bearing in mind that the structure of most other large groups was stable or experienced less change than the CR group, it would be reasonable to estimate the overall impact of changes in the distribution of employees by level within groups as not greater than 1% or 2% of average salary.
Another group with a clear upward pattern in the structure was the Personnel Administration (PE) group. Level 2 fell from 19% to 12% between 1991 and 2003, and level 3 fell from 42% to 29%. The higher levels all increased in proportion: level 4 from 20% to 28%, level 5 from 11% to 16%, and level 6 from 5% to 9%.
For some other groups the picture is mixed. The Administrative Services (AS) group saw increases at the lowest levels, from 18% to 23% at AS 1 and 25% to 31% at AS 2. The next two levels fell in relative terms, and the highest levels stayed fairly constant. Although we could not carry out the detailed analysis to trace the movement of individuals, strong anecdotal evidence indicates that the growth in the first two AS levels reflects the progression of employees formerly in the CR and ST groups.
Two other patterns of interest relate to the Computer Systems (CS) and the Executive (EX) groups. The CS structure remained quite stable in the middle three levels despite being the fastest growing group, while the CS 1 level grew as a proportion from 19% to 24%. The top CS 5 level remained small at 2%, but the absolute growth from 16 to 262 over the twelve years was noteworthy. For the EX group, there was a decline at the EX 1[43] level from 65% to 53%, increases at EX 2 from 18% to 25% and at EX 3 from 10% to 16%. The top two EX levels remained unchanged at 5% and 2% respectively.
While a shift from lower to higher classification levels within occupational groups puts an upward pressure on average salary, the impact is proportionately greatest when such a phenomenon occurs in a highly populated group such as the CR group, which experienced significant growth at levels 4 and 5 and declines in levels 1 to 3, even as the group's size declined 28%. As noted above, however, it remains the largest group, with a population of 43,000 in 2003.
More detailed information on changes in the composition of occupational categories and groups is provided in Chapter 3 of Volume Two, and in Appendix G.
Promotions
Promotions are defined as occurring when an employee is appointed to a position whose pay range maximum is at least 4% higher than his or her previous position. They can be awarded with or without competition. Any given departure can lead to a chain of promotions as successful candidates in turn create vacancies needing to be filled, potentially through promotions. Except for the Program Review period from 1994 to 1998, approximately 14,000 to 18,000 promotions have been awarded each year.
For all types of employees within the public service, there was a fair amount of change over the year. There were 22,711 promotions in 2002–03, including the 6,687 reclassifications identified below. Promotions, therefore, affected about 13.4% of the employee population in March 2003. Lateral movements, to positions classified at the same level as the employee, numbered 22,673, a similar proportion. Although this latter figure includes demotions, and the data systems do not distinguish these from lateral moves, anecdotal evidence suggests that demotions are rare. Acting appointments totalled 13,144. Such cases would be of widely varying durations: 15.1% would normally not exceed six months; 36.4% fall between six and 12 months.
The total number of promotions among indeterminate staff, and the increase during the period of rapid growth, suggest that they are the largest driver reshaping the public service.
Reclassifications
Reclassifications bridge the worlds of classification and staffing. We use the term "reclassification" to describe the promotion of an employee to a higher level in the same position, based on an assessment that the work requirement has changed sufficiently to warrant the change. It is important to note that where there is a significant increase in the demands of the job, reclassification is appropriate.
In general, constituting over 36% of all promotions as they did in 2002–03, reclassifications figure prominently in the personnel management system of the core public service domain.
Between 1996–97[44] and 2002–03, reclassifications fluctuated from a low of around 3,200 in 1996–97, to highs of about 6,300 in 1998–99 and 6,700 in 2002–03.[45] Reclassification appears to have stabilized over the most recent five years. The proportion of indeterminate, full-time staff reclassified each year was more variable than the absolute numbers, rising quickly from 2.3% in 1996–97 to 5.5% in 1998–99, and then falling to 4.2% in 2001–02, before increasing again to 5.1% in 2002–03. From this data we conclude that reclassification has been a significant factor in changing the composition of the public service.
Advancing through increments to the job rate
Another factor that is often seen as pushing salaries up is the movement of employees from one increment to another each year within a particular pay band.
Each classification group is organized into a series of levels reflecting a hierarchy of increasing difficulty and responsibility. In 2003 the number of levels varied from two in the Foreign Service (FS) group to 14 in the General Labour and Trades classification standard. Within the pay band applying to each level there is normally a series of salary steps ranging from the minimum rate to the maximum or job rate.
An employee's normal pay depends on two decisions. First, his or her position must be classified. This involves assigning it to the appropriate group based on the nature of the work. Then the level of the position is assessed using a classification standard that evaluates various factors such as the required skill, effort, responsibility and working conditions. Second, the pay within the assessed level depends on fairly complex pay administration rules established by the Treasury Board. An employee who is not at the maximum rate for his or her level normally moves to the next salary step within the level–usually called an increment–on the anniversary of their appointment to the position.
An important exception applies to employees in the Defence Scientific Service (DS) and the Research Scientist sub-group (SE-RES) groups. In certain cases, a similar approach may be applied in the upper levels of the Historical Research (HR) group as well. For the approximately 2,450 employees in the DS and SE-RES groups, salary advancement and promotion depend on an incumbent-based approach. Judgements by a committee of senior scientists of the quality of each employee's scientific output, originality and contribution to knowledge determine how quickly the employee progresses.
Across the entire public service, this upward pressure is offset by the fall in salaries that results from a person at or near the top of a pay range leaving his or her position and being replaced by an employee who starts at the first step of the pay range. Table 1012 gives the figures for the impact of both phenomena from 1990 to 2003.[46] To provide a complete picture of salary change within positions, other than economic increases, the table also includes the impact of reclassification, or compositional change, on salaries each year.
A review of the data in Table 1012 shows that for five of the thirteen years covered, the net effect of increments and external mobility was a small reduction in average salaries. In only three years (1998, 1999 and 2000) was there a net positive impact greater than 0.22%. It is also interesting to observe that average salary change resulting from classification change was in most years similar in size to that resulting from increments. Taking account of all these points, we estimate that the cumulative net impact of salary increments and external mobility over the whole period was an increase in average salary in the core public service domain of about 1.5%. This figure is largely included in the figure for increases relating to change in the composition of the workforce.
It is sometimes argued that recently recruited employees in certain groups advance very rapidly from level to level, thus inflating average salaries. This view has been expressed, for example, in relation to the Economics, Sociology and Statistics (ES) group. It is true that there are various recruitment and developmental programs that permit employees to enter the public service, normally at the ES 2 level (2002–03 minimum salary of $42,655), and to advance through a series of assignments over two to four years to the ES 4 (2002–03 minimum $60,096) or ES 5 ($68,291) level.
Table 1012

Impact of salary increments, classification change and external mobility on average salaries in the core public service domain, 1990 to 2003

 

Impact on Average Salary*

 Year

Increments**

Classification change

External mobility

Overall net impact

Net impact of increments & external mobility

1991

0.96%

1.39%

-1.26%

1.09%

-0.30%

1992

0.95%

1.08%

-1.02%

1.01%

-0.07%

1993

0.86%

0.79%

-0.82%

0.83%

0.04%

1994

0.63%

0.60%

-0.46%

0.77%

0.18%

1995

0.18%

0.43%

-0.27%

0.33%

-0.10%

1996

0.18%

0.45%

-0.18%

0.46%

0.01%

1997

0.80%

0.82%

-0.72%

0.90%

0.08%

1998

1.09%

1.27%

-0.53%

1.83%

0.56%

1999***

1.65%

1.41%

-0.48%

2.57%

1.16%

2000***

1.26%

1.17%

-1.03%

1.39%

0.22%

2001

1.41%

1.35%

-1.42%

1.34%

-0.02%

2002

1.55%

1.45%

-1.55%

1.45%

0.00%

2003

1.24%

1.12%

-1.52%

0.85%

-0.27%

Cumulative Total (1990 to 2003)

13.5%

14.2%

-10.7%

15.8%

1.5%

Cumulative Total (1998 to 2003)

7.3%

6.7%

-5.9%

7.8%

1.1%

* Figures are annualized averages (December vs December) for full time indeterminate employees.

** Includes impact of restructuring increases applied to incumbents. 

*** Figures are adjusted to remove the impact when CCRA was created as a separate employer outside the core public service domain.
Progression guidelines in effect in the Department of Finance in 2003 indicated that advancement from the ES 2 entry level to ES 5 will vary from 3.5 to 5 years, dependent on whether the employee's performance rating is superior or fully-satisfactory-plus. The guidelines are intended to ensure "that promotion rates at Finance will generally be as fast, or faster, than at other comparable organizations." Over the two years, 2001–02 and 2002–03, the Department of Finance recruited 78 economists under this plan.
The Appointments Information and Analysis Directorate of the Public Service Commission provided some informal insight into the evolution of the ES group.[47] The ES group was the third fastest growing group between 1990 and 2003, increasing in number by 115%. Two points are worth noting:
The average number of new indeterminate employees hired more than doubled between the early to mid 1990s and the early 2000s, when over 900 were hired in each of 2001–02 and 2002–03.
The cumulative years of service needed to reach the current working level of ES 5 declined over the period.

For those hired in 1992, it took between seven and eight years for ES 1s and ES 2s to reach that level.
For the 1995 cohort of new hires the average time declined to between five and six years.
For the 1998 cohort, it took only four to five years.
Although each organization no doubt has its own reasons for classification and hiring decisions, such a distinct evolution likely reflects more general trends. One hypothesis was that the ES group was attractive for recruiting recent graduates with strong analytical skills at a time when there was a renewed demand for policy analysis capacity. Although the reported acceleration of progress to senior ES levels among new recruits could be expected to push average salaries upwards, we were unable to quantify the impact. We would expect it to be small overall.
Because the arbitration route was suspended as an option within the collective bargaining process from 1991 to 2003, it is instructive to look at earlier experiences with arbitration to determine its potential impact on average salaries. A Treasury Board analysis completed more than a decade ago compared the average annual compounded salary increases registered by the arbitration and the conciliation/strike routes between 1974 and 1991 in the core public service domain. Although the average outcomes from the two routes differed from year to year, in at least three years by more than 1%, the compounded results for the full 18 years were very close: an overall increase of about 218% (versus compounded inflation of about 217%) for the conciliation/strike option, and a corresponding arbitration total increase of about 206%. Arbitration may have been more favourable for some groups with relatively little bargaining leverage than the conciliation/strike route would have yielded.  However, this assessment suggests that the two routes yielded essentially the same results for the whole system across nearly two decades.
While the arbitration route was suspended from 1991 to 2001, since its reinstatement, only three arbitral awards had been rendered in the core public service domain by 2003, although several other cases were in process. Of these, the decision regarding the Aircraft Operations (AO) group in 2003 was relatively costly. The standard economic increase was augmented by both adding and dropping steps, and by an increase in the terminable allowance.[48] The terminable allowance is discussed in detail later in this chapter.
From the employer's perspective the arbitral award in the 2003 case of the Applied Science and Engineering (AP) bargaining unit was also generous, providing for pay line harmonization, both the addition and deletion of steps, and a terminable allowance increase. This latter point set the precedent of indexing the AP group's terminable allowance. The final case, that of the Financial Administration (FI) group in 2002, was decided in a manner generally in line with contemporaneous settlements.
Although the limited experience to date suggests arbitration outcomes could put upward pressure on salaries, it is too early to draw a conclusion about how closely arbitration route outcomes will track the general trend of conciliation/strike collective agreement terms. Certainly during the period on which we are concentrating our analysis (1997 to 2003), arbitrations had little effect on changes in the average salary. The future outcomes of the arbitration route nevertheless remain hard to predict.
The Canadian Human Rights Act (CHRA)requires employers in the federally regulated labour jurisdiction–which includes the federal government itself as well as enterprises in such areas as banking, railways, airlines, shipping, ports, and inter-provincial trucking–to ensure equal pay for work of equal value. This was enacted in 1977 in part to give effect to Canada's ratification of International Labour Organization Convention 100, the Equal Pay Convention. Specifically, section 11 of the CHRA states that it is discriminatory to establish or maintain different wages for men and women doing work of equal value in the same establishment.
The concept of equal pay for work of equal value seeks to eliminate gender‑based wage discrimination that has resulted from systemic undervaluation of work performed by women. It compares male and female jobs that may be quite different, using a common assessment method that measures the required skill, effort and responsibility of specific jobs, as well as the conditions under which the work is performed. This concept is thus much broader in its application than equal pay for equal work, which compares work that is the same or very similar, as it calls for comparison across different occupations.
The Equal Wage Guidelinesissued by the Canadian Human Rights Commission in 1986 provide more detail on such topics as the definition of establishment and permissible exceptions. The latter include:
salary-protection,
training wages,
performance pay,
labour shortage supplements and
regional rates of pay.
How to apply these guidelines has been controversial and several disputes have taken many years to resolve.
Since the late 1970s, there have been various pay equity settlements and awards in the core public service domain, which contributed to increasing average salaries. Appendix H provides a brief history of pay equity complaints relating to the core public service domain that had been resolved by 2003. Outstanding complaints as of the end of 2003 mainly related to disputes over who should be considered the employer of various groups of employees for the purpose of applying the equal pay for work of equal value provisions of the Canadian Human Rights Act.
In summary, the core public service has settled more than a dozen substantial complaints since 1979. In the first few years, complaints were relatively limited in scope. For example, the first settlement in 1980 aligned the salaries of the female-predominant Library Sciences (LS) group with those of the male-dominated Historical Research (HR) group. Other early settlements adjusted pay rates within groups: for female-dominant sub-groups of the General Services (GS) group in comparison with male-dominant sub-sets of the same classification group; and for registered nursing assistants in light of the pay of nursing orderlies within the Hospital Services (HS) group. In 1981, a complaint arguing the equivalence of the work of the Hospital Services (HS) group to that of the General Services (GS) group resulted in pay equity adjustments, and in Treasury Board deciding to apply the GS standard to both groups.
The first multi-group comparison case was settled in 1985 on an interim basis, pending the outcome of the Joint Union-Management Initiative (JUMI) process discussed below. The Nutrition and Dietetics (ND) and the Occupational and Physical Therapy (OP) groups were successful in comparing their work to that of five male-dominated groups.
By far the largest complaint, filed by the Public Service Alliance of Canada (PSAC) in 1984, alleged discrimination between the Clerical and Regulatory (CR) and the Program Administration (PM) classification standards, as well as gender-based wage discrimination between the two groups. In response, the Treasury Board Secretariat invited the unions to work together on a JUMI to develop a service-wide approach for implementing pay equity. When this initiative foundered over disagreement about the existence of gender bias in job evaluations, the Treasury Board proceeded directly to make what was termed an equalization payment based on its own assessment of the extent to which these groups were underpaid. This provided a lump sum to employees of the following groups:
Clerical and Regulatory (CR)
Educational Support (EU)
Secretarial, Stenographic and Typing (ST)
Nursing (NU).
It also provided ongoing annual salary increases to employees of the first three of these groups. The total of lump sums paid was about $303 million, or an average of about $4,300 per affected employee. The annual individual pay adjustments for those who received any increase ranged from about $994 to $4,578 per year.
Neither the PSAC nor the Professional Institute of the Public Service of Canada (PIPSC) was satisfied with this result and submitted new or revised complaints for consideration by a Tribunal pursuant to the Canadian Human Rights Act. The PIPSC complaints were settled through negotiation in 1995. The settlement provided lump sums and ongoing salary adjustments effective April 1994 for the Nutrition and Dietetics (ND), Occupational and Physical Therapy (OP), and Nursing (NU) groups.
The PSAC complaint was settled only in 1999, following two human rights Tribunal decisions that:
found the data gathered during the JUMI exercise provided a reasonable basis to assess the need for further payments;
determined the method to be used to estimate the existence and extent of a wage gap; and
ordered simple interest to be paid on net wages owing for each year of the retroactive period.
The method prescribed to estimate the existence and extent of a wage gap compares levels within each complainant group to an amalgam of jobs from all male-predominant groups.
In the lead-up to this settlement, the Treasury Board incorporated special pay adjustments in 1998 into the salaries of the CR, EU, LS, HS, ST and Data Processing (DA) groups. Although these adjustments were not explicitly acknowledged by the Treasury Board as related to pay equity, they were taken into account in determining the final pay levels resulting from the 1999 settlement with the PSAC. These special pay adjustments resulted in payments of about $580 million, and ongoing average salary increases of $2,491.
Following the settlement, retroactive payments including interest totalling about $2.85 billion were made to affected current and former employees. Final adjustments were incorporated into salaries of employees in the groups listed above effective July 1998. The final pay increases raised salaries by from $120 to $10,363, depending on an employee's group and level. The weighted average amount was about $1,200.
Settlements were also concluded with single female-dominant professional groups based on comparison with a set of seven male-dominant groups: the Commerce (CO), Computer Systems (CS), Engineering and Scientific Support (EG), Economics, Sociology and Statistics (ES), Financial Administration (FI), Purchasing and Supply (PG) and Welfare Programs (WP) classification groups. Specifically, employees of the Personnel Administration (PE) group, which is non-unionized, received lump sum payments in 1999 retroactive to the date of their complaint in 1991, and increases in their salary level. In 2003 the Translation (TR) group settled their complaint first lodged in 1990 on a similar basis.
Estimated current pay equity expenditures
We have estimated the current ongoing compensation expenditures relating to the continuing effect of pay equity settlements in 2002–03.
Our estimate can only be very rough. We know how much salaries were increased at various times to implement equal pay for work of equal value. But we cannot be certain as time passes to what extent these increases have continued or changed, in that subsequent salary negotiations do not make any distinctions in the rationale for group wage increases. Accordingly, our estimate simply takes the last identifiable increases for pay equity for affected groups and levels, and multiplies those amounts by the relevant populations in March 2003 and any economic increases authorized since the pay equity increases were made.
On this basis, the 2002–03 ongoing salary costs relating to pay equity for the core public service domain was in the order of $225 million. For the relevant groups, this amounted to about 13% of the current payroll. As illustrated in Table 1013:
The largest ongoing cost was related to the Clerical and Regulatory (CR) group, at about $165 million.
The average amount per CR employee was about $5,100, or $4,700 without allowing for later economic increases.
The overall average for employees in groups receiving pay equity settlements was about $5,500 per year.
The largest amount per employee was for the Nursing (NU) group at about $14,300, around 23% of current salaries.


Table 1013

Estimated* ongoing salary cost of past pay equity settlements for the core public service domain, 2002–03

Occupational group

Population

Payroll
(M$)

Pay equity costs
(M$)

%
of payroll

Average
cost per capita

Clerical and Regulatory

32,296

1,246.6

164.6

13

5,096

Secretarial, Stenographic, Typing

2,039

76.9

7.3

9

3,564

Hospital Services

659

26.1

2.4

9

3,601

Library Science

433

26.6

5.6

21

12,894

Data Processing/ Data Conversion

119

3.8

0.4

11

2,997

Educational Support

25

0.8

0.3

38

10,263

Nutrition and Dietitians
(formerly Home Economics)

36

2.3

0.4

17

12,400

Occupational and Physical Therapy

50

3.2

0.6

19

11,934

Nursing

1,622

102.2

23.3

23

14,342

Personnel Administration

3,254

215.6

19.7

9

6,041

Total

40,533

1,704.1

224.6

13%

5,537

*Note: The figures in the table are very much estimates. The apparent precision in giving data to various decimal places reflects the application of the estimation method, not exactness in the result.
Because various non-salary costs are proportional to salaries, the total-compensation impact of the continuing pay equity expenditures could be expected to be at least 25% higher.
During 2002–03, there was also a small amount paid out in relation to implementing past settlements. This totalled about $1.3 million.
Separate employers
CCRA was part of the core public service domain at the time of the major pay equity settlement with the Public Service Alliance of Canada. Its employees were therefore beneficiaries of that settlement. Using the same rough estimation method for CCRA as that explained above, the ongoing salary costs for that agency relating to pay equity in 2002–03 would be about $62.5 million. For CFIA and Parks Canada, the corresponding amounts would be $3.6 million and $2.3 million, respectively.
Current litigation initiated by the Public Service Alliance of Canada seeks to extend the 1999 settlement with the Treasury Board to other federal employers, including such separate employers as the Office of the Auditor General, the Office of the Superintendent of Financial Institutions, and the Social Sciences and Humanities Research Council.
Appendix I details our best estimate of all amounts paid as lump sums and interest, and the cost of ongoing salary increases relating to pay equity settlements between 1980 and 2003. Table 1014 summarizes this information. The total of pay equity lump sum payments in current dollars was about $3.4 billion, including interest. We estimate the total ongoing salary cost in 2002–03 relating to pay equity settlements was at least $277 million for the combined public service and separate employer domains. In effect, this amounts to about 2% to 3% of the total wage bill for those domains.
Table 1014

Summary of pay equity payments and salary increases, 1980 to 2003

 

Core public service

Separate employers

 

Lump sum cost ($M)*

Cumulative
March 2003 ($M) *

Ongoing
($M)

Ongoing
($M)

PSAC Groups

 

 

 

 

General Services (GS)

19.4

–

–

–

Hospital Services (HS)

65.6

12.2

2.3

–

Clerical and Regulatory (CR)

1,779.7

1,265.9

149.5

57.2

Data Processing (DA)

38.1

6.3

0.4

7.8

Educational Support (EU)

3.2

0.7

0.2

–

Library Science (LS)

29.0

68.2

5.0

0.3

Sec. Stenographic and Typing (ST)

337.5

166.0

5.9

0.8

Interviewers and Senior Interviewers

1.0

–

–

–

Interest and other

911.8

–

–

–

Subtotal

3,185.3

1,519.2

163.3

66.1

PIPSC Groups

 

 

 

 

Nursing (NU)

81.8

236.3

21.5

–

Nutrition and Dietetics (ND)

4.0

4.4

0.4

 

Occupational and Physical Therapy (OP)

1.3

7.7

0.8

–

Social Work (SW-SCS)

0.4

1.9

0.3

 

Subtotal

87.5

250.3

23.0

 

Other settlements

 

 

 

 

National Indian and Inuit Community Health Representatives Organization (NICHRO)

45.7

 

 

 

Personnel Administration (PE)

60.7

57.7

18.0

2.2

Translation (TR)

17.3

–

4.5

 

Subtotal

123.7

57.7

22.5

2.2

Total

3,396.5

1,827.2

208.8

68.3

* Based on September population for each year.

** Figures on previous pay equity-related costs not available for the separate employer domain. However, most lump sum costs are included in the core public service domain, since the Canada Customs and Revenue Agency, the Canadian Food Inspection Agency, and Parks Canada were covered by the PSAC settlement.
We must note the impact of the separation of CCRA, CFIA and Parks Canada from the core public service domain during the period under historical review. Because CCRA is large, with a lower average salary than the rest of the core public service, its establishment as a separate employer contributed to the upward shift in the average salary of the core public service domain.
Up to the late 1990s, the separate employer domain was composed of several mostly small organizations.[49] The largest, the National Research Council, was quite distinct from the core public service, with a different classification structure and, at least in part, distinct unions. The result was that collective bargaining outcomes among the separate employers had little impact on the much larger core public service domain. Of course the influence was strong in the other direction, if only because separate employer negotiating mandates and collective agreements required approval from the Treasury Board and the Governor-in-Council respectively.
Ratcheting of salaries
With the creation of the Canadian Food Inspection Agency (CFIA) in 1997, and in 1999 of Parks Canada and the Canada Customs and Revenue Agency (CCRA), the situation changed materially. These new separate employers, especially CCRA, are large compared with the core public service, and more independent in determining their compensation policy. They also inherited both the same classification structure and the same unions. The stage was thus set for some ratcheting of salary levels to occur, essentially between the core public service domain of about 170,000 employees and CCRA, which had approximately 50,000 workers.
Experience since 1999 suggests that this phenomenon has to some degree emerged. On one hand, CCRA settlements with its Auditing, Commerce and Purchasing (AV) bargaining unit and with its Computer Systems (CS) group created upward pressure for the Treasury Board with its analogous groups. On the other hand, Treasury Board's 2001 settlement with the Public Service Alliance (PSAC) regarding its four bargaining units forced CCRA to change its negotiating approach.
The AV case in 2000 illustrates many of the issues involved. For CCRA, the AV bargaining unit is dominated by auditors, who number about 4,900 of the 5,250 members. Needless to say, auditors are central to CCRA's business, and in 2000 the market for such expertise was competitive. It was therefore entirely reasonable for CCRA to accept an additional increment at the top of each pay level for its auditors. And because there were only about 350 other bargaining unit members in the Commerce (CO) and Purchasing (PG) classification groups, it was easy to apply the increases to the whole unit.
For the core public service domain, however, the AV bargaining unit comprised about 3,000 in the PG group, 2,000 COs, and only about 100 auditors. Although the Treasury Board successfully resisted extending the extra increment to its AV bargaining unit, expectations remain high that these employees will eventually catch up to their CCRA colleagues. This bargaining unit has chosen the arbitration route in the current round of bargaining, presumably in the hope that an arbitrator will rule in favour of matching CCRA's extra step.[50]
Conversely, the Treasury Board's inclusion of pay line harmonization for the Program Administration (PM), Administrative Services (AS), and Information Services (IS) groups in its 2001 settlement with PSAC's Program Administration (PA) bargaining group drove CCRA to replicate this feature in its own settlement, even though this move did not serve any pressing business need in CCRA. Also, the Treasury Board's approval of two additional leave days created headaches in CCRA where front-line service requires replacing absent staff. While this was also true in the core public service domain, the overall proportion of front-line staff and shift operations is not as great as for CCRA.
Without delving into the details of other cases, we can see that each employer has its own imperatives that can push to different outcomes in collective bargaining. There is little doubt that the result has been somewhat higher average salaries both in the core public service domain, and among separate employers–especially CCRA–than would have been necessary if either of the two worlds were more distinct or managed as one domain. The current middle ground–of different interests with more or less the same structures and unions–may be transitional, but in the meantime it favours ratcheting.
A substantial monetary benefit introduced in the 1997 to 2003 period is the recruitment and retention allowance. In 2002–03 recruitment and retention allowances adding up to about $77.4 million were paid to a total of about 15,500 employees in the core public service domain.
These allowances are often referred to as "terminable" since, in principle, they were implemented temporarily to respond to pay increases for hot skills in the relevant external labour markets. They do not form part of base salary. However, in practice, once implemented, there is strong pressure from employees, bargaining agents, and often departments to maintain these allowances and to integrate them into the regular pay structure even if the circumstances that justified them change.
The first such allowance in recent times was established for the Computer Systems (CS) group in 1997. The combination of the boom in the information technology of the late 1990s and the looming challenge of adapting computer systems to the new millennium provided the rationale for this allowance. Criteria were then defined for assessing the business case for establishing such an allowance for other groups.
As of the end of 2003, recruitment and retention allowances were in place for more than 16 sets of employees. The largest allowances are for:
forensic psychiatrists in the Correctional Service of Canada (CSC), ranging from $50,800 to $54,250 per year, and for
doctors, ranging from $13,850 to $23,750.
The groups with the largest number of employees receiving terminable allowances are:
the Computer Systems (CS) group whose more than 11,300 members are eligible for between $1,668 and $3,420, and
the more than 3,275 employees in the Engineers (EN) group who receive 15% of the average salary for their classification level.
Table 1015 gives some details on which groups receive terminable allowances, the range of the amounts to which they are entitled, and the estimated cost for each group in 2002–03.
Agreements in 1998 set up such allowances for scientific researchers at the Communications Research Centre, and for employees of the Defence Science (DS) group. In 1999, allowances were applied to the following groups:
Primary Product Inspection (PI)
Technical Inspection (TI)
Aircraft Operations (AO)


Table 1015

Summary of recruitment and retention (terminable) allowances in effect in the core public service domain*, March 2003.

Occupational group

Annual amounts established 
by the policy

Estimated costs 
($M) 2002–03

MD Medicine

$13,850 to $23,750

 

MD – MOF at CSC

$8,500 to $11,000

 

 

 

Forensic Psychiatrics at CSC

$50,800 to $54,250

 

PS – Psychology at CSC

$2,000 to $12,000

PS – Psychology at PSC

$2,000 to 7,500

NU – Nurses at CSC

$4,500

 

NU – Nurses

$4,500 annually

TI – Technical Inspection

$2,963 to $11,000

6.8

PI – Products Inspection at Grain C. in BC

$3,000 to $5,000

0.5

SE – Research Scientists

$8,000

0.5

DS – Defence Scientists

$8,000

4.2

CS – Computer Systems

$1,668 to $3,420

24.1

EN – Engineers

15% of average salary

26.6

SG – PAT

15% of average salary

1.9

AR

15% of average salary

2.4

UT – University Teaching

$3000

0.3

Other

 

2.5

Total

 

78.7

* Note: As discussed below, separate employers generally adopted similar allowances for the same groups.
In 2000, terminable allowances were extended to employees in these groups:
Medicine (MD)
Nursing (NU)
Psychology (PS) group employees working in remote and isolated First Nation communities
Architecture and Town Planning (AR)
Engineering and Land Survey (EN)
Patent sub-group of the Scientific Regulation (SG-PAT) group
In 2001 the following groups joined this trend:
University Teaching (UT)
Technical Services (TC)
Research (RE)
Health Services (SH) 
Finally, in 2003 terminable allowances were extended to the Applied Science and Engineering (AP) bargaining unit broadly, and the existing allowance for the Aircraft Operations (AO) group was increased.
Figure 1016 sets out the increase in the cost of terminable allowances. From a first year cost of $11.2 million in 1997 ($12.4 million in constant 2003 dollars), this area of compensation in the core public service domain grew by 2002–03 to $77.4 million. This is less than 1% of the total salary mass for this domain, but a significant amount both in absolute terms and in its value for the approximately 15,500 employees who benefit.
Figure 1016
Growth in the cost of recruitment and retention allowances in the core public service domain, 1997–98 to 2002–03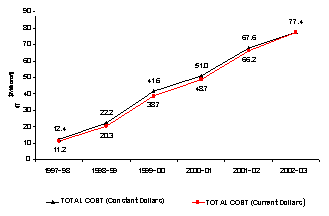 Separate employers
The separate employers also utilize recruitment and retention allowances. At CCRA over 3,700 or about 7% of the population receive such payments. The largest group of recipients are the Computer Systems (CS) group (over 3,300). The total value in 2002–03 was about $8.7 million. Other examples include:
The NRC pays an allowance of $8,000 per year for their Research Officers and Research Council Officers, for a total expenditure in the order of $10 million.
Parks Canada paid about $680,000 in terminable allowances to a total of 132 employees in the Computer Systems (CS), Architecture and Town Planning (AR) and Engineering and Land Surveying (EN) groups.
CFIA pays terminable allowances for the same groups, where they are present, and on the same basis as in the core public service domain. In 2002–03, CFIA paid 141 CS employees about $278,000.