ARCHIVED - Social Sciences and Humanities Research Council

This page has been archived.
Archived Content
Information identified as archived on the Web is for reference, research or recordkeeping purposes. It has not been altered or updated after the date of archiving. Web pages that are archived on the Web are not subject to the Government of Canada Web Standards. As per the Communications Policy of the Government of Canada, you can request alternate formats on the "Contact Us" page.
SECTION III: SUPPLEMENTARY INFORMATION
Financial Highlights
For the Period Ending March 31, 2009
Condensed Statement of Financial Position

| ($ thousands) | Percentage Variance | 2009 | 2008 |
| --- | --- | --- | --- |
| Total Assets | 4.9% | 7,438 | 7,093 |
| Total Liabilities | 12.5% | 8,356 | 7,427 |
| Total Equity | 174.9% | (918) | (334) |
| Total Liabilities and Equity | 4.9% | 7,438 | 7,093 |
For the Period Ending March 31, 2009
Condensed Statement of Operations

| | ($ thousands) | Percentage Variance | 2009 | 2008 |
| --- | --- | --- | --- | --- |
| Expenses | Total Expenses | -0.3% | 680,950 | 682,942 |
| Revenues | Total Revenues | 0% | 2 | 2 |
| Net Cost of Operations | | -.0.3% | 680,948 | 682,940 |
Financial Highlights Chart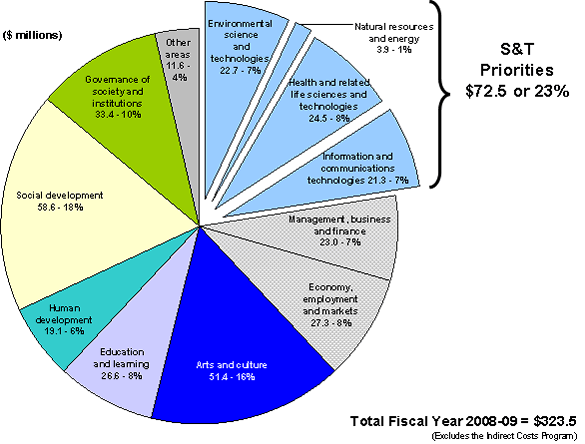 Financial statements for 2008-09 can be found on SSHRC's website at:
http://www.sshrc-crsh.gc.ca/site/about-crsh/publications/pub_ar-ra-eng.aspx.
The following tables can be found on the Treasury Board of Canada Secretariat's website at http://www.tbs-sct.gc.ca/dpr-rmr/2008-2009/index-eng.asp:
Table 1: Sources of Respendable and Non-Respendable Revenue
Table 2: Details on Transfer Payment Programs
Table 3: Internal Audits and Evaluations
Continuous Improvement of Programs
One of the initiatives linked to SSHRC's Priority 1: Optimize Program Design and Delivery to Strengthen Canada's People and Knowledge Advantages is continuous improvement of SSHRC's programs. In 2008-09, SSHRC dedicated resources to this priority, developing a framework that includes a careful review of SSHRC's program architecture guided by principles of excellence, coherence and flexibility. A key continuous improvement initiative was the blue ribbon panel assessment of SSHRC's peer-review process. It should also be noted that the analyses conducted under Strategic Review were instrumental in setting priorities for the Continuous Improvement initiative.
A Harmonized Research Landscape
SSHRC is actively engaged with NSERC and CIHR in efforts to harmonize and consolidate, where appropriate, research and research-related activities in support of the federal S&T strategy. A number of working groups are addressing issues such as research areas that cross agency mandates; design of a new mechanism for the review and funding of initiatives that are related to more than one agency mandate; examination of barriers to an integrated approach to training programs; and development of a co-ordinated approach to thematic priorities. Work is also underway to build a set of guiding principles that would help frame a harmonized policy on open access and on other potential areas, such as tri-agency policy statements on ethics and on integrity. Work has also progressed on sharing best practices in peer review.
SSHRC's Business Transformation Initiative also supports the harmonization priority, and includes efforts to develop integrated business processes and maximize the use of new technologies to that end. With the goal of enhancing and streamlining application and peer-review processes, SSHRC, in co-operation with NSERC, conducted an assessment of a new electronic application portal, the Enterprise Award Management System, in 2008. In addition to serving the needs of students and researchers, the system will increase the councils' capacity to meet their growing program delivery and award administration requirements. More than 4,000 applicants, assessors and reviewers participated in the pilot testing of the new approach.

Improved Reporting on Results and Impacts of Research
Fundamental to SSHRC's mandate is a responsibility to demonstrate to Canadians that the research supported by the agency leads to tangible results. Traditional S&T indicators and tools for measuring performance do not capture the full range of outcomes/impacts of social sciences and humanities research. SSHRC is therefore exploring innovative approaches to capturing the impacts of research through a combination of qualitative and quantitative methods. Examples include the new Student Career Survey currently underway, which tracks the career progression of SSHRC scholarship and fellowship holders from the late 1990s.
SSHRC has also launched a number of learning research projects to help shape new approaches to measuring and capturing the impacts of research. One study, entitled The Economic Role and Influence of the Social Sciences and Humanities: A Conjecture, estimated that industries that rely primarily on social sciences and humanities inputs account for $696.7 billion of Canada's annual gross domestic product output. It also noted that the social sciences and humanities influence $389 billion of economic activity. Other examples of impact measurement in 2008 include the secondary data analysis produced by Science-Metrix (How is Social Sciences and Humanities Research Being Used?) and the EKOS survey that found a generally positive outlook on social sciences and humanities research on the part of the public, despite an admitted lack of familiarity with this branch of research.
In addition, proactive outreach to academic, public, private and non-governmental (NGO) sectors has resulted in a greater awareness of the value of social and humanities research. Dialogue, SSHRC's quarterly e-newsletter, reaches a broad readership, including researchers, academics, students, and key decision-makers in government, business, academic and NGO sectors. As well, attendance by members of Parliament at the Breakfast on the Hill series, featuring SSHRC-funded researchers, has increased, with MPs joining an average of 200 attendees per event. SSHRC has also actively participated in high-profile national events such as National Science Day; the Congress of the Humanities and Social Sciences; the annual conference of the Canadian Association of University Research Administrators; and the provincial deputy ministers' conference. Such outreach and communications activities combine to increase public awareness and communicate the impacts of social sciences and humanities research.
Finally, SSHRC celebrated its 30th anniversary in 2008. In a special commemorative book, SSHRC showcased 30 key research contributions across many disciplines by grant recipients since 1978. The book emphasized the key role that social sciences and humanities have played in developing a successful society.
Improved Performance, Evaluation and Audit Approaches
In addition to an increased number of completed and ongoing program evaluations and audits, SSHRC has focused on developing an enhanced approach to performance, evaluation and audit methods to inform decision-makers and program managers. A Performance and Evaluation Committee chaired by SSHRC's president, and a similar committee for audit purposes, have been established to advise decision-making at the senior management level. SSHRC's evaluation processes and procedures are in compliance with the new Treasury Board of Canada Secretariat's Policy on Evaluation.
1
Known as "Tier 1" Chairs, tenable for seven years, compared to junior, "Tier 2" Chairs, tenable for five years.