ARCHIVED - RCMP External Review Committee

This page has been archived.
Archived Content
Information identified as archived on the Web is for reference, research or recordkeeping purposes. It has not been altered or updated after the date of archiving. Web pages that are archived on the Web are not subject to the Government of Canada Web Standards. As per the Communications Policy of the Government of Canada, you can request alternate formats on the "Contact Us" page.
Table - User Fees Act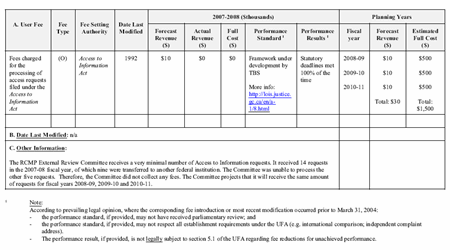 Click on image to enlarge.
Table - Policy on Service Standards for External Fees
A. External Fee
Service Standard1
Performance Result2
Stakeholder Consultation
Fees charged for the processing of access requests filed under the Access to Information Act
Framework under development by TBS

More info: http://lois.justice.gc.ca/en/a-1/8.html

Statutory deadlines met 100% of the time
The service standard is established by the Access to Information Act and the Access to Information Regulations. Consultations with stakeholders were undertaken for amendments done in 1986 and 1992.
B. Other Information: n/a
1. As established pursuant to the Policy on Service Standards for External Fees:
service standards may not have received parliamentary review; and
service standards may not respect all performance standard establishment requirements under the UFA (e.g. international comparison; independent complaint address).
2. Performance results are not legally subject to section 5.1 of the User Fees Act regarding fee reductions for unachieved performance.