ARCHIVED - Status of Women Canada

This page has been archived.
Archived Content
Information identified as archived on the Web is for reference, research or recordkeeping purposes. It has not been altered or updated after the date of archiving. Web pages that are archived on the Web are not subject to the Government of Canada Web Standards. As per the Communications Policy of the Government of Canada, you can request alternate formats on the "Contact Us" page.
Section I – Departmental Overview
Minister's Message
As Minister of State (Status of Women), I am pleased to present Status of Women Canada's Departmental Performance Report for 2007–2008. The report outlines the important achievements of this agency over the last fiscal year and demonstrates how it continues to fulfill its mandate.
First, I would like to say that I am honoured to be appointed Minister of State (Status of Women). As the first ministerial post dedicated exclusively to the status of women, this designation represents Canada's continued commitment to advancing equality for women in our society.
The year 2007–2008 was a period of transformation for Status of Women Canada. Budget 2007 provided an additional $10 million in funding, bringing Status of Women Canada's total annual budget to a record $29.9 million.
The mandate of the Women's Program was revised and two new funding components were created: the Women's Community Fund and the Women's Partnership Fund. These changes enabled Status of Women Canada to broaden the reach of the Women's Program, to build strategic partnerships, to leverage resources and to achieve results that have a direct impact on women.
The Partnership Fund focuses on removing obstacles to women's full participation in all areas of Canadian life. In 2007–2008, 14 collaborative projects were undertaken under this Fund, all designed to create systemic changes for women across society. These projects benefited from new partnerships with seven federal departments, 13 provincial/territorial ministries and 39 private-sector and other organizations, leveraging $15.7 million in financial and in-kind contributions. With these strategic in-vestments in women, we are contributing to Canada's success.
By helping various organizations take gender into account in the development, analysis and implementation of public policies and programs, we also made progress to-ward enhanced accountability on gender equality.
As one of the 15 member departments and agencies of the federal Family Violence Initiative, Status of Women Canada addresses the very serious issue of violence against women and girls in Canada. In 2007–2008, Status of Women Canada continued its work as Canada's voice in international fora and with our provincial and territorial partners to advance equality for women.
The results outlined in this report demonstrate our continuing commitment to women, their families and their communities. We will invest strategically in creating the conditions for success that will enable women to become full and active participants in all aspects of Canadian life. Canada's continued economic growth and prosperity depend on the very significant contributions of women.
In 2007–2008, as a Canadian Heritage Portfolio agency, Status of Women Canada contributed to the advancement of equality for women and their full participation in all areas of Canadian society. In the coming months, Status of Women Canada will continue to support Government priorities, focusing on advancing the economic security and prosperity of women, on promoting women's safety at home and in their communities, and particularly on ending violence against women and empowering women to assume leadership roles in Canadian institutions.
As a Canadian Heritage agency, Status of Women Canada has helped to create a more prosperous nation, where Canadians of all generations and all backgrounds can take part in the rich social, cultural and economic life this country has to offer.
The Honourable Helena Guergis
Minister of State (Status of Women)


Management Representation Statement
I submit for tabling in Parliament the 2007–2008 Departmental Performance Report for the Office of the Coordinator, Status of Women (Status of Women Canada).
This document has been prepared based on the reporting principles contained in the Guide for the Preparation of Part III of the 2007–2008 Estimates: Reports on Plans and Priorities and Departmental Performance Reports:
It adheres to the specific reporting requirements outlined in the Treasury Board Secretariat guidance.
It is based on the Department's Strategic Outcome and Program Activity Architecture that were approved by the Treasury Board.
It presents consistent, comprehensive, balanced, and reliable information.
It provides a basis of accountability for the results achieved with the resources and authorities entrusted to it.
It reports finances based on approved numbers from the Estimates and the Public Accounts of Canada.
Clare Beckton
Coordinator
Summary Information
The role of the Office of the Coordinator, Status of Women (Status of Women Canada – SWC) is to promote the full participation of women in the economic, social, cultural, and political life of Canada. To play this role effectively, SWC works in collaboration with other federal departments and agencies, different levels of government, non-governmental organizations (NGOs), and the private sector. SWC also works with other countries and international organizations to meet Canada's international obligations and to further its domestic and foreign policies regarding equality for women and men.
The legal mandate of SWC is "to coordinate policy with respect to the status of women and administer related programs." In fulfilling its mandate, SWC seeks to achieve an enduring benefit for Canadians, that of "gender equality and the full participation of women in the economic, social, cultural and political life of Canada." This strategic outcome requires the contributions of different players, and SWC's role is important in its realization. Thus, the SWC strategic framework identifies key expected results that serve as milestones to monitor progress and contribute to the achievement of this societal outcome.
This report provides performance information on the basis of the Management Resources and Results Structure (MRRS). The Program Activity Architecture (PAA) for 2007–2008 will be used to present the two program activities and their expected results and to demonstrate how these results contribute to the SWC strategic outcome. The PAA being reported on has changed for 2008–2009, and the modified activities will be presented in the next year's DPR. The SWC investment, both human and financial resources, towards the achievement of these results will also be presented, as will the alignment between SWC Program Activities and the Government of Canada outcomes.
The year 2007–2008 was a period of transition for SWC because of changes to its outcomes, funding mechanisms, organizational structure, governance, and human and financial resources. While carrying out its ongoing activities, SWC implemented the following four program and corporate priorities to enhance efficiency and improve results:
Strengthen accountability in the federal government for gender-based analysis;
Focus Women's Program funding on projects that enhance the full participation of women in Canadian society;
Develop and implement a Values and Ethics Framework;
Review and improve SWC Authorities and enhance understanding of Parliamentary supply processes.
SWC Program Activity Architecture Results Chain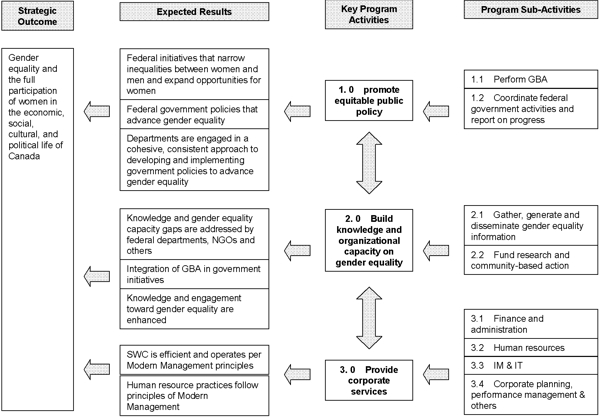 Financial resources 2007–2008 ($ millions)

a Budget 2007 provided SWC with an additional $10 million in funding, bringing the total annual budget for SWC to $29.9 million. However, for 2007–2008, this amount does not include a transfer of $200,000 from the Department of Canadian Heritage for the development of Official Language Minority Communities (Interdepartmental Partnership with Official Language Communities), bringing to $30.1 million the total authorities for 2007–2008.
Human resources 2007–2008 (FTEs)

Departmental Priorities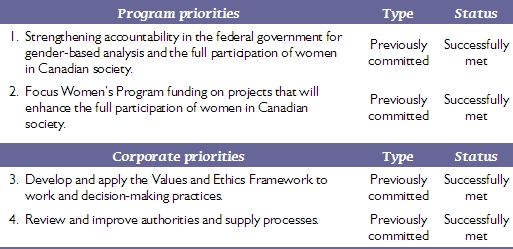 The following table shows the two program activities with their corresponding results and the links with the 2007–2008 priorities. As well, planned and actual spending are identified.
Program Activities by Strategic Outcome
Strategic Outcome: Gender equality (GE) and the full participation of women in the economic, social, cultural, and political life of Canada.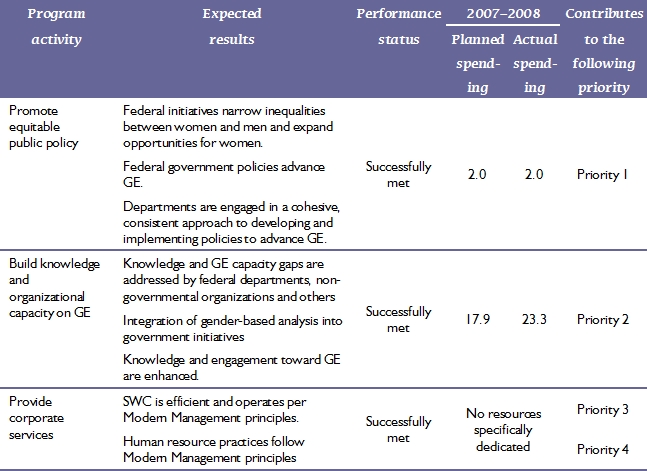 Summary of Departmental Performance
The Context
Gender Equality—Gains and Gaps
SWC carries out environmental scans to assess the overall context so that it can develop strategies to address the historical trends and evolving issues that impact equality between women and men. Accordingly, the analyses conducted show that SWC carries out its mandate in a context in which encouraging progress is being made in the overall status of women. For example, as the next table on this page shows, women have made inroads in higher education (e.g., entering fields where they were traditionally under-represented), income, workplace representation, and others.
In 2006, 18% of women aged 15 and over had a university degree, up from 10% in 1991 and just 3% in 1971.
In May 2008, women increased their labour force participation rate to 62.4%. This is a record high level of participation (Source: Statistics Canada).
The average income of women in 2005 was almost 8% higher than the figure in 2000.

Source: Statistics Canada (Women in Canada 2005)
In spite of the progress made with regard to the status of women, gaps remain in key areas between women and men. For example, women remain concentrated in traditional occupations. According to Statistic Canada (Women in Canada, 5th edition), 67% of all employed women (compared with 30% of all employed men) work in teaching, nursing, and related health occupations; clerical or other administrative positions; and sales and service. Also, women earn less than men in almost every age group. Moreover, these gaps are disproportionately present among specific groups of women.
Median earnings of full-time, full-year employees, 2005

Source: Statistics Canada (Women in Canada 2005)
Women in Leadership1
In 2007, women accounted for 4.2% of company heads, 5.4% of top earners, 7.3% of senior executives, and 12% of board directors (Financial Post top 500 list).
Of the 535 highest paid and most senior positions at those companies, only 5.8% are held by women (down from 6.9% in the previous year).
In 2006, women accounted for almost 54% of all employees in the federal public service. But they are still overrepresented in traditional and underrepresented in non-traditional occupations:

81% of administrative support positions
72.5% of program and administrative positions
29.1% of positions in computer system
31.9% of technical support positions
1 Sources: Catalyst (2007). Census of Women Board Directors of the Financial Post 500: Voices from the Boardroom; and Rosenzweig & Company (2008). Report on Women at the Top Levels of Corporate Canada.
Violence Statistics
According to the United Nations Development Fund for Women (UNIFEM), at least one of every three women around the world has been beaten, coerced into sex, or otherwise abused in her lifetime—with the abuser usually being someone known to her.2
According to Statistics Canada: Women in Canada 2005; Family Violence in Canada: A Statistical Profile, 2006 and 2007, Measuring Violence Against Women—Statistical Trends 2006:
In 2004, female victims accounted for 86% of sexual assaults, 69% of kidnapping/abductions, and 79% of criminal harassment incidents reported to police.
Women were twice as likely as men to be injured as a result of spousal violence (44% versus 19%).
The spousal homicide rate for Aboriginal women is more than eight times the rate for non-Aboriginal women, and Aboriginal women are three times more likely to report having been assaulted by a current or former spouse.

2 In-Depth Study on All Forms of Violence against Women: Report of the Secretary General, 2006. A/61/122/Add.1. July 6, 2006.
Operating Environment
In 2007–2008, change was the dominant theme for SWC; thus, the reporting year was a period of transition. SWC therefore took measures to manage internal and external changes so as to ensure the effective implementation of its priorities and ongoing activities.
In Budget 2007, the Government of Canada announced additional monies to SWC on an ongoing basis. The additional $10 million a year brought the total budget for SWC to $29.9 million, the highest funding level in the history of the organization. The Women's Program was, therefore, augmented and dedicated to supporting projects that have a direct impact on women in their communities.
This increase to SWC's budget followed the efficiency review of September 2006, which consolidated the SWC operations at a savings of $5 million. As a result of this exercise, SWC regional offices were consolidated into four points of service while measures were taken to enhance efficiency in program delivery. Also, the Policy and Gender-based Analysis directorates were consolidated, and SWC continued to work in collaboration with other federal institutions to support its policy research activities.
On April 1, 2007, the program delivery mechanism was streamlined with the introduction of two new funding components: the Women's Community Fund (WCF) and the Women's Partnership Fund (WPF), thus enabling SWC to widen its reach and to promote partnerships in support of its work for equality for women. The WPF was introduced to ensure targeted interventions to remove systemic barriers that impede the participation of women and girls in key spheres of Canadian life.
With the introduction of a call for proposals process, the WP made a transition from a responsive to a more open and competitive funding program, particularly for the WCF. The year 2007–2008 saw the launch of the first two calls for proposals, on June 4 and November 1, 2007.
Furthermore, in December 2007, Treasury Board approved the revised WP mandate, "to advance the equality of women across Canada through the improvement of their economic and social conditions and their participation in democratic life." Given that the two calls for proposals were issued before this change, many of the projects funded in 2007–2008 fell under the previous mandate of the WP—i.e., "to facilitate women's participation in Canadian society by addressing their economic, social, and cultural situation through Canadian organizations."
During 2007–2008, SWC was required to engage in significant workforce adjustment and in a number of staffing actions.

Opportunities and Risks
In its Report on Plans and Priorities, SWC had indicated that the main challenges and risks would be identified during the implementation of the new organizational structure and internal and external processes. The year was, therefore, a period in which SWC saw opportunities and managed potential risks.
Opportunities
In 2007–2008, the House of Commons Standing Committee on the Status of Women tabled 13 reports, including two that required a Government response, one of which was from SWC. In addition to leading the process for the Government response to the report The Impacts of Funding and Program Changes at SWC, the organization responded to requests for information, and its officials appeared before the Committee on five occasions. With regard to opportunities, the Committee studied issues of great impact on Canadian women, and its reports shed light on ways to advance the status of women in Canadian society.
The changes to the organizational structure, governance, human and financial resources, and program delivery model also resulted in further opportunities and challenges. The changes brought opportunities for a more coherent organization, with focused results that directly impact women in their communities. During the transition period, SWC saw a significant increase in the uptake of its funding and greater diversity among its funding recipients.
The WPF provided opportunities for SWC to leverage resources and develop partnerships with federal institutions, other levels of government, non-governmental organizations, and the private sector to promote the full participation of women in Canadian society. The WPF can be used to support collaborative projects that address critical issues in key areas and that help to remove systemic barriers to women's participation in the economy, in our society and in political life.

Risks
Given the nature and scope of the changes introduced in 2006–2007, risk management was a key priority during the reporting year both in the strategic direction and the operations of the organization. Although SWC has sufficient control mechanisms to manage inherent risks, it is recognized that the organization must develop an integrated risk management strategy. Development of a corporate risk profile is therefore planned for 2008–2009.
The requests by the Standing Committee, while providing opportunities, were viewed as a potential risk, given the demand on SWC to mobilize a significant proportion of its human resources to monitor proceedings, prepare for appearances, and respond to enquiries, which had the potential to affect SWC efforts in priority areas. The mitigation strategy to meet associated risks was the effective coordination of SWC efforts related to the Committee while responding to the Committee's requests to the fullest extent possible. As a result, Committee members are more aware of SWC's resources, the organization's outcomes, and the work being done throughout the Government of Canada and around the world on gender budgets. This increased awareness has had some influence on the decisions taken by the Committee.
In 2007–2008, SWC received 57 requests for access to Information compared to 38 in the previous year. With the increased number of ATIP requests, the complexity of issues to be addressed, and the lack of human resources to manage the workload, SWC identified a potential risk to its ability to meet its legislative obligations under the Access to Information Act and, subsequently, public complaints with regard to access to information. As a mitigation strategy, senior management committed to reviewing staffing requirements for this function as a priority and took measures to increase ATIP staff by one full-time equivalent (FTE) to deal with the increased workload, to engage a contractor at the management level to assist in streamlining processes, and to enhance the application of specialized software.
In implementing the two new funding components, SWC made considerable efforts to ensure efficient delivery of the WP. The success in this regard was evident in the WCF, with a 69 per cent increase in funding uptake. In contrast, the delivery of the WPF was challenging because of the time it took for groups to realize the potential of this component and because of the complex and lengthy process of building partnerships through collaborative projects. SWC is taking action to enhance the delivery of this funding component in 2008–2009.

Departmental Priorities
In 2007–2008, SWC identified four program and corporate priorities to help achieve the expected results, to facilitate progress toward the strategic outcome, and to enhance organizational performance. To implement these priorities effectively, SWC took various measures, including adapting new approaches, streamlining existing systems, investing strategically, enhancing processes, and building staff capacity.
Program Priorities
In implementing its first program priority (strengthening accountability in the federal government for gender-based analysis and for the full participation of women in Canadian society), SWC made strategic interventions by way of capacity building, policy advice, and assistance to federal institutions. As a result, there is an increased response to SWC efforts to strengthen federal accountability for GBA, leading toward the integration of gender considerations in public policies and programs.
The second priority (focus the Women's Program on funding projects that will advance the full participation of women in Canadian society) was implemented by instituting key changes to the funding program, including the use of calls for proposals, proactive outreach to potential funding recipients, and an enhanced and standard review process. These changes, among others, facilitated a greater focus on projects that demonstrate results that have a direct impact on women so that they are equipped to become full participants in society.
Corporate Priorities
In response to the Management Accountability Framework assessment (2006), SWC also identified two corporate priorities. To implement the first corporate priority, (i.e., development and implementation of Values and Ethics Framework), the SWC Executive Committee endorsed an action plan that involves the development of an organizational code of conduct which is in compliance with the Public Servants Disclosure Protection Act. A corporate-wide process was launched during the reporting year to engage staff in defining departmental values. At the same time, discussions have begun to explore the augmentation of existing support structures and recourse mechanisms available to staff, through a Memorandum of Understanding with Canadian Heritage and other measures, as appropriate.
To implement the second priority (review and improvement of SWC Authorities and enhancing understanding of the Parliamentary supply processes), internal controls in financial systems were implemented to segregate the different departmental authorities, training was offered to management, and key positions were filled with staff that brought the expertise required in this area. As a result, there is increased awareness within the organization of the Parliamentary supply process and the associated requirements, and an improved review process and appropriate use of the legal authorities bestowed on the organization.