ARCHIVED - RPP 2007-2008
Human Resources and Social Development Canada

This page has been archived.
Archived Content
Information identified as archived on the Web is for reference, research or recordkeeping purposes. It has not been altered or updated after the date of archiving. Web pages that are archived on the Web are not subject to the Government of Canada Web Standards. As per the Communications Policy of the Government of Canada, you can request alternate formats on the "Contact Us" page.
Section I Overview
Human Resources and Social Development Canada Overview
Departmental Overview
Introduction
The Department of Human Resources and Social Development Canada (HRSDC) was created on February 6, 2006, through the consolidation of the former Departments of Human Resources and Skills Development and Social Development. HRSDC has a broad social and economic mandate, which affects every Canadian. The Department is responsible for providing Canadians with the tools to thrive and prosper in society and the economy through access to learning and training opportunities, safe and productive working conditions and labour-management relations, as well as for policies, programs and services that support the social well-being of individuals and families and their participation in society and the economy.
HRSDC's vision is to build a stronger and more competitive Canada, to support Canadians in making choices that help them live productive and rewarding lives, and to improve Canadians' quality of life.
Human Resources and Social Development Canada
HRSDC has over 23,000 employees in the National Capital Region and in regional and local offi ces across the country, including more than 19,000 assigned to Service Canada.
To deliver on its mandate, HRSDC provides programs and services to millions of Canadians. HRSDC provides income support to Canadians through benefits that Parliament has legislated, such as Old Age Security and the Canada Pension Plan. In addition, Employment Insurance delivers temporary income support to unemployed Canadians as well as employment programs and services that enable Canadians to prepare for, find and keep employment.
HRSDC promotes lifelong learning by encouraging workplace skills development in Canadian workplaces, and by developing and disseminating information about the labour market. The Department also invests in learning by facilitating access to post-secondary education and adult learning opportunities, as well as reducing barriers to adult learning and literacy and early childhood development.
HRSDC's social policies and programs help to ensure that children and families, seniors, people with disabilities, homeless persons, communities and others facing barriers have the support and information they need to maintain their well-being and facilitate their participation in society and the workplace. HRSDC is responsible for a number of key initiatives that contribute to these objectives including the Universal Child Care Benefit, the Homelessness Partnership Initiative, the Opportunities Fund for Persons with Disabilities, and the New Horizons for Seniors program.
Through the Labour Program, HRSDC promotes and sustains stable industrial relations and safe and effective workplaces within the federal labour jurisdiction. The Department also fosters constructive labour-management relationships, carries out labour-related research, and negotiates and implements trade-related international labour agreements.
Ensuring Canadians have the tools they need to participate fully in society and a knowledge-based economy requires the active participation of provinces, territories and partners with the Department acting as a catalyst. Given the shared responsibility for many of the Department's programs and policy areas, cooperation with provinces and territories is required. HRSDC is building on established relationships through multilateral and bilateral fora. Employers and unions have an important role in workplace skills investments. Promoting socio-economic well-being also involves working in partnership with the community not-for-profit sector, learning partners, community groups, including official language minority communities, and the private sector to develop integrated and complementary program approaches and provide information and services to Canadians. www.hrsdc.gc.ca
Service Canada
Service Canada provides citizens with a single-window access to services from the federal government. The initiative builds on what Canadians have told government they want and on the "best practices" in service excellence found within Canada and around the world. Service Canada builds on over a decade of work within the Government of Canada to improve the delivery of services to Canadians.
Service Canada has been delivering a growing number of services and benefits on behalf of federal departments and agencies and providing Canadians with increased choice and access. Today, the Service Canada delivery network brings together 493 points of service in communities throughout Canada; a national 1 800 O-Canada telephone service providing Canadians with information about all federal government services; and a range of on-line services at www.servicecanada.gc.ca.
Service Canada is partnering with a number of federal departments and agencies to deliver services on their behalf and is identifying further opportunities to partner with departments and agencies, other orders of government and community partners to strengthen the quality of service for Canadians and the cost-effectiveness of programs and services.
Strategic Outcomes
HRSDC's programs and services are designed to achieve results across a broad range of social and labour market outcomes. Five strategic outcomes form the structure for reporting plans, priorities and resources in this report:
Policies and programs that meet the human capital and social development needs of Canadians;
Enhanced Canadian productivity and participation through efficient and inclusive labour markets, competitive workplaces and access to learning;
Safe, healthy, fair, stable, cooperative, productive workplaces and effective international labour standards;
Enhanced income security, access to opportunities and well-being for individuals, families and communities;
Achieve better outcomes for Canadians through service excellence.
DEPARMENT OF HUMAN RESOURCES AND SOCIAL DEVELOPMENT PROGRAM ACTIVITY ARCHITECTURE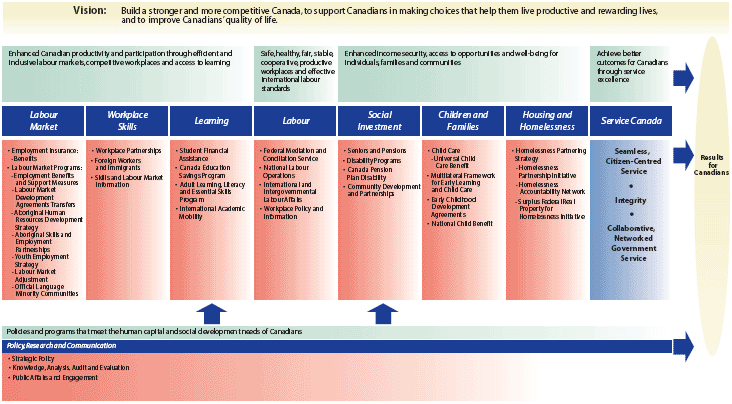 Mandate
On February 6, 2006, Human Resources and Skills Development Canada and the former Social Development Canada were consolidated into the Department of Human Resources and Skills Development to be styled Human Resources and Social Development. The powers, duties and functions of the Minister of Social Development were transferred to the Minister of Human Resources and Skills Development, and the Minister was styled as Minister of Human Resources and Social Development. This Minister was also made responsible for the Canada Mortgage and Housing Corporation. Further, a Secretary of State for Seniors was appointed on January 4, 2007 to ensure seniors issues are adequately addressed.
Until new legislation is enacted, the Minister will rely on the provisions of the Department of Human Resources and Skills Development Act and the Department of Social Development Act for specific authorities.
The Department of Human Resources and Skills Development Act defines the powers, duties and functions of the Minister of Human Resources and Skills Development, the Minister of Labour, and of the Canada Employment Insurance Commission. The legislative mandate of Human Resources and Skills Development is to improve the standard of living and quality of life of all Canadians by promoting a highly skilled and mobile labour force and an efficient and inclusive labour market. The Minister of Human Resources and Skills Development has overall responsibility for the employment insurance system, while the administration of the Employment Insurance Act is the responsibility of the Canada Employment Insurance Commission.
The Department of Human Resources and Skills Development Act provides for the appointment of a Minister of Labour who is responsible for the Canada Labour Code and the Employment Equity Act, as well as other legislation on wages and working conditions. The departmental statute provides that the Minister of Labour make use of the services and facilities of the Department. The Act also sets out the mandate of the Minister of Labour to promote safe, healthy, fair, stable, cooperative and productive workplaces.
The Department of Social Development Canada Act defines the powers, duties and functions of the Minister of Social Development. The mandate of Social Development Canada is to promote social well-being and security. In exercising the power and performing the duties and functions assigned by this Act, the Minister is responsible for the administration of the Canada Pension Plan, the Old Age Security Act, and the National Council of Welfare, and the Universal Child Care Benefit Act.
Service Canada operates within the legislative mandate and framework of the current departmental legislation (Department of Human Resources and Skills Development Act and the Department of Social Development Act). Its mandate is to work in collaboration with federal departments, other levels of government and community service providers to bring services and benefits together in a single service delivery network.
On June 1, 2006, the Policy Research initiative was transferred from the Privy Council Office to the Department. It leads horizontal research projects in support of the medium-term policy agenda of the Government of Canada and identifies data needs and priorities for future policy development.
Expenditure Profile
Human Resources and Social Development Canada has planned expenditures on programs and services of more than $84 billion, of which almost $79 billion, or almost 93%, directly Benefits Canadians through Employment Insurance, the Canada Pension Plan, Old Age Security, loans disbursed under the Canada Student Financial Assistance Act and other statutory transfer payment programs. The Department has planned spending of $1.2 billion in voted grants and contributions; $35.6 billion in statutory grants and contributions; and $2.1 billion for Employment Insurance Part II.
The financial strategy for Service Canada establishes that statutory funds, including Employment Insurance, Canada Pension Plan, Old Age Security and voted grants and contributions related to the delivery of specified programs will be allocated annually by HRSDC.
Diagram 2: HRSDC Expenditure Profile - Consolidation Total $ 84,7000.4 M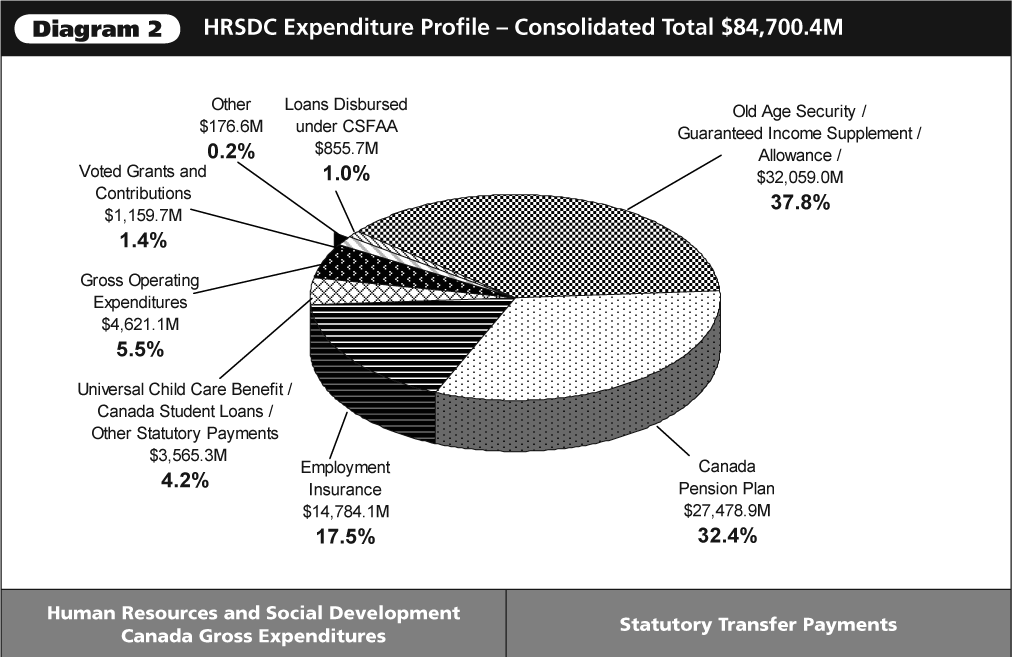 HUMAN RESOURCES AND SOCIAL DEVELOPMENT CANADA - GROSS EXPENDITURES
Budgetary
Net Operating Costs
2,909.9
Add Recoveries in relation to:
Canada Pension Plan
249.2
Employment Insurance Account
1,382.6
Workers Compensation
79.4
1,711.2
Gross Operating Costs
4,621.1
Voted Grants and Contributions
1,159.7
Total Gross Expenditures
5,780.8
Other - Workers' Compensation and EI/CPP Charges and Recoveries
176.6
Non-Budgetary
Loans disbursed under Canada Student Financial Assistance Act (CSFAA)
855.7

STATUTORY TRANSFER PAYMENTS

Grants and Contributions:
Old Age Security programs
24,093.0
Guaranteed Income Supplement
7,413.0
Allowances
553.0
Other Statutory Payments:
Universal Child Care Benefits
2,460.0
Canada Student Loans
466.2
Canada Education Savings Grant
540.0
Canada Learning Bond
25.0
Wage Earner Protection Program

28.7
Others
0.1
3,520.0
Sub-Total
35,576.0
Canada Pension Plan benefits
27,478.9
Employment Insurance benefits
Part I
12,641.0
Part II
2,143.1
14,784.1
Other Specified Purpose Accounts
45.3 a
Total Statutory Transfer Payments
77,887.3
a. This amount includes payments related to Government Annuities Account and Civil Service Insurance Fund.
Table 1: Human Resources and Social Development Canada Financial and Human Resources
Planned Spending
2007-2008
2008-2009
2009-2010
Financial Resources (in millions of dollars)
Operating Expenditures (gross)
4,621.1
2,636.1
2,606.7
Voted Grants and Contributions
1,159.7
1,088.1
917.2
Statutory Grants and Contributions
35,579.0
36,983.2
38,486.4
Total Gross Expenditures
41,359.8
40,707.4
42,010.3
Loans disbursed under the
Canada Student Financial Assistance Act
855.7
749.3
607.0
CPP Benefits
27,478.9
28,881.9
30,381.0
EI Part I - Income Benefits
12,641.0
12,936.0
13,105.0
EI Part II - Employment Benefits and Support Measures
2,143.1
2,143.1
2,143.1
Government Annuities and Civil Service Insurance Payments
45.3
42.6
40.0
Total
84,523.8
85,460.3
88,286.4
Other Departmental Costs
EI Doubtful Accounts
58.0
60.0
62.0
EI Administration Costs - Other Government Departments
65.0
60.1
53.7
CPP Administration Costs - Other Government Departments
133.0
134.3
134.5
Workers' Compensation Recoveries
(79.4)
(78.4)
(80.4)
Consolidated Total
84,700.4
85,636.3
88,456.2
Human Resources
Full Time Equivalents
23,437
23,004
22,665
Table 1A: Program Activities by Strategic Outome
Planned Spending (in millions of dollars)
2007-2008
2008-2009
2009-2010
Strategic Outcome: Policies and programs that meet the human capital and social development needs of Canadians
Policy, Research and Communication
197.5
195.1
200.9
Strategic Outcome:Enhanced Canadian productivity and participation through efficient
Labour Market
15,406.7
15,638.8
15,761.2
Workplace Skills
231.7
210.0
190.1
Learning
2,100.0
1,984.2
17,819.4
Sub-Total
17,720.4
17,833.0
17,819.4
Strategic Outcome:Safe, healthy, fair, stable, cooperative, productive workplaces and effective international labour standards
Labour
271.5
254.7
259.0
Strategic Outcome: Enhanced income security, access to opportunities,
social inclusion and well being for individuals, families and communities
Social Investment
59,971.1
62,738.5
65,714.6
Children and Families
2,481.2
2,491.5
2,501.8
Housing and Homlessness a
144.5
148.3
0.7
Sub - Total
62,596.8
65,378.3
68,271.1
Strategic Outcome:Achieve better outcomes for Canadians through service excellence (Service Canada)
Seamless, Citizen-Centred Service b
2,479.6
546.2
538.8
Integrity
1,029.6
1,026.6
1,025.1
Collaborative, Networked Government Services
228.4
226.4
226.1
Sub - Total
3,737.6
1,799.2
1,790.0
Total
84,523.8
85,460.3
88,286.4
a A new program, the Homelessness Partnering Strategy, was announced in December 2006 and is funded for two years (2007 - 2008 and 2008 - 2009).
b Common Experience Payments to former Indian Residential Schools students represent $1.9 billion for 2007 - 2008(pending approval of the Settlement Agreement).
Context
Social and Economic Context
Canadians are a proud, hard-working, ambitious people who want better lives for themselves, their children and future generations. In today's world, Canada's economy and society is facing emerging challenges such as increasingly globalized markets; volatile labour markets, rapid technological change; and profound demographic changes.
Overview of Societal Trends
Strong Economy and Labour Shortages
Today, Canada's economy is one of the strongest in the developed countries. Recent employment increases in the country have pushed the unemployment rate back down to a 30-year low of 6.1% with more than 345,000 jobs created in 2006,1 and full-time employment accounting for about 80% of employment gains. Canada also has a well-educated and highly skilled workforce. However, a sea of change in labour markets is creating new challenges. A decade ago, the biggest challenge facing Canada was creating enough jobs for our workers. Now, there are skills and labour shortages in some regions of the country - shortages that will only intensify as our population ages and baby boomers begin to retire in large numbers. Aboriginal Canadians, older workers and persons with disabilities are three groups facing unique challenges to participating in the workforce. While efforts to attract skilled immigrants and assist people in entering the labour force will help, investing in the skills and knowledge of our workplaces will become increasingly important.
Globalization and the growth of the knowledge-based economy are also sharply increasing the importance of the skills, education and adaptability of our workforce for global competitiveness, reinforcing the importance of lifelong learning. This means that we need to focus on enhancing the education and skills of Canadians so they get jobs, earn a better living and build a strong future for their children. The Government will work with the provinces and territories to examine Canada's current array of labour market, employment and skills development programming that help Canadians find and keep jobs.
Changing Demographic
Societal and demographic changes are reshaping the face of Canada. In 2003, 4.1 million Canadians were 65 years of age and older. Their numbers are expected to reach 6.4 million in 2020 - nearly one in five Canadians. The median age of the labour force was 39 in 2001, up from 37 in 1991. The immigrants who landed in Canada during the 1990s and who were in the labour force in 2001 represented almost 70% of the total growth of the labour force over the decade. With the baby boomers aging and fewer young people entering the working age population, the potential exists for shortages in certain occupations, while putting pressures on the public pension system.
The Government needs to continue to support a diverse workforce by taking into consideration the impact of changing demographics - including the aging population and growing ethnic and cultural diversity.
Maintaining Global Competitiveness by Enhancing Opportunities to Acquire Knowledge and Skills
Canada has a long and proud history of excellence and achievement in higher education. But in order to remain globally competitive, Canadians must adapt to changing technologies and rising skills and knowledge requirements. Fortunately, Canada has the highest post-secondary attainment rates among OECD countries, and enrolment in post-secondary education continues to grow.
Training and skills development are critical in order for Canadian businesses to compete successfully on the world stage. Canada's employers are not keeping pace with major competitors in the amount of training they provide to their workers. It will be important to create conditions for employers to invest in training, such as through lower taxes and collaborative approaches to addressing pan-Canadian issues. The Government will support workplace training for Canadians by working with provinces, territories and the private sector to make training and skills development more widely available to Canadian workers and better aligned with the needs of the economy.
Urban - Rural Disparities
Concentrated growth in Canada's major urban centres is creating pressures and diffi culties in the areas of occupation specific employment shortages, housing, education, social services and transportation. Within many rural and remote communities, the situation is very different. Many of these rural communities are experiencing diminishing economic opportunities resulting in declining populations, which are more reliant on government support. The labour force and post-secondary education participation rates of rural youth tend to be lower than in urban areas and wages for those with employment are relatively lower as well.
Economic Participation and Social Inclusion of New Immigrants
Immigrants to Canada are now coming from countries that were not a source of immigrants in past years. Too many immigrants face challenges in adapting to the Canadian setting, and many immigrants have difficulties integrating into the Canadian workforce. Their employment rates have fallen below those of other Canadians, and their relative earnings, particularly for the university-educated, are lower. Credential recognition is an important component to immigrants' ability to find rewarding work and to integrate into Canadian society. A lack of adequate literacy skills in Canada's official languages also represents a significant challenge for many immigrants entering the Canadian labour market.
Canada has the highest rate of net immigration of all G-8 countries. The Government believes that immigrants will drive most of Canada's net labour force growth in the coming decade. The Government is committed to take action to increase participation in the workforce by reducing barriers to labour force participation for under-represented groups including new immigrants.
Socio-economic Pressures on Families
Families play a critical role in shaping Canada's social and economic future. Canadian families are changing. The number of women participating in the labour force is increasing. In 2005, slightly more than 60% of women age 15 and over participated in the labour force compared to about 50% in 1980.2 Families are now smaller in size, and delaying child bearing is a trend among young urban couples. With the rise in dual-earner and single-parent families, many families experience challenges in balancing their work and home life.
Families need the flexibility to choose child care services that meet their needs. In particular, workplaces can play a central role in accommodating more flexible arrangements for parents.
In the face of an ageing society, increasing pressure will be placed on families to meet their caregiving responsibilities. In this context, attention will need to be given to supporting Canadians who are engaged in these activities to ensure that they can adequately balance these responsibilities while maintaining their capacity to fully participate in the economic and social fabric of Canadian society.
Challenges Facing Canada's Aboriginal Population
Aboriginal people often face multiple barriers to their successful labour market participation - including low literacy and essential skills and access to training or education required by employers. The Aboriginal population is also young and growing at a much faster rate than the general Canadian population (a 22% increase between 1996 and 2001), particularly in the North and West, with a large majority (62%) living in Western Canada.3 The population growth is most rapid among the age group seeking work skills, post secondary education and first jobs. It is estimated that about half of all Aboriginal people are under the age of 25 and that over the next twenty years about 400,000 Aboriginal people will be ready to enter the workforce.
Challenges Facing People with Disabilities
In Canada there are 3.6 million Canadians or 12.4% of the population that have a disability.4 This includes 180,930 children (5%), 1.5 million seniors (40%) and 1.9 million working-age adults (55%). These numbers are expected to increase as the population ages. Canada is not fully benefiting from the employment potential, skills and talents of people with disabilities, and people with disabilities in Canada are not living to their fullest potential: 43.5% of people with disabilities were participating in the labour market, compared with 73.8% of people without disabilities. Another concern is that many people with disabilities live in poverty (23 % of people aged 16 - 64 with disabilities lived in low income, compared to 14% of people without disabilities in 2001).
While the full costs of disability to society are not known, the annual costs to the federal government of income support programs and provision of goods and services to the disabled are more than $6 billion. That does not include the costs of provincial programs and private sector insurance plans, or the lost income and foregone taxes.
Income Trends among Canadians
The strong economic growth of recent years contributed significantly to lowering the proportion of Canadians with low income. From 1996 to 2004, the number of Canadians who had low income decreased from 15.7% to 11.2%.5
Still, some Canadians and their dependents continue to face a particularly higher risk of experiencing low income due to the lack of access to adequate jobs, their family situation and other personal limitations. One in every five off-reserve Aboriginal people and recent immigrants6 experienced low income in 2004. Significant progress has been made in reducing child poverty in recent years, from a peak of 18.6% in 1996 to 12.1% in 2001. Challenges remain, however, as low-income rates for children have slightly increased in 2004.7
While work continues to be one of the most significant factors in alleviating the risk of low income, it is often not a sufficient condition. In 2001, over 650,000 working-age Canadians were able to work the equivalent of full-time for only about half of the year and therefore lived in low-income. In total, 1.5 million Canadians lived in these 'working poor' families.8
Among Canadian seniors, the situation has improved. Low-income rates among seniors fell dramatically between 1980 and 2004.9 There remain, however, groups within this population, such as those living alone (mostly women) and recent immigrants, who remain at significantly greater risk of low-income. In addition, there are emerging concerns within the private pillar of Canada's retirement income system, in particular the decline in workplace pension coverage.
Homelessness
More than 150,000 Canadians are estimated to use homeless shelters every year.10 Countless others are on the streets or are the "hidden homeless" - away from the public eye and outside of the shelter system. As well, over half a million Canadians spend more than 50% of their income on housing11 (a household which spends 30% or more of its before-tax income on shelter would fall below the affordability standard), putting them at high risk of becoming homeless.
The reasons people are homeless in our country are many and varied. Many homeless people have become disconnected from their families and communities. There are also those who have not been able to find or keep jobs. Sometimes, changes in the labour market, resulting in some sort of unemployment, make it difficult to maintain sufficient incomes for rent payments and, in some areas, the high cost of living contributes to housing affordability problems.
Policy Environment
Canada's success at home and internationally is increasingly dependent upon our ability to sustain and improve well-being through economic and social development. Today's policy context demands improved understanding of political, social and economic conditions as well as more effective collaboration with provinces, territories, international partners, employers, social partners, labour and key stakeholders such as educational institutions. Working with other governments is particularly important in areas of shared jurisdiction and mutual interest.
The Department has recently launched a process to update its departmental policy framework. In doing so, HRSDC will be guided by strong overarching objectives:
Strengthening the economic union and skills of Canadians, particularly through quantity, quality and efficiency gains in the labour market;
Supporting participation in the labour market, lifelong learning and society by encouraging conditions that increase choice, and supporting Canadians in balancing their earning and caring responsibilities; and,
Improving economic security, particularly for vulnerable and low-income Canadians.
Accomplishing these objectives will require HRDSC to:
Exercise leadership in understanding and supporting Canadians at home, at learning, at work, and in society;
Understand the changing role of government and resource constraints;
Ensure effective partnerships with other actors; and,
Understand and interpret new knowledge and findings to build and maintain strong, relevant, effective and efficient programs and policies.
The Department's policy environment is also affected by the work of parliamentary standing committees, most notably the Standing Committee on Human Resources, Social Development and the Status of Persons with Disabilities. Of special interest at present is work underway to study employability in Canada. The study will cover a range of subjects including the mobility of workers, seasonal workers, older workers, skilled worker shortages, workplace literacy and the recognition of foreign credentials.
http://cmte.parl.gc.ca/cmte/CommitteeHome.aspx?Lang=1&PARLSES=391&JNT=0&COM=10478
Service Environment
Service matters to Canadians. Canadians want responsive, helpful and accountable service. Providing good service makes a difference in terms of citizen satisfaction and the amount of confidence they have in the Government and in the public service. Around the world, citizen satisfaction and overall confidence in government's ability to deliver improved services is a key pursuit. According to the 2006 Accenture survey, Canada is at the leading edge of the trend to offer citizen-centred services and transform service delivery.
The spring 2006 Service Canada Awareness Baseline survey showed that, despite low citizen familiarity with the new Service Canada, there is an open and positive public perception of the value of a one-stop integrated government service organization. Service Canada provides improved one-stop service to Canadians in more communities than in the past, across Canada, particularly in rural and remote locations previously under-served by government. Testing has shown that 89% of Canadians support this direction of outreach into rural and remote communities.
Canadians have strong and rising expectations about accessing information and services through various channels. In 2006, 79% of Canadians indicated that they expected to use the Internet to contact Service Canada. Canadians also expect to be able to choose alternate service delivery channels when it suits their needs. In a recent client satisfaction survey, the phone dominated the channel used to contact Service Canada (63%), followed by in-person (39%) and website (30%).
Factors such as reliability, knowledge, fairness and trustworthiness are the aspects of service delivery that resonate the most with Canadians. By a margin of over two to one, the public's preferences and expectations of what constitutes ideal service is accurate and efficient service. Staff quality and information quality were also the most important drivers of client satisfaction.
Management Environment
In addition to the above factors, the Department is guided and influenced by trends in the federal government management environment. A key pillar of this environment is the Federal Accountability Act which became law on December 12, 2006. The Act establishes the Deputy Minister as the "accounting officer" for the Department who is accountable before parliamentary committees for the prudent management of resources. It also requires the Deputy Minister to ensure an internal audit capacity appropriate to the needs of the Department and to establish an independent audit committee for the department. www.faa-lfi.gc.ca/index-eng.asp.
Effective spending is another area of focus. There are mounting expectations for faster delivery of more services for the same tax dollar in a more efficient manner. In Budget 2006 the Government committed to identifying one billion dollars in savings from programs and activities to redirect to new government priorities.
The government is implementing the Management Accountability Framework as an accountability and oversight tool for the Treasury Board. In recent assessments, the Treasury Board Secretariat has commended HRSDC for its work in areas related to change management and human resources management in support of organizational transformation, the evaluation function, reporting to Parliament, and its executive performance management process. Some areas for improvement were also noted, such as governance in an environment of organizational changes, progress on meeting diversity targets for its employees, the lack of a long-term capital plan, the Information Management and Information Technology network and its legacy systems, and the need to continue to improve financial analysis.
Reports from the Auditor General are an important part of the government accountability process. HRSDC is committed to taking action on issues and recommendations highlighted in reports that are relevant to the Department.
Issues relating to the management of human resources are of growing importance given the aging demographics of the Department and the Public Service. The context for human resources management at HRSDC is set by the corporate priorities for the Public Service of Canada as established by the Clerk of the Privy Council, the expectations for good people management and accountability as set out by the People Component of the Management Accountability Framework and the Staffing Management Accountability Framework. Further, the Department is actively engaged in the Public Service Renewal agenda, both within HRSDC and across the government.
The enactment of the new Public Service Employment Act in December 2005 completed the legislative implementation of the Public Service Modernization Act. The Public Service Modernization Act signifies a major transformation in the management of human resources. It provides departments with increased flexibility for human resources decisions; increased capacity to constructively deal with performance issues; and increased staffing flexibility. It also provides for more collaborative labour-management relations, ties human resources planning to business planning; and ensures that human resources policies are reflective of diverse business realities and client needs.
This leads to three principles that guide our approach to human resources management:
A flexible values-based approach to human resources management with sub-delegation of Human Resources authorities to managers in accordance with Public Service Modernization.
A corporate approach to the management of key functional communities of the Department.
Partnerships: branches and unions are key partners in making all departmental initiatives successful and meaningful. HRSDC's human resources management approach should maximize the synergies, the creativity and the co-ordination that strong partnerships and networking bring.
The new Public Service Employment Act reinforces the values and principles inherent in the staffing processes, which are intended to:
safeguard, protect and enhance the integrity of the Public Service of Canada;
maintain and preserve a highly competent and qualified Public Service; and
ensure that the Public Service is non-partisan, free of discrimination and its members are representative of Canadian society.
Corporate Risks
As the Department moves forward, it continues to manage the risks identified in the 2006 - 2007 Report on Plans and Priorities, with a focus on partnerships, people and governance. These risks are still relevant, with added dimensions that are reflected in the risk description below.
As part of the 2007 - 2008 priority-setting discussions, the Department has identified the following key corporate risk areas:
Building relationships with provinces, territories, external partners and Canadians;
Attracting and retaining a skilled and competent workforce;
Exercising appropriate governance and oversight on the stewardship of financial resources;
Managing the continuum between HRSDC's policy and program design and its service delivery networks;
Developing policies and delivering programs that respond to sudden and significant changes in socio-economic conditions or government direction.
The risk information below presents a snapshot of the key risks the Department is facing together with some of the related mitigation strategies.
Building relationships with provinces, territories, external partners and Canadians
At risk is our ability to engage in, build and strengthen relationships with provinces, territories, external partners and Canadians in order to ensure timely progress on our commitments and enhanced awareness of our social and economic agenda.
Efforts to strengthen relations with provincial and territorial governments, other departments and central agencies are underway. The department strives, on an ongoing basis, to maintain and strengthen collaboration with provincial and territorial governments to achieve results for Canadians, while recognizing and respecting provincial and territorial jurisdiction in areas of shared responsibility. However, the challenge of forming and maintaining effective partnerships remains important. This is partly due to the complex nature of our policies, programs and service delivery mechanisms and the large number of partners involved. A further challenge is connecting and engaging Canadians as an ongoing element of policy and program development.
Federal/provincial/territorial relations for HRSDC will be affected by the broader intergovernmental context. The Budget 2006 commitment to restore fiscal balance could result in important mission-related and operational changes for the Department. In this context, the Department intends to work with provincial and territorial governments to help strengthen accountability to Canadians, clarify roles and responsibilities of governments, and improve collaborative management of the federation.
Research and stakeholders' consultations continue to be considered in policy and program development. The ongoing advance toward development of a more robust, interactive web-based presence with opportunities for stakeholders and citizen feedback, along with enhanced electronic collection of information, will help increase the degree of stakeholder involvement in policy and program development. Public opinion research will continue to help the Department be aware of the public's views as they relate to our programs and policies. Further, the position of Assistant Deputy Minister, Public Affairs and Stakeholder Relations has been created to provide a focal point for relationships with external stakeholders.
Attracting and retaining a skilled and competent workforce
At risk is our capacity to attract and retain competent and skilled people and develop capacity to address skill requirements needed across the Department which may hinder our ability to deliver on our commitments and to exercise due diligence.
Attracting and retaining qualified and skilled people is a continuing challenge. Increasing retirements from the public service, along with increased competition from other organizations for the same knowledge workers is causing gaps and shortages in several specialized professional communities (e.g., communications professionals, human resources, finance and internal audit) and in specific program expertise (e.g., industrial relations and occupational health and safety). This situation has also led to turnover of personnel within the Department, resulting in increased hiring, training and loss of corporate knowledge. This may hinder our ability to deliver on our commitments in an efficient and effective manner.
The Department's Corporate Human Resources Plan outlines a range of initiatives including leadership development, post-secondary recruitment exercises, professional development programs, and collective appointment processes. Work will continue to address emerging issues identified through the departmental Human Resources Planning process, as well as the implementation of an Action Plan to address the departmental results of the 2005 Public Service Employee Survey.
Exercising appropriate governance and oversight on the stewardship of financial resources
At risk is our ability to exercise appropriate governance and oversight on the stewardship of financial resources and the state of internal controls within an environment of organizational changes and evolving accountability relationships.
Although the Department has made progress in improving accountability and continues its commitment to integrity and respect for values of the Public Service, risk exposures related to the stewardship of financial resources are still high. Efforts to improve program integrity, clarify accountability and further improve effective financial management will continue to be areas of focus for senior management throughout the year.
In line with the Government's efforts to renew the current expenditure management system, the Department is implementing a series of measures to ensure improved performance information and reporting, budget decision-making, and management of horizontal initiatives. The Department will continue to strengthen policy development and program performance management to clearly demonstrate value for money. Further, the Department is implementing new management practices to address the requirements of the Federal Accountability Act.
Managing the continuum across HRSDC's policy and program design and its service delivery networks
At risk is our ability to effectively manage the continuum across HRSDC's policy and program design and its service delivery networks, in order to achieve meaningful results for Canadians.
Human Resources and Social Development Canada is a large and complex organization that continues to refine its structures and governance mechanisms to ensure that the continuum across HRSDC's policy and program design and its service delivery networks are well managed. Challenges remain in ensuring sufficient and appropriate communication to inform and manage the policy, program and service delivery continuum, securing information technology support for web development and in staying on track for shared information technology enhancements.
Assistant Deputy Minister committees between Service Canada and HRSDC have been established to monitor the achievement of policy, program and service outcomes and to establish areas of joint work. The committees discuss and bring to resolution issues of a joint nature and work towards coherent priorities that are complementary and integrated.
HRSDC and Service Canada are jointly working to further develop information-sharing mechanisms to effectively support the governance structure. Work will continue on improving performance measures and strengthening linkages between policy development and program design, program evaluation results, and results-based management approaches. The development of complementary corporate HRSDC and Service Canada Audit and Evaluation Plans is underway and cross-participation and representation in Service Canada and HRSDC Audit and Evaluation Committees are ongoing.
The Department is also improving internal processes and systems in the corporate management that will ultimately enhance the quality of services provided.
Developing policies and delivering programs that respond to sudden and significant changes in socio-economic conditions or government direction
At risk is our ability to develop policies and deliver programs to respond to sudden and significant changes in socio-economic conditions or government direction.
In the context of rapid change in our socio-economic conditions or Government direction, our policies and programs should have the built-in capacity and flexibility to respond to any change. Globalization has led to increased migration, international travel, flow of goods and services, and also brings risks such as the possibility of a global pandemic. Changes related to urbanization and regional migration pose problems for areas with less robust economies and fewer job opportunities. In this environment, the Department faces the daunting task of developing timely and responsive policies and continuously delivering on its programs and services, to meet the changing challenges in meaningful ways for Canadians.
In order to respond to these challenges effectively, the Department has planned various strategies. Specifically, through the development of knowledge strategies targeted at integrated and coordinated data, research, evaluation and knowledge dissemination, efforts are being made to strengthen evidence-based policy development and program delivery to meet Government of Canada and HRSDC priorities. New relationships are being established with the external research community, as well as with national and international organizations to exchange information and share best practices in the management of social and economic policies. HRSDC is also preparing business continuity plans and continuously monitoring and managing legal issues.