ARCHIVED - RPP 2007-2008
Atlantic Canada Opportunities Agencies

This page has been archived.
Archived Content
Information identified as archived on the Web is for reference, research or recordkeeping purposes. It has not been altered or updated after the date of archiving. Web pages that are archived on the Web are not subject to the Government of Canada Web Standards. As per the Communications Policy of the Government of Canada, you can request alternate formats on the "Contact Us" page.
As an economic sector, tourism offers significant wealth and job creation opportunities for Atlantic Canadians. Tourism accounts for almost 6% of the region's gross domestic product and generates $3.075 billion in export revenues, $500 million in tax revenues and provides 110,000 jobs for Atlantic Canadians.[14]
The Agency will continue to advance the competitiveness and sustainability of the tourism industry in Atlantic Canada through an integrated and co-ordinated regional tourism strategy. This strategy will focus on building tourism capacity and industry skills through market-readiness programs; increasing the industry's awareness of product and market opportunities through an expanded market intelligence network; supporting the establishment and modernization of the region's tourism products and experiences; and building upon the Agency's co-ordinated and strategic partnership approach to marketing Atlantic Canada as a preferred tourism destination. This strategy will result in the delivery of a wide and varied range of capacity-building, skills development, strategic marketing and capital investment initiatives.
In 2007-2008, the Agency will focus on:
Delivering aftercare provisions for the Agency's sustainable tourism curricula, best practices programs, tourism technology and the improved market readiness of the region's tourism offer, from a quality-of-product and service perspective.
Building tourism-related infrastructure and capacity in Atlantic Canada through the establishment, expansion and modernization of tourism businesses, and by focusing industry and government attention on the primary drivers of tourism.
Supporting provincial governments and industry groups in charting tourism development priorities and strategies.
Forming strategic niche marketing partnerships with industry groups, including the Atlantic Canada Cruise Association, Signature Attractions of Atlantic Canada, and other niche partnerships as they arise.
Delivering the reinvigorated Atlantic Canada Tourism Partnership (ACTP), which addresses evolving market conditions, advances in technology, market intelligence and an expanded role for industry.
[14] Statistical data presented in this section are from the following sources:
2005 New Brunswick Tourism Industry Performance Report, Province of New Brunswick (December 2006).
Backgrounder: Year-End Provincial Tourism Performance 2005 and Tourism Outlook 2006, Province of Newfoundland and Labrador, Department of Tourism Culture and Recreation(March 2006).
2005 Tourism: Industry Facts, Province of Nova Scotia, Department of Tourism, Culture and Heritage (2006).
Year-end review: Tourism Performance 2005, Tourism Advisory Council, Province of Prince Edward Island, Prepared under the authority of Tourism PEI (2006).
Despite the potential for economic opportunities associated with its rich oil and mineral resources and major projects, there are significant challenges in developing the provincial economy in Newfoundland and Labrador. Labour and skill shortages are being noted in various industries province-wide due to out-migration and the shrinking size of the replacement pool available to cover retirements and new employment opportunities. Historic economic mainstays, such as the fishery and forestry, are hampered by pressures such as high input costs, global competition and the strength of the Canadian dollar. These challenges are felt particularly in rural communities, where the local economy is often based on a single resource-based industry, and the shrinking workforce has a high proportion of unskilled and older workers. It is increasingly difficult to find good ideas and opportunities for development and diversification in many remote rural communities in the province.
Prince Edward Island's main challenges in promoting business growth are to achieve further economic diversification through cluster development in the bio-resource, aerospace, information and communications technology, tourism, and wind energy sectors, along with key developments in the natural resources and transportation sectors. Human capital development, combined with more highly developed immigration policy approaches, will be a vital lever of economic growth in both the short and long terms.
In Nova Scotia, natural gas production is projected to increase, but not enough to counteract the declining forestry, fishery, construction and agricultural sectors. Nova Scotia's GDP growth is expected to slow in 2007. The emergence of new sectors, including the financial and information technology sectors, bodes well for future job creation; however, labour shortages loom. Determining what skills will be required to support emerging industries, and developing, attracting, and retaining talent in these areas, will be a key challenge. Inciting innovation and competition to make productivity gains with a population that is consistently declining will be necessary.
Among the key challenges facing the Cape Breton region is the seasonality of the labour force, which results in significant variances in labour force activity throughout the year. Other challenges include the level of out-migration, an aging population and a small export base outside traditional resource industries.
The resource-based economy of New Brunswick will continue to face significant challenges including resource rationalization (mill closures), a higher Canadian dollar, and higher input costs. In the future, the availability of an adequate supply of skilled labour will have a considerable impact on the competitiveness of New Brunswick businesses. At the same time, innovation and technology will be key factors in the region's economic development, since they offer the potential for improved productivity and competitiveness in the production and trade of value-added goods and services related to the province's natural resources. It is crucial that New Brunswick businesses remain competitive in the U.S., while at the same time positioning themselves for the considerable challenges and opportunities in emerging markets such as China and India.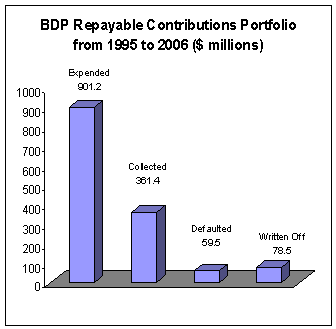 Since 1995, ACOA has provided interest-free, unsecured loans to SMEs under its Business Development Program (BDP) to help them start up, expand, improve productivity, develop new markets or undertake other growth-oriented activities. Commercial assistance is repayable over an average repayment term of five to seven years. The collection of repayable contributions under the BDP is expected to total at least $55.2 million in 2007-2008.
As illustrated in the graph above, the cumulative rate of defaulted contracts and write-offs since 1995 has been 15.3% ($138.0 million of a total $901.2 million).
Over the 2004-2005 and 2005-2006 fiscal years, the average annual combined default and write-off rate was 4.68% (3.3% as at December 31 in fiscal year 2006-2007). It is anticipated that in 2007-2008 the Agency will write off approximately $15 million.
(On ACOA's total repayable programs – including the BDP – the Agency annually collects approximately 78% of forecast scheduled repayments, 16% are rescheduled to future years, and 6% become defaulted contracts and write-offs.)
Risk Mix
Risk Rating

Current

Anticipated

Low
Low–medium
Medium
Medium–high
High
6%
22%
44%
21%
7%
10%
25%
35%
25%
5%
The anticipated risk mix for 2007-2008 is shown in the table at right. The current portfolio mix is approaching the desired risk mix distribution. The latest BDP evaluation[15] suggested that the Agency may have drifted toward more capital asset-based or lower-risk lending; however, more emphasis is being placed on "incrementality" and "need" in the due diligence process. This, in turn, is leading to a slightly higher risk mix for the receivables.
For more information on repayable contributions, see http://www.acoa-apeca.gc.ca/e/financial/repayable/index.shtml.
[15] Evaluation of ACOA's Business Development Program, Atlantic Canada Opportunities Agency (February 2003) http://www.acoa-apeca.gc.ca/e/library/audit/busdevprog.shtml.
Results-based management (RBM) is a life-cycle approach to management that integrates strategy, people, resources, processes and measurements to improve decision making, transparency and accountability. Its focus is on achieving outcomes, implementing performance measurement, learning and changing, and reporting performance. At ACOA, the goal of RBM is two fold:
to provide evidence based information contained in performance measurement systems, audits, evaluations and reviews to external stakeholders such as central agency officials, parliamentarians and the general public, ensuring the accountability and transparency of results information; and
to provide managers with this timely, accurate, balanced and evidence based information for effective decision making.
To help achieve this goal, the Agency is implementing its Management, Resources and Results Structure, a framework to integrate financial and non financial information in a way that links the results achieved and the resources used. In 2007 2008, ACOA will implement performance measurement frameworks to effectively collect, analyze and report performance information at all levels of program activity within the Agency. The information serves ACOA managers in making strategic and operational decisions on improving the overall effectiveness of the Agency's programming.
In order to strengthen corporate governance at ACOA, the Agency recently established a separate Internal Audit Committee and an Evaluation Committee, effectively disbanding the Review Committee. This new committee structure complies with the Government of Canada's new Internal Audit Policy and assures the independence of the evaluation function. The new Evaluation Committee will strengthen linkages to policy and programs management and will provide a governance function in ensuring management and central agencies are provided with timely evaluations and performance measurement reporting.
Regular meetings will be held by both the Evaluation Committee and the Internal Audit Committee in order to review and revise audit and evaluation plans. These plans detail all audits, evaluations and reviews to be undertaken over a three year period, in order to provide timely, relevant strategic information for use by Agency managers, Treasury Board, the Government of Canada, and Canadians. Details on these plans may be found in Section III, Table 10, of this report.
Continuous improvement in client service is part of ACOA's agenda. The Agency's regular interactions with key stakeholders ensure it is delivering programs and services that meet the needs of Atlantic Canadians. One key example is ACOA's biennial corporate client satisfaction surveys, which measure the level of client satisfaction, provide a basis to set improvement targets and continue to refine service delivery practices. Previously, the feedback from interactions with key stakeholders and the results of the previous client satisfaction surveys were useful in ensuring that client expectations were taken into account in the delivery of programs and services in 2005-2006 and beyond.
The results of a third client satisfaction survey, completed over 2006-2007 and based on the common measurement tool (CMT), will be published on the Agency's website in 2007-2008. As the Agency repositions to reflect changing economic circumstances, pressures and strategic directions, its Service Improvement Plan will be adjusted to reflect client priorities as identified in the 2006-2007 client survey.
Efficiently and effectively managed resources and administrative systems and services to support management decision making, accountability and operational control.
| | | | |
| --- | --- | --- | --- |
| | 2007-2008 | 2008-2009 | 2009-2010 |
| Financial Resources ($ millions) | 27.9 | 27.9 | 27.9 |
| Human Resources (FTEs) | 223 | 223 | 223 |
The planned spending figures for Corporate Services, indicated above, are also incorporated within the planned spending figures for all program activities throughout this report, on a pro-rated basis.
Corporate Planning and Performance Management
Implement an integrated, results-based planning process that follows the Program Activity Architecture.
Utilize, promote and co-ordinate of modern business management practices within the Agency as outlined in the Management Accountability Framework.
Evaluate the effectiveness of the Agency's ability to manage and deliver its programs.
Integrate the Risk Management function into Agency activities, and provide of assurances on the Agency's level of risk mitigation.
Communications
Work with clients and partners to promote Atlantic Canada - both at home and internationally - as increasingly innovative, export-oriented and entrepreneurial, through a variety of marketing and outreach activities.
Improve the awareness and understanding of the Agency's role in enterprise and community development, as well as its programs and services and how they can be accessed.
Support the Agency's key policy and advocacy files through strategic communications activities.
Finance and Administration
Maintain and monitor the government-wide management and analysis systems, including the Management Resources and Results Structure and the Expenditure Management Information System.
Table in Parliament the government's Main Estimates and Supplementary Estimates in an accurate and timely manner and in accordance with prevailing parliamentary schedules and protocols.
Table the Public Accounts of Canada, including the government's audited financial statements, within prescribed deadlines as set by the Treasury Board Secretariat and Public Works and Government Services Canada.
Chief Information Office Directorate
Through the use of Web technology and service transformation:

continue to work closely with stakeholders to define efficient integrated program management and business processes;
increase the availability of corporate information and finance reporting systems; and
prepare key service systems for on-line delivery.
Internal Audit
Implement the federal government's new Policy on Internal Audit (2006)across the Agency over the next three years. The policy aims to professionalize the internal audit function and build a comprehensive government-wide approach to internal auditing that reflects leading-edge public and private sector practices.
Human Resources
Ensure that human resource policies and practices respect values and ethics, as well as accountability principles. These principles include the Management Accountability Framework and the Staffing Management Accountability Framework.
Promote a learning environment within the Agency.
Promote the advancement of employment equity and diversity within the Agency.
Ensure all new managers receive the required training to fulfill their functions effectively.
Ensure all new employees receive orientation training for the public service, as well as for ACOA specifically.