ARCHIVED - RPP 2007-2008
Atlantic Canada Opportunities Agencies

This page has been archived.
Archived Content
Information identified as archived on the Web is for reference, research or recordkeeping purposes. It has not been altered or updated after the date of archiving. Web pages that are archived on the Web are not subject to the Government of Canada Web Standards. As per the Communications Policy of the Government of Canada, you can request alternate formats on the "Contact Us" page.
Annual Target:

Impact on employment growth of ACOA-assisted firms

1 to 2 times higher than non-assisted firms

Five-year Target:

Increase in Atlantic GDP related to ACOA clients

$4 to $5 in GDP gains for every $1 of ACOA expenditure

Performance Measurement Strategy: Five-year target will be measured through analysis of data from Statistics Canada and internal systems, using econometric modelling. The annual target will be measured through analysis of Statistics Canada data.

2007-2008

2008-2009

2009-2010

Financial Resources ($ millions)

208.6

217.5

211.5

Human Resources (FTEs)

446

455

423
ACOA maintains that the economic transformation of Atlantic Canada can only be realized through a series of accomplishments, some small, others more significant. This will be achieved through hard work, one SME, one institution or one association at a time, each and every day.
To that end, ACOA delivers programs and initiates strategies that are constantly evolving in order to adapt to the requirements of the local business community and the demands of the global marketplace. ACOA strives to apply its limited resources to the areas of greatest potential impacts. In that vein, the Agency has decided to focus on Atlantic enterprises that are of a small and medium size because they have proven to have the most significant and sustained job creation impact in Canada.
In the coming year, ACOA will continue to promote innovation in SMEs, in universities and other organizations, leading to commercializable products and services. The Agency will strive to identify and continue supporting industrial sectors and clusters that exhibit strong possibilities of becoming significant in Atlantic Canada. ACOA recognizes that, given the globalization of the world economy, the region cannot pretend to become a major player in all industrial sectors. Efforts must, and will, be focused on key sectors such as aquaculture, manufacturing, tourism and knowledge-based industries. In order to be successful as a region, the human resource skills level must be developed; the Agency intends to continue to be a strong supporter of efforts made in that area.
ACOA believes these efforts will result in increased growth and competitiveness of SMEs, increased earned incomes of people, and new jobs being created in Atlantic Canada.
Program Activity:
1.1 Fostering the development of institutions and enterprises, with emphasis on those of small and medium size


Expected Results: Improved growth and competitiveness of Atlantic SMEs.

Indicators:

Targets:

Survival rates of ACOA-assisted firms

1 to 2 times higher than non-assisted firms

Percentage increase in payrolls for ACOA-assisted firms

1 to 2 times higher than non-assisted firms

Performance Measurement Strategy: Analysis of data from Statistics Canada.

2007-2008

2008-2009

2009-2010

Financial Resources ($ millions)

208.6

217.5

211.5

Human Resources (FTEs)

446

455

423
A successful SME exhibits strength in four strategic elements. The first element is the product or service offered to its clientele. Attributes of the offering are the features, quality and cost. An SME can improve these attributes through innovation, such as developing new features or becoming more productive. Investing in improvements is risky, thus the Agency's assistance aims to encourage SMEs to innovate by providing direct assistance that helps mitigate some of the financial risk faced by an SME. Programs such as the Atlantic Innovation Fund (AIF) and the Business Development Program (BDP) help SMEs to innovate, thereby facilitating their long term success.
The second element of strength a successful SME must exhibit is the ability to sell its product or service offering. The Agency helps SMEs to increase their sales by funding marketing activities and new market development. Atlantic Canadian SMEs cannot rely solely on domestic sales to grow – they must look beyond the borders to other countries for potential purchasers of their products or services. Again, there is a financial risk here that ACOA seeks to mitigate through its programs. The Agency, along with its partners, organizes direct trade missions in various part of the world where companies are helped to meet potential buyers and distributors.
The third element of a successful SME is skills. To be successful, an SME must possess, display and constantly seek to develop the skills of its human resources in all business domains – whether in management, marketing, technical or financial. Investing in skills development is costly and not easy to finance for most SMEs; hence, ACOA promotes and provides financial assistance toward the costs of acquiring these skills.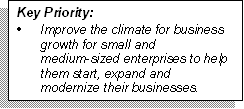 The fourth element of any successful SME is its ability to access the financing it needs, when it needs it. ACOA recognizes that there are gaps in the SME financing continuum in Atlantic Canada and, until these are filled by other providers, its programs will be accessible to SMEs for start-up, expansion and modernization assistance.
ACOA not only delivers programs and assistance directly to SMEs, but it exerts its influence indirectly through industry associations and other not-for-profit groups.
ACOA seeks to energize and develop the business environment in which SMEs operate in a variety of ways and through a range of initiatives. Whether it is through supporting business associations, providing information and support to existing entrepreneurs and new entrepreneurs, helping attract foreign companies to invest in Atlantic Canada, or creating new capital pools, ACOA is at work to create the best conditions possible for SMEs to be created, grow and expand.
Expected Results: Strengthened Atlantic Canada's innovation and commercialization capacity.

Indicators:

Targets: (2007-2008)

Dollar amount and percentage leveraging

Number of meaningful partnerships and collaboration for technology development and commercialization

Number of Atlantic-based private sector organizations taking a lead role on projects (i.e. private sector proponents)

Number of private sector organizations involved on institutional projects

Five-year Target:
(2003-2004 to 2007-2008)

Number of commercialized technologies, products, processes and services as a result of an innovation project

Performance Measurement Strategy: Analysis of data from internal systems.
ACOA's innovation activities are aimed at addressing the key challenges facing the Atlantic Canadian economy (i.e. lagging productivity and competitiveness, and structural changes in traditional industries) while fostering the continued development of emerging high-technology sectors. The Agency's goal is to promote innovation as a means to ensure an efficient and responsive Atlantic Canadian economy, with businesses able to adapt to new competitive challenges.
Through the Atlantic Innovation Fund, ACOA invests in large, cutting edge R&D projects in the region's private sector and research institutions. These projects are aimed at developing new technologies that can be commercialized to stimulate new product development and growth in new and existing firms in the region. The Agency also promotes innovation within SMEs, using the BDP to fund technology adoption and R&D projects and using the Productivity and Business Skills Initiative to support the hiring of skilled personnel, thereby fostering increased innovation capabilities.
In 2007-2008, ACOA will work strategically to maximize the impact of its investments and implement its sector development strategies. A key focus for the Agency will be supporting R&D projects that have the best probability for successful commercialization, while pursuing the commercialization of products, processes and services resulting from previous R&D efforts. ACOA will also work with its partners and stakeholders to align investments in key sectors in the Atlantic region. As well, the Agency will work to promote the region's capacity to carry out leading-edge R&D in specialized areas or specific sectors at the regional, national and international levels.
Expected Results: More Atlantic Canadians with the motivation and skills required to successfully start, sustain or grow a business.

Indicators:

Targets:

Percentage of participants in entrepreneurship awareness and promotion activities indicating that the activity increased their intent to start a business

Percentage of participants indicating improved business skills

Performance Measurement Strategy: Analysis of data from internal database system.
* To reflect preliminary findings on this indicator, this target has been changed from "60% to 75%" to "75%"; more participants than anticipated state that their business skills have improved as a result of an Entrepreneurship and business skills development (EBSD) activity.
Entrepreneurship and business skills development – the process of increasing the pool of Atlantic Canadians with the motivation and skills to plan, start and grow a business – has been a key element of ACOA's economic development work since 1990. Fostering this culture of entrepreneurship is fundamental to the region's future, since entrepreneurs are key to the generation of wealth and jobs.
Over the past 15 years, ACOA has worked with key stakeholders in the region to advance the concept of entrepreneurship. As a result, more schools, universities and not-for-profit organizations are involved in promoting entrepreneurship as a viable career choice than ever before. Although the Agency will continue to help sustain this level of awareness, it is now in a position to shift its focus to ensuring that existing and potential entrepreneurs have the skills they need to become more competitive, productive and innovative in the long term.
Business skills development for any entrepreneur comes with a wide array of challenges. Often, owners of SMEs are either not aware of the bottom-line benefits that can flow from improved competencies, or simply don't have the time or the financial resources required to enhance their skills. A variety of activities intended to address these challenges will be organized over the coming year. These activities will help potential entrepreneurs to start new businesses and will help existing entrepreneurs to sustain or grow their businesses. Such activities include workshops and networking opportunities, business planning competitions, mentoring opportunities, business advisory and counselling services, and business and skills development partnerships with universities and colleges.
EBSD activities are either funded through the Agency's Business Development Program or one of the following two programs. The Women in Business Initiative (WBI) focuses on strengthening the management capabilities and business development skills within women-owned ventures, improving their access to capital and business support services. The Young Entrepreneur Development Initiative (YEDI) provides young Atlantic Canadians who are aspiring or existing entrepreneurs with opportunities to develop business skills.
The Agency will advance entrepreneurship and business skills in Atlantic Canada's tourism industry through sustainability planning sessions and workshops at the community and SME levels. Tourism entrepreneurship and business skills will also be strengthened through the application of lessons learned from group and personal interactions with leading tourism businesses in other Canadian jurisdictions.
Key partners and clients in these efforts are non-commercial entities, including not-for-profit business support organizations, industry associations, educational institutions, other government departments and similar groups.
Expected Results: Increased export capacity and sales for SMEs in Atlantic Canada.

Indicators:

Targets:

Number of SMEs that have increased export-readiness (combination of number of firms involved in trade awareness sessions, mentoring programs and skills development courses)

Number of exporters developing new markets

Growth in export sales of ACOA-assisted firms

Performance Measurement Strategy: Analysis of data from Statistics Canada, surveys and internal reports.
* Target will be revised in 2007-2008.
Exporting continues to be one of the nation's leading engines of economic growth – building revenues, fuelling business opportunities and generating jobs. Atlantic Canada's proximity to the rich markets of the United States and Europe, and its increased levels of exportable, value-added and knowledge-based goods and services, create a region particularly well suited as a base for exporting.
Over the last decade, exports from Atlantic Canada have increased by 94%, significantly more than the Canadian average of 57%[6]; however, with just over 2.5% of the region's SMEs currently exporting[7], there is room for further growth. ACOA recognizes that the key to continued growth and success is diversification into new markets such as China and Europe; therefore, one of its focuses is new market development.
The Agency works both directly and in partnership with other federal departments and the four provincial governments to deliver its strategic approach to trade development. This approach is focused on four strategic elements.
The first element, awareness, promotes exporting as a growth strategy for SMEs, enhancing the knowledge of current and potential exporters regarding major trade issues and opportunities, and ensuring that selected export markets are aware of Atlantic SME export capabilities.
The second element is trade education and skills development. The Agency co-ordinates training and mentoring activities tailored to the specific requirements of existing, export-ready and potential exporters. These activities also develop a cluster of capable trade consultants in the region.
The third element of the strategy, capacity building, assists companies undertaking international market expansion and product development through the organization of ACOA-led and partnered trade missions to select U.S., European and Asian markets. In 2007-2008, the Agency will continue to focus on emerging markets, as well as aftercare and follow-up with exporting Atlantic SMEs. This will be accomplished through various training and research initiatives in collaboration with regional and federal stakeholders and foreign posts. Sectors of focus will include aquaculture, aerospace and defence, and energy.
Finally, through policy, co-ordination and partnerships, ACOA incorporates a research agenda focusing on export capabilities and development needs of Atlantic Canada SMEs. The Agency develops emerging sectors in Atlantic Canada through the implementation of both regional and pan-Atlantic sector export strategies. ACOA promotes strategic alliances and co-operation in Atlantic Canada by partnering with other federal, provincial and industry organizations to carry out its activities.
Financial support for ACOA's trade strategy is provided through three programs: the International Business Development Program (IBDP), the Atlantic Trade and Investment Partnership (ATIP), and the Business Development Program (BDP).
To further promote export growth and development in Atlantic Canada, ACOA participates in five trade related horizontal initiatives. Of these, ACOA acts as the lead partner on Team Canada Atlantic (TCA) and the aforementioned IBDP. For further details on the IBDP and TCA, visit http://www.tbs-sct.gc.ca/rma/eppi-ibdrp/hrdb-rhbd/dep-min/ACOA-APECA/ACOA-APECA-eng.asp. ACOA acts as a partner on the following horizontal initiatives.
1. Team Canada Inc.: This partnership of federal, provincial and territorial governments and other partners is designed to help Canadian businesses prepare for the global marketplace by providing single-window access to fully integrated export services. ACOA currently sits on both TCI's management board and executive committee, and continues to provide the front-line service of Team Canada Inc. through the Canada Business Service Centres throughout Atlantic Canada.
2. U.S. Enhanced Representation Initiative: This initiative intends to strengthen political and economic relationships with the U.S., while strengthening and managing Canada's advocacy, trade, business development, science and technology and investment interests in the U.S. ACOA will continue the delivery of ERI-funded initiatives by conducting sector-specific missions to selected U.S. markets, bringing buyers into the regions, and increasing awareness of the benefits of Atlantic Canada through focused U.S. promotional events for future foreign direct investors.
3. Canadian Agriculture and Food International Program: This program is designed to support industry action to deliver on a comprehensive national strategy to gain and expand international recognition and enhance market opportunities for Canadian agriculture, food and seafood products. ACOA is a voting member on the strategy steering committee, and acts as a proponent for products sourced from Atlantic Canada.
[6] Trade Data Online http://strategis.gc.ca/sc_mrkti/tdst/engdoc/tr_homep.html, Industry Canada (accessed online January 5, 2007).
[7] Business Register Statistics Canada; (June 2005) quoted in Key Small Business Statistics - Janury 2005, Industry Canada http://strategis.ic.gc.ca/epic/site/sbrp-rppe.nsf/en/rd00999e.html; and
A Profile of Canadian Exporters: 1993 to 2004, Statistics Canada (2006).
Expected Results: Increased foreign direct investment and opportunities in Atlantic Canada.

Indicators:

Targets:

Increased awareness (number of inquiries / website hits)

Performance Measurement Strategy: Annual targets will be measured through analysis of data from internal reports.
Foreign direct investment (FDI), defined as "foreign investment in a company that gives the foreign investor a significant voice (over 10% of voting equity) in the management of the company,"[11] creates jobs and generates revenues. It also strengthens economic infrastructure and builds industrial critical mass required to successfully compete in a global economy. From 2000 to 2004, Atlantic Canada's share of inward FDI was just over 7% of the national amount (just over 4% if oil and gas figures are excluded), while its share of the GDP was nearly 6%[12]. The potential for economic growth through FDI in Atlantic Canada is considerable.
[8] Suspect - a member of a target group that may only be known by demographic information
[9] Lead - a qualified response with very limited interaction with an Atlantic Canadian company
[10] Prospect - a party interested in a particular solution that has been identified
[11] Foreign Direct Investment in Canada, page 1, Atlantic Canada Economic Council (2002).
[12] Attracting the Big Bucks: Foreign Investment in Atlantic Canada, Atlantic Canada Economic Council (2005).
ACOA recognizes the importance of FDI as a vehicle for economic growth and, as such, has developed a strategy to increase FDI in Atlantic Canada. The Atlantic Investment Strategy is a pan-Atlantic effort to increase co-operation in the areas of investment research, awareness and promotion, investment intelligence dissemination, partnerships, and lead development. This strategy has enabled ACOA to undertake comprehensive pan-Atlantic and provincially based investment development initiatives such as:
science, technology, trade and investment missions to key markets;
Team Canada Atlantic missions;
lead identification and development;
direct marketing and advertising campaigns; and
promotion of the region through marketing initiatives, including trade shows and familiarization tours.
The Atlantic Trade and Investment Partnership supports the Atlantic Investment Strategy through the following activities.
Investment research: ACOA focuses its research on major trends in the international community and the identification and analysis of key factors influencing investment decisions by foreign corporations.
Information management and dissemination: The Agency identifies investment opportunities and provides timely investment intelligence to partners.
Awareness and promotion: The Agency carries out a strategic program to increase awareness of Atlantic Canada as a profitable location in which to do business.
Investment partnerships: ACOA continues to foster strong relationships with Investment Partnerships Canada, Foreign Affairs and International Trade Canada, Industry Canada, and the four Atlantic Provinces in order to reduce duplication of work, to pool human and financial resources, and to market Atlantic Canada as a unified whole.
Lead development: The Agency continues to support provincial and federal investment colleagues through the identification of investment leads and prospects.
ACOA undertakes lead activities of its own, via advertising, direct marketing, trade fairs and networking initiatives. In 2007-2008, the Agency will continue its efforts and focus on lead development. This will be undertaken through various marketing/research initiatives in collaboration with regional and federal stakeholders and foreign posts. Specific efforts will be made to attract inward FDI by promoting the region in key sectors, including information technology outsourcing (nearshoring).
Expected Results: Developing the breadth and depth of financing options.

Indicators:

Targets:

Capital cost expenditures by SMEs in rural areas

Dollar amount raised by labour-sponsored funds

Percentage of dollar amount leveraged on ACOA financing continuum projects

Performance Measurement Strategy: Analysis of data from Statistics Canada, internal systems, project reviews and evaluations, as well as published documents from venture capital firms and industry associations.
The Agency's objective is to ensure the availability of a continuum of financing for Atlantic small and medium-sized enterprises so that all companies can reasonably access the financing they require at all stages of their life cycle, thus supporting their successful growth to maturity. ACOA recognizes that entrepreneurs and Atlantic SMEs need access to adequate debt financing from institutions such as banks and credit unions, and equity capital from angel investors, venture capital firms and public markets.
In Atlantic Canada, SMEs do not have access to as broad a diversity of financing products and institutions as exists in developed urban areas of other Canadian provinces. There are financing gaps that impede the development and growth of a number of Atlantic-based SMEs in a variety of industrial sectors and geographic regions. As a result, ACOA intervenes to stimulate the financial community to evolve toward filling these gaps. The Agency is interested in supporting projects that deliver access to new capital for Atlantic SMEs, promote capital retention in the region, and/or provide significant leveraging of funds from other sources.
As an example, the Agency collaborates with the First Angel Network Association to provide awareness seminars to entrepreneurs to help them become more knowledgeable of various financing instruments, of providers and their expectations, and how to be better prepared to seek and obtain financing.
Until the gaps in the financing continuum are filled by other financial providers, ACOA provides, through the Business Development Program, direct assistance to fund selected areas of activities such as start-up, expansion and modernization.
Expected Results: Access for Atlantic Canadians to accurate, timely and relevant business information.

Indicator:

Target:

Level of client satisfaction (percentage of clients indicating satisfaction with information received)

Performance Measurement Strategy: Analysis of data from client surveys.
For Atlantic Canadians wishing to plan, launch or grow a business, having access to information on relevant government programs, resources and regulations is critical. Accordingly, the objective of Canada Business is to improve service to small business and start-up entrepreneurs by acting as a comprehensive source for information on government services, programs and compliance requirements. In this way, Canada Business reduces the complexity of dealing with various levels of government and helps facilitate the business development process.
This service is provided free of charge through a website and walk-in centres, and by phone. In Atlantic Canada, Canada Business service centres are located in each provincial capital city. Each location has a resource centre equipped with sophisticated market research databases, sample business plans and books that provide instruction to entrepreneurs.
Canada Business is a national initiative, with ACOA acting as the federal managing partner for Atlantic Canada. National co-ordination is facilitated by a secretariat located within Industry Canada.
Key objectives for the planning period include sustaining a high level of service to clients, making improvements to the website, and enhancing communication efforts to ensure that Atlantic Canadians can take full advantage of these services. Through these efforts, high levels of client usage and satisfaction are expected and will be tracked through client surveys.
For more information, see http://canadabusiness.gc.ca.
Strategic Outcome:
2. Dynamic and sustainable communities for Atlantic Canada


Indicators:

Five-year Targets: (2003-2004 to 2007-2008)

Increased capacity in community decision making, planning and delivery

Economic development plans in place and community economic development underway

Maintain or improve business survival rate of rural businesses

Stabilize or increase business survival rate of rural businesses

Performance Measurement Strategy: Analysis of data from Statistics Canada.

2007-2008

2008-2009

2009-2010

Financial Resources ($ millions)

146.5

96.8

96.7

Human Resources (FTEs)

198

191

191
The Atlantic economy is built on the region's many geographic, linguistic and cultural communities. From small remote villages to larger urban centres, the opportunities and challenges vary significantly. ACOA focuses its efforts and strategies on community development as one of the key pillars of its overall strategy for the region. ACOA works in co operation with various stakeholders - other levels of government, other federal government departments, non government organizations, and community groups - to leverage support and overcome challenges.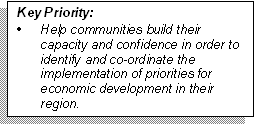 One of the challenges facing Atlantic Canada is that some communities are experiencing an economic downturn. Such communities in transition are typically found in the region's more rural and remote areas. They have limited economic capacity and infrastructure and require assistance to capitalize on economic opportunities. By taking a holistic approach, based on the realities of the given community, ACOA can help foster economic development through its support.
The limited economic capacity in First Nation communities is a fundamental development issue. Aboriginal communities benefit from ACOA's work with stakeholders toward a strategic approach to development. Similarly, economic development of Francophone and Acadian communities requires all stakeholders' involvement to achieve common goals.
The building of economic capacity in Atlantic communities relies to a large extent on community level volunteer leadership through local economic development organizations and, to an increasing extent, there is a strong role for municipalities and local government. ACOA recognizes that building on these community level partnerships is a critical factor of any community development strategy.
Expected Results:
Enhanced business and economic opportunities for Atlantic Canada communities.
Enhanced community collaborations.

Indicators:

Targets:

Dollar amount levered on community development projects/investments

Performance Measurement Strategy: Analysis of data from CBDC reports and internal systems.

2007-2008

2008-2009

2009-2010

Financial Resources ($ millions)

100.9

95.8

95.7

Human Resources (FTEs)

182

181

181
ACOA's support to communities assists them to identify priorities and implement economic development projects. In some cases, these projects are supported by other community economic development organizations, like Community Business Development Corporations (CBDCs) and Regional Economic Development Organizations (REDOs), which provide financial and technical assistance to businesses and communities.
ACOA, through the Community Futures program, provides contributions to 41 CBDCs in rural Atlantic Canada. These contributions enable the CBDCs to provide an essential source of investment capital and micro-lending, as well as business counselling and skills development that focus on rural small enterprises. ACOA, in co-operation with other levels of government, also supports 52 REDOs. REDOs are responsible for the co-ordination, development and implementation of strategic economic development at the local and regional level. Both CBDCs and REDOs are led by community-based boards of directors.
ACOA works in co-operation with communities by making strategic investments to capitalize on opportunities for sustainable economic growth and to build community development capacity. In doing so, ACOA invests in the development of critical economic development infrastructure, including strategic sectors, skills capacity, community assets and other key areas. ACOA's main tool for community investment is the Innovative Communities Fund.
Economic capacity in First Nations communities is a key issue in the economic future of the region's Aboriginal populations. Aboriginal communities in Atlantic Canada are small, often remote, and characterized by extremely high unemployment, a young rapidly growing population (almost half the population is under 24 years of age and growing three times faster than the non-Aboriginal population). The majority of Aboriginals live on reserves, with lower average incomes, higher rates of poverty and lower levels of education attainment (including literacy). These factors have contributed to an underdeveloped segment of Atlantic Canadian population, which is struggling with significant internal capacity, business development and governance issues. As a result, interventions need to be at a much more fundamental level than in non-Aboriginal communities.
Several federal departments share in the responsibility for Aboriginal economic development. For its part, ACOA works in collaboration with Industry Canada and Indian and Northern Affairs Canada in particular, to ensure a co-ordinated effort.
ACOA continues to make progress in identifying increased opportunities for Aboriginal economic development and in developing a more co-ordinated, team-like approach, both internally and in partnership with other federal departments. ACOA uses the flexibility of its existing programs to invest in priority areas jointly identified by government, Aboriginal businesses and communities: the development of management skills, productivity improvements, market expansions, innovation, and access to financing.
Almost 300,000 Acadians and Francophones live in Atlantic Canada, representing roughly one-third of the nation's French-speaking population outside Quebec. The economic vitality of this population is critical to the health of the Atlantic Canadian economy. Agency consideration for this minority group is couched in tradition and required by legislation. It should be noted that the official language minority community is entitled to particular consideration for constitutional reasons.
In addition to requirements flowing from the Charter of Rights and Freedoms, Section 41 of Canada's Official Languages Act requires federal institutions to enhance the vitality of the country's English and French linguistic minority communities, and to support and assist them in their development. In this respect, ACOA collaborates with several Acadian and Francophone organizations across the region. Beyond fulfilling the basic requirement of ensuring service in French to its Acadian and Francophone clientele, ACOA uses the Business Development Program, Innovative Communities Fund, and funds accessed through its partnerships, to enable the official language minority community to engage in activities that promote economic development.
In 2007-2008, ACOA will continue to work with communities and community organizations to identify, develop and support projects that will improve areas of productivity and competitiveness in communities and their resources sectors. To the greatest extent possible, ACOA will aim to support strategies that obtain the best value for its investments in the community economic development organizations.
Expected Results: Reduced impact of economic crisis.

Indicator:

Target:

Presence of new/diversified economic activity

As determined by the objectives of each program

Performance Measurement Strategy: Evaluation of data from studies, surveys and internal evaluations.

2007-2008

2008-2009

2009-2010

Financial Resources ($ millions)

40.5

0

0

Human Resources (FTEs)

2

0

0
There are circumstances in which federal government decisions - or other events impacting an area for which the federal government has a mandate (e.g. the fishery) - have resulted in the need for a major adjustment in a community or region. From time to time there is also a need for targeted interventions as a result of natural disasters. These measures are based on the appropriation of new funds that are delivered through ACOA as the economic development agency for Atlantic Canada. Each special adjustment measure will have specific objectives, clients and performance measures.
ACOA has been asked in the past, for example, to deliver adjustment programs that responded to the closure of military bases, the closure of the cod fishery, and the termination of the ferry service from New Brunswick to Prince Edward Island.
Typically, targeted funding is available for adjustment that is the result of a government decision or that clearly falls within the government's mandate. Currently, the only targeted adjustment program being delivered by ACOA is the Saint John Shipyard Initiative, in response to the closure of the shipyard in Saint John, New Brunswick.
The Saint John Shipyard Initiative responds to the loss of manufacturing activities and the resulting economic impact on the province of New Brunswick. The Saint John Shipyard Adjustment Initiative's short-term results are: demonstration that redevelopment of site is financially feasible, application for assistance for site redevelopment, and site improvements.
Expected Results: Enhanced infrastructure in urban, rural communities and public infrastructure.

Indicator:

Target:

Dollar value and number of projects by type*

$308.8 million over a one-year period
197 green municipal infrastructure projects
1 local transportation infrastructure project

Performance Measurement Strategy: Analysis of data from Shared Information Management System for Infrastructure (SIMSI).

2007-2008

2008-2009

2009-2010

Financial Resources ($ millions)

5.1

1.0

1.0

Human Resources (FTEs)

14

10

10
* green municipal infrastructure and local transportation infrastructure
Community infrastructure is an essential building block for community development. Investments in infrastructure ensure safe drinking water, effective waste management systems, and key transportation projects that facilitate the safe movement of people and goods. As well, strategic infrastructure that supports community development and economic growth can be a catalyst for a community to grow and prosper. ACOA, working with Infrastructure Canada and the Provinces, oversees/ensures the flow of federal funds allocated to each region through the various infrastructure funding streams. The priorities for Infrastructure Canada programs are green municipal infrastructure and local transportation infrastructure.
Community-based infrastructure programs are implemented by ACOA in the Atlantic region on behalf of the Government of Canada. Provinces and municipalities manage these projects. In most cases, the Government of Canada matches provincial contributions and generally provides up to one-third of the cost of infrastructure projects. Under various funds, Infrastructure Canada provides national co-ordination among delivery partners in the implementation of the projects.
ACOA's regional vice presidents act as federal co chairs on the federal provincial infrastructure management committees. Financial resources in 2007 2008 include contribution and operating funds for the Infrastructure Canada Program, which is winding down. ACOA remains committed to the delivery of federal infrastructure initiatives and participates in the delivery of both the Municipal Rural Infrastructure Fund and the Canada Strategic Infrastructure Fund, with planned spending being reported through Infrastructure Canada.
For more information on infrastructure programming, see Infrastructure Canada's website at http://www.infrastructurecanada.gc.ca/index_e.shtml.
Strategic Outcome:
3. Policies and programs that strengthen the Atlantic economy


Indicator:

Target:

Atlantic regional programs/initiatives implemented or adjusted as a result of ACOA policy work

Continued government support to Agency priorities, collaboration with other federal departments, and engagement with other partners in Atlantic Canada in areas that will contribute to increasing the competitiveness of Atlantic Canada's economy

Performance Measurement Strategy: Analysis of information from ACOA's Policy Network and key informant survey, as well as indicators from the federal government's budget speech, Speech from the Throne, and decisions by central agencies.

2007-2008

2008-2009

2009-2010

Financial Resources ($ millions)

14.1

13.9

13.8

Human Resources (FTEs)

113

111

111
ACOA's legislated mandate situates the Agency's policy, advocacy and co-ordination roles as central to identifying opportunities and challenges facing the regional economy. Policy, advocacy and co-ordination exist to inform and support decision making by the Agency and the Minister, providing intelligence, analysis, and well grounded advice on a broad range of issues and topics.
The three functions are interrelated: policy is at the centre of the relationship because it provides the research, analysis and advice needed to help define the forward agenda and plan future regional development approaches tailored to Atlantic Canadian circumstances. This policy work supports and promotes advocacy claims and guides co-ordination efforts. These three roles encompass:
mandated/legislative issues;
strategic program direction and approach; and
horizontal issues that broaden ACOA's economic focus to include social, environmental and cultural dimensions.
Many of the issues facing the Atlantic economy relate, either directly or indirectly, to the region's competitiveness. Therefore, ACOA's efforts, in conjunction with other partners and stakeholders, strive to develop strategies and approaches to address these. For instance, the federal economic plan, Advantage Canada,[13] recognizes the importance of continued innovation in order to maintain a competitive advantage and create better jobs. To this end, ACOA program investments have helped in developing new technologies. However, continued efforts involving both policy and programs are needed to assure the realization of commercial opportunities for those developments.
The resource sector is facing challenges related to resource constraints and continued competitive pressures. ACOA will work with other partners and stakeholders to help renewable resource sectors such as agriculture, forestry and fisheries/aquaculture in the Atlantic region to diversify, innovate and shift to higher-value-added activities, thereby helping them to be better positioned to compete globally.
Population decline is another important challenge facing the Atlantic economy. The region's aging population and the population shift within the region and elsewhere, indicate that strategies and approaches are needed which focus on creating a more dynamic labour market situation in the region. Therefore, ACOA continues to focus its policy, advocacy and co-ordination efforts to facilitate the transition occurring in the workforce.
Placing an emphasis on exploring options and capitalizing on opportunities is important for ACOA. The federal economic plan, for example, has identified gateways as a priority for Canada, and recognizes the east coast as an important link in international trade routes. This is a key priority for ACOA in terms of sustainable regional economic growth, and of contributing to the enhancement of Canada's productivity and global competitiveness.
These priorities are among the key sectoral and horizontal issues on which the Agency will focus its policy, advocacy and co-ordination efforts during 2007-2008. In total, these priorities, known as Advocacy Champion files, include aerospace and defence, energy, environment, science and technology, commercialization, aquaculture, resource industries, the Atlantic Gateway, population and immigration, and bioscience.
In developing and advancing these champion files, ACOA will continue to engage other policy stakeholders and work in partnership with other public and private sector stakeholders while advocating the Atlantic region's interests at the national level.
The following policy, advocacy and co-ordination sections will provide more insight into the types of planned activities and key results the Agency plans to achieve.
[13]
Advantage Canada – Building a Strong Economy for Canadians
, Finance Canada (2006).
Expected Results: Strategic, researched policy decisions reflecting the opportunities and challenges of the Atlantic region's economy, while considering enterprise and community development potential.

Indicator:

Target:

Extent to which policy analysis and research projects are useful and/or provide input into decision making with respect to Atlantic regional economic development, including enterprise and community development supports and services

Continue to provide sound advice to decision makers through policy analysis on challenges and opportunities facing the Atlantic economy, such as key transportation opportunities, and increased competitiveness in renewable resource industries, and others

Performance Measurement Strategy: Annual analysis of information from project reports, key informant survey managed by the Agency's policy network, and Atlantic Policy Research Initiative reports. In addition, every five years, the Agency will conduct a formal evaluation to measure the two indicators "Impact of new policies/strategies on programs and initiatives" and "Usefulness and impact of studies."

2007-2008

2008-2009

2009-2010

Financial Resources ($ millions)

7.7

7.5

7.4

Human Resources (FTEs)

35

35

35
ACOA's policy work provides a well-grounded base of understanding for the development of ACOA's strategic priorities and initiatives, for program design, and as input to national policy development and federal-provincial relations. This includes the development of policies, frameworks and advice.
The policy function is carried out by ACOA officials at its head office, regional offices, and its Ottawa office. It is supported by internal and external research on significant Atlantic economic issues; through ongoing analysis of issues and trends, challenges, and opportunities facing the region; and through stakeholder engagement. ACOA's policy function is supported by a dedicated research program, the Atlantic Policy Research Initiative (APRI), which funds region-wide research projects, and is designed to contribute to building the critical mass of public policy research in Atlantic Canada.
The policy function is supported by the following program sub-activities: Policy Analysis and Advice, Economic Analysis, Policy Research, and Engagement. The policy agenda reflects emerging regional, provincial and local economic issues, structural challenges and sectoral opportunities in the region's economy. ACOA's process of identifying areas requiring policy work includes the following.
Regular scanning of policy initiatives of other federal departments and other jurisdictions (provincial, international), particularly new directions in the national policy environment.
Keeping informed of emerging trends in major framework areas (e.g. fiscal framework, taxation, sectoral policy areas).
Identifying opportunities for the region in areas such as trade, investment and growth sectors, via research and consultation.
Developing federal and ACOA strategies to realize key opportunities.
Maintaining a process of engagement and consultation on policy issues to connect the Agency with the public; with its clients; and with various economic stakeholders who have a role in defining the issues and in choosing the best or most acceptable solutions.
An important part of the policy development model of ACOA, which encompasses APRI-sponsored projects as integral components, is the effectiveness with which results from research or engagement events are disseminated to a wide audience. This occurs at two levels – within ACOA (up to and including the Minister) and with audiences outside ACOA.
In 2007-2008, ACOA intends to focus its policy work in examining: key transportation opportunities for the region; the potential for increased competitiveness through greater diversification in the region's renewable resource industries; the impact of ACOA's community development initiatives, possibilities for enhanced commercialization of new products and technologies in the region; and skills development issues. The Agency's policy activities also support the work of the advocacy champions and the federal-provincial senior officials committee.
Expected Results: Federal policies and programs that reflect Atlantic enterprise and community development needs and interests.

Indicator:

Target:

Impact of Agency positions taken with respect to policy and programs and the government's capital procurement agenda

Increase the impact and influence of ACOA participation on horizontal, sectoral and other files important to Atlantic Canada

Performance Measurement Strategy: Analysis of data from interviews with senior officials of economic development departments, and from the Agency's files and procurement network.

2007-2008

2008-2009

2009-2010

Financial Resources ($ millions)

4.1

4.1

4.1

Human Resources (FTEs)

49

49

49
ACOA's advocacy function is twofold. It aims to advance the region's interests in national policy and program development in order to ensure government initiatives are more responsive to the needs of Atlantic Canada. It also pursues regional industrial benefits from public sector procurement, particularly major Crown projects, to improve the position of Atlantic industries.
The effective promotion of Atlantic Canada's interests is accomplished through environmental scanning, monitoring of the federal government's priorities for linkages and impacts, alerting and advising government officials on emerging issues, feeding information about Atlantic Canada to central agencies, other government departments and to Cabinet, and influencing the government's procurement agenda.
Through its advocacy role, ACOA directs the attention of central agencies and other government departments to gaps in national programs and seeks their support for more effective approaches for Atlantic Canada. Advocacy by ACOA also assists Atlantic Canadian firms to be better positioned to access government procurement, support and services.
Since early 2005, the Agency has focused its advocacy efforts on key priorities, each led by a champion. The objective of having defined priorities is to ensure national policies and programs reflect the regional context and promote Atlantic Canadian opportunities. These advocacy priorities are reviewed and revised on an annual basis to reflect emerging Atlantic priorities and the changing federal agenda. For 2007 2008, ACOA's priorities include: aerospace and defence; aquaculture; science and technology; commercialization; energy; and population and immigration. In addition, four new advocacy areas are added to the list. They are: the Atlantic Gateway, bioscience, environment and resource industries.
The aerospace and defence advocacy priority serves to promote Atlantic companies for major federal procurement projects within the federal industrial regional benefits (IRB) policy. For 2007-2008, IRBs will be pursued from projects announced under the Department of National Defence's "Canada First" initiative, including strategic airlift, tactical airlift, joint support ships, military trucks and medium-to-heavy-lift helicopters. ACOA's advocacy serves to make multi-national companies aware of Atlantic Canadian industrial capacity and encourages bidders to work and to partner with these companies on projects. To increase the readiness of Atlantic companies, the Agency will offer awareness-building sessions and provide information on upcoming federal procurement opportunities. As part of this advocacy function, the Agency will monitor the ongoing development of federal procurement policies from a regional perspective.
The aquaculture sector is an industry of strategic importance to Atlantic Canada, as it represents opportunities for wealth generation, employment creation, and diversification for the region's rural and coastal communities. In 2007-2008, the Agency's focus will be on innovation, R&D and commercialization of new technologies.In addition, the Agency will work closely with the Department of Fisheries and Oceans and the Atlantic provincial governments on the development of an Aquaculture Framework Agreement (AFA). This participation will ensure that the AFA addresses the needs of the Atlantic industry, as identified through various aquaculture networks.
The Agency's science and technology priority will focus its efforts to take advantage of the federal commitment to developing a comprehensive excellence-based science and technology strategy. It will promote better alignment of university and private sector research to help bring to market new technologies and innovations by Atlantic Canada enterprises. The Agency, as part of its commercialization priority, will aim to develop the conditions to better enable the commercial applications of university-led research and development, working with consortiums such as Springboard Atlantic and other partners.
The federal strategy also identified measures to better align post-secondary research capacity with the needs of business, and within sectors where Canada could become a world leader, such as energy, environmental technologies and health science. Under the energy priority, the Agency will focus on the development of advice, strategies, plans, workshops and projects intended to assist in the attraction of investment in the Atlantic Canada energy sector and to assist in the development of commercial opportunities for Atlantic Canada energy. The environment priority will develop, in collaboration with other federal departments, strategies and plans to assess and identify innovation and business opportunities within the government's environment agenda and clean energy initiatives.
The Agency's population and immigration priority will focus on the development of an Atlantic Canada immigration approach to attracting and retraining skilled individuals in priority sectors of the Atlantic economy. The Agency will participate in ongoing federal skills development strategies that will enhance post-secondary education, train workers to respond to the knowledge-based economy, and retrain older workers to participate more effectively in the workforce.
The Agency's newest priorities align with emerging federal priorities on a number of issues related to economic development. The federal government's comprehensive long-term plan for infrastructure includes specific reference to gateways in the west and east. ACOA, through its advocacy priority, will facilitate the development and implementation of an integrated Atlantic Gateway which will include corridors that connect ports of entry, such as Halifax, to the rest of the Atlantic region and to other ports such as Montreal and Quebec City. To this end, the Agency will work closely with other federal departments to ensure the Atlantic Gateway is integrated and consistent with the National Framework for Strategic Gateways and Trade Corridors.
In keeping with the government's science and technology strategy, bioscience has been identified as a new advocacy priority for the Agency. Atlantic Canada has an excellent record of research and development in health sciences, fish growth science, and food processing, which will serve as a solid foundation for future growth. The focus of advocacy activity will be on federal investments in bioscience that could bridge the gap between research and development and commercialization applications.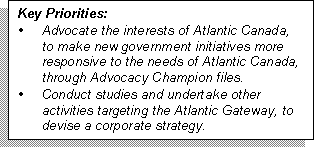 A significant portion of the economy in Atlantic Canada relies on the viability of its natural resources. New approaches are needed to reposition these industries so they can better meet market demands within a global economy. The Agency will develop an action plan to identify means to diversify the region's renewable resource base which includes forestry, fishery/aquaculture and agriculture. The plan will focus on ways to make the region's natural resource sectors more competitive by increasing productivity levels and by moving toward higher-end products and services.
Expected Results: Co-ordination of other federal departments' and other stakeholders' policies and programs within the region to form integrated approaches to development.

Indicator:

Target:

Joint strategic initiatives that reflect common positions on defined enterprise and community issues

Develop strategic initiatives through collaborative efforts with other federal and provincial partners on issues such as population, productivity and competitiveness, and access to capital, among others

Performance Measurement Strategy: Annual targets will be measured through analysis of data from ACOA's policy network, the Privy Council Office (Intergovernmental Affairs). Five-year targets will be measured through analysis of data from project reports and interviews.

2007‑2008

2008‑2009

2009‑2010

Financial Resources ($ millions)

2.3

2.3

2.3

Human Resources (FTEs)

29

27

27
ACOA's mandated co-ordination role aims to ensure that all groups and parties with a responsibility for, or an interest in, economic development work together to minimize duplication of effort and maximize collaboration. Although the mandate covers only the development activities of other federal departments and agencies active in Atlantic Canada, ACOA's co-ordination role has expanded to include important federal-provincial activities, as well as joint initiatives with the federal development agencies in other parts of Canada. Other groups engaged include post-secondary institutions, the private sector and its organizations, and non-governmental bodies.
These and other efforts will continue in 2007-2008. For example, new federal-provincial population related initiatives are ready to be implemented. These will seek to respond to the challenges facing the region's economic growth due to population decline and aging. Citizenship and Immigration Canada and the Provinces are funding partners to this arrangement. Human Resource and Social Development Canada helped develop the initiatives and remains involved as it delivers its own immigrant-related programs. ACOA will continue to explore joint approaches to development issues with the Atlantic Provinces through the federal-provincial senior officials committee (SOC).
The SOC's working tables identify, define and explore issues and challenges in productivity and competitiveness, innovation, access to capital, and population-related areas including skills. Other federal-provincial teams develop concepts and plans to rejuvenate the region's resource-based industries, and to realize the potential of an Atlantic Gateway as an integral part of Canada's trade with the rest of the world.
ACOA's relationship with other federal bodies has taken on increased importance in recent years. Frequent consultation with central agencies will continue. Discussions with other regional development agencies will ensure a co-ordinated approach to issues that affect the regions of Canada. On another level, federal councils, operate within each of the provinces. ACOA is both chair of, and participant in, these councils. These provide a forum for federal departments to discuss their ongoing initiatives and to inform of new ones. In 2007-2008, these councils will address an array of topics relevant to the region, including federal assistance to Aboriginal communities in New Brunswick and Newfoundland and Labrador; an awareness event, focusing on citizen-centred service delivery and development of a renewed service culture in the public service in Nova Scotia; and a learning partnership with Veterans Affairs Canada in Prince Edward Island.