ARCHIVED - Integrated Risk Management Implementation Guide

This page has been archived.
Archived Content
Information identified as archived on the Web is for reference, research or recordkeeping purposes. It has not been altered or updated after the date of archiving. Web pages that are archived on the Web are not subject to the Government of Canada Web Standards. As per the Communications Policy of the Government of Canada, you can request alternate formats on the "Contact Us" page.
Sample Templates for Identifying, Assessing, Recording, and Reporting Risk Information
Organizations have developed a variety of templates to help management and employees identify, assess, and report risk information systematically and consistently. Templates generally fall into one of three categories, corresponding to the three vital areas of information they are designed to capture:
risk identification templates;
risk analysis templates; and
risk maps.
Risk Identification Template
Usually in the form of a table, this simple template is designed to allow managers to list major risks, or risk sources, often within predefined risk areas or categories. In most cases, the risk identification template also includes a section on a preliminary risk assessment. Some more advanced forms may include a likelihood and impact decision-making model to show a risk rating (i.e. a combination of impact and likelihood) prior to implementing mitigation strategies (see Appendix C).
Exhibit 1: A Risk Identification Template
Initiative or Project Objective:

Risks or Risk Areas:

Preliminary assessment

LOW
MEDIUM
HIGH
1.
 
 
 
2.
 
 
 
3.
 
 
 
4.
 
 
 
5.
 
 
 
Risk Analysis Template
These templates, commonly referred to as worksheets, are often more elaborate, consisting of two or more tables. They are designed to capture and track as much information as possible about identified risks. In addition to a more detailed description of particular risks, the template may include such information as:
linkages to program, corporate objectives, or other corporately defined themes;
current risk level(s) in terms of likelihood and impact and sometimes risk level(s) after planned corrective actions are taken;
existing measures and capacity to mitigate risk;
planned management responses, strategies, and contingencies; and
the unit or individual responsible for managing a particular risk.
Exhibit 2: A Risk Analysis Template
Corporate objective affected
Risk description and its consequences
Result of likelihood and impact assessment
Risk rating
Existing moderation capacity or capability
Additional mitigation action or strategy
Manager responsible
Likelihood
Impact
 
 
 
 
 
 
 
 
 
 
 
 
 
 
 
 
 
 
 
 
 
 
 
 
 
 
 
 
 
 
 
 
 
 
 
 
 
 
 
 
 
 
Risk Maps
Risk maps are graphic representations of key risks facing an organization at any given time. Key risks are plotted or superimposed on a matrix depicting their impact and likelihood or severity and frequency. Risks can be colour-coded to show source, predefined category, or other considerations (e.g. insured versus uninsured risks) that may be relevant in the context of a particular organization, business line, or program. Risks or risk areas are usually numbered or coded to link them to detailed information in a risk analysis template or risk inventory. Organizations that have identified many risks may also show the total number of risks in each cell.
Exhibit 3: A Risk Map
Risks identified:
 

Economic and Financial

F1 Interest rate
F2 Securities
F3 Cost of insurance

Environmental

E1 Climate change
E2 Pollution
E3 Ozone depletion

Legal

L1 Liabilities
L2 Human rights
L3 International agreements

Technological

T1 Nuclear power
T2 Biotechnology
T3 Genetic engineering

Safety and Security

S1 Invasion
S2 Terrorism
S3 Organized crime

 
Risks depicted are adapted from the Appendix E lists and shown in no particular order.
Template for Capturing and Reporting on Risk Information
Guidelines for Risk Advisory Note
Branch/Region: Name of Branch
Risk: Name of Risk
Corporate Risk Area: Name of Risk Area
Short statement on the risk events and impacts
Objectives at Risk:
Brief point-form statement of branch objectives that may not be fully met. Such shortcomings may result from the challenges identified above and/or from challenges in implementing the mitigating strategies identified below.
Trade-offs made in developing mitigating strategies tend to be made among these objectives.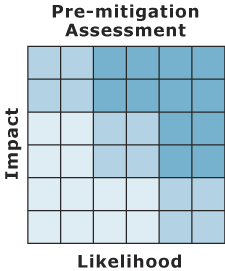 Considerations:
Short, point-form statements of factors that should be taken into account in making the right trade-offs in developing acceptable mitigating strategies
Key Mitigating Strategies:
Identification of all key mitigating strategies
Time Frames:
Targeted completion date for each mitigating strategy
Source: Reproduced from Integrated Risk Management in HRDC (October 2002), Human Resources Development Canada.