Succession planning and management for senior managers
The Advisory Committee on Senior Level Retention and Compensation (Seventh Report, December 2004) recommends that succession plans, coupled with current and forecast demographics, be reviewed to ensure that HR needs can be met in the executive ranks.
Under the Public Service Employment Act (PSEA) deputy heads have responsibility for identifying qualifications for work to be performed as well as the current and future human resources needs to deliver on organizational requirements in their respective departments.
Planning and managing succession is a critical sub-component of the broader integrated HR and business planning process. A gap analysis may point to a number of priority areas one of which may be succession planning. Other priority areas may include recruitment, change management, employment equity, and official languages. Succession plans should be incorporated into your integrated HR and business work plan.
Effective succession planning cannot succeed without commitment from leaders at all levels, starting at the top.
What is succession planning and management?
Succession planning and management involves an integrated, systematic approach to identify, develop and retain talent for key positions and areas in line with current and projected business objectives. The focus is on developing employees so that the organization has a pool of qualified candidates who are ready to compete for key positions and areas when they become vacant.
Succession planning and management : a five-step process
Identify key areas and key positions
Identify capabilities for key areas and positions
Identify interested employees and assess them against capabilities
Develop and implement succession and knowledge transfer plans
Evaluate effectiveness
Figure 1: Link between the succession planning and management process and the integrated HR and business planning process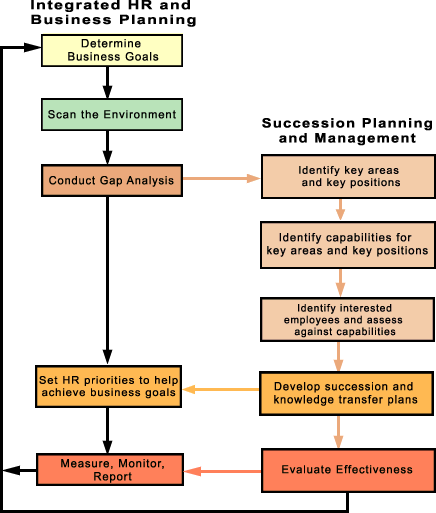 Figure 1: Link between the succession planning and management process and the integrated HR and business planning process – Text version
Traditional approach vs. leading approach
Different organizations are at different stages in their approach to succession planning. The following chart provides a comparison of replacement planning vs. succession planning and management.
Traditional Approach
Replacement Planning
Focus is limited to executive-level positions.
Focus is on identifying immediate and short-term replacements.
Plans are limited to identifying one or two potential successors for senior positions.
Plans are linked to individual job requirements.
Potential candidates are identified based solely on feedback from their immediate supervisor.
Succession planning is done in isolation from other related HR activities (e.g. learning and development, diversity initiatives, and recruitment).

Leading approach
Succession planning and management
Focus is on key positions/areas at various levels.
Focus is on the development of talent for the longer term.
Plans include developing pools of talent for key positions/areas.
Plans are linked to building competencies and skills for current and future business needs.
A systematic process is used to assess candidates based on feedback from multiple perspectives and sources of information.
Processes are in place to integrate succession planning with other HR activities.
The business case
Departures and retirements
Competition for skilled employees
Increasing diversity of the workforce
Need to retain corporate knowledge
Career development leads to higher levels of employee engagement
Planning considerations
Assess the current state of succession planning in your organization based on core business lines and priorities.
Assess the desired state and begin the planning process.
Benefits
A more efficient and effective public service with increased ability to deliver on business goals.
The development of a qualified pool of candidates ready to fill key positions or areas.
Improved employee engagement through career development and resulting cost benefit.
The opportunity for corporate knowledge transfer.
Who are the various players and what are their roles?
Deputy heads
Ensure that business planning and HR planning are integrated.
Lead the succession planning process and talent review meetings for senior executives and ensure that succession planning is carried out at all levels of the organization.
Communicate and champion the importance of effective succession planning and management.
Leaders
Identify knowledge, skills and abilities for key positions.
Provide employees with opportunities for development.
Conduct performance reviews and assist employees in determining areas in need of further development.
Link succession planning strategies to program and financial planning.
Evaluate the effectiveness of succession planning initiatives and amend as required.
Employees
Learn about key positions and areas and their skill requirements.
Discuss their career interests and plans with their managers.
Learn about and take advantage of development opportunities.
Complete a learning plan, keep it up-to-date and ensure follow-through.
Human resources
Provide timely advice and guidance to managers.
Engage in and ensure ongoing discussions with bargaining agents.
Ensure ongoing discussions with corporate planners and ensure that linkages are made to program management.
Assist managers with the evaluation of succession planning initiatives.
Key messages
Succession planning and management is about developing employees and supporting them in their careers to ensure that the organization has pools of talent for key areas. It is not about identifying heirs to specific positions.
Succession planning extends to all levels of the organization -- it is not limited to those in executive positions.
Employees play a role in the process by identifying their career interests, having an opportunity to be assessed for key roles and developing their learning plans.
Date modified: