ARCHIVED - Transportation Safety Board of Canada - Report

This page has been archived.
Archived Content
Information identified as archived on the Web is for reference, research or recordkeeping purposes. It has not been altered or updated after the date of archiving. Web pages that are archived on the Web are not subject to the Government of Canada Web Standards. As per the Communications Policy of the Government of Canada, you can request alternate formats on the "Contact Us" page.
The TSB's highly skilled and dedicated investigators are continuously called to conduct independent, expert investigations into selected incidents and accidents in the federally regulated transportation industry. No matter where things go wrong-on our waterways, along our pipelines or railways, or in our skies-we make sure Canadians know what happened, why it happened, and what needs to be done to make the system safer.
Since its inception in 1990, the TSB has addressed thousands of occurrences. Now, as we enter our third decade, we feel more confident than ever that Canadians can be proud of our innovative work, work that has established Canada as a world leader in independent accident investigation. This year, as always, our Annual Report to Parliament identifies a number of important safety lessons. We are committed to ensuring that those lessons, and our subsequent recommendations, are heard and understood by regulators, the industry and all Canadians.
But we don't stop there. When the Board feels not enough has been done, we will speak up, as we did with our Safety Watchlist. This innovative tool highlights nine critical issues that pose the greatest risk to Canadians, issues that must be tackled to make Canada's transportation system safer.
This year, we did not fully achieve all the priority objectives defined in our Report on Plans and Priorities. Significant progress, however, was made in several key areas. For instance, we met most of our targets for report publishing, including average time to complete each investigation. Some of the projects identified in our 2009-2010 Report on Plans and Priorities experienced delays, mainly due to staff turnover and conflicting priorities. However, these projects, including the development of the department's performance management framework and the implementation of a new Multi-Modal Training and Standards Division, are underway for completion in 2010-2011.
The TSB is fully committed to improving transportation safety in Canada and abroad. Through its continuous efforts, the organization will ensure that its products and services, as well as business activities, remain effective and efficient for the delivery of its mandate. But even as we reflect on two decades of accomplishments, we remain ever vigilant, making sure to keep looking ahead-to the challenges that await us, and to the opportunity to continue serving all Canadians.
The Transportation Safety Board of Canada (TSB) is an independent agency created in 1990 by an Act of Parliament (Canadian Transportation Accident Investigation and Safety Board Act). It operates at arm's length from other government departments and agencies to ensure that there are no real or perceived conflicts of interest. The TSB's only objective is to advance transportation safety. This mandate is fulfilled by conducting independent investigations into selected transportation occurrences1 to identify the causes and contributing factors of the occurrences, and the underlying safety deficiencies. The TSB then makes recommendations to improve safety and reduce or eliminate risks to people, property and the environment.
The jurisdiction of the TSB includes all aviation, marine, rail and pipeline transportation occurrences in or over Canada that fall under federal jurisdiction. The TSB may also represent Canadian interests in foreign investigations of transportation accidents involving Canadian registered, licensed or manufactured aircraft, ships or railway rolling stock. In addition, the TSB carries out some of Canada's obligations related to transportation safety at the International Civil Aviation Organization (ICAO) and the International Maritime Organization (IMO).
The TSB is primarily funded by Parliament through an operating expenditures vote and, as a departmental corporation, it has authority to spend revenues received during the year.
For more details on the TSB and its investigation process, visit the TSB website at http://www.bst-tsb.gc.ca/eng/index.asp.
The TSB is exposed to a number of situations, both internally and externally, that could have significant repercussions on its ability to fulfill its mandate. The most important challenges faced in 2009-2010 are described in the following paragraphs.
From an External Point of View
Slowdown of the Global Economy and Impact on TSB Activities
The slowdown of the global economy has affected all sectors of the Canadian transportation industry, leading to reduced activity and revenues. The impact of reduced revenues on transportation safety remains unknown. However, there is a risk that reduced revenues could lead to reductions in expenditures on infrastructure or its maintenance, which may in turn lead to increased accident rates in the future. The TSB continues to monitor this situation closely in order to detect any trends that could indicate compromised safety.
Government in a Deficit Economy
In Budget 2009, the Department of Finance announced a freeze on department spending on travel, conferences and hospitality at 2008-2009 levels for the next two years. The TSB responded to this freeze by reviewing and reducing any discretionary travel. However, the department's travel requirements are dependent on the frequency and location of transportation occurrences. The ability for the TSB to respect the spending limit is dependent on these two factors. In 2009-2010, the TSB did remain within the spending limit for travel, conferences and hospitality. In Budget 2010, the Government announced additional cost-containment measures for the next three fiscal years. The TSB has initiated plans to accommodate the budget freeze in 2010-2011 but needs to identify additional options for absorbing the cumulative impact in the following two years.
From an Internal Point of View
Repercussions of Organizational Changes
In 2008-2009, the TSB completed various projects associated with the review of its A base budget. The actions stemming from these projects have helped tighten the department's top-level organizational structure, realign its governance committees and ensure stringent follow-up on the organization's product quality and productivity. Over the last year, the department initiated work on the establishment of a Multi-Modal Training and Standards Division, a review of the report production processes, as well as other projects having an impact on TSB's operations. The department has managed these organizational changes by ensuring ongoing transparent communications with employees and stakeholders and using an appropriate change-management framework to minimize any negative repercussions.
Maintaining a Competent Workforce
The credibility and success of the TSB depend on its ability to develop and maintain a competent and diverse professional workforce to ensure operational continuity. The TSB had anticipated several challenges with its workforce, as described in its 2009-2010 Report on Plans and Priorities.
An increasing number of Public Service employees who provide internal services retired or resigned from the department in the year. The lack of availability of qualified and experienced labour in the market made staffing positions challenging. Several staffing processes needed to be run more than once to find a suitable candidate. The TSB relied on contract workers in certain situations to ensure the continuity of operations. The turnover in staff resulted in delays to the execution of corporate projects.
Human resources planning is particularly important within the TSB because numerous positions are the only one of their kind; in other words, only one person is responsible for a specific task or activity. The TSB implemented an integrated planning process in 2009-2010 which included the development of a formal staffing plan. Additionally, new departmental human resources policies and processes have been implemented for the establishment of employee performance agreements and learning plans. These measures should increase the department's ability to plan and transition through vacancies, as well as improve employee retention.
The chart below illustrates the program activities that contribute to the achievement of the TSB strategic outcome.
2009-2010 Financial Resources ($ thousands)

| Planned Spending | Total Authorities | Actual Spending |
| --- | --- | --- |
| 31,583 | 32,329 | 31,449 |
2008-2009 Human Resources (FTEs*)

| Planned | Actual | Difference |
| --- | --- | --- |
| 235 | 220 | 15 |
TSB Strategic Outcome: The mitigation of risks to the safety of the transportation system through independent accident investigations

Alignment of Program Activities to the Government of Canada Outcome: Safe and secure communities2

Program Activity
2008-2009
Actual
Spending3
2009-2010
Main
Estimates
Planned
Spending
Total
Authorities
Actual
Spending
Marine Investigations
5,254
5,112
5,551
5,656
5,526
Pipeline Investigations
432
464
451
462
451
Rail Investigations
4,597
4,879
4,931
5,233
5,073
Air Investigations
13,455
12,779
13,524
13,969
13,525
Internal Services
7,866
5,710
7,126
7,009
6,874
Total
31,604
28,944
31,583
32,329
31,449
Occurrences Reported to the TSB
In 2009, a total of 1,740 accidents and 1,357 incidents were reported in accordance with the TSB's regulations for mandatory reporting of occurrences4. The number of accidents in 2009 decreased by 8 per cent from the 1,901 accidents reported in 2008 and by 18 per cent from the 2004-2008 annual average of 2,133 accidents. The number of reported incidents decreased to 1,357 in 2009 from 1,464 in 2008, and decreased from the 2004-2008 average of 1,412. There were also 616 voluntary incident reports. Fatalities totalled 157 in 2009, down 6 from the 2008 total, and down 15 from the 2004-2008 average.
Figure 1: Occurrences Reported to the TSB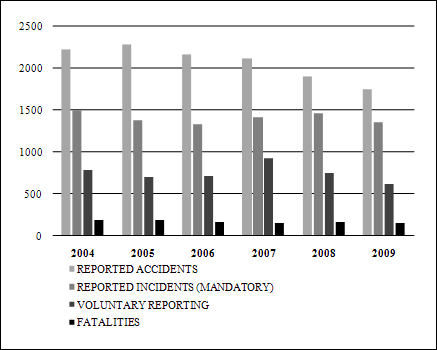 Investigations Started, in Process and Completed
In fiscal year 2009-2010, investigations were undertaken for 65 of the occurrences reported to the TSB compared to 61 in 2008-2009. In that same period, 73 investigations were completed, compared to 88 in the previous year5. The number of investigations in process decreased to 76 at the end of the fiscal year from 84 at the start. Average time to complete an investigation decreased to 454 days in fiscal year 2009-2010 from 534 days in the previous year.
Figure 2: Investigations Started, in Process and Completed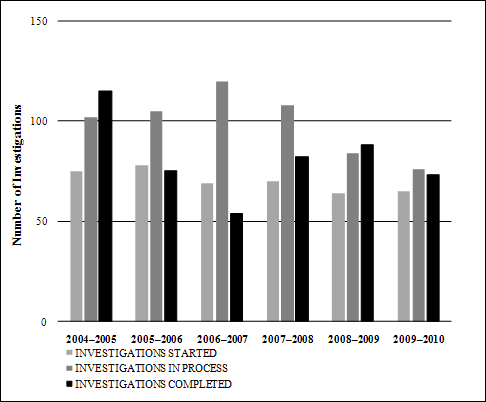 Overall, the TSB has been successful in identifying safety deficiencies and in reducing risks in the transportation system. TSB investigations result in reports identifying safety deficiencies and, where appropriate, containing recommendations to reduce risks. Over this past year, in all cases where the TSB undertook an investigation, safety deficiencies or contributing factors were identified and communicated. These results reflect careful application of the TSB's Occurrence Classification Policy in deciding whether to investigate, and a thorough implementation of the investigation methodology. This systematic approach ensures that TSB investigation resources are invested in areas with the greatest potential safety payoffs.
Safety Communications Issued
In 2009-2010, in addition to investigation reports, the TSB issued a total of 55 safety outputs: 11 recommendations, 24 safety advisories and 20 safety information letters. Safety information is also provided informally to key stakeholders throughout the investigation process, permitting them to take immediate safety actions where appropriate. It is common practice for industry and government to take safety actions during the course of TSB investigations. Such safety actions range widely in scope and importance. Operators will often take immediate remedial action after discussion with TSB investigators (for example, to clear the sight-lines at a railway crossing by trimming bushes and vegetation). Regulators such as Transport Canada (TC) and the Federal Aviation Administration in the United States regularly issue mandatory directives requiring inspections and/or component replacement based on the TSB's preliminary findings. In such situations, rather than issuing recommendations, the TSB can then report on the corrective actions already taken by industry and government agencies.
In accordance with the Canadian Transportation Accident Investigation and Safety Board Act, a federal minister who is notified of a TSB recommendation must, within 90 days, advise the Board in writing of any action taken or proposed to be taken in response, or the reasons for not taking action. The Board considers each response, assessing the extent to which the related safety deficiency was addressed. When a recommendation generates responses from within and outside Canada, the Board's assessment is based primarily on the Canadian response. This year, the TSB continued to publish on its website (www.bst-tsb.gc.ca) its assessment of industry and government organization responses to its recommendations made since January 2005.
During the period between 29 March 1990 and 31 March 2010, a total of 529 recommendations were assessed by the Board in the fully satisfactory, satisfactory intent, satisfactory in part and unsatisfactory categories. In addition, 8 recommendations are awaiting Board assessment, bringing the total number to 537.
In the 20-year period from 1990 to 2010, a majority of Board recommendations have effected positive change. As shown in Figure 3, in 67 per cent of cases, change agents have taken action that substantially reduces the deficiency noted in the recommendation. In 13 per cent of cases (satisfactory intent), change agents plan to take action that will substantially reduce the deficiency noted in the recommendation. In 14 per cent of cases (satisfactory in part), change agents have taken or plan to take action that will only partially address the deficiency noted in the recommendation. In 6 per cent of cases (unsatisfactory), change agents have neither taken nor plan to take action that will address the deficiency noted in the recommendation. With 67 per cent of TSB recommendations fully implemented, clearly there is room for improvement. This is an issue that the TSB intends to continue to bring to the attention of government, industry and the Canadian public.
Figure 3: Ratings of Assessments of Responses, 1990-2010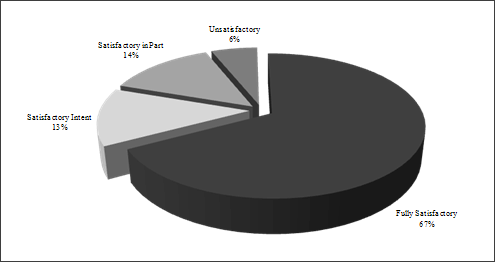 Communicating Transportation Safety to Canadians and the Transportation Community
Following a major accident, Canadians expect to learn about what happened, why it happened and what needs to be done to prevent a similar accident in the future. The transportation industry also depends on the TSB to report findings and recommendations to make the changes necessary to increase safety.
To meet these needs, the TSB communicates its findings to Canadians through final investigation reports, website updates and media events organized throughout the country. We also share information with regulators and the industry about important safety deficiencies we find during investigations so that they can take prompt action to correct them.
Canada's Transport Minister reported on 18 March 2010 in front of the Standing Committee on Transport, Infrastructure and Communities: "the TSB report on the incident involving a business jet was particularly powerful and it was one of the reasons why I announced earlier that Transport Canada will take back on April 1, 2011 the certification and oversight functions for business aviation from the Canadian Business Aviation Association."
In 2009-2010, the TSB held 8 media events and responded to several hundred media inquiries through the Head Office central media line, not including those inquiries handled regionally or immediately at an accident site.
Board members also gave speeches and presentations at a number of transportation industry events to connect with decision makers, raise awareness of transportation system risks and encourage further action on TSB recommendations. This fiscal year, they spoke to 6 audiences in the aviation, marine and railway industries.
TSB investigators play an important role in promoting the TSB's work and sharing information learned from investigations by attending events and conferences in Canada and abroad. They also hosted visits from other international investigative bodies to exchange information and best practices in investigations.
In 2009-2010, the TSB completed 73 investigation reports. During this period, 207 new subscribers joined the TSB electronic notification system for a total of 2,766 subscribers. The TSB Macro-Analysis Division published annual and monthly statistical reports and responded to 368 requests for complex transportation occurrence database information.
To further increase uptake on TSB recommendations, we released our Safety Watchlist on 16 March 2010. This list raises awareness of the nine most important safety issues that pose the greatest risks to Canadian transportation and where further action is needed to eliminate them. The Watchlist will be updated periodically as the regulator and industry make progress in addressing these issues.
The TSB website continues to be an important resource for providing information on accident investigations and transportation safety in general. Since the website redesign last year, we continue to make improvements to site navigability and content. We received an average of over 62,000 daily hits and almost 5,000 daily visitors.
While it is difficult to measure the results of our efforts to increase the reach of our communications activities, tangible signs continue to point to a degree of effectiveness of achieving target results. Stakeholders and media use TSB's safety messages in their activities. TSB techniques and methods raise ongoing interest in Canada and around the world.
The following table shows the progress achieved against the management priorities identified in our 2009-2010 Report on Plans and Priorities. In general, while progress was made, all priority areas suffered as a result of staff turnover. For a small organization like the TSB, our capacity to deal with these departures can be challenging as they have an impact on management, operations and internal services. The TSB is exploring various options to expedite access to qualified staff in order to minimize the impact of staff departures in the future.
Priorities
Type
Status
Productivity and Effectiveness of Safety Communications
Ongoing
Mostly met all the expectations. As described in section 2, there were significant improvements in the timeliness of reporting for 3 of the 4 modes. Additionally, the effectiveness of safety communications also improved as measured by the percentage of responses that were assigned a fully satisfactory or satisfactory intent rating.

Due to the interdependency of some projects and staff turnover, the optimization of some of our technological tools was delayed and the full implementation of our performance measurement framework had to be postponed to next year.
Information Technology Infrastructure and Information Management
Ongoing
Mostly met all expectations. Significant progress was achieved in the upgrade of our applications infrastructure and the reduction and management of our information technology assets infrastructure and applications.

Due to limited capacity, only partial progress was achieved in the development and implementation of an electronic records management system, standardization of our electronic forms and assessment of our business processes. Renewed efforts will be made in the next fiscal year in these areas.
Workforce Renewal and Retention
Ongoing
Somewhat met the expectations. Significant progress was made on the follow-up on results of the 2008 Public Service Employee Survey and the review and update of employee work descriptions. Due to limited capacity or change in the scope of some initiatives, work relating to the implementation of the Multi-Modal Training and Standards Division and the standby system review will only be completed in 2010-2011.
Financial Management
Ongoing
Expectations not met. Very little progress has been achieved in the planned improvement to the financial forecasting and costing processes due to significant turnover in the Finance and Administration Division. This division was fully staffed by year-end and this work is planned for 2010-2011.
As shown in the table below, expenditures for 2009-2010 are essentially in line with previous years' expenditures. Program expenditures in 2009-2010 decreased from 2008-2009 by $0.5 million or 1.8 per cent. The decrease is primarily attributed to lower expenditures on corporate projects. The TSB's expenditures for contributions to employee benefit programs increased by $0.4 million or 11 per cent from 2008-2009 to 2009-2010. This expenditure is determined by Treasury Board Secretariat by allocating a percentage of the government's expense for employee benefit programs to each department. The increase in TSB's expenditure reflects its share of the increase at the government-wide level.
Voted and Statutory Items

($ thousands)
Vote #
or
Statutory
Item (S)
Wording

2007-2008


Actual
Spending

2008-2009


Actual
Spending

2009-2010


Main
Estimates

2009-2010


Actual
Spending
Canadian Transportation Accident Investigation and Safety Board
10
Program Expenditures
27,104
28,251
25,635
27,736
(S)
Contributions to employee benefit plans
3,287
3,319
3,309
3,680
(S)
Spending of proceeds from the disposal of surplus Crown Assets
39
15
0
19
(S)
Expenditures pursuant to paragraph 29.1(1) of the Financial Administration Act
10
19
0
14
Total
30,440
31,604
28,944
31,449
The following chart shows the TSB spending trend over a three-year period. Reference levels provided through the Main Estimates have remained stable over the past three years. However, additional authorities have been provided through Supplementary Estimates and Treasury Board vote transfers. These authorities were essentially intended to cover incremental costs to offset collective bargaining increases and the carry-forward of previous years' lapses.
Actual expenditures for 2009-2010 are closely aligned with management's spending plans. The year-end lapse of departmental funds was higher than originally planned as a result of delays in the progress on projects and related spending caused by turnover in staff.
Figure 4: Spending Trend between 2007-2008 and 2009-2010