ARCHIVED - Public Safety Canada - Report

This page has been archived.
Archived Content
Information identified as archived on the Web is for reference, research or recordkeeping purposes. It has not been altered or updated after the date of archiving. Web pages that are archived on the Web are not subject to the Government of Canada Web Standards. As per the Communications Policy of the Government of Canada, you can request alternate formats on the "Contact Us" page.
SECTION III: Supplementary Information
3.1 Financial Highlights
Condensed Statement of Financial Position
At end of Fiscal Year (March 31, 2010)

($000's)

% Change

2010

2009

ASSETS

28.1

251,687

196,479

LIABILITIES

2.1

708,120

693,373

EQUITY

8.1

(456,433)

(496,894)

TOTAL LIABILITIES AND EQUITY

28.1

251,687

196,479

Condensed Statement of Operations
At end of Fiscal Year (March 31, 2010)

($000's)

% Change

2010

2009

EXPENSES

-6.1

341,080

363,122

REVENUES

41.7

85

60

NET COST OF OPERATIONS

-6.1

340,995

363,062
Note: the above information is presented on a full cost, accrual basis and does not, therefore, agree with actual spending charged to the appropriations.
The following chart presents the Statement of Operations by showing expenses by category as a percentage of total departmental accrual accounting expenses. Transfer payments represent 52% of the total $341M Department expenses. Major variances with information previously presented on an appropriation/cash basis in this document are attributed to the factoring of accruals in respect of grant and contribution liabilities, capitalisation of assets as well as services received without charge.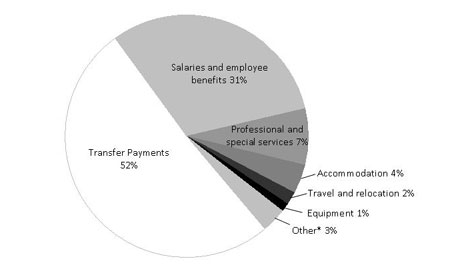 * Other expenses consist of communication, amortization, equipment rentals, utilities, material and supplies, information and repairs
3.2 Financial Statements
To access the 2009-10 Public Safety Canada financial statements, please visit: http://www.publicsafety.gc.ca/abt/dpr/2009-2010/fin-eng.aspx
3.3 List of Supplementary Information Tables
Details on Transfer Payment Programs
Horizontal Initiative
Green Procurement
Response to Parliamentary Committees and External Audits
Internal Audits
Evaluation
Sources of Non-Respendable Revenue
All electronic supplementary information tables found in the 2009-10 DPR can be found on the TBS website at: http://www.tbs-sct.gc.ca/dpr-rmr/st-ts-eng.asp.
Footnotes
[1] The calculation of a full-time equivalent (FTE) differs from the calculation of an employee in that the former considers part-time employment, term employment, job sharing, and would combine, for instance, two-half time employees into a single FTE.
[2] Further information on Government of Canada outcomes is available at: http://www.tbs-sct.gc.ca/reports-rapports/cp-rc/2008-2009/cp-rctb-eng.asp
[3] Please refer to the Law Enforcement program activity for more information on the Canada Economic Action Plan.
[4] Note: In the 2009-10 Report on Plans and Priorities the percentage used as the baseline of "Canadians who have prepared an emergency kit" (43%) was erroneous. The baseline figure was determined in 2005-06 at the outset of the "72 Hours" campaign as 32% of Canadians had prepared an emergency kit.
[5] Found under the "Contribution of Priorities to the Strategic Outcome".
[6] The Security Infrastructure Pilot Program seeks to improve the safety of communities at risk of hate motivated crime by providing support to enhance security infrastructure for those not-for-profit organizations central to any community including: provincially-recognized educational institutions, places of worship, and community centres.