People Management Governance
Welcome to the People Management Governance section of the HR Reference Centre. The information in this section is intended to demonstrate how key stakeholders work together to advance people management excellence across the public service.
The People Management Governance structure enables effective relationships based on trust among its key stakeholders. A number of committees, communities and working groups have been created to enable central agencies to work together with the Deputy Head and Human Resources Communities to:
Ensure alignment of issues and priorities on HR agenda across the Public Service as identified by the government, Deputy Heads and the HR Community through the governance model;
Endorse and approve CHRO tools developed for managers and HR professionals;
Support governance and advisory role of IT investments for HR.
The Deputy Head Community includes the following committees:
The Human Resources Community includes the following committees:
People Management Committee: Acts as an advisory body to the Chief Human Resources Officer and to HR professionals across the public service as a whole.
Human Resources Council (HRC): Supports heads of human resources and, therefore, their deputy heads in fulfilling their responsibilities for human resources management.

HR Communities of Practice Hub: Serves as a forum for the Communities of Practice and the Human Resources Council to consult and collaborate as well as align priorities and goals.

Human Resources Services Modernization Advisory Board: Provides for the interdepartmental coordination and review of government initiatives to develop and implement an Enterprise-wide Human Resources services approach for the Government of Canada.
Figure 1: HR Community Operating Model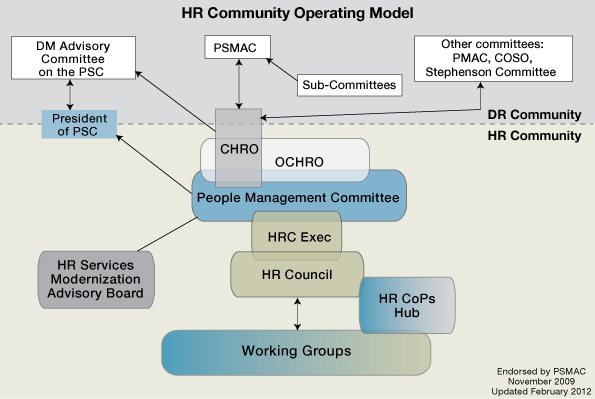 Date modified: