ARCHIVED - RPP 2006-2007
Natural Resources Canada

This page has been archived.
Archived Content
Information identified as archived on the Web is for reference, research or recordkeeping purposes. It has not been altered or updated after the date of archiving. Web pages that are archived on the Web are not subject to the Government of Canada Web Standards. As per the Communications Policy of the Government of Canada, you can request alternate formats on the "Contact Us" page.
Section II - Analysis of Program Activities by Strategic Outcome and Departmental Priorities
The department's plans and priorities, and associated planned spending are presented using the departmental Program Activity Architecture (PAA) backbone. NRCan's PAA completely reflects what the department does and explains how resources are managed to achieve our strategic outcome. The RPP provides in-depth and systematic information on departmental planned expenditures to deliver on the departmental priorities that have been identified for the planning period.
Strategic Outcome - Canadians derive social and economic benefits from the assessment, development and use of energy, forest and mineral resources, and have the knowledge to mitigate environmental impacts and respond effectively to natural and man-made hazards.
NRCan's strategic outcome is supported by the department's four programs: Earth Sciences, Energy, Sustainable Forest, and Minerals and Metals.
The Earth Sciences Program is an essential component of the S&T Canadians need to make informed economic, social and environmental decisions. Geomatics Canada, Canada's national mapping agency, provides geographic information of Canada's landmass and offshore including topographic maps and aeronautical charts, legal surveys of Canada Lands, geodesy for accurate positioning, and the archiving and application of earth observation data. The Geological Survey of Canada, Canada's national geoscience agency, works with the provinces and territories to provide the geological information that ensures a competitive investment climate for mineral and petroleum exploration, elucidates groundwater resources, maps the geology of the seafloor, helps reduce the risk posed by natural hazards such as earthquakes, magnetic storms, landslides, and naturally-occurring toxic substances. Earth Sciences also manages horizontal programs in Climate Change Impacts and Adaptation, and GeoConnections, delivers on Canada's commitment to monitoring nuclear explosions under the Comprehensive Test Ban Treaty, responds to nuclear emergencies, and provides logistics support to Arctic science through the Polar Continental Shelf Project.
The Energy Program fosters the sustainable development and responsible use of Canada's energy resources to meet the present and future needs of Canadians. It focuses on S&T, policies, programs, knowledge and international activities in the areas of energy efficiency (residential, commercial, industrial, transportation), renewable energy, electricity, nuclear energy, alternative transportation fuels, and the production of conventional and unconventional fossil fuels to further sustainable development. Through its work, the program helps address the environmental impacts associated with energy production and use; promotes better environmental and consumer choices; facilitates North American and international trade in energy; contributes to technical innovation, job creation and economic growth; facilitates environmental protection and increased public safety and security; and helps to ensure competitively priced, reliable and secure energy supplies for Canadians.
The Sustainable Forest Program promotes the sustainable development of Canada's forests for the social, environmental and economic well-being of present and future generations of Canadians. As the national science-based forest policy organization in Canada, this program plays a pivotal role in leading real change and results for a healthy forest and a strong forest sector by: building consensus on key forest issues; shaping national and international forest policy agendas responding to forest-related international commitments and obligations; promoting the competitiveness of Canada's forest sector; generating, assembling and disseminating forest S&T and policy information; and in developing, implementing and transferring sustainable forest management knowledge, products, strategies and technologies to Canadians and to interested nations around the world.
The Minerals and Metals Program is the Government of Canada's leader in promoting the sustainable development and responsible use of Canada's mineral and metal resources. A fundamental objective of the program is to develop: (i) technologies and solutions to problems in order to increase the competitiveness of the mining and processing industries; and (ii) new materials and processes to enhance the competitiveness of the construction, transportation and energy sectors.
The program includes significant international activities to address barriers to market access and to communicate the benefits of Canadian expertise and products. Minerals and metals activities also focus on assessing the investment climate for exploration and mining in Canada and abroad, and making policy recommendations. The program aims to increase the contribution of mineral development to the prosperity and well-being of Aboriginal and northern communities.
The program applies its extensive knowledge and expertise to: (i) fulfil its statutory responsibilities for mining projects under the Canadian Environmental Assessment Act; (ii) develop environmental technologies for application both at home and throughout the developing world; (iii) limit the impact of climate change; and (iv) ensure that environmental policies and regulations pertaining to the mining industry are based on sound science. Finally, the program is committed to enhancing the security and safety of: (i) workers in underground mines through the development of new technologies; and (ii) Canadians through the implementation of explosives regulations under the Explosives Act, and the development of advanced technologies.
A. Analysis by Departmental Priorities
Section II-A provides planning information by departmental priority and the four programs. In turn, the programs present financial and textual information on the key initiatives/services that are directly related to achieving the departmental priorities identified for the planning period. Information on other supporting and enabling initiatives/services to deliver on our strategic outcome and departmental priorities, and their related planned spending can be found in Section II-B, on page 40. More information on NRCan's programs can be found at www.nrcan.gc.ca.
DEPARTMENTAL PRIORITY – Improve Resource-Sector Productivity and Competitiveness
Key Initiatives/Services*
Program Activity
Planned Spending ($M)
2006-07
2007-08
2008-09
Stimulating private sector exploration through energy policy and mineral resource development
energy and mineral resource development
Earth Sciences
33.5
33.5
34.4
Contributing to the Canadian economy through energy policy
energy policy development and analysis
Energy
11.9
7.1
7.1
electricity resources policy
Energy
3.8
5.2
4.9
petroleum resources policy
Energy
4.5
4.2
4.1
Enhancing the global competitiveness of Canada's forest industry
diversify products, processes and end-uses through innovation to enhance competitiveness
Forest
17.1
5.1
5.1
secure and implement international arrangements and agreements to promote and safeguard Canadian forest sector interests
Forest
1.1
1.1
1.1
enhance global competitiveness of Canada's forest products industry
Forest
1.8
1.7
1.7
maintain, diversify and expand markets for forest products
Forest
2.5
2.5
2.4
growing the limits of forest utilization
Forest
36.4
35.9
24.8
Improving productivity and competitiveness in the Canadian minerals and metals industries
economic and regional analysis
Minerals & Metals
1.0
1.0
1.2
tax and exploration
Minerals & Metals
1.0
1.0
1.0
international liaison and trade relations
Minerals & Metals
1.1
1.0
1.0
industry and commodity market analysis
Minerals & Metals
1.1
1.1
1.1
business development
Minerals & Metals
0.6
0.6
0.6
mining, processing and environmental research
Minerals & Metals
15.8
15.2
15.1
Total Planned Spending
133.2
116.2
105.6
* The key initiatives/services listed in this column match those found in NRCan's Program Activity Architecture at the sub-sub activity level.
The following information presents the plans, expected results, and performance measurement strategy for each of the key initiatives and services listed in the above table. In turn, each of these initiatives/services have been bolded within the text to provide better links between planned spending and anticipated results. This format has been used for all departmental priorities presented in Section II-A.
Stimulating private sector resource exploration through energy and mineral resource development – The Gas Hydrates Program will advance the Government of Canada's commitment to using our energy resources responsibly.
Over the planning period, work will continue on the development of gas hydrates as an unconventional energy source to ensure a secure energy supply. The scientific and technological knowledge required for the sustainable development of this resource will be identified for areas in Canada that host large gas hydrates deposits, mainly in the high Arctic and in offshore areas. Currently, gas hydrate deposits on the west coast continental shelf are being drilled as part of the international Ocean Drilling Program.
In Budget 2005, $25 million over five years was allocated to the Targeted Geoscience Initiative (TGI), phase 3. TGI provides integrated geoscience knowledge pertaining to areas of high base metal potential, with the intent of stimulating private sector resource exploration and to reduce the geological risk inherent in exploration and development associated with the deepening of existing mining operations to extend known reserves, as well as the search for new hidden deposits.
TGI is a partnership program, delivered in collaboration with provincial geological surveys with participation by industry and universities. In addition, it will contribute to filling the capacity gap in highly qualified personnel in the base metal exploration sector. The objective is to have three to five new base metal deposits in production by 2010 that will support resource-based employment in mining communities across Canada.
NRCan's work with respect to securing our energy supply is built on maintaining reliable energy infrastructure, having a diverse and competitively-priced energy supply for Canadians and Canadian industries, and ensuring that North American energy markets function smoothly.
In addition, NRCan supplies information regarding the state and future prospects of the Canadian energy supply. By 2010, the objective is to provide stakeholders with resource assessments to improve the accuracy of strategic Canadian energy supply forecasts and economic analysis, and to use energy basin evaluations to increase the amount of investment in, and the effectiveness of, exploration and development for both conventional and unconventional energy resources in a safe and environmentally responsible manner. A particular focus will be placed on science and technology in support of the development of new unconventional gas supplies from coal-bed methane and to investigate the potential of production from gas hydrates. Furthermore, new geoscience data and information will be available for the Mackenzie Valley region in support of informed planning and subsequent exploration and development.
Contributing to the Canadian economy through energy policy – Energy is a major pillar of the Canadian economy, representing 5.9 percent of our GDP in 2004 and $67.4 billion in exports in 2004. The energy sector provides over 225,000 well-paying skilled jobs in Canada.
At the September 2005 meeting of the federal-provincial-territorial Council of Energy Ministers (CEM), ministers called for a renewed commitment to work collaboratively to ensure continued prosperity from Canada's energy resources. Ministers agreed to work together to enhance the security, reliability and sustainability of Canada's energy systems. Ministers also agreed that all Canadians must work together to develop real and sustainable solutions to meet Canada's energy needs in a way that addresses environmental challenges such as air quality and climate change, with conservation being a priority. Through the CEM, NRCan will work towards ensuring greater federal-provincial and territorial collaboration to help address key issues facing the Canadian energy sector. A meeting of the CEM was held in the Yukon on August 28, 2006.
Energy is a global strategic resource that drives the world's economy. Internationally, there are growing concerns over energy security, high and rising energy prices, inadequate investment in energy infrastructure as well as global environmental issues. This has resulted in a high profile for energy at the international level.
Canada is emerging as a global energy superpower. It is the fifth largest energy producer and the only country within the Organization for Economic Cooperation and Development with growing oil production. While our major focus is in North America, Canadian companies are active throughout the world.
Canada's objectives internationally are to promote open and transparent markets, diversity in energy supply, policies to promote energy efficiency and collaboration on research and development. The pursuit of these objectives is aimed at promoting energy security, stable global economic growth and responsible development. Canada will continue to focus on these priorities through work with international partners, multilaterally and bilaterally, including the partners of the G8, the International Energy Agency, and others.
With respect to electricity resources, the department's work will focus on policy development. This includes developing strategies and programs, and providing expert advice in the area of renewable, electrical, nuclear energy, uranium and radioactive wastes. Deliverables over the planning period include:
demonstrable progress in developing a renewable energy and wind energy strategy for Canada in cooperation with the provinces and territories;
completion of a report on the implementation of the recommendation of the U.S. Power System Task Force;
demonstrable progress in modernizing Canada's nuclear legislative framework, including a review of the Nuclear Liability Act; and
elaboration of government policy positions for the Advanced Candu and Generation IV technologies.
Moreover, as part of its responsibilities under the Nuclear Fuel Waste Act, the department will continue to support the Minister in discharging his responsibilities to oversee, monitor, review, comment on and approve, or have approved by the Governor in Council (GIC) long-term nuclear fuel waste activities. The Nuclear Waste Management Organization has presented four long-term waste management solutions: long-term storage at reactor sites; central shallow or below ground storage, geological disposal; and a combination of the three. An interdepartmental review has been launched and a government decision is expected in 2006.
With regards to petroleum resources policy, updated and clarified legislation will secure existing energy resources. In partnership with provincial and territorial governments, the National Energy Board, the Canada-Newfoundland Petroleum Offshore Board and the Canada-Nova Scotia Offshore Petroleum Board, NRCan has begun the process of applying the principles of goal-oriented performance-based regulation to the regulations governing frontier and offshore oil and gas activities. This initiative is aimed at fostering innovation and enhancing the global competitiveness of Canada's frontier and offshore industries.
NRCan will provide technical expertise to the Joint Review Panel for the Mackenzie Gas Project. The department will also lead in the preparation for an Alaska Highway pipeline project. This includes design of a review process that will satisfy the requirements of federal, provincial, territorial, and First Nations entities. NRCan will propose any necessary amendments to federal regulations, legislation, or Canada-U.S. agreements to accomplish policy or regulatory goals.
For liquid natural gas (LNG), NRCan is working with the Canadian Standards Association (CSA) on the update of the CSA's LNG standard. The goal is for the new CSA standard to be adopted by all federal and provincial regulators to ensure a common Canada-wide standard for the construction and operation of LNG terminals, providing uniform environmental protection and health and safety for Canadians. NRCan will also continue to work with the Department of Foreign Affairs Canada, International Trade Canada, and other federal departments to determine the effects in Canada of possible LNG terminals in Passamaquoddy Bay, Maine.
Energy S&T activities in the area of oil and gas will enhance Canadian competitiveness by encouraging innovation and supporting activities such as: promoting the acceptance of synthetically-produced oil from oil sands in American refineries; improving, upgrading and refining processes to reduce costs; and developing technology to recover oil that cannot be recovered by surface mining or current in-situ methods.
Enhancing the global competitiveness of Canada's forest industry – Canada is the largest exporter of forest products in the world. The value of exports accounted for $44.6 billion in 2004-05 (11.6 percent of Canada's total export); contributed $36.8 billion to the GDP in 2004-05 (3.1 percent of total GDP); and accounted for some 361,000 forestry-related jobs supporting largely rural economies and communities. Despite its vast economic contributions and the commitment to the stewardship of this important resource, the forest sector is facing serious pressures and challenges including: trade barriers; declining pulp and paper commodity price trend; increased energy and fibre costs; increasing operational costs for extraction; higher dollar; production shifting away from Canada to lower-cost competitors; high infrastructure development costs associated with extraction in highly remote forested areas; decline in available wood supply arising from the effects of climate change (including fire, insects and disease) and reduced annual allowable harvests by provincial governments. Consequently, there is an urgent need in Canada to develop an integrated response to address these trends, and to invest in the future competitiveness of the industry to enhance its long-term economic sustainability.
NRCan is addressing these needs by improving Canada's understanding of global forest market access trends, issues, and challenges, and by promoting the global competitiveness of Canada's forest products industry through the development and implementation of programs, innovative products and processes aimed at expanding and diversifying Canada's forest products trade in emerging markets.
In collaboration with other federal departments and agencies, the department will implement a new national forest industry competitiveness strategy aimed at responding to these forest industry challenges while continuing to encourage partner investments to promote innovation and skills development in forestry and forestry-related areas. The department will continue to invest in demand driven value-added forest products research and innovation through Canada's forest research institutes (FERIC, Forintek, and Paprican); and will implement the Canadian Council of Forest Ministers' (CCFM) International Forestry Partnerships Program as a means of promoting Canada's concept of sustainable forest management and to prevent trade barriers being erected in foreign markets.
In its Budget of 2006, the Government announced a commitment of $200 million over 2006-07 and 2007-08 to encourage the long-term competitiveness of the forest industry and to assist worker adjustment. NRCan continues to work in collaboration with a number of other government departments to develop a long-term industry competitiveness strategy and adjustment for the workers and communities that depend upon the forest industry.
As well, NRCan will continue to lead adjustments to the national innovation system in the forest sector; investigate opportunities and options for creating the world's largest forest research institute; and implement Canada's recently announced Forest Fibre Research Centre. Its aim is to provide scientific leadership to promote innovation and value-added activities, link with other organizations and institutions to improve forest sector competitiveness, and to help bridge the gap between the economic and the social and environmental pillars of sustainable forest management.
To advance Canada's global forest stewardship role while promoting a level trade playing field, the department will orient its international activity through an international forest policy agenda premised on the notion that other forest nations be held to the same standards of environmental and social responsibility that Canada places on itself. Within this context, the department will continue to advance Canada's forest sector interests while respecting existing international forestry agreements, and will promote the formulation of new agreements that advance sustainable forestry worldwide.
As steward of 10 percent of the world's forests and 30 percent of its boreal forests – an important global endowment – Canada is an active proponent of sustainable forest management. In 2006-07, the department will explore opportunities to follow-up on the Statement of Cooperation signed in 2005 between Canada and the Federal Forest Agency of the Ministry of the Russian Federation. Areas of potential forest cooperation include: fire and pest management; certification of sustainable forest products; and enhancing research collaboration on the boreal forest by Canadian and Russian Model Forests.
Improving productivity and competitiveness in the Canadian minerals and metals industries – In general, Canada's minerals and metal industries are highly productive. Over the period 1997 to 2004, total factor productivity in the mining, and smelting and refining industries grew at an average annual compound rate of 5.3 percent and 7.1 percent, respectively, well above the rate for all industries of 1.2 percent. However, to remain competitive in global commodity markets, Canada's minerals and metals industries must continuously improve their productivity. The level and growth of productivity in the minerals and metals industries is dependent upon a number of different factors. Over the planning period, NRCan will focus on three of these factors: investment, innovation and market access.
Canada is recognized as a global leader in mineral exploration and mining. In a recent article in the Globe and Mail, mining was described as one of the ten activities that Canada does best. Canada's mineral endowment is one of our greatest comparative advantages. Unfortunately, this comparative advantage is at risk. In recent years, Canada's reserves of base and precious metals have declined significantly, limiting Canada's ability to take full advantage of the growing demand for minerals and metals in emerging economies such as China. China's imports of concentrate and metals quadrupled from 1995 to 2003. In 2003, the total value of China's mineral imports exceeded US$100 billion.
To reverse the decline in metal reserves in Canada, investment is required to explore and develop new mineral deposits and expand existing mines. Therefore, NRCan will analyze and support improvements to the tax regime for exploration and development over the planning period. In addition, the department will hold public information sessions on exploration tax incentives to encourage investment.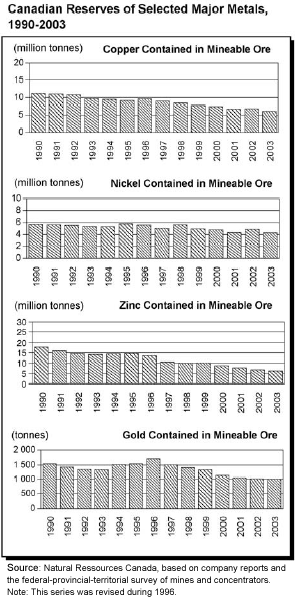 Innovation and the expansion of value-added activities are key to improving competitiveness and productivity growth. Over the planning period, NRCan will, for example, complete testing of its innovative process to enhance the recovery of silver and gold from ores; develop less expensive methods to mine at greater depths; and develop thermal fragmentation methods to increase ore recovery in narrow-vein mines.
Canada is one of the world's leading exporters of minerals and metals. The total value of Canadian mineral exports reached $46.6 billion in 2003. However, our exports are threatened by non-tariff barriers. Many of these non-tariff barriers are unjustified and may be inspired by competing commercial interests. Over the planning period, NRCan will address non-tariff barriers through a risk-based approach. Minerals, metals and their products can be produced, used, re-used, recycled and returned to the environment without posing a significant risk to the environment and health.
In 2006-07, NRCan will continue to lead the Intergovernmental Forum on Mining, Minerals, Metals and Sustainable Development. The Forum's objectives are to bring together like-minded countries to discuss and resolve international issues such as constraints to the international trade of minerals and metals. In the coming year, the Forum's goal is to expand its membership beyond the 33 countries at present, including the addition of some major producers.
In 2002, the Kimberley Process Certification Scheme (KPCS) was created with the support of the United Nations General Assembly. The KPCS outlines the provisions under which the trade in rough diamonds is to be regulated. The purpose of the KPCS is to stem the flow of rough diamonds that are used by rebels to finance civil conflicts in countries such as Angola, Côte d'Ivoire, the Democratic Republic of Congo and Sierra Leone. Kimberley Process participants account for 99.8 percent of the global production of rough diamonds. To meet Canada's obligations under the KPCS, Canada passed the Export and Import of Rough Diamonds Act, which came into force on January 1, 2003. In 2006-07, the provisions and implementation of the Act will be reviewed and a report, based on the review, submitted to Parliament.
DEPARTMENTAL PRIORITY – Advance Resource Efficiency and Conservation
Key Initiatives/Services*
Program Activity
Planned Spending ($M)
2006-07
2007-08
2008-09
Strategic policy development
opportunities envelope
Energy
41.2
0.0
0.0
Climate change – impacts and adaptation
impacts and adaptation of climate change on Canada's forests
Forest
4.5
4.4
4.4
meeting Canada's international climate change obligations through forest-related initiatives
Forest
6.1
2.6
2.6
assessing the sustainability of Canada's forests
Forest
10.0
9.4
10.3
Improving energy use through energy efficiency and alternative transportation fuels
housing
Energy
50.0
2.9
3.0
buildings
Energy
47.5
0.0
0.0
equipment
Energy
12.9
1.2
1.5
House-in-Order / government operations
Energy
3.8
2.3
1.9
industry
Energy
7.2
4.5
4.5
transportation
Energy
50.5
5.4
5.4
outreach
Energy
3.7
3.0
3.0
Encouraging renewable energy sources and technologies
renewable energy programs
Energy
49.5
38.2
37.9
Energy S&T – Supporting Canada's energy future
S&T - built environment
Energy
18.8
16.0
11.7
S&T - power generation
Energy
25.9
22.3
12.7
S&T - transportation
Energy
25.0
22.3
11.3
S&T - oil and gas
Energy
39.7
33.8
21.6
S&T - industrial sector
Energy
24.5
31.3
17.8
Safeguarding the environment
earth sciences - monitoring and assessment
Earth Sciences
8.7
5.6
5.7
low-level radioactive waste management (including Port Hope)
Energy
8.7
27.5
38.6
forecasting and mitigating threats to forest sustainability
Forest
10.2
10.2
10.2
partnership and sector outreach on forest-related issues
Forest
2.8
2.7
2.6
key sector/horizontal issues associated with forestry
Forest
1.5
1.4
1.4
advanced material technology
Minerals and Metals
10.1
49.9
9.8
environmental assessments and regulatory processes
Minerals and Metals
0.8
0.7
0.7
Total Planned Spending
463.6
297.6
218.6
* The key initiatives/services listed in this column match those found in NRCan's Program Activity Architecture at the sub-sub activity level. These key initiatives/services have also been bolded within the text. The intent is to provide better links between planned spending and anticipated results for this specific priority.
Strategic policy development – The production and consumption of energy in Canada result in environmental impacts related to air quality. NRCan's policy and scientific expertise in relation to energy markets and technologies allows the department to play an important role in the development of federal policies related to clean energy and environmental issues.
Within the international arena, Canada, as a member of the United Nations Framework Convention on Climate Change, is involved in discussions on ways to address greenhouse gas (GHG) emissions. We are also active in a number of other fora, including the 2006 Convention on Sustainable Development; the 2006 G8 in Russia; the UK G8 Dialogue on Climate Change and Clean Energy; and the work within other bodies including the International Energy Agency, the Annex 1 Experts Group, the Carbon Sequestration Leadership Forum, and other plurilateral and bilateral arrangements.
The Opportunities Envelope (OE) was introduced in the fall of 2003 to co-fund emissions reduction and removal proposals put forward by provinces and territories. By the spring of 2005, 29 initiatives proposed by the provinces and territories had been selected for funding, representing a federal investment of almost $54 million. These initiatives should be completed in fiscal year 2006-07, at which point, the program will be terminated. They are expected to generate annual GHG emissions reductions in the 2 megatonne (Mt) range.
Climate change – impacts and adaptation – From a sustainable forest program perspective, the department aims to understand the implications of climate change on Canada's natural and managed forests so that appropriate forest policies and adaptation strategies can be developed and implemented. The department is also enhancing its ability to report on forest carbon stock changes under our international climate change commitments and is exploring forest sinks policy.
In 2006-07, Canada will fulfill its annual requirement to report internationally on its forest-related GHG emissions and removals by, for the first time, using estimates from the National Forest Carbon Monitoring Accounting and Reporting System. During the year, the system will continue to be developed and will be used to prepare estimates for the annual report on GHG emissions and removals due in the following year. The department will complete an in-depth analysis during 2006 as the basis for Canada's decision on whether to include the managed forest in our national accounting by the end of 2006. Policy analysis will continue to assess how Canada's forests can contribute to climate change mitigation in the longer term, and assess the risk that climate change poses to Canada's forests and forest sector. In 2006-07, work will continue to identify the forest ecosystems most at risk and to assess the impact of climate change on forest productivity and natural disturbances regimes related to insects (e.g. Mountain Pine Beetle in western Canada) and fire.
In addition, research work will be done, in cooperation with the provinces, territories and academia, to improve Canada's understanding of the forest carbon cycle processes and more emphasis will be placed upon work to generate new strategies and options to reduce the risk from climate change and to facilitate adaptation. Carbon cycle processes work will continue through the partnership with Fluxnet Canada Research Network – a national partnership of Canadian universities and federal government departments – to improve understanding of the implications of climate change and to contribute to improved measurement and reporting.
Specifically, the knowledge gleaned from this collaboration will contribute to: Canada's understanding of how forest carbon sequestration and release is impacted by climate change; land management and disturbances related to fire and insects; improved modelling of Canada's forest carbon stocks as well as global modelling efforts, a more accurate prediction of the sensitivity of Canada's forests to climate change and variability; and an improved understanding of adaptation strategies and options.
Improving energy use through energy efficiency and alternative transportation fuels – The department's initiatives in the area of energy efficiency and alternative transportation fuels (http://oee.nrcan.gc.ca) encourage and assist Canadians to improve their energy use in all of the major end-use sectors: housing, buildings, equipment, government operations, industry and transportation. In addition, outreach activities are designed to increase Canadians' awareness and understanding the environmental impacts of energy use, and to encourage Canadians to take action. NRCan aims to increase energy efficiency within each sector, persuade individuals and organizations to upgrade their facilities and processes by undertaking projects and purchasing goods that lead to more energy efficiency, influence the energy-use practices of individuals and organizations, promote technologies that provide the opportunity to improve energy efficiency and increase the supply of alternative fuels.
In the housing sector, NRCan targets Canadian homeowners and homebuilders to promote and increase energy efficiency of housing in Canada. The department works to increase the use of energy efficient technologies and practices in houses, and the percentage of new housing built to higher standards such as R-2000, and attaining an EnerGuide for New Houses rating of 80 points or higher. The EnerGuide for Houses Retrofit Incentive has been discontinued but will continue to pay out grants until March 31, 2007.
In the buildings sector, NRCan targets Canadian builders, designers and organizations with the aim of accelerating change in building design and construction practices, and to encourage individual organizations to increase the energy efficiency of their operations. New building owners of commercial, institutional and multi-unit residential buildings receive financial incentives under the Commercial Building Incentive Program for projects that are at least 25 percent more efficient than similar buildings constructed to the Model National Energy Code for Buildings.
NRCan also encourages the design and construction of new, energy-efficient industrial facilities under the Industrial Building Incentive Program (the proposed design is expected to consume at least 15 percent less energy than a standard or reference building based on the Model National Energy Code for Buildings, and at least 10 percent less energy due to specific process improvements).
Under the Existing Buildings Initiative (EBI), formerly known as the Energy Innovators Initiative, commercial businesses and public institutions can make their buildings more energy efficient using a variety of tools and services, including publications, training and financial incentives. After joining EBI, member organizations may receive up to 25 percent of eligible costs to a maximum of $250,000 – based on projected energy savings – for energy-saving retrofit projects.
Through its equipment activities, NRCan targets Canadian consumers and manufacturers of energy-using equipment, sets energy efficiency standards and regulations, and encourages the purchase of highly energy efficient products such as ENERGY STAR®.
NRCan also works to improve energy use within Government of Canada departments and agencies. As part of the House in Order/Government Operations exercise, the department facilitates comprehensive energy-efficiency upgrades and retrofits in government facilities. In addition, NRCan is working to help government departments and agencies reduce GHG emissions in vehicle fleets. The government-wide target for the Federal House in Order initiative is a 31 percent reduction in GHG emissions by 2010. Since 1990, the Government of Canada has already achieved a 26.3 percent emissions reduction.
With respect to Canada's industrial sector, NRCan promotes energy efficiency and innovation through an industry-government collaborative initiative, the Canadian Industry Program for Energy Conservation (CIPEC), at the sector level, and at the individual company level, the Industrial Energy Innovators Initiative. CIPEC aims to achieve average annual energy intensity improvements in industry. More than 5000 companies representing over 98 percent of Canadian industry that are covered by the CIPEC collaboration, have reduced their combined energy intensity by 9.0 percent between 1990 and 2004, or an average of 0.7 percent per year. The mining, manufacturing and construction sectors improved their energy intensity by an average of 2 percent per year over that period. The energy management efforts of Canadian industry avoided the production of 29.2 Mt of GHG emissions and yielded savings of $3.1 billion in fuel costs in 2004.
CIPEC helps contribute to improvements in energy efficiency through the provision of tools and services including Industrial Energy Audits, energy management training workshops, sector benchmarking, technical information and best practices tools and guidebooks. For example, in 2005-06, 221 Industrial Energy Audits were conducted, more than double the target of 100 set for that year, leading to annual energy savings of $98 million and 0.27 Mt of GHG emissions.
NRCan objectives in the transportation sector are to improve the energy efficiency of new vehicles, and influence vehicle operation and maintenance. The vehicle efficiency component is intended to bring about a 25 percent improvement in the fuel efficiency of new light-duty vehicles sold in Canada by 2010. Departmental initiatives relating to personal vehicle use utilize information, tools and messaging to improve the public's fuel-efficient vehicle operation and maintenance practices. Other activities provide private sector fleet managers with information, workshops, technical demonstrations and training programs on fuel-efficient practices for fleet vehicles.
The Ethanol Expansion Program (EEP) will increase the production and use of fuel ethanol in Canada by providing financial contributions for the construction or expansion of ethanol plants. In Round 1, six projects were allocated $72 million under the EEP. Round 2 occurred in 2005 and six more projects were allocated an additional $46 million, for a total program allocation of $118 million. These funds are matched by commitments from the private sector to invest over $1 billion, and to produce almost 1.2 million litres of grain-based ethanol annually.
NRCan and Agriculture and Agri-Food Canada are working with Environment Canada on the development of a strategy to implement the Government of Canada's commitment to reach a 5 percent average renewable fuel content in transport fuel by 2010.
Through outreach activities, NRCan provides Canadians with information on energy efficiency and energy conservation, and directs them to departmental programs that can help them improve energy efficiency in their transportation and household energy choices. Public information activities increase awareness of the environmental impact of energy use.
Encouraging renewable energy sources and technologies – NRCan's renewable energy programs aim to encourage the development and use of renewable energy sources and technologies. Our work focusses on effective policy development and efficient delivery of several initiatives which include:
the Renewable Energy Deployment Initiative, which promotes the use of green heating and cooling systems for commercial, industrial and institutional use through financial incentives and removal of barriers to the adoption of these technologies;
a program similar to the Wind Power Production Incentive (WPPI) is currently being developed to support other emerging renewable electricity sources; initial consultations with stakeholders have already been held;
government Purchases of Electricity from Renewable Resources Program whose objective is to purchase 20 percent of the Government of Canada's electricity requirements from emerging renewable energy sources having low environmental impact, with the intention of replacing use of electricity generated using high-carbon sources; and
the WPPI program to encourage the generation of electricity from wind energy in Canada; this program offers one cent per kilowatt of electricity produced from wind energy systems and payments are made over ten years.
Energy S&T - Supporting Canada's energy future – Energy S&T (http://www.nrcan.gc.ca/dmo/scitech/entech_links.htm) is conducted to promote a secure supply of clean energy through the development and delivery of knowledge and innovative technology-based solutions for the sustainable production, conversion and use of Canada's energy resources. Two activities are undertaken: R&D; and late-stage development and demonstration. Research activities advance scientific knowledge. Development work is aimed at achieving technological advancement by applying research findings or other scientific knowledge to create new materials, devices, products, or processes, or improve existing ones. Late-stage development and demonstration are intended to promote the commercialization and market uptake of the new technologies, such as those related to improving energy use through energy efficiency and alternative transportation fuels.
Energy S&T supports the development of technologies, e.g. cleaner production and more efficient use of energy, the capture and disposal of carbon dioxide, and clean, alternative energy sources. Energy S&T also supports other NRCan priorities: productivity and competitiveness (e.g., promoting the acceptance of synthetically-produced oil from the oil sands in American refineries); safety and security (e.g., pipeline integrity, offshore oil and gas exploration, and safe connection to the grid of locally-generated electricity); and sustainable communities, including remote and Aboriginal communities.
With respect to the built environment, NRCan will continue a range of activities designed to increase energy efficiency and reduce GHG emissions in this important area. For example, monitoring of the performance of North America's first large-scale seasonal storage project will be undertaken. Solar energy will provide over 90 percent of space heating requirements for 52 homes in a subdivision in Okotoks, Alberta, leading to reductions of up to 5 tonnes of GHG emissions per home. NRCan designed the project in partnership with the private sector and the Town of Okotoks.
Other activities planned for 2006-07 include the release of new versions of software tools for the design and assessment of houses and buildings, and establishment of the Canadian Building Energy Code Collaborative (BECC) to support updating and promotion of a model energy code for buildings.
With respect to power generation S&T, NRCan has increased its R&D in clean coal technology to provide a solution to emissions and air quality issues. CO2 capture and sequestration is tied to work in this area. Although research has been progressing for several years on sequestration, the cost of capturing CO2 is a significant barrier. A number of companies are discussing options with respect to facilitating the development of a CO2 pipeline for enhanced oil recovery in the Western Canada Sedimentary Basin. There are also opportunities with Alberta, Saskatchewan and industry for future partnerships. The capture of CO2 is also being increasingly integrated with the capture and elimination of other priority substances, such as toxic mercury and smog-producing substances such as sulphur oxides, nitrous oxides and particulate matter.
Oxy-fuel combustion is a new technology approach to near-zero emissions where fuel is burned in pure oxygen instead of air. The exhaust gas stream is composed mainly of CO2, water and other trace contaminants such as particulates and air toxics. As a result, the CO2 can be purified more easily and removed for underground storage with near-zero emissions to the atmosphere. By 2010, in collaboration with SaskPower, NRCan R&D will support a new coal-fired power plant in Saskatchewan to demonstrate oxy-fuel combustion as part of a CO2 capture and storage project.
A critical area of power generation is integration into the grid of electricity from renewable sources. NRCan will continue to focus on developing preliminary connection guidelines leading to codes and standards for both utility connection of distributed generation systems as well as equipment standards that are currently seen by industry and end users as a barrier.
NRCan will continue to conduct S&T related to transportation – hydrogen and fuel cells. A key aspect is promoting knowledge derived from the work. In 2006-07, NRCan will publish Hydrogen Systems: The Canadian opportunity for greenhouse gas reduction and economic growth through the deployment of hydrogen technologies and infrastructure and The Canadian Hydrogen Installation Code. Another key activity will be the testing of biodiesel fuel blends and ultra-low sulphur diesel for their effect on the performance of diesel engines and emissions control systems, before market introduction of the fuels in 2006.
In 2006-07, NRCan will continue to conduct and support S&T in the areas of oil sands, heavy oil, and conventional oil and gas which will reduce environmental impacts and support the production and efficiency of oil and gas energy sources. One priority will be to develop new and improved upgrading technologies that are less energy intensive and produce higher quality products at lower costs. Key activities include: the development of a sulphur-resistant catalyst for refining bitumen that will use less energy; bio-catalyst and field upgrading programs that will try to eliminate the use of water extraction in the upgrading process; and the 4th Conference on the Upgrading and Refining of Heavy Oil, Bitumen and Synthetic Crude Oil (September 2006) where many of these current advances will be disseminated to industry stakeholders.
NRCan S&T will continue to focus on evaluating and developing new or improved technologies. This includes reducing the operating and capital costs of producing clean dry bitumen and heavy oil. Other key activities include the development of technologies to consume and consolidate existing and future accumulations of mature fine tailings. One such technology is aimed at integrating tailings back into reclamation plans, generating released water for recycling by 2010. In the longer term (by 2020), a permanent solution will be to completely eliminate the use of tailings ponds in oil production.
NRCan will conduct S&T in collaboration with the industry and regulators to increase reductions in fugitive and vented GHG emissions as well as air contaminants from oil and gas production. This includes improving the industry's ability to monitor on-site and off-site emissions and to detect on-site leaks.
In response to the anticipated rapid expansion in northern oil and gas exploration and production, NRCan will also conduct new S&T programs that focus on salt contamination and remediation in arctic climates. As well, it will continue to address environmental issues related to pipelines, e.g. contamination from scaling, oil and gas leaks, and drilling waste.
An important area in the industrial sector is the demonstration of process integration in industrial operations. The energy used by industry accounts for approximately 39 percent of the total Canadian consumption of secondary energy, which is energy generated by conversion of primary energies, e.g., electricity from fossil fuels. It also contributes in approximately the same proportion to Canada's GHG emissions, with a total of 159 Mt of CO2 equivalent in 2001. Process integration seeks to identify and correct inefficiencies to reduce both energy costs and environmental impacts associated with plant operations. Demonstration projects with large Canadian industrial plants, e.g. pulp and paper, food and beverage to date have resulted in potential CO2 reduction of over 100 kt/yr identified, and 10 to 35 percent fossil fuel savings at a payback of less than two years with cost savings of over $15 million/yr. In 2006-07, NRCan will focus process integration studies on small and medium enterprises, where similar savings and payback periods can be achieved.
Following the recent integration of federal R&D programs that support an energy-related bio-based economy, the department will focus on areas identified in the new federal biotechnology strategy. These include biomass feedstocks, bio-refining and exploring the potential for industrial bio-processing. For example, NRCan R&D will support industries that handle large amounts of biomass (pulp mills, sawmills, municipal sewage treatment and landfill, food and agricultural products processing). This will encourage the use of their own residues for energy generation within their operations as well as for export. R&D projects that exploit these residues to replace fossil fuels and electricity have been developed with both end users and industrial process design companies, with the goal of demonstration and replication throughout the industry. Other innovations include research into the replacement of fossil fuels and fossil fuel-based feedstock with biomass such as wood in steelmaking. Successful projects will reduce GHG emissions and insulate Canadian industry from international fuel and electricity markets.
With respect to federal energy S&T priorities now and in the future, NRCan will develop, by the end of 2006, a Sustainable Energy Science and Technology Strategy, assessing the effectiveness and efficiency of current investments in energy S&T, and considering the advice of a National Advisory Panel (NAP). The NAP, consisting of nine experts in energy S&T from industry and academia, began its examination of Canada's current energy situation, key technology strengths and the best delivery mechanisms. In parallel, NRCan began examining the effectiveness and efficiency of current S&T activities, using a third party expert. Once completed and, using the NAP report as guidance, NRCan plans to conduct a national consultation on the strategy. It is anticipated that implementation of the strategy will have a significant impact on Canada's energy future.
Safeguarding the environment – The Government is committed to developing Canada's energy and resource sectors in ways that are more environmentally sustainable and energy efficient. The Earth Sciences Monitoring and Assessment Program, in response to other federal government departments and as required by the Canadian Environmental Protection Act (CEPA), will continue to provide geoscience reviews of projects undergoing environmental assessment. In addition, when required by federal agencies responsible for specialized land-use designations such as Parks Canada and Environment Canada, it will continue to provide resource assessments so that mineral and energy resources potential is considered before protected areas are established. The program will also provide earth observation data to support near real-time monitoring of changes in our environment, such as forest fire mapping.
NRCan will also proceed with the implementation of Canada's Radioactive Waste Policy Framework to ensure that radioactive waste management is carried out in a safe, environmentally sound, cost-effective and integrated manner. With respect to the clean up of cold war era uranium mine sites in Northern Saskatchewan, the Government of Canada has agreed to share the cost of remediating certain uranium mining facilities in northern Saskatchewan with the provincial government. The clean-up efforts will focus on the Gunnar and Lorado uranium mines. The project will be carried out in three phases: starting in 2006, Phase 1 will last a minimum of two years and consist of an environmental assessment under the CEPA and an application to the Canadian Nuclear Safety Commission for a project license; Phase 2, which will last at least three years, involves the actual site clean-up; and Phase 3 consists of monitoring the site to ensure that the wastes produced as a result of mining activities are properly treated and managed.
While there are no urgent health or environmental risks, the Government of Canada has determined that measures are required to deal with the impacts of past waste management practices in the Port Hope area. In March 2001, the Government of Canada and the local municipalities entered into a legal agreement on community-developed proposals to address the clean-up and long-term management of historic wastes, thereby launching the Port Hope Area Initiative (PHAI). The PHAI will involve the long-term management of the historic wastes in two newly constructed, above ground mounds in the local communities. The $260 million project will take about 12 years to complete. The current phase of the PHAI involves environmental assessment and regulatory review, and is expected to be completed by 2008.
Regarding Canada's nuclear legacy liabilities, the Government of Canada had committed $520 million to fund the 5-year, start-up phase of a long-term strategy to deal with them. The liabilities, which are largely located at Atomic Energy of Canada Limited (AECL) research sites, consist of shutdown buildings, a wide variety of waste types and contaminated lands that have resulted from more than 60 years of nuclear research and development work conducted on behalf of the Government of Canada.
Work under the 5-year plan will be focused on accelerating the decommissioning of shutdown, contaminated buildings, and addressing other health, safety and environmental priorities, such as constructing a fourth groundwater treatment facility at Chalk River Laboratories (CRL), Chalk River, Ontario and new, replacement storage facilities for high-hazard wastes. Also, work to lay the groundwork for future phases of the strategy, such as the construction of waste characterization facilities at both CRL and Whiteshell Laboratories in Pinawa, Manitoba, will be completed.
The department will consult the public on the further development of the long-term strategy, starting in early 2007. These consultations are important for ensuring that the nuclear legacy liabilities are dealt with, over the long-term, in the best interests of Canadians.
From the perspective of forest conservation and protection, in collaboration with stakeholders and partners, the department conducts world-class forest science and policy research aimed at increasing Canada's forest knowledge and in developing and implementing environmentally- sound forest management strategies, practices and tools to improve forest health and respond to and/or mitigate the negative impacts of natural and/or human induced disturbances on Canada's forests.
In 2006-07, the department and its partners will develop a comprehensive long-term national forest pest strategy aimed at addressing the growing list of foreign invasive insects that are threatening the health of Canada's forests, and to address domestic pest infestations such as the Mountain Pine Beetle (MPB) problem which has infested the commercially viable Lodgepole Pine forests in British Columbia and Alberta. There is also a danger that the MPB will infest the lodgepole-jack pine hybrids and move from there into the jack pine in the boreal forest. In Budget 2006, the Government announced a commitment of $200 million over 2006-07 and 2007-08 to help combat the pine beetle infestation. This investment will allow Canada to develop a long-term strategy response to coordinate efforts amongst the forest jurisdictions and to focus efforts on addressing pests that pose the highest risk to Canadian forests and the forest industry. As well, under the auspices of the CCFM, the department will implement the "National Wildland Fire Strategy" aimed at addressing the impacts of wildfires on forests and rural communities. A new boreal action plan aimed at balancing boreal ecosystem integrity with the desired economic and social benefits to remote and rural communities will also be developed in cooperation between CCFM members.
From a partnership perspective, through the CCFM, the department will develop options for a successor to Canada's current National Forest Strategy (2003-2008) – a multi-stakeholder consensus-based cornerstone of sustainable development for Canada's forests.
To meet Canada's reporting commitments and obligations, the department and the CCFM will release Canada's third Criteria and Indicators (C&I) Report on sustainable forest management, as well as a revised suite of international criteria and indicators indicators through the Montreal Process countries. Through Canada's own Biodiversity Strategy, NRCan will develop a suite of biodiversity indicators and targets and a renewed approach to addressing the conservation and sustainable management of forest biodiversity. The department will table its 16th annual State of Canada's Forest Report to Parliament dealing with the competitiveness of Canada's forest sector.
To help shape Canada's national forest policy agenda and meet its national and international reporting commitments, the department will, from a forest-science research perspective:
develop, refine, and report against S&T indicators of sustainable forest management to assess Canada's forest health;
increase Canada's understanding of forest sustainability by identifying and mitigating ecosystem threats and in developing and implementing ecosystem-based forest management practices;
develop and implement environmentally-safe alternatives to chemical pesticides and herbicides;
develop forest management techniques, strategies and options to enhance and protect Canada's forest fibre production and value;
investigate alternate fibre supply options and the potential for expanding bio-energy programs as a way to address escalating energy costs, and to diversify Canada's regional economies;
implement Phase III of the Genomics Initiative aimed at addressing questions related to emerging environmental issues, relationships between genomes, sustainable forestry and competitiveness; and
continue to conduct biotechnology research aimed at improving Canada's forest health by strengthening their resilience to insects and disease.
Canada's minerals and metals industries have taken significant steps to improve their environmental performance. The release of zinc, lead and copper into the air and water by mining companies decreased by 66 percent, 73 percent and 60 percent, respectively, from 1993 to 2003. The application of NRCan technologies to process gold ores has reduced the use of toxic reagents such as cyanide by as much as 50 percent.
To further improve environmental performance over the planning period, NRCan will (i) complete all testing and reporting related to its research on the disposal of tailings from the Iron Ore Company of Canada's mine at Wabush in Labrador; (ii) hold a symposium in British Columbia on mine reclamation and environmental protection; and (iii) develop seismic technologies to detect and prevent the contamination of aquifers during the extraction of oil. In addition, the department will (i) increase the energy efficiency of vehicles through the implementation of lightweight materials, thereby reducing GHGS emissions (e.g., aluminum brake rotors and magnesium engine blocks); (ii) reduce the impact of concrete construction on the environment through the increased use of supplementary cementing materials as a replacement for Portland cement in concrete; and (iii) transfer technology, based on fibre optics, to detect cracks in oil or gas pipelines.
Over the planning period, NRCan will also fulfill its duties as a responsible authority for mining projects under the CEPA, including participation in seven comprehensive studies or panel reviews. For Canada to continue to be a magnet for investment, environmental regulations need to be efficient. The aim is not to compromise environmental protection, but to recognize business needs and timely and predictable outcomes. Assessment and approval processes must create conditions under which development can proceed in a socially, environmentally acceptable manner, while providing economic returns that are commensurate with the level of risk. In 2006-07, the department will continue to work in collaboration with other responsible authorities to improve the efficiency of environmental assessments. For example, in cooperation with other federal departments and agencies, the department will act as a responsible authority in a pilot environmental assessment of the Galore Creek mining project in British Columbia to develop a more timely and coherent process for environmental assessments.
DEPARTMENTAL PRIORITY - Ensure the Safety and Security of People and Resources
Key Initiatives/Services*
Program Activity
Planned Spending ($M)
2006-07
2007-08
2008-09
Reducing loss of life and mitigating damage to the economy
enhancing resilience to a changing climate
Earth Sciences
4.7
4.7
4.7
climate change – impacts and adaptation
Earth Sciences
8.9
7.8
0.0
reducing risks from natural hazards
Earth Sciences
4.8
5.8
5.8
Canadian hazards information services
Earth Sciences
6.7
1.3
0.0
energy infrastructure protection
Energy
7.7
0.4
0.4
explosives regulations and permitting
Minerals & Metals
3.0
2.9
2.9
explosives science and technology
Minerals & Metals
1.9
1.8
1.8
Total Planned Spending
37.7
24.7
15.6
* The key initiatives/services listed in this column match those found in NRCan's Program Activity Architecture at the sub-sub activity level. These key initiatives/services have also been bolded within the text. The intent is to provide better links between planned spending and anticipated results for this specific priority.
Reducing loss of life and mitigating damage to the economy – NRCan recognizes the importance of evaluating its state of preparedness in order to efficiently respond to national and other civilian emergencies. Over the planning period, the Departmental Emergency Operations Centre's work will focus on conducting regular testing, exercises and training with regards to civil emergency plans.
Natural hazards and a changing climate threaten the safety of Canadians, and the security of our resources.
The Reducing Risks from Natural Hazards Program will advance the Government's commitment to mitigate the risk to Canadians from natural disasters. The principal long-term outcome of the department's natural hazards program is the reduction in the loss of life and damage to the economy of Canada and its critical infrastructure when natural disasters occur. The program will increase the understanding of natural disasters; provide hazard assessments for better decision making; define codes and standards; and increase public awareness of the risk from natural hazards, and how those risks can be reduced.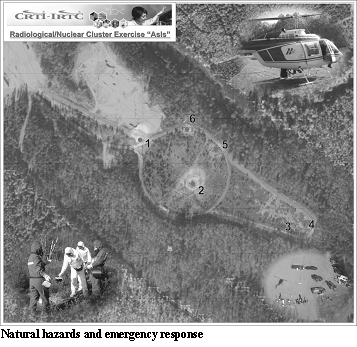 Canadian hazards information services provides Canadians with information on occurrence of hazards such as earthquakes, tsunamis and geomagnetic storms. Through a network of observing systems, the service constantly outputs information on the frequency and magnitude of hazard events. The service develops and maintains emergency response plans, and in emergency situations the service has a response function based on these plans to rapidly provide high-quality, cost-effective, timely hazard information and products for decision-making, and for public information.
The department's Enhancing Resilience in a Changing Climate Program will provide information to assist Canadians in understanding, preparing for, and adapting to the effects of a changing climate on their communities, infrastructure and way of life. The goal will be achieved through conducting and publicizing earth science research aimed at an improved assessment of the sensitivity and response of Canada's landmass and coastal areas, and through the incorporation of new knowledge in planning and resource management.
The Climate Change Impacts and Adaptation Program is a national initiative which has improved knowledge about the risks and benefits posed by a changing climate to the economy, natural resource sectors, public safety, health, infrastructure and communities. This knowledge builds the foundation for planning and investment decisions. The program will continue to provide research, scientific assessments, networks, capacity building, and leadership of federal and intergovernmental initiatives on adaptation. The program, in operation for five years, has been recently renewed at $8 million per year for two years. More information can be found at http://adaptation.nrcan.gc.ca/home-eng.asp.
The Government of Canada's National Security Policy recognizes the importance of critical energy infrastructure, our dependence upon it, the impact of the August 2003 power blackout, and our vulnerability to accidents or deliberate attack. Protection of critical energy infrastructure is crucial to the Canadian economy and the increasing importance of energy exports. Over the planning period, NRCan will continue to work on several national and international initiatives to protect Canada's critical energy infrastructure and critical cross-border energy infrastructure against terrorist attacks and natural hazards, and to strengthen the electricity grid to reduce the likelihood of future power outages. Such initiatives include:
continued partnerships with NRCan's explosives, pipeline reliability, and seismic laboratories to carry out scientific analysis and modeling work and alert notification processes to enhance the protection of critical energy infrastructure;
the Smart Border Declaration signed between Canada and the U.S., which is an action plan for creating a secure and smart border between the two countries;
Canada's National Security Policy which provides a framework within which the Government will work with others – such as the provinces, territories, first line responders, communities and private sector allies – to address current and future threats to our country; and
the Security and Prosperity Partnership signed by Canada, the U.S., and Mexico, which is a North American framework to address security and economic challenges, promote quality of life, enhance critical infrastructure protection, and implement a common approach to emergency response.
A formative program evaluation of energy infrastructure protection initiatives took place in 2005. A summative program evaluation will take place in 2007.
Explosives – or more properly explosives, propellants and pyrotechnics – are used in an enormous variety of applications that touch our everyday lives in many ways, for example, in mining to extract ore and discover ore bodies, to build pipelines for the oil and gas industry and roads for the forest products industries, to fuel rockets that put satellites in space, in fireworks and indoor pyrotechnics, to control avalanches, and in automotive air bags. However, if used maliciously, explosives or their precursors can be extremely dangerous.
Under the Explosives Act and regulations, NRCan is responsible for controlling the importation, manufacture, storage, sale and some aspects of the transportation of explosives, propellants, fireworks and other pyrotechnics in Canada. Following the events of September 11, 2001, Parliament passed the Public Safety Act (2002), which included amendments to the Explosives Act to enhance the security of explosives. In 2006-07, NRCan will continue to increase control over explosives precursors and the export, import and in-transit movements of explosives; and improve the surveillance of the storage and transportation of explosives. New regulations with respect to ammonium nitrate and eight other precursors are expected to be authorized for pre-publication in Canada Gazette I for a 90-day consultation period.
NRCan's Canada Explosives Research Laboratory (CERL) is a global leader in explosives safety and security including explosives identification and blast mitigation. CERL is Canada's only government laboratory and one of only a few in the world dealing with commercial explosives and the effects of explosions on civilian infrastructure.
In 2006-07, the department will enhance and expand its capability in the area of blast protection, and further establish the laboratory as a primary resource for advice to government and industry on how to protect government assets, public buildings and critical energy infrastructure against deliberate and accidental explosions.
Over the planning period, NRCan will undertake a variety of other activities to improve the health and safety of Canadians. For example, the department will implement its Diesel Emissions Evaluation Program; develop efficient engines (e.g., hybrid and fuel cell vehicles); and administer the Nondestructive Testing Program (NDT). Based on national standards, NDT is a Canada-wide program to certify personnel, who apply nondestructive methods (e.g., industrial radiography and ultrasonic testing) to inspect critical components in engineered structures, including aircraft, power plants and pipelines. NDT's goal is to certify more than 600 personnel annually.
DEPARTMENTAL PRIORITIES - Provide Science, Information and Tools for Decision Making and Support Responsible Development of Canada's North
Key Initiatives/Services*
Program Activity
Planned Spending ($M)
2006-07
2007-08
2008-09
Delivering geospatial information on the Internet
GeoConnections
Earth Sciences
16.4
17.4
18.4
foundations for Canadian geographic information
Earth Sciences
19.3
19.3
17.9
Supporting community development
supporting property rights on Canada Aboriginal and Heritage lands
Earth Sciences
16.5
16.3
16.3
forest and community development
Forest
2.0
1.5
1.3
Aboriginal communities in Canada's forest sector
Forest
6.3
6.3
6.2
Aboriginal affairs and sustainable communities
Minerals & Metals
0.7
0.6
0.6
Supporting research in the Arctic
Polar Continental Shelf Project
Earth Sciences
7.9
7.9
7.9
Total Planned Spending
69.1
69.3
68.6
* The key initiatives/services listed in this column match those found in NRCan's Program Activity Architecture at the sub-sub activity level. These key initiatives/services have also been bolded within the text. The intent is to provide better links between planned spending and anticipated results for this specific priority.
Delivering geospatial information on the Internet – GeoConnections is a $60 million, five-year program which will deliver geospatial information to Canadians via the Internet (http://www.geoconnections.org).
The first phase of GeoConnections focused on developing the policies, standards, technologies and partnerships required to build a Canadian Geospatial Data Infrastructure (CGDI). The second phase is intended to ensure that Canadians will be further able to actively adopt, use and benefit from the CGDI. The next phase of the program, which began in 2005, will work with its existing partners to ensure that CGDI technologies remain current, but will also pursue new partnerships with end-user communities of practice. Specifically, GeoConnections will seek to better understand the needs of users in four key areas – sustainable development and the environment, Aboriginal issues, public health, and public safety – with the goal of collaborating to further develop the CGDI into an operational asset for end users in these areas to employ in planning and decision making.
Through its Foundations for Canadian geographic information program, the department makes geospatial information available to Canadians allowing land and resource management and social policy decisions to be informed by earth science data, information and knowledge. In 2006, the Atlas of Canada (www.atlas.gc.ca) will be celebrating 100 years of mapping Canada's geography and history. Building on its history and looking forward, NRCan is a key player in the maintenance and expansion of the GeoBase portal (www.geobase.ca). GeoBase is a national initiative under which federal, provincial, territorial and municipal government data stakeholders agreed to cooperate and work collectively, to ensure the availability of high-quality geospatial base information covering the entire Canadian landmass, such as administrative boundaries, digital elevation data, and the national road network. GeoBase's goal is to provide the geospatial reference and context for a broad variety of thematic data for government, business, and personal applications, so that they all make use of base geospatial data as a primary tool in planning and execution. The availability of high-quality base geospatial information will promote the development of value-added products and services provided by the private sector. It will also benefit Canada's geomatics industry by maintaining its competitiveness in domestic and international markets. It is currently planned to add five new essential data layers.
Supporting community development – Building the capacity of Aboriginal people to take advantage of economic and social opportunities requires effective and culturally-aligned land administration systems that support a robust, reliable and flexible property rights infrastructure. The Geomatics for Property Rights on Aboriginal and Heritage Lands (GPR) Program will continue to support comprehensive land claims in the North and British Columbia, and support key Aboriginal governance programs including those flowing from the First Nations Land Management Act, treaty land entitlement programs, Indian and Northern Affairs Canada's Lands and Trusts Services Program, cadastral operations on Aboriginal lands (South), and capacity building-cadastral reform.
Canada's Model Forest Program (MFP) (www.modelforest.net) is entering the final year of phase III (2002-07). As an internationally acclaimed and adopted partnership model for innovative community engagement in sustainable forest management, the MFP has established inclusive partnerships with industry, Aboriginal communities, municipalities, researchers, provincial agencies, and environmentalists. The eleven sites across Canada, coupled with Model Forest Network level activities, have facilitated consensus building and innovation in community adaptability strategies to climate change, carbon budget modelling, inclusion of Aboriginal values in resource management, and protection of wildlife habitat in forest harvesting practices. In 2006-07, the focus of the program will be to continue to increase impact and influence of model forests beyond their boundaries, both in Canada and abroad. Outreach and mentorship initiatives are continuing with private woodlot owners and with the Innu Nation of Labrador, and a new initiative is being explored for the Yukon. The Canadian model forests are sharing their expertise, experience and tools with emerging model forests in Scandinavia, Russia and Latin America. In 2006-07, NRCan will complete its plans for a renewed program to commence in 2007-08.
The First Nations Forestry Program (FNFP) (www.fnfp.gc.ca) is the Government of Canada's primary forestry capacity-building program to encourage First Nations to manage their forests sustainably, and to promote First Nations participation in forest sector development opportunities at the community and regional levels. The program – which supports on-the-ground projects in sustainable forest management, knowledge and technology transfer, work experience, forest protection and forest-based business planning – has recently expanded its scope from community-based projects to regional scale partnership initiatives to help First Nations acquire access to emerging, large-scale off-reserve opportunities involving multiple partners. In 2006-07, the FNFP will actively explore and pursue new regional scale off-reserve opportunities mirroring the Aboriginal Forestry Initiative established in New Brunswick in 2004. For example, it will investigate potential opportunities to work with the province of Manitoba and First Nations with regard to the development of forestry operations in the Interlake Region. Additionally, it will explore opportunities to work closer with tribal councils to strengthen their capacity to service their members and the growing forest land base coming under First Nations control through land claims and treaty land entitlements.
In the end, not only do these two programs sustain and provide economic opportunities for these communities, but they advance the Government of Canada's commitment to building capacity of Aboriginal communities throughout Canada to make sound decisions on forest-related issues.
The department is also involved in increasing Canada's understanding and knowledge on the economic, social and environmental impacts of forests and the forest sector on communities by developing models and approaches to facilitate community stability through sustainable forest management. In 2006-07, the department will develop:
nonmarket valuation methods for assigning an economic value for non-timber forest products and services in areas such as recreation, and examine how forest values are determined across regions;
community and national level social indicators of sustainable forest management;
innovative methods for more effective public participation; and
assessment methodologies for the social and economic effects of climate change on the Canadian forest sector.
Moreover, the department will evaluate the economic costs and benefits of alternative adaptation strategies to mitigate the negative effects of climate change.
Mining is a fixture of the Canadian economy. It is well situated to promote Aboriginal economic development and it provides jobs and opportunities for many small- and medium-sized enterprises throughout this country. Mining provides direct and indirect economic benefits for northern and Aboriginal businesses, joint ventures and communities. According to the 2001 Statistics Canada Census, Aboriginal employment in mining accounted for 5.3 percent of the total mining labour force. Aboriginal participation in mining has risen 21 percent since 1996.
Aboriginal employees are offsetting the emerging shortage of workers in mining. The Aboriginal population is younger and growing faster than the non-Aboriginal population. Aboriginal people are often located near mineral deposits in remote areas. In Canada, 1200 Aboriginal communities are located within 200 km of 190 producing mines and 2100 exploration properties. However, barriers exist to Aboriginal participation in mining, such as a lack of knowledge of mining; and a lack of capacity (e.g., the educational level of Aboriginal people in mining is below that of non-Aboriginal employees). The unemployment rate of Aboriginal people in mining is twice that of non-Aboriginal workers (15.1 percent versus 7.8 percent, respectively). Aboriginal workers are under-represented in the more highly skilled positions in the mining industry. Aboriginal concerns include the possible negative impact of mining on the environment, treaty rights and access to traditional lands.
To address these barriers, NRCan will encourage dialogue and partnerships amongst the mining industry, Aboriginal communities and government. Also, NRCan will disseminate knowledge, information and tools to expand the knowledge and awareness of mining in Aboriginal communities and assist Aboriginal communities to make more informed decisions with respect to mining. For example, a kit with information on mining and a video, outlining the phases of the development of a mine, will be prepared and distributed to Aboriginal communities. Finally, the department will train Aboriginals to work in the mining industry at its experimental mine in Val-d'Or, Quebec.
A region of particular challenge and opportunity is Canada's North – a vast area of cultural, ecological and economic significance, especially with regard to the proposed development of new diamond, gold and base metals mines, and oil and natural gas operations. Over the planning period, NRCan will (i) hold workshops for policy and regulatory officials to provide information on options for the management of mining waste in northern climates; (ii) facilitate environmental assessments and address regulatory issues affecting the approval of mining projects in Nunavut; and (iii) undertake research to determine and develop the appropriate materials (i.e., high-strength steels) to be used in the construction of the proposed Mackenzie Valley and Alaska pipelines.
Finally, NRCan will increase its energy S&T activities to support Canada's northern and remote communities in the following areas: energy-efficient and renewable energy technologies; district heating and cooling systems; and improved regulations related to the production, safety and environmental effects associated with drilling for offshore oil and gas.
Supporting research in Canada's Arctic – The Polar Continental Shelf Project (PCSP) is a national service delivery agency which coordinates logistics support to Canadian government agencies, northern land claims, northern communities, and independent and university groups conducting research in Canada's Arctic (http://polar.nrcan.gc.ca/). Support is also provided on a full cost-recovery basis to private-sector and non-Canadian researchers. Each year, PCSP provides ground and air support services to approximately 150 scientific groups from more than 40 Canadian and international universities or government agencies. PCSP will continue to maintain its service delivery while exploring opportunities that could arise from the upcoming International Polar Year, which will run from March 2007 to March 2009.
DEPARTMENTAL PRIORITY - Enhance NRCan's Capacity to Deliver Policies, Programs, Science and Technology
This priority has to do with the people, tools and structures required to deliver on our mandate, mission and departmental priorities. In short, this priority is about the support mechanisms required by NRCan. The initiatives and projects within this priority come in various forms but can be generally grouped into two groups – tangible and intangible. Examples of hard corporate enablers are physical buildings, laboratory equipment, information infrastructure, and strategy and policy documents. Soft corporate enablers entails things such as organizational culture, ethics and values, and public perception about NRCan. These two groups are mutually supportive. The ongoing challenge is finding the right mix and balance given the current operating environment, departmental priorities and availability of resources. The resources for this priority are captured within the other departmental priorities.
Taking our management practices to the next level of excellence – NRCan's managers and staff are committed to management priorities outlined in the Federal Accountability Action Plan. To ensure greater accountability to Canadians, the department is aligning its PAA, human resources (HR) and business plans to ensure that we achieve our key management priorities (as shown in the text box). It will use the Management Accountability Framework (MAF) to support transparent results-based decision making and uphold public service values. NRCan will focus particularly on grants and contributions, procurement, financial management and professional excellence through responsible delivery of the five enhancing pillars below in fiscal year 2006-07.
Enhancing our capacity to ensure that legislative, regulatory, and policy obligations are identified, understood and met – During 2006-07, NRCan will review/develop appropriate financial and procurement policies and controls, while ensuring that they are well understood by departmental stakeholders; review and establish appropriate HR policies and controls; implement the Official Languages Plan; develop, review and update information management (IM) and information technology (IT) policies, standards, and guidelines; and implement a national real property accommodation model.
Building on the feedback received from TBS on MAF implementation, NRCan is focussing on the following management priorities in 2006-07:
improve planning, reporting and performance measurement processes;
implement integrated risk management policy and guidelines; and
implement the Employment Equity Action Plan 2006-11.
Improvements are also planned in the following areas:
evaluation and capital assets;
information and technology management;
management of transfer payments; and
service delivery and transfer fees.
Enhancing our internal management capacity – During 2006-07, the department will continue to participate in the government's Corporate Administrative Shared Services (CASS) initiative; implement HR modernization initiative by providing a framework for a healthy work environment and ensuring managers have the competencies to exercise their delegated authorities; start aligning HR programs and policies based on the document HR Planning - Strategies for the Management of HR at NRCan 2005-2008, which identifies three departmental strategies – management capacity, qualified and diversified workforce, investment in current employees – and on sectoral business needs; document the Entreprise IM/IT landscape, develop an IM/IT strategic plan, and develop an Enterprise IT architecture; develop funding/expenditure strategy for IM, technical infrastructure, and Access to Information and Privacy; and continue advancing the Real Property Strategy for the National Capital Region.
Under the Shared Services Initiative, the department will improve internal administrative services through process improvement, operating efficiencies and improved human resource management and reduce costs. NRCan expects to achieve the following targeted savings to support departmental goals: $5 million in 2006-07; $10 million in 2007-08, and $15 million in 2008-09.
Enhancing our capacity in oversight and compliance monitoring and reporting – The focus for 2006-07 will be to implement a 'balanced score card' approach for HR in conjunction with the people component of the MAF; and implement the IT Infrastructure Risk Management Strategy.
Enhancing corporate decision making and management practices in response to departmental business needs – During 2006-07, these enhancements will be made possible by fully incorporating Treasury Board's MAF in our governance and accountability architecture with a focus on identifying and implementing measures to meet selected elements of the people component of the MAF, and by participating in the government-wide 5NR initiative (natural resource departments) as it relates to real property; produce an environmental scan on labor market, internal and external factors that may impact the departmental workforce and business objectives; develop the departmental IT infrastructure component of the Business Continuity Program; and begin implementation of the departmental IT Security Program.
Building strategic directions for NRCan's S&T – NRCan is an important S&T catalyst and facilitator of S&T in the natural resource sectors through its analysis, policy development, knowledge integration, management and integration. The department also provides S&T leadership through its collaborative and coordinative efforts with other science-based departments and agencies, plus the broader community of stakeholders including industry and academia. This leadership manifests itself through the support of national and federal agendas including the work by several S&T-related Assistant Deputy Ministers (ADM) committees.
Over the planning period, NRCan's S&T, as it is positioned in Canada's innovation system, will be assessed through consultations with central agencies, research partners and external clients and stakeholders. NRCan's S&T planning will be adjusted as a result of this exercise, plus both the national S&T policy direction and the S&T strategy currently being coordinated by Industry Canada. Linkages will also occur with the departmental Science and Technology Governance Study and the Real Property Governance Model. Departmental support for horizontal integration of S&T across government will also be a consideration through NRCan's ongoing participation and influence in federal ADM-lead initiatives regarding human resource issues related to scientific personnel, laboratory management and barriers to integration. NRCan S&T performance management will be improved through the use of an S&T information system. Departmental responses will be developed, and support provided to central agencies relating to the transformation of knowledge services and implementation of the government's new service vision, Next Generation Public Services.
B. Other Supporting and Enabling Initiatives/Services
The table below provides financial information on all other supporting and enabling initiatives/services required to deliver on our strategic outcome and departmental priorities.
Other Supporting and Enabling Initiatives/Services*
Planned Spending ($M)
2006-07
2007-08
2008-09
Earth Sciences (excludes the Geomatics Canada Revolving Fund

geoscience for oceans management

9.6
9.6
7.3

Canada/U.S. International Boundary Maintenance and 1925 Treaty Implementation

2.9
2.2
2.2
3.4
3.5
3.7

northern resource and development

10.3
10.3
10.3

delineating Canada's continental shelf according to the United Nations Convention on the Law of the Sea

6.7
8.5
19.3

international capacity building and trade and investment

2.4
2.4
2.4
3.3
3.3
3.3

program management and support

35.2
34.6
35.8
29.2
28.2
28.2
Energy
0.4
0.0
0.0

program management and support

8.2
7.0
8.5
26.0
25.2
25.1
Forest
3.3
3.3
3.2
6.4
6.4
6.3

promote Canada's foreign and domestic forest objectives

0.2
0.1
0.1
11.2
11.0
10.7
16.0
16.2
15.9
13.0
12.6
12.6
Minerals and Metals

minerals and metals statistics collection and dissemination

2.7
2.4
2.4

special projects and strategic priorities

0.5
0.5
0.5

program management and support

4.6
4.8
4.8
13.1
12.6
12.5
Sub-Total
208.6
204.7
215.1
Energy – Statutory Programs – Atlantic Offshore
558.7
505.1
417.7
Total – Other Supporting and Enabling Initiatives/Services
767.3
709.8
632.8
* The other supporting and enabling initiatives/services listed in this column match those found in NRCan's Program Activity Architecture at the sub-sub activity level.