ARCHIVED - RPP 2006-2007
Transportation Appeal Tribunal of Canada

This page has been archived.
Archived Content
Information identified as archived on the Web is for reference, research or recordkeeping purposes. It has not been altered or updated after the date of archiving. Web pages that are archived on the Web are not subject to the Government of Canada Web Standards. As per the Communications Policy of the Government of Canada, you can request alternate formats on the "Contact Us" page.
The Tribunal's Chairperson is the Chief Executive Officer. The Chairperson is responsible for the direction and supervision of the work necessary to facilitate the functions of the Tribunal.
The Chairperson, Vice-Chairperson and immediate staff account for nine full-time equivalents. Thirty-seven part-time members were in office during 2004-2005. Members are drawn from across Canada and are appointed by Order in Council on the basis of their knowledge and expertise. At the end of 2005, ten part-time members were appointed; 9 in aeronautics and one in rail.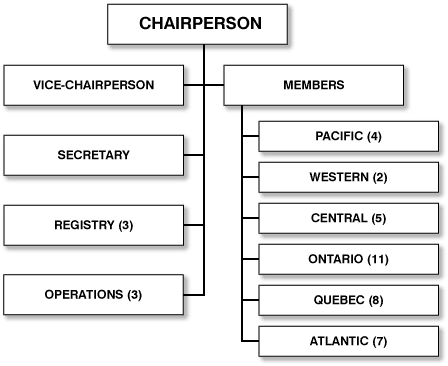 Note: Central and Western Regions reflect Prairie and Northern Region
The lower half of the organization chart displays the distribution of part-time members by region. All members report to the Chairperson.
The Tribunal reports to Parliament through the Minister of Transport. The Chairperson is the Chief Executive Officer of the Tribunal and has supervision over and direction of the work and staff of the Tribunal including:
the apportionment of work among its members
the assignment of members to hear matters brought before the Tribunal
the conduct of the work of the Tribunal and
the management of its internal affairs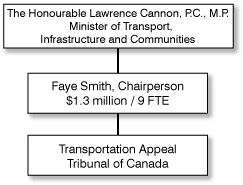 Table 1: Departmental Planned Spending and Full Time Equivalents
($ thousands)

Forecast Spending 2005-2006

Planned Spending 2006-2007

Planned Spending 2007-2008

Planned Spending 2008-2009

Review and Appeal Hearings

Budgetary Main Estimates (gross)

1,303.0
1,329.0
1,329.0
1,329.0

Total Main Estimates

1,303.0

1,329.0

1,329.0

1,329.0

Adjustments:

Decrease in Employee Benefits Plan

(13.6)

-

-

-

Special warrants:

63.2

-

-

-

Decrease in Other Operational Costs

(67.8)

-

-

-

Total Adjustments

(18.2)

-

-

-

Total Planned Spending

1,284.8

1,329.0

1,329.0

1,329.0

Less: Non-Respendable revenue

-

-

-

-

Plus: Cost of services received without charge

223.9
221.9
223.1
225.3

Net cost of Program

1,508.7

1,550.9

1,552.1

1,554.3

Full Time Equivalents

9

9

9

9
Table 2: Program Activities
2006-2007 ($ thousands)

Budgetary

Non-Budgetary

Program Activity

Operating

Loans, Investments and Advances

Total Main Estimates

Adjustments (Planned Spending not in Main Estimates)

Total Planned Spending

Review and Appeal Hearings

1,329.0

0

1,329.0

0

1,329.0

Total

1,329.0

0

1,329.0

0

1,329.0
Table 3: Voted and Statutory Items listed in Main Estimates
2006-2007

Vote or Statutory Item

Truncated Vote or Statutory Wording

Current Main Estimates

Previous Main Estimates

80

Program expenditures

1,200.0
1,173.0

(S)

Contributions to employee benefit plans

129.0

130.0

Total for Agency

1,329.0

1,303.0
Table 4: Net Cost of Agency for the Estimates Year
| | |
| --- | --- |
| ($ thousands) | 2006-2007 |
| Accommodation provided by Public Works and Government Services Canada (PWGSC) | 173.3 |
| Contributions covering employers' share of employees' insurance premiums and expenditures paid by Treasury Board of Canada Secretariat (excluding revolving funds) employer's contribution to employees' insured benefits plans and expenditures paid by TBS | 48.6 |
| 2006-2007 Services received without charge | 221.9 |
Transportation Appeal Tribunal of Canada
333 Laurier Avenue West
Room 1201
Ottawa, Ontario
K1A 0N5
Telephone: (613) 990-6906
Fax: (613) 990-9153
e-mail: info@tatc.gc.ca
Internet Web Site: http://www.tatc.gc.ca
Faye Smith – Chairperson
Allister Ogilvie – Vice-Chairperson
Carl Poulin – Executive Services Manager
Mary Cannon – Registrar (Ontario, Prairie & Northern and Pacific Regions)
Monique Godmaire – Acting Registrar (Headquarters, Quebec and Atlantic Regions)
Publications
Performance Report March 31, 2005
Annual Report 2004-2005
Guide to Tribunal Hearings
The Transportation Appeal Tribunal of Canada : pamphlet