ARCHIVED - RPP 2006-2007
Canadian International Development Agency

This page has been archived.
Archived Content
Information identified as archived on the Web is for reference, research or recordkeeping purposes. It has not been altered or updated after the date of archiving. Web pages that are archived on the Web are not subject to the Government of Canada Web Standards. As per the Communications Policy of the Government of Canada, you can request alternate formats on the "Contact Us" page.
SECTION I: DEPARTMENTAL OVERVIEW
1.1 Minister's Message
Canadians care about bridging the enormous gap in income, health, education, and quality of life that exist in our interdependent world. Our compassion for those less fortunate is a reflection of values we cherish-humanitarianism, freedom, democracy, rule of law, and respect for human rights.
The Government of Canada is committed to supporting these values through strategically sound programs and policies, based on internationally agreed principles of aid effectiveness. We will set core policy directions for Canadian development assistance in a manner that is consistent with Canada's foreign policy.
The Canadian International Development Agency's (CIDA) 2006-2007 budget will total approximately $3 billion. The quality of the aid we deliver is as important as the quantity. Aid effectiveness and accountability underscore the context for CIDA's plans and priorities for the coming fiscal year. The design and delivery of Canadian aid extend from the basic principles of aid effectiveness, such as local ownership, mutual accountability for results, donor coordination, and policy coherence. CIDA is taking a number of important steps to strengthen its own program and to encourage its partners to follow suit in ways that will support good governance, combat corruption, and promote effectiveness of development interventions. In pursuit of these objectives, a four-part agenda to strengthen aid effectiveness will be implemented, consisting of a more strategic focus, strengthened program delivery, a more cost-effective use of Agency resources, and strengthened accountability for results.
CIDA will also continue to focus its assistance in sectors that directly support the Millennium Development Goals-good governance (including freedom and democracy, human rights, the rule of law, justice, and accountable public institutions), basic education, health (including HIV/AIDS), private sector development, and environmental sustainability. A renewed commitment to gender equality - including the rights and empowerment of women and girls - will be a critical area of Canadian focus
Canada is committed to continuing to play a leading role in the global response to HIV/AIDS. In so doing, we must ensure that our efforts strengthen health systems and address the human rights and gender dimensions of HIV/AIDS, including the critical situation of young people.
In addition to faster and better responses to humanitarian crises, CIDA will increase the concentration of its aid resources in fewer countries, chosen on the basis of their needs and their abilities to use aid effectively and on Canada's capacity to make a concrete difference. Resources will also be used to support countries of strategic importance to Canada, for example, to support efforts to stabilize and rebuild Afghanistan and Haiti.
CIDA is working to strengthen its relationships with its partners in Canada and abroad to ensure an optimal balance between the delivery channels in its aid program and maximum impact. In addition, CIDA will intensify its efforts to engage Canadians more fully in the aid program, in collaboration with Canadian civil society organizations. The new Voluntary Sector Fund, announced in June 2006, demonstrates the will to ensure the participation of Canadians from all regions of the country and to channel their efforts in order to respond to the needs of civil society in developing countries.
CIDA has been a leader in promoting harmonization of policies, practices, and procedures among donors to avoid duplication, ensure efficiency, and increase the sustainable impact of the contributions of all partners.
The Agency will continue to emphasize coordinated and integrated programs-rather than isolated projects-which better assess and capitalize on capacity in developing countries, predict and mitigate risk, and transparently apply performance expectations such as good governance (including freedom and democracy, human rights, rule of law, justice and accountable public institutions) to the provision of Canadian aid.
In the coming year, CIDA will further develop its agenda and action plan for effectiveness, accountability, and sustainable results. CIDA is examining its development priorities and any renewals or changes will be reflected in the 2006-2007 Departmental Performance Report.
In addition, I am also committed to the development and distribution, this year, of the first "Annual Report on International Development Results." This will be an important tool in ensuring that Canadians are well informed about the quantity and effectiveness of our aid.
In the May 2006 federal budget, the Government of Canada reaffirmed its commitment to double international assistance between 2001 and 2011. These additional resources, combined with progress in aid effectiveness, will play an important role in strengthening Canada's aid program, thereby enhancing Canada's impact, influence, and reputation on the international scene.
This 2006-2007 Report on Plans and Priorities outlines CIDA's agenda. It also affirms the results the Agency plans to achieve to strengthen Canada's place in the world, and to deliver timely, appropriate, and effective assistance to developing countries.
I invite all Canadians to read this report, which I respectfully table for Parliament's consideration.
The Honourable Josée Verner, P.C., M.P.
Minister of International Cooperation and Minister for La Francophonie and Official Languages
1.2 Management Representation Statement
I submit for tabling in Parliament, the 2006-2007 Report on Plans and Priorities for the Canadian International Development Agency.

This document has been prepared based on the reporting principles contained in the Treasury Board of Canada, Secretariat (TBS) Guide for the Preparation of Part III of the 2006-2007 Estimates: Reports on Plans and Priorities and Departmental Performance Reports such that it:
adheres to the specific reporting requirements outlined in the TBS guidance;
is based on the department's approved accountability structure as reflected in its Management, Resources, and Results Structure (MRRS);
presents consistent, comprehensive, balanced, and reliable information;
provides a basis of accountability for the results achieved with the resources and authorities entrusted to it; and
reports finances based on approved planned spending.
Robert Greenhill
President, Canadian International Development Agency
August 25, 2006
1.3 The Development Challenge
1.3.1 A Renewal of Canada's Commitment to Poverty Reduction Through More Effective Aid
The Government of Canada is committed to optimizing the impact of its development assistance program. With the pledge of more effective use of Canadian aid dollars in the 2006 Speech from the Throne and the doubling of international assistance between 2001 and 2011 in Budget 2006, Canada has positioned itself to contribute more strategically to its international policy objectives.
Box 1: The Size of the Challenge: Measuring Progress Toward the Millennium Development Goals ( MDGs)1

At the UN World Summit in September 2005, participants reviewed their progress toward achievement of the MDGs in poverty and hunger eradication, health, education, gender equality, environmental sustainability, and development partnerships. They noted clear progress in some areas, but most particularly in poverty reduction with 130 million fewer people living in extreme poverty in 2001 compared to 1990, representing a decrease from 28 to 21 per cent of the world's population.

Overall, however, the pace was considered to be too slow to meet the objectives set for 2015, especially for those concerning health. While many people have gained access to adequate water and sanitation services, the actual number of persons without such access remained static because of global population growth and setbacks related to natural disasters, conflicts, and aging infrastructure. The first of these time-bound goals - eliminating gender disparity in education by 2005 - has been missed. No region is expected to meet all of the MDG targets by 2015.

Much of the progress at the global level can be attributed to the impressive gains of certain key countries such as China, India and the countries of South East Asia. Elsewhere, progress is evident but uneven. In Africa, the commitment of political leaders to improve economic management and governance, embodied in the New Partnership for Africa's Development (NEPAD) is promising, but the challenges facing Sub-Saharan Africa are profound and continue to require special attention. Best estimates are that if the world is to meet the MDG targets by 2015, a significant increase in resources-as much as $50 billion more per year-is required, as well as reforms in trade regimes and international financial systems, including debt relief.
While Canada has earned an international reputation as an effective donor and a responsible steward of development assistance funds, more can be done to strengthen the effective use of Canadian aid dollars. The past decades have yielded important lessons for development. Donors and developing countries share responsibility in achieving results. This mutual accountability underpins our relationships with our developing partners. The partner countries must display political leadership-exercising leadership over the development process-and true commitment to open and transparent governance. Donors must align with the countries' priorities and systems, improve their coordination and harmonize their procedures, and pursue a productive dialogue with their hosts. Together, donors and partner countries engage in a long-term comprehensive relationship focused on development results. They must complement their efforts by a focused support to enhance the performance of the countries' systems, supporting their ability to account for aid resources.
Box 2: The International Consensus on Aid Effectiveness

The international community reached an unprecedented consensus on five principles of effective development. This consensus is reflected in the Paris Declaration on Aid Effectiveness (2005)2. It represents the third pillar in the global development partnerships, along with the MDGs (2000) and the Monterrey Consensus (2002) on the financial and non-aid foundation necessary for development. It provides a framework of commitments to guide the international development community in improving the effectiveness of development assistance in order to help achieve the MDGs.

The Declaration contains a total of 56 specific commitments (19 by partner countries, 26 by donors, and 11 joint commitments) to guide partner country ownership and leadership, donor alignment and harmonization, and management for results and mutual accountability over the next five years.
CIDA is implementing a four-part agenda to strengthen the effectiveness, accountability, and results of Canada's aid program through a more strategic focus of aid programming, strengthened program delivery, a more cost-effective use of Agency resources, and clear accountability for results, including an "Annual Report on International Development Results".
Canada's agenda for aid effectiveness underlines the importance of ensuring that resources are concentrated in a limited number of countries and sectors, where Canada can make a difference. This means fewer sectoral priorities, alignment with the MDGs, and greater geographic concentration. Bringing a critical mass of resources to bear will enable the Agency to better target programming in different country contexts and increase its impact on critical development challenges in poor countries. Critical sectors for investment include: governance (including freedom and democracy, human rights, rule of law, justice, and accountable public institutions), health (including HIV/AIDS), basic education, and private sector development, ensuring gender equality and environmental sustainability across all of these sectors.
Canada is committed to continuing to play a leading role in the global response to HIV/AIDS. In so doing, we must ensure that our efforts strengthen health systems and address the human rights and gender dimensions of HIV/AIDS, including the critical situation of young people. In that regard, CIDA will focus its efforts in four priority areas: effective prevention, including vaccines, microbicides, and HIV education; ensuring HIV/AIDS strategies address the specific needs of women and girls who represent a rising proportion of infections; strengthening health systems, especially in Sub-Saharan Africa, as essential to achieving as close as possible to universal access to treatment for all who need it; and promoting the rights and protection of children affected by HIV/AIDS.
In addition, at the July 2006 G8 Summit, the Prime Minister announced that Canada will contribute $450 million between 2006-2016 to support country-led efforts to strengthen health systems, improve health outcomes and make concrete progress towards the MDGs in Africa.
A greater portion of bilateral resources will be concentrated on a limited number of countries. These countries will be chosen based on a number of criteria, including their level of poverty or risk, their ability to use aid effectively, and Canada's capacity to make a difference. Development assistance to Africa will be significant. In countries where the need is great but capacity to use aid effectively is weak, choices will be based on Canadian and international strategic interests. In the context of a globalized and interdependent world, fragile states such as Haiti, Afghanistan, and Sudan's Darfur region warrant special attention because of the security, stability, and poverty reduction challenges they present to Canada, to their own citizens, and to development cooperation in general. Significant investments, across government, are necessary to respond to the challenge.
Box 3: Afghanistan

Canada recently affirmed its commitment to the mission in Afghanistan when, on May 17, 2006, the House of Commons voted to extend Canada's diplomatic, development, civilian police, and military commitments in Afghanistan for an additional two years. Canada's leadership role in Afghanistan is critical to Canadian security and national interests. In development cooperation, at the request of the Government of Afghanistan, Canada has committed to working through Afghan national programs and to provide ongoing support for the daily operations of the Government of Afghanistan to enable it to function effectively.

Canada has gained a solid reputation as a donor that responds in a flexible, timely manner and according to stated Afghan priorities. The recent commitment by Canada to provide an additional $310 million in development assistance to Afghanistan, from 2007-2008 to 2010-2011, will ensure that Canada can continue to play a leadership role using a whole-of-government approach.
CIDA's aid effectiveness agenda will integrate lessons of experience on aid effectiveness in all programming channels-bilateral, multilateral, and Canadian partnership-and implement these principles in all countries and initiatives.
CIDA is committed to engage Canadians across the country to support and promote international development through a renewed and more vigorous strategy in partnership with civil society and through public engagement initiatives. For example, a new Voluntary Sector Fund was launched in June 2006. With an annual budget of $20 million, this fund will support development projects that strive to reduce poverty and promote human rights. These projects will be realized through partnerships between Canadian organizations and those in developing countries.
In keeping with its longstanding commitment to effective multilateralism as the basis for global engagement for sustainable development on key issues such as HIV/AIDS, environmental sustainability, and humanitarian assistance, Canada will support those multilateral institutions that are most effective in addressing the MDGs. CIDA will also strengthen its collaboration with partners from other federal government departments. Development cooperation's full integration into Canada's foreign policy reinforces the partnerships between government departments and helps ensure that aid and non-aid policies are consistent and work together toward global poverty reduction.
CIDA is committed to a cost-effective use of resources and a clear accountability for results. This involves continually reviewing the overhead ratio, strengthening field presence where required, adapting human resources to challenges as they evolve, strengthening transparency and risk management, and greater untying of Canadian aid.
More Comprehensive, Integrated Approaches
Canada and its partners are implementing the lessons learned on effective development-alignment, harmonization, local leadership, managing for results, and mutual accountability-through program-based approaches. These approaches bring together a group of donors under the host country leadership in a single comprehensive program supported by a single budget and harmonized donor procedures. CIDA's experience has underlined the importance of the initial phase of these initiatives, including sound analysis and diagnostic work, shared among partners, as well as ongoing policy dialogue. The Agency will continue to promote strong, early collaboration to build the best foundation for the success of these joint initiatives.
A critical element of effective programming is the need to strengthen the performance of country systems. Aid is most effective in countries where governance (including freedom and democracy, human rights, rule of law, justice, and accountable public institutions) is sound. However, the countries in greatest need are usually those with the weakest systems and institutions. CIDA will give governance-encouraging political will for change, strengthening institutions and processes, and ensuring respect for human rights-high priority in its programming.
Managing Risk
CIDA and its partners work in some of the world's most dangerous and unpredictable environments, including armed conflict, famine, infectious disease, extreme poverty, social marginalization, and natural disasters, as well as unpredictability arising from economic instability. A robust and multi-faceted risk management framework is essential to ensure that CIDA's aid is effective and that Canadian tax dollars are being spent wisely.
CIDA's framework encompasses risks and mitigation strategies for programs, projects, and other functional activities. Risk assessments are conducted in collaboration with partners and other donors. The risks covered in these assessments include development, financial, judicial, institutional, and management practices. The Agency is in the process of developing a better understanding of its corporate risk profile and strengthening its risk management framework.
1.3.2 CIDA's Operating Environment
The Internal Environment
CIDA was established in 1968 to administer the bulk of Canada's Official Development Assistance (ODA) program. The program focuses on sustainable development and poverty reduction; the measure of its success is its contribution to the achievement of the MDGs and Canada's broader international policy objectives.
CIDA delivers development assistance through Geographic (Asia, Africa, the Americas, and Europe, Middle East and Maghreb3), Canadian Partnership, and Multilateral Programs, which are supported by activities in Policy Coherence, Engaging Canadians, and Corporate Services (see Section 3.1 for CIDA's organization chart and Section 3.2 for program activity descriptions).
Over the years, Canada has earned an enviable reputation as a leader in several key areas of importance to Canadians: promoting human rights; gender equality; child protection; pioneering the involvement of the voluntary and private sectors in development programs; and aid effectiveness, most particularly in the area of results-based management. Canadians have made concrete contributions in polio eradication, micronutrient supplementation, primary education, HIV/AIDS prevention, elections monitoring, and income generation and human rights for women.
Benefits to Canadians
Canadians have supported the ODA program since its inception in 1968 (see Section 2.5, Engaging Canadians). Development assistance is a reflection of the values cherished by Canadians, such as humanitarianism, justice, human rights, and equality. Canadians support their aid program because:
they feel it is the right thing to do, beginning with the moral imperative to respond to the suffering caused by natural disaster, armed conflict, or extreme deprivation. As the Prime Minister recently said, "It is the nature of Canadians to share the peace and prosperity we have achieved here with countries torn by war, poverty, or natural disaster";4
they see it as a preventative measure. Helping countries build their institutions, economies, and communities reduces the threats to security-such as disease, terrorism, environmental deterioration, conflict, or economic collapse-that affect all countries in our increasingly interdependent world;
they value the relationships Canada has forged through the aid program, which have won us both partners and friends, building a basis for increased trade and other linkages with some of the fastest-growing economies on earth; and
they know that Canada's relations with other donors, our developing country partners, and multilateral organizations such as the UN and the World Bank, give us the opportunity to promote our values and to influence decision-making at the highest levels.
CIDA's policies and programs contribute to the Government of Canada's overall performance agenda. Canada works closely with its North American partners on numerous development issues, helping to build a strong and mutually beneficial partnership. CIDA collaborates with other federal departments in full recognition of the interdependence of development, security, and economic prosperity, and the importance of a well-integrated international agenda for Canada. By remaining focused on development results, the Government's international priorities and directions, and pursuing a coherent cross-government approach, CIDA's plans and priorities for the planning period remain aligned with the Government of Canada outcomes.
The International Environment
As an international development agency, CIDA responds to the changing social, economic, political, and environmental conditions in developing countries. As noted in the review of progress toward the MDGs (see Box 1), the developing world still faces major challenges in poverty reduction, basic education, control and reduction of disease, gender equality, and environmental sustainability. On a regional basis, the following trends are influencing development:
Africa: Trends and contexts remain extremely diverse within Africa. Positive trends include the fact that the African continent has experienced an average annual growth in GDP of 4 per cent in the past decade, which is higher than the Organization for Economic Co-operation and Development (OECD) country average, while per capita growth increased by 2 per cent annually over the same period. The achievement of macro-economic stabilization (stable and single-digit inflation, and lower interest rates) over the past 10 years, recent economic reforms, and increased donor resources will help support growth that is projected to be at or above 4.5 per cent over the medium term.
Increasing poverty levels continue to challenge sustainable development and there is a consensus within the international community that accelerated efforts need to be made to alleviate poverty in Africa. However, there are positive trends toward the attainment of some of the MDGs in several countries. For example, Tanzania, Mozambique, and Kenya show promising progress toward meeting the education goals by 2015. Africa is also making steady but uneven progress in democratic governance. A number of peaceful, contested multi-party elections were held in 2005, reinforcing a generally positive trend. Refugee levels are at a 20-year low. Some setbacks have continued, however, in the areas of human rights' violations, conflicts, and brutally contested elections. Encouraging trends have been seen in increased efforts to find African solutions to African problems through NEPAD and increased country leadership. An important element of the NEPAD partnership is the African Peer Review Mechanism (APRM), a voluntary process of self-assessment by countries to identify and apply best practices in political and economic governance. As of March 2006, 25 of the African Union's 53 member states had become signatories to the APRM process.
Asia: Asia contains the world's fastest-growing economies, and extreme poverty (less than one dollar a day) in the region has fallen from 32 per cent in 1990 to 20 per cent today. Nevertheless, Asia is still home to half the world's population, two thirds of the world's poor (less than two dollars a day), and only 16 per cent of the world's land mass. The region continues to be volatile and is vulnerable to terrorism, which exploits existing regional conflicts and intercommunal violence. It is also vulnerable to infectious diseases such as SARS (Severe Acute Respiratory Syndrome) and avian flu, as well as economic risks such as the surge in oil prices and the US-China trade imbalance. Women continue to be marginalized, and growing income inequalities are creating social and economic pressures in several countries. The impact of the December 2004 tsunami will continue to be felt in 2006-2007, and the region will also have to deal with a large influx of young people into the labour force in the next few years.
Americas: Every country in Latin America and the Caribbean, except Cuba, has a democratically elected government. However, the failure to close the extraordinary gap between rich and poor is a threat to social and political stability. The Americas shares in the global economic recovery but progress is fragile, with several countries continuing to experience serious debt problems. One person in four lives in poverty, and environmental deterioration and vulnerability to extreme weather, such as hurricanes, add to the instability. In addition, threats to personal security, such as increasing crime and violence exacerbated by the trade in illegal drugs and weapons, and continuing gender-based violence, undermine the quality of life and impede development.
Europe, Middle East and Maghreb5 : These are diverse regions with varying levels of economic performance, poverty, and social needs. The benefits of economic growth are sometimes unevenly distributed and pockets of significant poverty do exist. In some areas, particularly in Iraq, West Bank and Gaza, and more recently in Lebanon, unstable security situations and the challenges associated with post-conflict reconstruction slow progress toward further development. In many countries, efforts are underway to strengthen public institutions, improve local business environments, and enhance education systems.
The Canadian Environment
The International Assistance Envelope
The International Assistance Envelope (IAE) funds the Government of Canada's international assistance activities through ODA, as defined by the OECD's Development Assistance Committee (DAC)6, as well as a range of other activities that do not fall within the parameters of that definition.7 The IAE is structured into five distinct pools to provide a coordinated and flexible approach to Canada's international assistance. CIDA is responsible for managing the development pool, accounting for most of the IAE funding, and for co-managing the crisis pool with the Department of Foreign Affairs and International Trade (DFAIT), in consultation with the Department of Finance Canada, Privy Council Office, and TBS. The Department of Finance Canada also manages the international financial institutions pool, including management of Canada's contributions to the World Bank, International Monetary Fund, and European Bank for Reconstruction and Development. Within this pool, CIDA manages Canada's contributions to the Inter-American Development Bank, Caribbean Development Bank, Asian Development Bank, and the African Development Bank.
This framework supports coherent priority setting across all government departments participating in the aid program; decentralized management with clear accountability; transparency in the allocation of new resources; predictability in budgeting and stability in programming; flexibility to respond to new initiatives; and fiscal integrity. In 2006-2007, CIDA is expected to manage 72.9 per cent of the IAE, DFAIT will manage 9.8 per cent, the Department of Finance Canada will manage 9.6 per cent, and the International Development Research Centre and others will manage 3.7 per cent.
Box 4: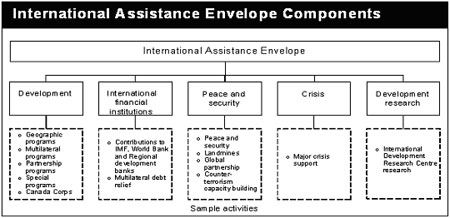 Source: The Budget Plan 2005, Department of Finance Canada
Ongoing Government of Canada Initiatives
The Management Accountability Framework8 (MAF) will inform CIDA's management priorities. The most recent annual MAF assessment, prepared by TBS in consultation with the Agency, shows that CIDA is making notable progress in coordinating the management of the IAE with other departments, and is also progressing well in the renewal of its governance structure, financial reporting, risk management, information and technology management, as well as in the people component (e.g. official languages, Public Service Modernization Act (PSMA) readiness, and employment equity).
The Agency will continue to implement government-wide programs such as the PSMA, as well as internal initiatives including the human resource management project initiative, improvement of business processes, and strengthening of performance management.
The 2004-2005 fiscal year marked the introduction of the TBS's Management, Resources and Results Structure (MRRS) policy. As such, CIDA began migrating from its performance framework based on Key Agency Results, to the new framework supported by a preliminary Program Activity Architecture (PAA). At the same time, CIDA's evolving strategic direction provided the impetus to significantly improve the Agency's PAA and resulting MRRS. Substantial progress has been made, a new framework has recently been approved, and an implementation plan will be completed in the next fiscal year. This will provide a stronger framework for performance measurement and reporting within the Agency, and also provide the basis for strategic alignment of CIDA's resources with the Government of Canada's international policy priorities. In the interim, this 2006-2007 Report on Plans and Priorities (RPP) strives to link the Agency's program and management priorities, as shaped by its strategic direction, within its current PAA.
In Budget 2006, the Government of Canada made a commitment to adopt a new approach to overall expenditure management, to ensure that programs aim to achieve results and optimize resources, and are consistent with government priorities and responsibilities. Moreover, the Speech from the Throne and Budget 2006 outlined the federal government's intention to strengthen the effectiveness of Canada's aid and to double international assistance by 2011. Achieving results and optimizing resources are two important objectives for CIDA. As previously noted, CIDA has established a four-part agenda to follow up on the commitment to allocate international aid resources more effectively. The approach taken to managing the IAE ensures that new resources are allocated directly to government priorities. CIDA also continually reallocates its own resources to key government initiatives, such as those in Afghanistan and Sudan.
1.4 Summary Information
Strategic Outcome: Sustainable development to reduce poverty in the poorest countries, measured through progress on the development goals of economic well being, social development, environmental sustainability, and governance (including freedom and democracy, human rights, rule of law, justice and accountable public institutions).
Benefits to Canadians: The aid program plays an important role in Canada's global reach and influence; provides a concrete expression of values that Canadians cherish; builds long-term relationships with some of the fastest-growing economies in the world; and helps make the world more secure for Canadians.
Departmental Priorities by Strategic Outcome

| | |
| --- | --- |
| Departmental Priorities | Type |
| Stronger strategic focus | Ongoing |
| Strengthened program delivery | Ongoing |
| Cost-effective use of Agency resources and clear accountability for results | Ongoing |
Financial Resources
(total planned spending)9
2006-2007
Human Resources
2006-2007
$3,043,321,000
1,578 FTEs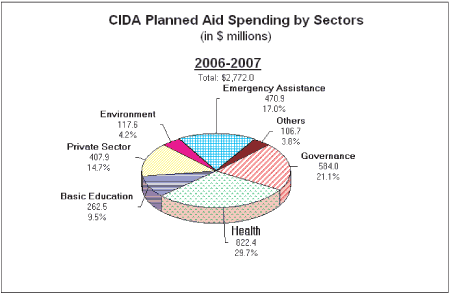 1.5 CIDA's Plans and Priorities
The Agency's program and management priorities discussed below contribute to its strategic outcome of sustainable development and poverty reduction by: focusing the Agency's priority sectors in the world's poorest countries; renewing and strengthening the partnerships, with both state and non-state partners, upon which the aid program depends; building on the effectiveness of multilateral organizations; and ensuring the implementation of more efficient and accountable delivery systems.
CIDA's agenda for effectiveness, accountability, and results will build on progress already gained through the implementation of internationally agreed principles of aid effectiveness, CIDA's Social Development Priorities, its Key Agency Results, and a number of federal government management reforms such as the IAE management framework. Program priorities will largely be driven by the objective to achieve a strategic focus on sectors and countries. Management priorities are focused on creating the environment to position the Agency to move forward with the government's management agenda. The priority sectors will be more sharply focused; ongoing activities for coherent cross-government coordination will be strengthened; concentration on the world's poorest countries, mainly in Africa, will continue; and reforms related to the PSMA will proceed as planned.
Program and Management Priorities
Over the planning period, CIDA will intensify its efforts in the development of an agenda for effectiveness, accountability, and results by:
Stronger Strategic Focus
Key deliverable: concentrating programming in priority sectors. A limited number of sectoral priorities, including governance as a mandatory area of focus, will be identified in all major country programs. CIDA will integrate gender equality, including women's participation in decision making, their human rights, and access to resources, in all sectors.
Key deliverable: concentrating on fewer countries. A financial strategy is being developed to increase bilateral resources in core countries of concentration.
Strengthened Program Delivery
Key deliverable:review and renewal of partnership programming. CIDA will complete the development of policies and principles for its future work with Canadian partner organizations. The process will include ongoing dialogue with Canadian stakeholders and specific attention to effective linkages with southern non-governmental organizations (NGOs).
Key deliverable: optimizing the multilateral channel. CIDA will focus its support on the most effective institutions showing concrete results on the ground. Over the next year, the Agency will work with other government departments and other donors to develop effective and relevant assessment criteria for these institutions.
Key deliverable: integrating internationally agreed principles of aid effectiveness in all programming approaches. CIDA will develop a policy and operational framework to strengthen the development impact of Canada's aid program.
Cost-effective Use of Agency Resources and Clear Accountability for Results
Key deliverable: managing change. Setting up to meet the challenge of effective development has a profound impact on all aspects of CIDA's operations. A Secretariat has been established to coordinate the Agency's transformation.
Key deliverable: a representative and sustainable workforce equipped with the core competencies and supportive business processes to deliver business imperatives, including field presence initiatives. Building on recent work, the Agency will focus on defining future key competencies and designing corporate recruitment strategies and learning programs to meet business needs. Business process impediments will be identified and resolved, while ensuring accountability, transparency, and appropriate risk management.
Key deliverable: a robust, well-governed human resource management (HRM) system aligned to CIDA's current and future business needs. In the short term, CIDA's goal is to strengthen HRM systemic integrity and business effectiveness, working in partnership with line management to ensure sound HRM decision-making that meets the business needs and protects the corporate interest of the Agency. In 2006-2007, efforts will be focused on establishing integrated HRM and business planning frameworks and instruments to assist the organization in identifying and meeting its current and future business requirements.
Key deliverable: working toward a coherent cross-government approach. CIDA is developing strategic framework arrangements with other key federal departments to leverage their expertise, initially in the area of governance, and enhance policy and programming coherence. Programming in the areas of justice reform will be piloted within the newly created Public Sector Governance Initiative. In consultation with other departments, efforts are also underway to develop a framework for CIDA's response to fragile states and countries experiencing humanitarian crises. CIDA, in collaboration with its partners, will build on its first year of experience with the renewed management framework for the IAE in order to enhance its effectiveness as a tool to support strategic decision-making.
Key deliverable: strengthening risk management in the Agency. CIDA will continue developing an integrated risk management framework. This will include a risk communication strategy to highlight due diligence and improve its partners' understanding of CIDA's high-risk operation environment. In addition, the Agency will implement a financial risk management strategy.
Key deliverable: renewing CIDA's Performance Measurement Framework. The Agency will revise its PAA and MRRS to better reflect Canada's strategic direction and priorities