2. How to Use This Guide
In conjunction with other risk management guides and tools provided by the Treasury Board of Canada Secretariat (TBS), this guide is meant to help strengthen risk management practices by elaborating on how to develop risk statements (see Figure 1 for a visual mapping of TBS's guides and tools). Risk statements are an essential component in identifying threats and opportunities and are fundamental in supporting the risk management process. The TBS Guide to Integrated Risk Management describes this process as a series of interconnected and interrelated steps, including the identification of threats and opportunities. In order to perform meaningful risk assessments, risks need to be well stated and described in a risk statement.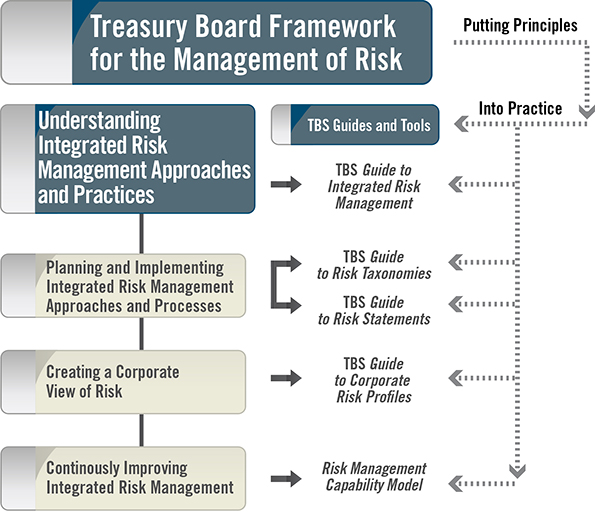 The principles outlined in this guide focus on helping organizations develop meaningful risk statements for their Corporate Risk Profiles, as well as for other organizational risk assessments at the operational, divisional, project or program level, or for Investment Plans, Memoranda to Cabinet and Treasury Board submissions. The TBS Guide to Corporate Risk Profiles provides guidance on developing Corporate Risk Profiles, including the type and scope of information that help make such a profile a useful tool in managing corporate risks and making decisions. Risks identified in a Corporate Risk Profile should be captured clearly in a risk statement that can be articulated and communicated throughout an organization.
There are numerous ways to identify risks (e.g., workshops, checklists, environmental scans, etc.), depending on the particular context in which risks are being identified. In some cases, risks may be identified though a formal risk assessment exercise; in others, they may be identified on an ongoing basis as part of regular meetings. A risk taxonomy or similar tool (see TBS's Guide to Risk Taxonomies) may help ensure that those involved in identifying risks have considered a broad range of risks.
Date modified: