Workplace Wellness and Productivity Strategy
Table of Contents
Commitment to ensuring a healthier, more productive, workplace
The Government of Canada is committed to enhancing the wellness and well-being of its employees. Workplace wellness and productivity go hand in hand as workforce well-being generates higher levels of employee engagement, in turn leading to better performing workplaces.
The path travelled
In 2009, Treasury Board funded a three-year project, the Disability Management Initiative with a mandate to conduct analysis and benchmarking to identify necessary changes to policies, existing disability plans, and to make the disability management system more effective to promote workplace wellness and to improve productivity.
A Disability Management Technical Committee was struck involving representatives of five bargaining agents (Public Service Alliance of Canada, Professional Institute of the Public Service of Canada, Canadian Association of Professional Employees, Association of Justice Counsel, and Federal Government Dockyard Trades and Labour Council East) and Treasury Board Secretariat officials. The Technical Committee presented to the National Joint Council their confirmation of the gaps and problems in the current system as identified under the Disability Management Initiative.
Recognizing the importance of continued collaboration, a working group consisting of TBS officials and representatives from the bargaining agents was recently established to ensure that a modernized disability and sick leave management system is mindful of the nature of supports employees need in times of illness and injury and when they are able to return to work.
The different policies, directives and legislation that prescribe an employee's treatment when facing short and long-term illness/injuries were developed at different periods of time and in separate processes and contexts. As a result, there has never been an opportunity to undertake a comprehensive review and analysis of the interaction between these various elements. A new framework comprised of a single, integrated governance structure that would align all the policies, processes, services, roles, responsibilities and accountabilities is required to enhance employee wellness and productivity and to ensure sustainability of the disability and sick leave management system.
What's wrong with the current system?
The current disability and sick leave management approach is fragmented and out of date. The two existing long-term disability plans - the Disability Insurance plan and the Public Service Management Insurance Plan - were designed in the 1970s and neither has kept pace with changing industry practices. In the meantime, recovery from common health ailments and diseases (e.g., cancer) has improved significantly, so that many employees now need support to return to the workplace. Other instruments are even older. The Government Employee Compensation Act, which provides support for occupational injuries and illness, was introduced in 1919; and the accumulated sick leave model, which provides income support during the long-term disability benefits waiting period, was established in 1923.
The current system does not promote equitable access to disability supports and benefits
At present, there is a 65 day (13-week) waiting period before employees can access long-term disability benefits. Employees cover this period by using accumulated sick leave. Financial difficulties can occur when employees lack enough banked leave to get them through the full 65 day waiting period.
As seen in Table 1, about half of employees in the core public administration in fiscal year 2011-2012 had 40 or fewer days of banked sick days. Roughly 35 percent had fewer than 20 days. This means during illness and injury, many could end up losing 25 days of income before getting to long-term disability benefits.
Table 1: Employee Sick Leave Banks for the Core Public Administration (2011-2012) – Text version
(All data presented in this document is for the core public administration for fiscal year 2011-2012 and derived from leave requests).
As illustrated in Table 2, in 2011-2012 those under the age of 35 had on average only 27.9 days of banked sick leave. This represents a financial risk for many if they are stricken by prolonged injury or illness.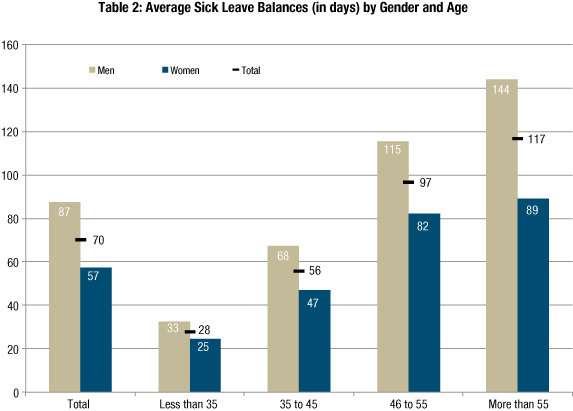 Table 2: Average Sick Leave Balances (In days) by Gender and Age – Text version
The data also indicates that about 33,500 workers (about 15 percent of the workforce) had at least one sick leave period (paid/unpaid) that lasted more than five consecutive days, many of which included a period of unpaid absence. For example, among those with sick leave periods lasting between 41 and 65 days on average close to 17 days were unpaid -- the equivalent of more than three weeks of pay.
Under the current system, early intervention through active case management is delayed because return-to-work support can only be offered after the 13-week waiting period or after the exhaustion of all accumulated sick leave days, whichever is greater.
Consequences of absenteeism
Impacts on employee wellness
Absenteeism has a number of negative consequences for employees and employers. As shown in Table 3, absenteeism in the federal public service has been rising. In fiscal year 2001-2002, the average use of paid sick leave stood at 9.4 days. This has risen to an average of 11.5 days in 2011-2012.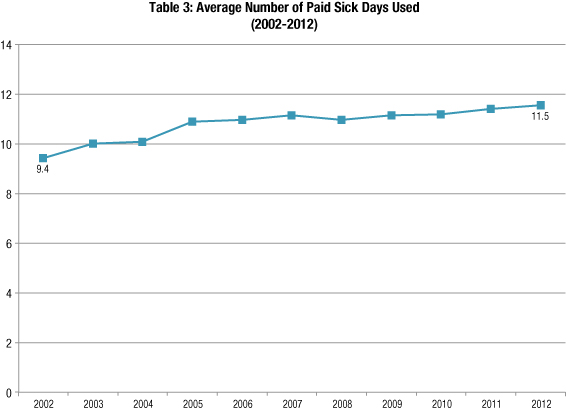 Table 3: Average Number of Paid Sick Days Used (2002-2012) – Text version
When an employee becomes ill or injured they are generally expected to be away from work until full recovery. Emerging research however indicates that the longer one is away from work, the less likely they will ever return. The Conference Board of Canada notes that the likelihood of an employee returning to work from a prolonged health related absence falls to 50 percent after just six months away from the workplace. The Canadian Medical Association states that prolonged absence from work can harm an individual's mental, physical, and social well-being. The Association recommends that physicians help patients return to work as soon as possible after an illness or injury.
Facing delays in processing occupational claims means holding up Workers Compensation Boards' recommended treatment. Similarly, the requirement that all accumulated sick leave be exhausted before long-term disability plan eligibility further delays in accessing necessary supports and active case management.
Financial impact on employees
Consider two employees – a 55 year old with 30 years of service and a 25 year old just starting out in their career - with exactly the same illness, requiring exactly the same amount of time away from work. Under the current approach, it is likely that the 55 year-old will experience no financial impact as a result of not working during the waiting period before long-term benefits kick in as they will likely have sufficient banked sick leave. Conversely, the 25 year-old may face significant financial hardship because they lack enough banked sick leave to carry her through the full 13-week period before the current long-term plan benefits commence.
Recurring absenteeism also carries potentially serious financial implications for employees. Employees who have less than 13 weeks of banked sick leave may need to rely on Employment Insurance to cover the balance. However, Employment Insurance recipients only receive up to 55 percent of their average insurable weekly earnings, or up to $501 per week, and must face a two week waiting period.
Impact on employer
Absenteeism also has a negative impact on employers. Absenteeism affects workplace productivity, and often adds to the workload of other employees. This can add to workplace stress, may increase work-life conflict, can hurt morale, and may in turn contribute to more absenteeism.
The Office of the Chief Actuary has estimated that the accrued government benefit obligation for the public service was approximately $1.5 billion as at March 31, 2012.
What have we learned from others?
Current approaches to disability and sick leave management in the private sector, and in other jurisdictions, place significant emphasis on recovery and return-to-work practices and supports. They generally provide punctual case management and rehabilitation services, typically through short-term disability plans.
A 2009 survey by the Conference Board of Canada indicated that 87 percent of Canadian employers now provide such short-term disability plans for their employees.
A review of practices in other jurisdictions reveals that many provinces offer a combination of sick leave, short-term and long-term disability support to their employees. For example, employees of the BC government do not accumulate sick leave. Employees take sick leave as needed, and receive 75 percent of their base salary. If employees are sick or expect to be on leave for more than five days (e.g., for surgery), or if they suffer from a mental illness, they require a medical form from their physician.
At the federal level, Canada Post Corporation recently introduced an integrated disability management system which features short-term disability support in place of accumulated sick leave. Canada Post uses an "abilities management" approach whereby sick leave is replaced with seven "personal days." If accepted in the short-term disability plan, 70 percent of salary is provided in the form of income replacement up to 40 weeks. Their long-term plan also provides 70 percent of income coverage through an insured plan that features 50/50 cost sharing of premiums.
The Workplace Wellness and Productivity Strategy: modernizing disability and sick leave management
Conceptual model
Disability management focuses on absences from work as a result of illness, injury or disability, and on preventing the risks that cause such absences. It is a coordinated effort by employers to reduce the occurrence and effect of illness and injury on workforce productivity, and to promote employee attachment. Its three components are prevention, support for recovery and accommodation, as illustrated in the diagram below.
Figure 4: Disability Management: Prevention, Support for Recovery and Accommodation
Full Graphic Version: Disability Management: Prevention, Support for Recovery and Accommodation.
Figure 4: Disability Management: Prevention, Support for Recovery and Accommodation – Text version
In line with this and existing practices from large public sector and private sector employers, the Government of Canada intends to replace the currently fragmented approach to disability and sick leave management with one that provides fair, comprehensive, seamless, and integrated supports for all employees of the federal public service, inclusive of separate employers. The goal is to implement a Workplace Wellness and Productivity Strategy that could take into consideration some of the following components:
A number of sick leave days provided annually to be used at the employee's discretion. The number of days is envisioned to be within the typical range of paid sick leave days provided in other jurisdictions and in the private sector. At the start of each fiscal year employees will be given their annual allotment of sick leave days and be given flexibility to use those days to cover temporary illnesses such as the common cold.
A short-term disability plan that could be modeled on industry standards. Similar to those observed in other jurisdictions, such a plan could consider allowing access to disability support after five consecutive days of illness or injury. The duration of the short-term disability plan could be up to 26 weeks (130 days). Most of the existing short-term disability practices reviewed provides 100 percent of salary replacement for accepted claims for a set period of time, with income replacement declining thereafter. Consistent with this concept, providing 100 percent income replacement for up to 25 days would be within the norm. This would likely ensure coverage for approximately 70 percent of all employees who typically face short-term disability spells. Providing 70 percent replacement for absences exceeding 25 days would represent a significant improvement over the current system, since about 45 percent of workers with absences exceeding 25 days during the year (2011-2012) had to take some unpaid days during their short-term disability period. Active case management with a strengthened focus on return-to-work support needs to be a key feature of any short-term disability plan design.
A retendered long-term disability plan for represented and unrepresented employees could be designed to have a waiting period equal to the duration of a new short-term disability plan. If an employee's illness extended beyond the term of the short-term disability plan, then the employee could be eligible to be assessed under the long-term disability plan. Under the current long-term disability plan, which is similar to plans adopted by many other employers, employees receive 70 percent of their base salary for the period in which they continue to be too ill or too injured to return to work, up to age 65. Similar to the existing arrangements, the long-term disability plan would likely continue to be fully insured and premium-based.
Reduce claims reporting times and improve data collection with respect to occupational claims covered under the Government Employees Compensation Act.
An enhanced Employee Assistance Program and other wellness measures, with greater emphasis on prevention, education and awareness and self-assessment services, including in mental health. The Employee Assistance Program will continue to be administered by Health Canada.
A single disability and sick leave management system would ensure standardized and equitable treatment for all employees of the federal public service. It would also help ensure early intervention with seamless coverage and active case management for injured or ill employees. A single system would also address inconsistent income replacement coverage which currently disadvantages many employees with limited job tenure or recurring health condition. Under a new approach all employees would be treated equally, regardless of tenure of medical history.
Sick leave related provisions - yearly allotment of sick leave days and treatment of sick leave banks – will be negotiated during the next round of collective bargaining. Consultations will continue with bargaining agents on the elements of the disability and sick leave management framework. To this end, the current disability and sick leave management working group provides an opportunity to share expert views, express concerns, and provide valuable input in designing the short and long term disability plans. Working group discussions can also help inform the negotiation process on sick leave and related provisions for the upcoming round of collective bargaining.
Conclusion
The WPS will be a modernized approach to disability and sick leave management which will:
adopt the best practices used by other large employers;
place greater emphasis on illness and injury prevention;
improve return-to-work outcomes through active case management;
provide better sick and disability coverage, especially for those with limited sick leave banks;
modernize the administration of occupational-related sick leave and injury claims;
reduce absenteeism through improved supports for employees; and
improve the Employee Assistance Program.
In summary, the federal government will put in place a seamless disability and sick leave management system that provides a continuity of support for episodes of employee injury or illness. This will strike a balance between employee wellness and workplace productivity. Regardless of an employees' tenure or medical history, the WPS would offer identical coverage to all federal public servants. It would provide all employees with an assurance of adequate income protection along with timely access to case management, rehabilitation, and return-to-work services in the event of occupational, and non-occupational, illness or injury.
For more information please consult the Frequently Asked Questions on the Workplace Wellness and Productivity Strategy.
Date modified: