Succession planning and management steps
How does succession planning and management link with integrated HR and business planning?
As illustrated below, the process of planning and managing succession is a subcomponent of the broader integrated HR and business planning process. A gap analysis may point to a number of priority areas, one of which may be succession planning. Other priority areas may include recruitment, change management, employment equity, official languages, etc. As illustrated, succession plans should be incorporated into your integrated HR and business work plan.
Figure 1: Link between the succession planning and management process and the integrated HR and business planning process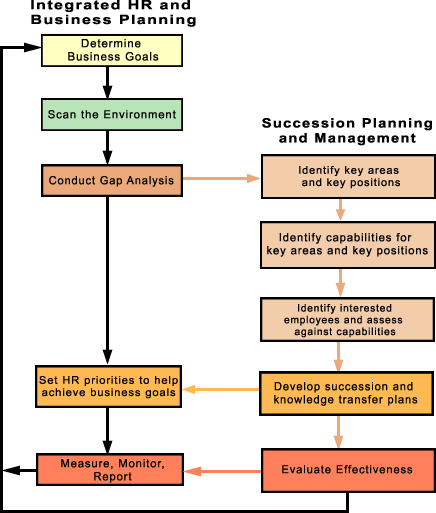 Figure 1: Link between the succession planning and management process and the integrated HR and business planning process – Text version
Steps and considerations
As you proceed through these steps, it is important to have discussions with your employees and to consult with your HR advisor. A solid understanding of your employees' skills, competencies, career interests, and career plans is critical to the success of your succession planning efforts.
Step 1. Identify key areas and key positions
Reflect on the following questions to help you identify which positions will be the focus of your succession planning efforts.
Which positions, if left vacant, would cause major difficulties in achieving current and future business goals?
Which positions, if left vacant, would be detrimental to the health, safety, or security of the Canadian public?
Which positions would be difficult to fill because the position requires specialized expertise and/or the incumbent possesses a wealth of corporate knowledge?
For which necessary skills in your branch or sector is there a current or projected labour market shortage, or which positions have been traditionally difficult to fill?
What are key areas and key positions?
Key areas are the focus of your succession planning efforts. For example, succession planning activities may be geared to developing talent for certain occupational groups (e.g. executives, foreign service officers), functional communities (e.g. financial management, the HR community), or increasing representation of persons in a designated group.
Key positions are those positions that exert critical influence on the operational activities or the strategic objectives of the organization. This means that without this role, the organization would be unable to deliver effectively on its business objectives.
Step 2. Identify capabilities for key areas and key positions
Have you used information from the job description and merit criteria and have you spoken with job incumbents to identify the relevant knowledge, skills (including language), abilities and/or competencies needed to achieve business goals?
Has your organization checked to see whether you can leverage knowledge from the functional communities or other departments and agencies that have developed competency profiles for similar key positions and areas?
Are you using the revised Key Leadership Competencies Profile for relevant positions and/or any leadership profile your department or agency may have?
Have you communicated to employees information about key positions and areas, as well as skills needed for these positions and areas, so that this information can be considered in the development of learning plans?
Step 3. Identify interested employees and assess them against capabilities
Have you spoken to each of your employees to discuss his or her career plans and interests in order to identify those who are interested in leadership roles or who wish to move to more senior or alternate roles?
Has the organization considered building an inventory of its employees' skills, experience and career interests?
Do you know which of your key positions are vulnerable - for example, which incumbents will be retiring or otherwise leaving within the next several years? Have you assessed whether there are enough candidates who are ready to advance or who could be developed in time?
Is there a sufficient pool of bilingual candidates, as well as members from designated groups, in feeder groups for key positions and areas?
Have you addressed the potential barriers for the advancement of employees from designated groups?
Have you identified a temporary back-up for each key position with the appropriate knowledge, skills (including language) and abilities to carry out the responsibilities in the short term?
Have you conducted a risk assessment for key positions based on when you think the position may become vacant? The assessment should evaluate the overall impact on the business and whether there is a shortage of qualified candidates.
Does your management team meet to discuss the requirements of key positions and areas, as well as the development needs of interested candidates?
Does your organization base the identification and assessment of employees with potential for key roles on multiple assessments and perspectives - for example talent review meetings, assessment tools, 360-degree evaluations, performance?
Step 4. Develop and implement succession and knowledge transfer plans
Has your organization defined the developmental experiences that it requires for its leadership positions and other key areas?
Have you explored various options to support your employees' career goals, including acting assignments, stretch assignments, mentoring arrangements, job shadowing, courses and language training?
Do employees have learning plans that are linked to the appropriate knowledge, skills (including language) and abilities required for current and future roles?
Have you had discussions with your employees regarding the various possible means of passing on their corporate knowledge?
Do you encourage employees to work in teams and cross-train employees to foster knowledge transfer and broaden employees' skill sets?
Have you explored whether employees who are planning on retiring within the next few years are interested in participating in a mentoring arrangement?
Have you explored options that would allow you to bring in a new employee while the incumbent remains in the organization in order to facilitate knowledge transfer?
Has your organization considered offering professional development courses or establishing a Professional Development and Apprenticeship Program to identify and develop talent in key areas and among designated groups?
Step 5. Evaluate effectiveness
Do all key positions have succession plans?
Are key positions filled quickly?
Do new employees in key positions perform effectively in their role?
Are there qualified employees who are ready to compete for key positions and areas?
Are designated group members adequately represented among feeder groups for key positions and key areas?
Do you review your succession plan following organization changes (e.g. change in priorities, re-structuring)?
Date modified: